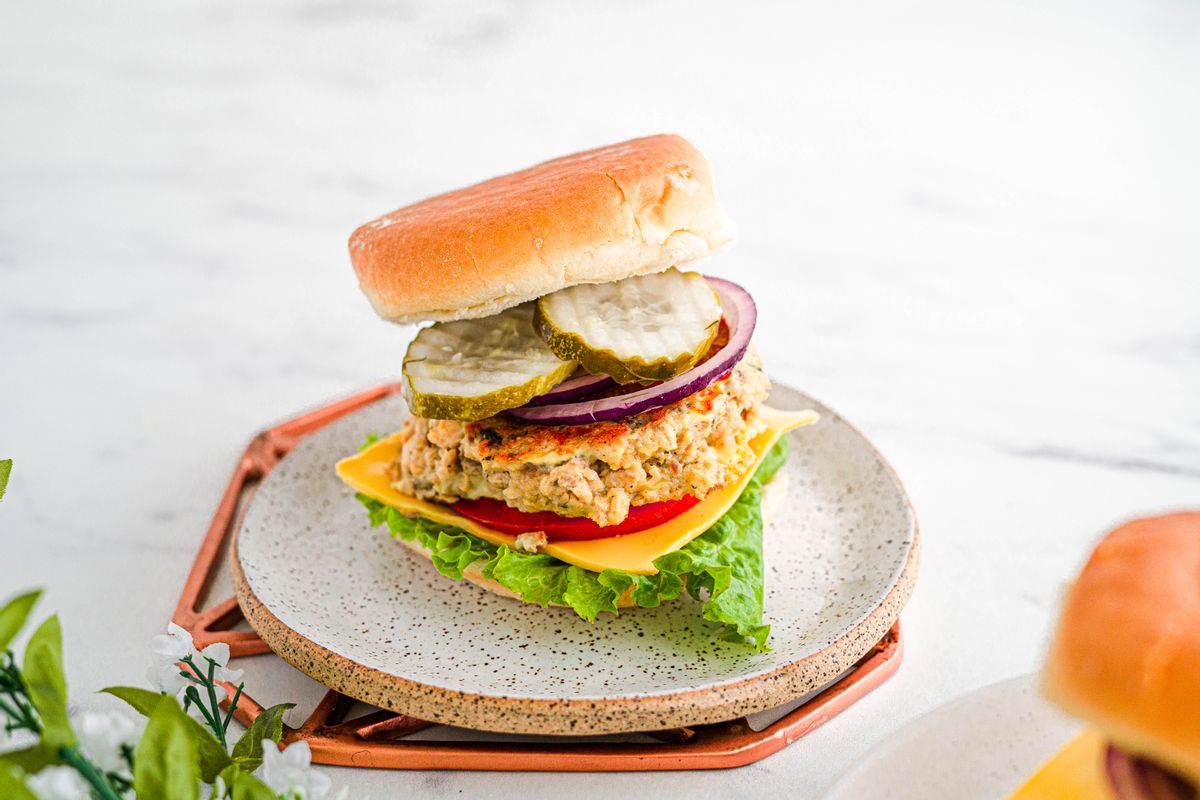 #1 Low Carb & Keto Diet App Since 2010
Track macros, calories, and access top Keto recipes.
20 min

20 min

40 min
Best Keto Salmon Burger
Calling all salmon lovers! This salmon burger is for you! Wild-caught canned salmon is combined with pasture-raised eggs for a nutrition-packed burger patty. The patties are cooked on both sides until nicely golden brown. Then, they are topped with slices of American cheese, lettuce, tomato, and thinly sliced red onion to make the ultimate Keto salmon burger.
Can I add tartar sauce?
Yes! Feel free to add tartar sauce to our Keto salmon burger to add extra fats and make this meal even more satisfying. The best mayo to use for the tartar sauce would be an avocado oil-based mayonnaise for health considerations. Try to avoid vegetable oil-based mayonnaise if possible.
Try this basic Keto tartar sauce recipe: 1 cup mayonnaise, 1 tbsp diced sour pickles, 1 tsp prepared mustard, and 1 tsp lemon juice. Stir the ingredients together and taste, adding more lemon juice or sea salt as desired.
What is the best type of salmon to use for this recipe?
We prefer and advocate for the use of wild-caught salmon as much as possible over farm-raised fish. For this recipe, we have used canned wild-caught salmon, which is already cooked, making this recipe quick and easy to put together.
How can I make this recipe dairy-free?
To make this recipe dairy-free, simply eliminate the American cheese. Since the burger will need something savory and tangy to accent the salmon, substituting the American cheese for the above tartar sauce recipe would be a nice addition! If using the tartar sauce recipe above, please calculate the macros separately in the Carb Manager app.
To make the ultimate pairing, serve our Keto
To make the ultimate pairing, serve this with other Keto recipes like our Keto Dalgona Coffee for an awesome lunch combo.
Net Carbs

3.4 g

Fiber

12.1 g

Total Carbs

19.6 g

Protein

48.1 g

Fats

38.5 g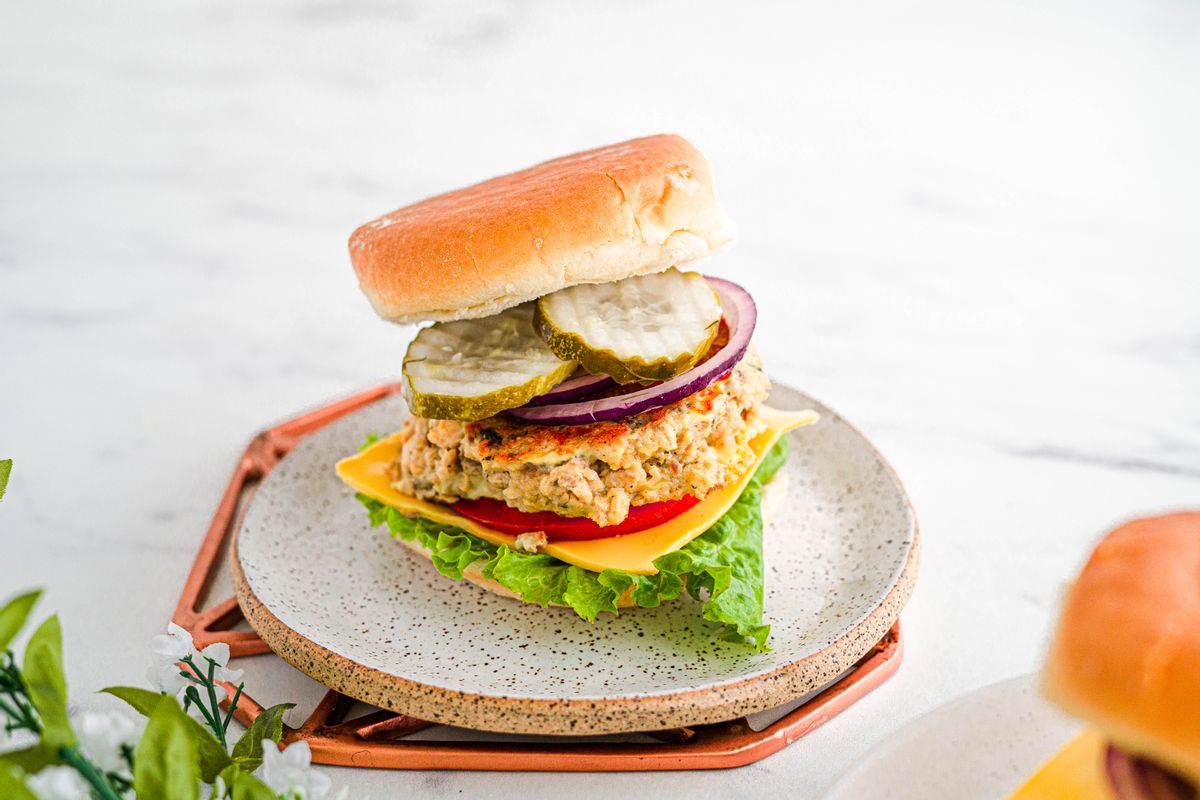 #1 Low Carb & Keto Diet App Since 2010
Track macros, calories, and access top Keto recipes.
Ingredients
Tomato

0.5 large - 3" diameter

American cheese

3 slice - each 3/4 ounce

Keto Friendly Hamburger Bun

3 1 bun

Red onion

0.25 cup, sliced

Sour pickles

0.5 cup, sliced
Wash and spin the lettuce leaves. Thinly slice the tomato and peel and thinly slice the red onion. Set these aside.

Drain the wild-caught canned salmon well, removing all of the liquid. If you have canned salmon that includes the bones, you can pick out as much of them as you can. Leaving some of the bones is nice as it does add calcium to your diet. Then add the salmon to a medium-sized mixing bowl. Add in the egg and the sea salt. Combine well with a fork, mashing the meat and any residual fish bones.

Preheat a large nonstick skillet over medium-high heat. We like to use a cast iron skillet or a blue steel pan as they are both nontoxic. Add in the avocado oil and swirl the pan to coat. Then using a 3 oz cookie scoop, pack the scoop with the salmon mixture. Then release it into the pan. The batch should make three large patties. The patties should be mounded at this point, but allow them to sear on the bottom until they are nicely browned.

Flip the patties and then gently press them down until they are about 1" thick or slightly taller. Sear on the second side until browned. Top each burger with the American cheese and cook until the cheese is melted and fully cooked through.

If using a Keto hamburger bun, slice the buns in half. Preheat a large nonstick skillet over medium heat until hot. Spread one tablespoon of mayo combined for both halves of the bun. A large skillet should fit two buns sliced in half. Cook over low heat until the bottom of the buns are nicely browned. Repeat with the remaining bun. You can also use butter for smearing the buns instead.

To assemble the burgers, top the first half of the bun with ½ tbsp mayo. Then top the mayo with one lettuce leaf and one slice of tomato.

Top with the hot salmon burger and the American cheese. The heat of the burger will slightly melt the cheese. Add slices of red onion and pickles, if desired. Top with the other half of the bun. Serve immediately!