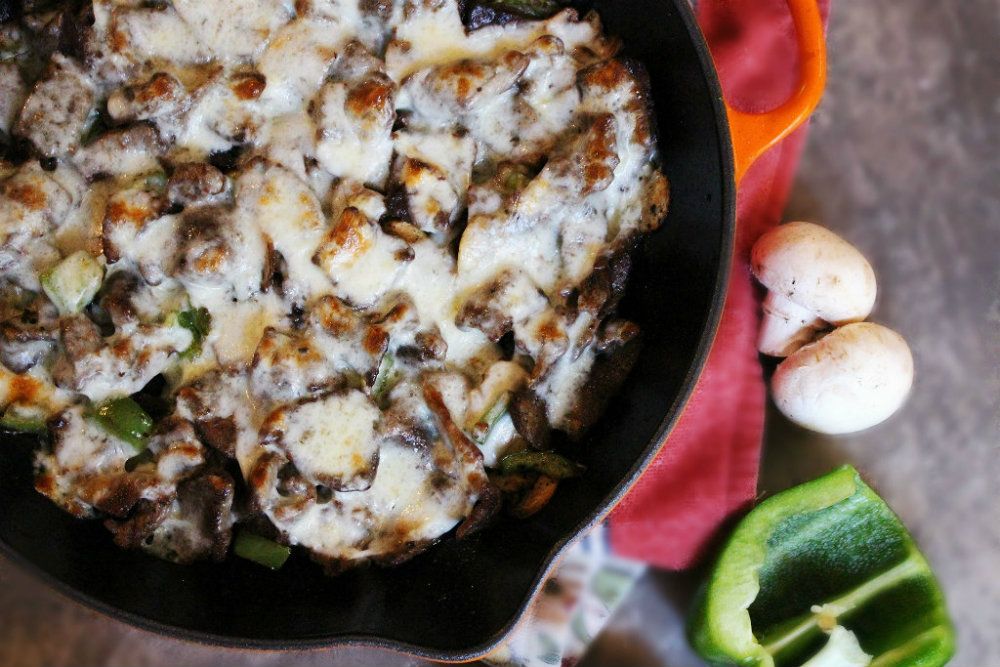 #1 Low Carb & Keto Diet App Since 2010
Track macros, calories, and access top Keto recipes.
10 min

25 min

35 min
Keto Philly Cheesesteak Skillet
Nothing shouts "comfort food" like a fat, meaty, melty Philly Cheesesteak. We may have to skip out on the bread, but we don't have to skip on the juicy steak and gooey cheese! This one-skillet meal makes for an easy lunch or dinner, and it will warm your belly right up. If you don't own a cast iron skillet or oven-safe skillet, you can prepare the veggies and steak in a stovetop pan and then transfer the ingredients to a baking dish.
- Jessica L
Net Carbs

2.4 g

Fiber

0.9 g

Total Carbs

3.2 g

Protein

43.4 g

Fats

25.9 g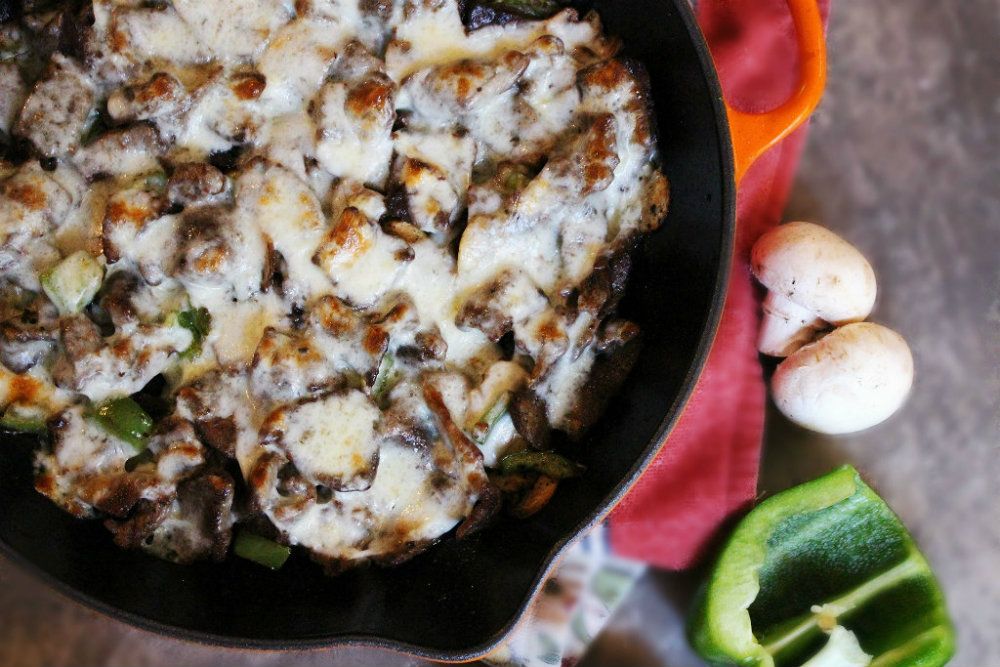 #1 Low Carb & Keto Diet App Since 2010
Track macros, calories, and access top Keto recipes.
Ingredients
Spices Onion Powder

½ tsp

Spices Garlic Powder

¼ tsp

Green Bell Pepper

2-¼ ounce
On a clean surface, slice your steak into 4-inch strips that are an 1/8 inch thick. Heat your olive oil in a skillet on medium-high heat, and add in the steak. Sprinkle the salt, pepper, onion powder, and garlic powder over the steak.

Brown the meat. Then, turn the heat to high and cook until the steak gets a crispy outside. This cooking process takes about 12 minutes.

Transfer the cooked steak to a dish until later use. Leave all juices in the pan. Turn the heat down to medium low. Slice the mushrooms thin and dice the green bell pepper, and add these to the skillet.

Cook the vegetables for about 3 minutes, or until they are just cooked through. Remove the skillet from the heat.

Preheat an oven to 350 degrees. Return the cooked steak to the skillet, and mix the meat and veggies together. If you do not own an oven-safe skillet, combine the cooked ingredients in a baking dish that has been sprayed.

Slice the provolone cheese, if it is not already in slices. Arrange the cheese over the top of the cheesesteak ingredients so everything is covered. Bake the ingredients in the oven for about 5 minutes, or until the cheese melts.

To get a slightly browned top, cook the skillet under a broiler for an additional 3-4 minutes before serving.