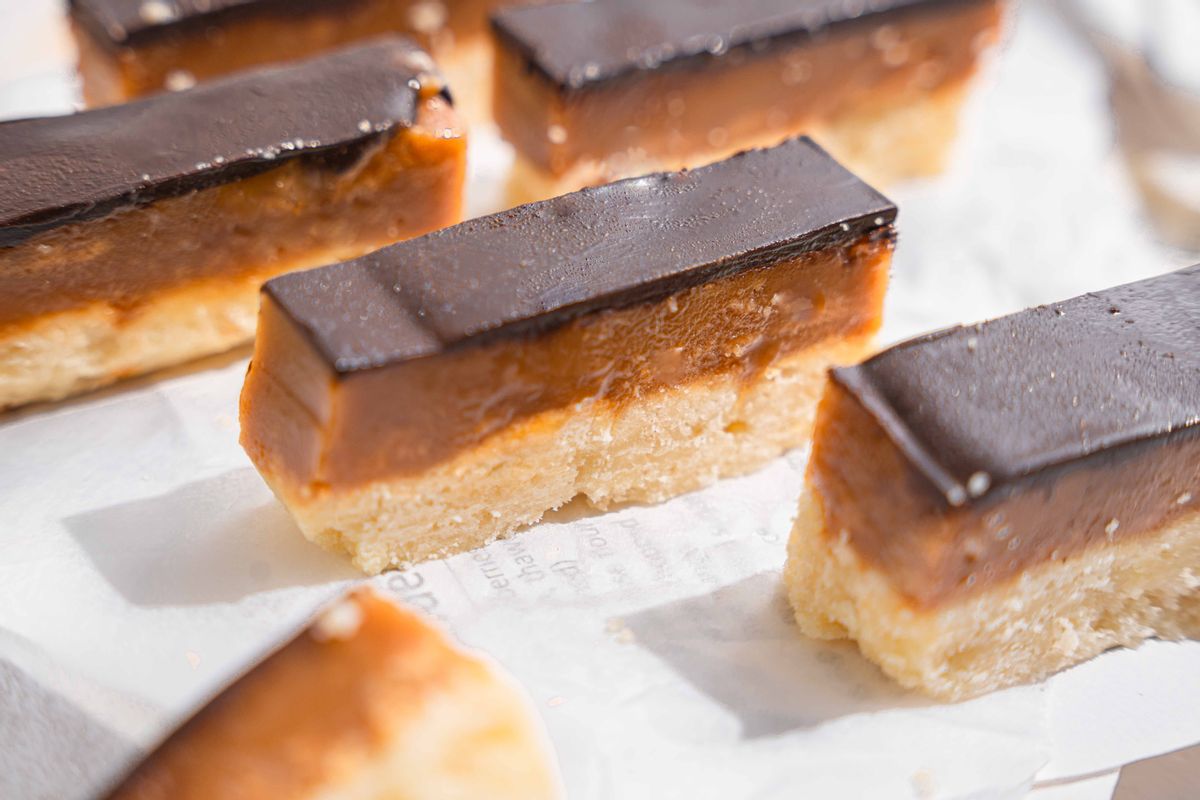 #1 Low Carb & Keto Diet App Since 2010
Track macros, calories, and access top Keto recipes.
1 h 30 min

30 min

2 h 0 min
Keto Chocolate Caramel Shortbread Candy Bars
Delight your taste buds with our Keto chocolate caramel shortbread candy, a delectable treat that combines the richness of chocolate with the irresistible allure of caramel. These Low-Carb Halloween candy bars offer a delightful way to satisfy your sweet tooth while maintaining your commitment to a Keto lifestyle. Let's explore whether these bars are suitable for Halloween, how you can customize them, and the best way to store these candy bars.
Are these bars suitable for Halloween?
Absolutely! Our Keto chocolate caramel shortbread candy bars are a delightful addition to your Halloween festivities. While Halloween often tempts us with sugary indulgences, these candy bars offer a guilt-free alternative. Their rich chocolate and caramel layers provide the sweet satisfaction you crave without excessive carbs and sugar. Plus, their bite-sized portions make them ideal for sharing with friends and family during Halloween gatherings. Embrace the spirit of the season while staying true to your Keto lifestyle with these scrumptious candy bars.
How to customize this recipe?
Customization is where you can truly make these candy bars your own. Consider adding chopped nuts like pecans or almonds to the caramel layer for added texture and flavor. If you prefer a more intense chocolate experience, use dark chocolate with a higher cocoa percentage. For a seasonal twist, add a dash of pumpkin spice to the caramel layer to infuse autumn flavors. The versatility of this recipe allows you to personalize it to suit your taste while keeping it Keto-friendly.
How to store these candy bars?
To keep these Keto chocolate bars fresh, store them in an airtight container in the refrigerator for up to two weeks. If you plan to enjoy them over a more extended period, consider freezing them. Wrap each bar individually in parchment paper and place them in an airtight container or freezer bag. Frozen bars can last for several months. When you're ready to indulge, simply take a bar out of the freezer and let it thaw for a few minutes before enjoying it. This convenient approach ensures that you have a satisfying Keto treat ready whenever your sweet cravings strike.
Net Carbs

1.1 g

Fiber

1 g

Total Carbs

5.5 g

Protein

2 g

Fats

14.2 g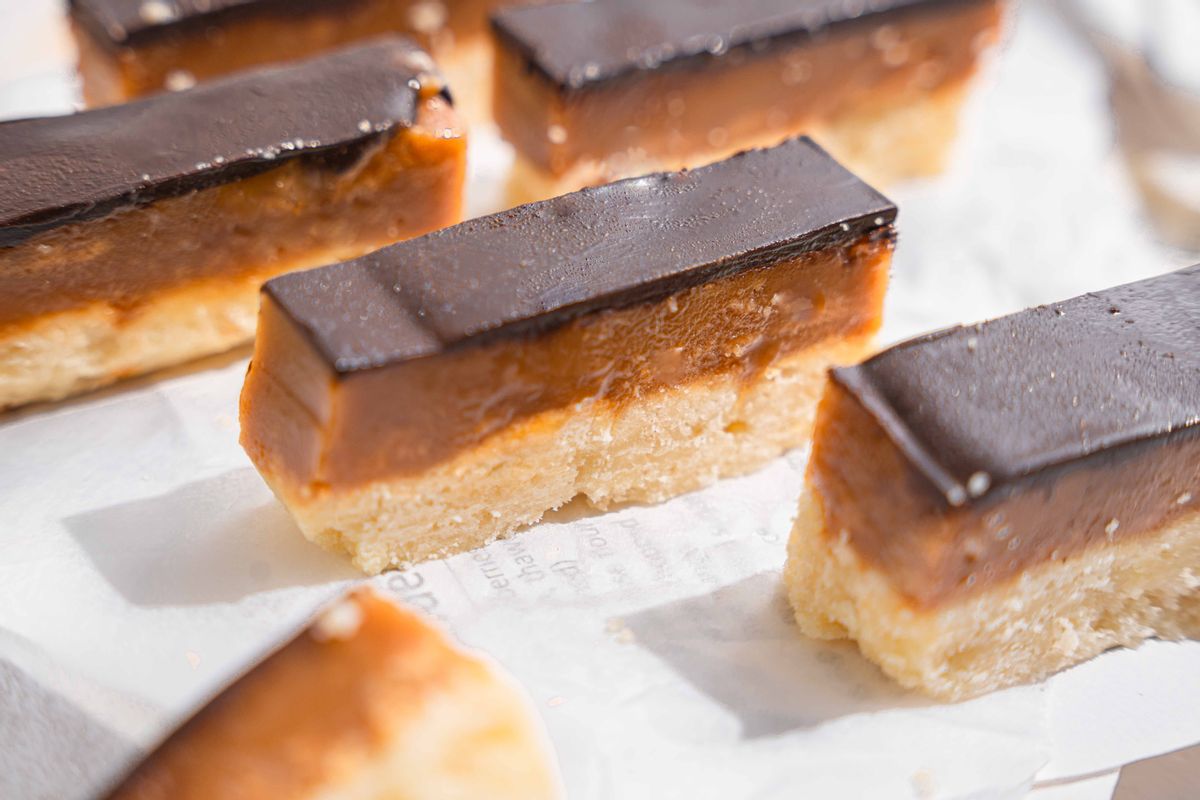 #1 Low Carb & Keto Diet App Since 2010
Track macros, calories, and access top Keto recipes.
Ingredients
Room Temperature Butter

5 tbsp

Allulose, powdered

3 tbsp

Granulated Allulose

0.33 cup

Dark chocolate bar, sugar free

60 g
Preheat your oven to 300 F/150 C and line a baking dish or loaf pan with parchment paper. Add 5 tbsp of softened butter and cream cheese to a bowl and whisk until light and fluffy. Mix in ½ tsp vanilla, ½ tsp salt, and 3 Tbsp powdered allulose.

Add the almond flour and fold it in. Transfer the dough to the lined baking dish and press it into an even, smooth layer. Prick the dough using a fork, then transfer to the oven.

Bake for 15 minutes until cooked through and golden around the edges. Allow to cool for 10 minutes, then chill in the fridge while you prepare the caramel layer.

Add 3.5 tbsp of butter to a nonstick saucepan and allow it to melt. Add the granulated allulose, then stir and cook for 3-5 minutes on a low simmer, stirring occasionally until you achieve a golden color. Pour 1/2 cup of heavy cream.

Cook on the lowest temperature, stirring with a hand balloon whisk occasionally until it thickens and coats the back of a spoon. Depending on the size of the saucepan and the temperature, this will take between 7 and 10 minutes.

Pour the caramel over the shortbread crust. Smooth out the top and freeze for 20-30 minutes.

Melt the chocolate over a double boiler or in the microwave in 20-second intervals. Pour it over the firm caramel layer (don't add the chocolate if your caramel hasn't firmed up yet). Tap and tilt the dish to spread it evenly.

Freeze for another 20 minutes. Remove from the dish by lifting the parchment paper. Slice into 16 small bars (the size of bite-sized candy) using a hot knife. Dip the knife in hot water and clean between each cut for smooth slices.

Finish the bars off with a sprinkle of flakey salt or shredded coconut. Enjoy cold or at room temperature. Store the remaining pieces in an airtight container in the fridge.