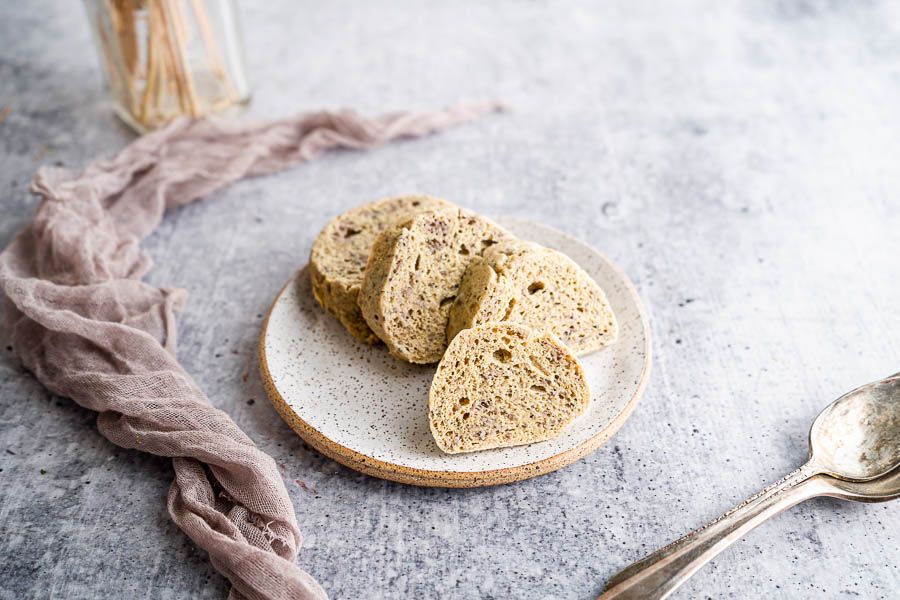 #1 Low Carb & Keto Diet App Since 2010
Track macros, calories, and access top Keto recipes.
5 min

5 min

10 min
Keto 90-Second Bread with Almond Flour
This wonderful Keto 90-second bread is so quick and easy to make. The Keto bread is composed of almond flour, psyllium husk powder, egg, and chia seeds with leaveners like baking powder. Our Keto bread recipe can be mixed entirely inside a coffee mug before it is "baked" in the microwave for 90 seconds. Feel free to enjoy the whole Keto bread, but you can slice it into 4 individual pieces for portion control. We like slicing our Keto 90 second bread and topping it with butter, almond butter, or other healthy fats!
How long does 90-second Keto bread take to cook?
Depending on the wattage of your microwave, you will need to adjust your cook time accordingly. A typical microwave will cook this bread in 90 seconds, but if in doubt, add 30 seconds until puffed and cooked. Also, once the bread comes out of the microwave, allow it to further cook with the residual heat by keeping it in the coffee mug for about 2-3 minutes while you prep any other food you are eating with it.
Serving suggestions for 90-second Keto Bread
90-second Keto Bread is delicious slathered with almond, peanut butter, or any other Keto-friendly nut butter, for that matter. It is also an excellent carrier for cured meats and cheeses, a sausage patty, mozzarella cheese, and pepperoni. You really can make this your own! It can also be served alongside dishes like Keto Chicken Thighs with Creamy Artichoke sauce to soak up all the sauce.
https://my.carbmanager.com/meals/my-foods?dialog=food-detail:ug:114cf0bb-153f-f381-14f9-74a2e2aedae1
How long does this bread take to cool?
Once the bread is "baked" in the microwave, it will take several minutes for the bread to set. Allow the bread to cool well before consuming, or it will be very soft.
Net Carbs

5.3 g

Fiber

17.2 g

Total Carbs

22.6 g

Protein

14.6 g

Fats

25.1 g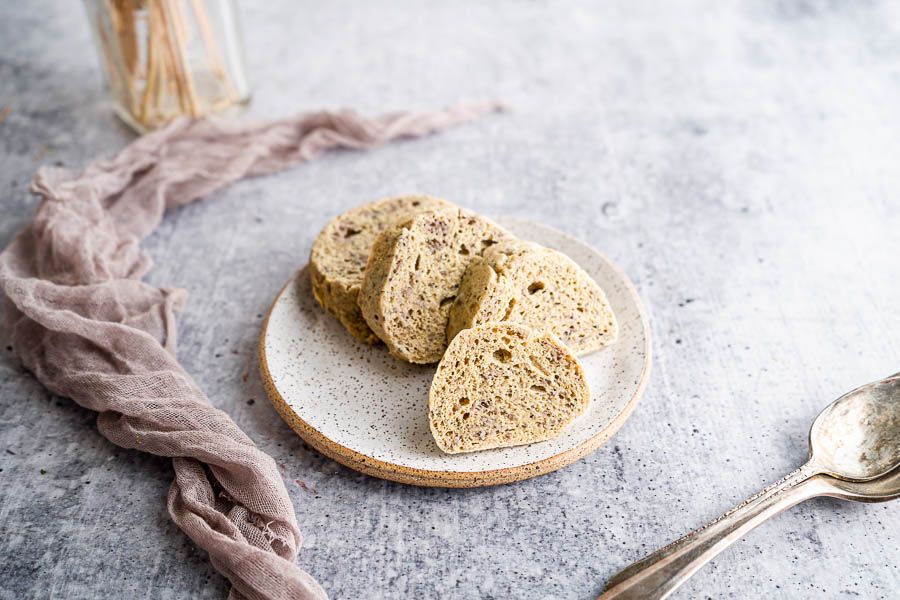 #1 Low Carb & Keto Diet App Since 2010
Track macros, calories, and access top Keto recipes.
Ingredients
Chia seeds

1 tsp, whole pieces

Psyllium Husk Powder

1 tbsp

Apple cider vinegar

1 tsp
First, combine the almond flour, chia seeds, psyllium husk powder, sea salt, and baking powder. You can combine the ingredients in a small bowl and then transfer to a coffee mug. Alternatively, you can combine all the ingredients directly into a tall coffee cup (about 12 oz).

Combine boiling water and apple cider vinegar. Add this to the mixture as well. Mix extremely well to incorporate any dry pieces.

Add in the egg. Mix very well. The mixture will be very thick at this point. If using a bowl to mix, transfer the ingredients to a tall coffee mug (about 12 oz).

Cook for 90 seconds in the microwave. Add an extra 30 seconds if necessary. Carefully remove the mug bread from the coffee cup onto a cutting board. Allow to cool thoroughly. Then cut the mug bread into 3-4 slices and enjoy immediately.