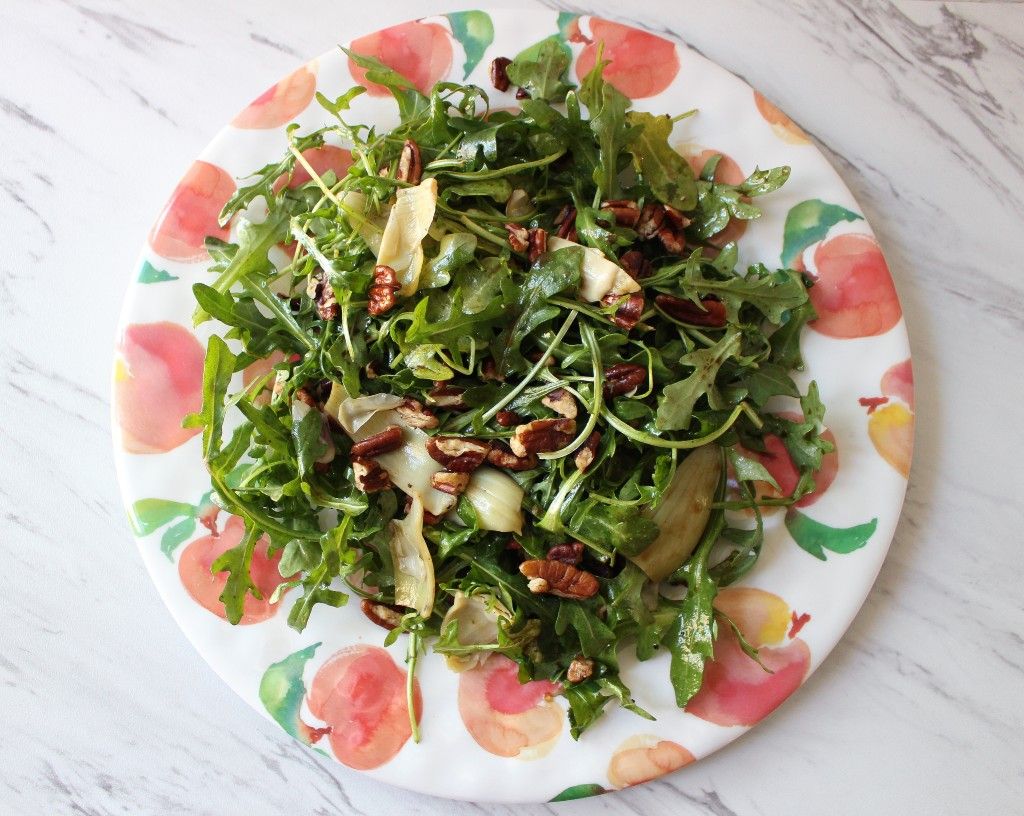 #1 Low Carb & Keto Diet App Since 2010
Track macros, calories, and access top Keto recipes.
10 min

5 min

15 min
Keto Artichoke Pecan Arugula Salad
In a pinch to complete a full meal at dinner time? You can make this really quick salad to add nutrients and a little extra Keto fat to your plate. Dark, leafy arugula makes a peppery base for the salad, dressed with a simple combo of extra virgin olive oil and balsamic vinegar. Tangy marinated artichoke hearts and warm, toasted pecans finish the salad. Since this Keto recipe is so simple, you can add on additional ingredients at your discretion. Some recommendations are mentioned further below. Otherwise, this fresh side salad is vegetarian and vegan, so anyone can enjoy it. You may also add other flavoring agents, such as garlic, grated ginger, or dried herbs to the salad dressing to enhance the taste.
Adding More To This Salad
If you'd like to add more to the base of this Keto salad recipe, there are many options that are friendly to your diet. If you'd like the salad to remain vegetarian, you can add chopped avocado or whole milk mozzarella cheese in the final step. If you eat animal proteins, there are many delicious options that would complement the salad. Try smoked salmon lox, anchovies, or cooked chicken strips. Crumbled bacon bits would also make a yummy topping and add even more Keto fat to the final product.
Substitutes For Arugula
If you want to quickly throw this salad together, and you don't have arugula on hand, you can substitute it with other staple greens you can find in your refrigerator. In fact, some of the most Keto-friendly vegetables are dark, leafy greens. In place of arugula, you can use spinach, kale, or a mix of the two. Spinach and kale can tend to be a little more bitter than arugula. To combat this, you can add an extra pinch of salt to the salad or a squeeze of lemon juice to the dressing.
Jessica L.
Net Carbs

2.1 g

Fiber

2.9 g

Total Carbs

5 g

Protein

2.8 g

Fats

21.4 g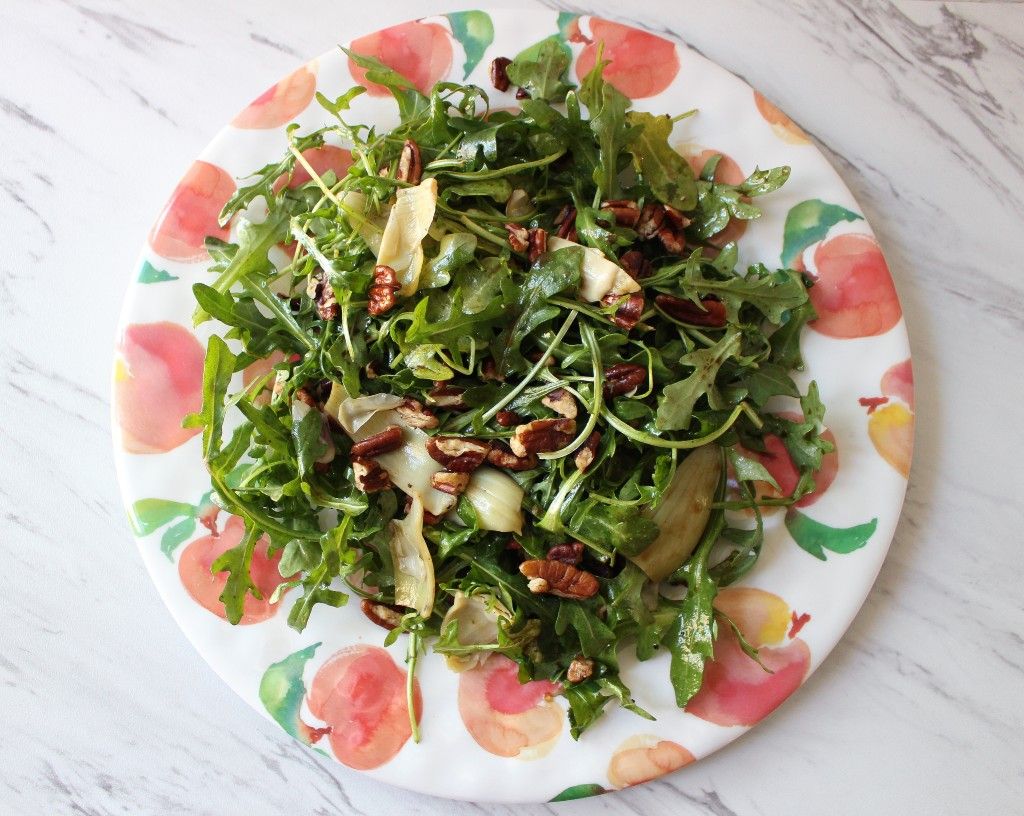 #1 Low Carb & Keto Diet App Since 2010
Track macros, calories, and access top Keto recipes.
Ingredients
Black pepper

0.13 teaspoon

Extra virgin olive oil

2 teaspoon

Balsamic vinegar

0.5 teaspoon

Artichoke hearts or globe, canned in oil mixture

1 oz
Start with freshly washed and dried arugula, and add it to a large mixing bowl. Dress the arugula with salt, pepper, extra virgin olive oil, and balsamic vinegar. Toss the salad together until all the arugula is coated in an even mixture of seasonings and dressings. You can quickly whisk together the olive oil and balsamic before dressing the salad to help emulsify them.

Select artichoke hearts from a jar. Choosing artichokes that have been marinated in oils and spices will add more flavor to the salad. Simply use your fingers to pull apart the artichoke hearts into pieces and add the pieces to your mixing bowl. Set the mixing bowl aside for the final step.

Chop the pecans into small pieces or halves, if necessary. Add the chopped pecans to a small pan over medium-low heat on the stove. Toast the pecans, gently tossing them about every 30 seconds or so. When you can smell a warm, toasty, nutty fragrance, pull the pecans off the stove. Cooking any further could result in burning the pecans. Add the toasted pecans to the salad and quickly toss all ingredients together one final time before serving.