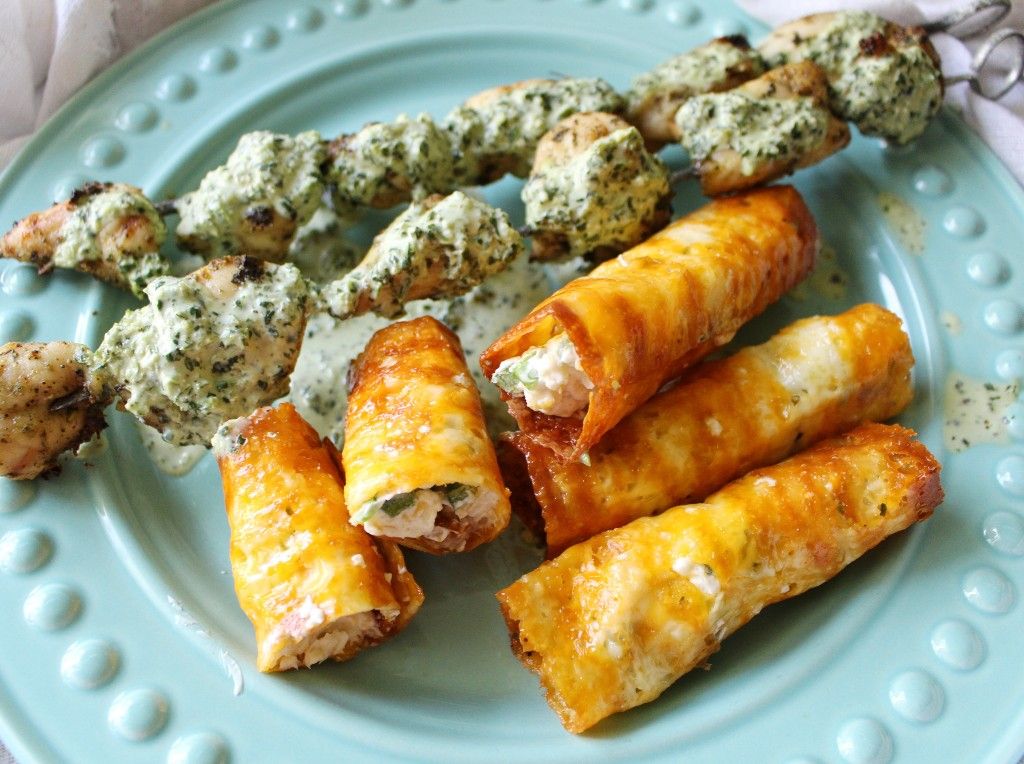 #1 Low Carb & Keto Diet App Since 2010
Track macros, calories, and access top Keto recipes.
4 h 20 min

55 min

5 h 15 min
Low Carb Spicy Chicken Skewers w Jalapeno Popper Taquitos
Awaken your tastebuds when you eat this Keto lunch or dinner recipe. Your mouth will be hit with spicy and tangy flavors balanced with Keto fats. Chicken breast is marinated and skewered before it's roasted in your oven until the meat caramelizes in the heat. The chicken skewers are then dressed in a creamy verde sauce made with sour cream and raw jalapeno. Served alongside your protein are 2 taquitos made out of colby jack cheese "tortillas" filled with a jalapeno popper filling. That's right - more jalapenos are added to your meal for spicy fanatics. You can store the entire completed meal in storage containers for your Keto meal prep for up to 5 days in a refrigerator. You may wish to include a wedge of lime with your meals to freshen them up at the time of consumption.
Not All Cheeses Bake The Same
If you want to substitute the colby jack cheese for a different one, there are many similar kinds of cheese that will bake to the right texture in the same amount of time. Sliced cheddar, provolone, or other jack cheeses are all equal substitutes. If you are baking a harder cheese, like parmesan, your cheese will reach the right texture in less time. Cheese that is softer, like goat cheese or brie, cannot bake to the same texture as these firmer cheeses can.
Shorten Your Prep Time
You can make a couple of shortcuts in this recipe to cut down on your time in the kitchen. While the chicken is marinating, you can prepare the verde sauce and jalapeno popper filling to have ready to go later on. If you can babysit your oven, you can bake the cheese slices for your taquitos while the chicken skewers are cooking. However, they may bake more quickly since the oven will be at a higher temperature.
Jessica L.
Net Carbs

8.6 g

Fiber

1.7 g

Total Carbs

10.3 g

Protein

41.1 g

Fats

44.9 g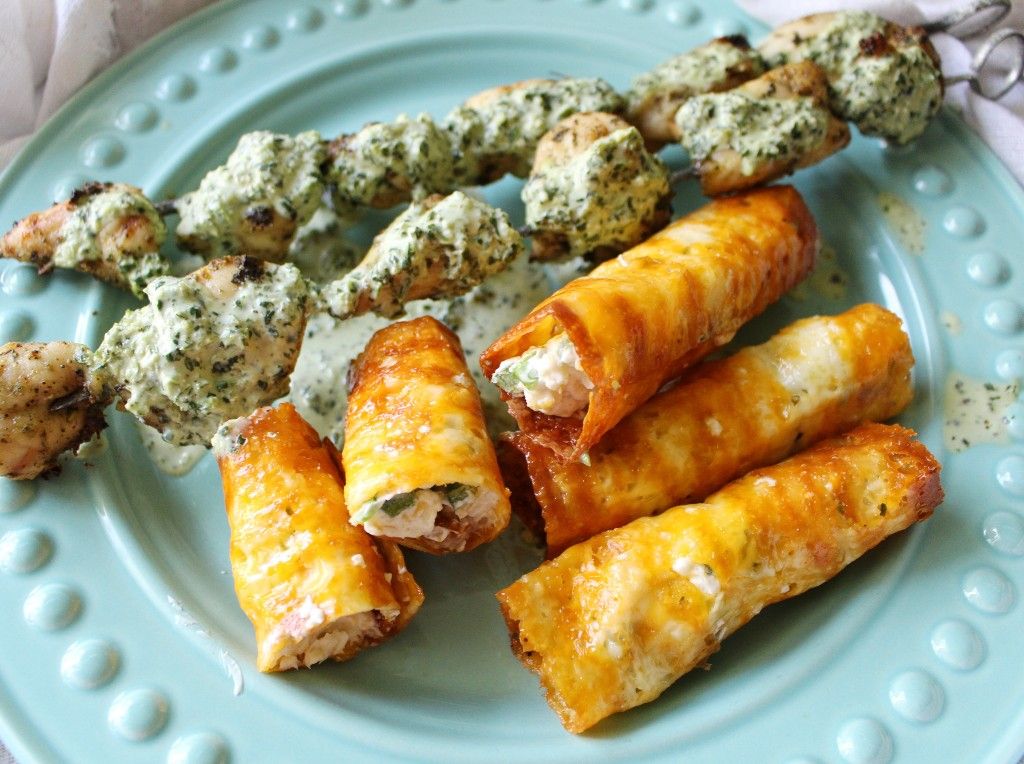 #1 Low Carb & Keto Diet App Since 2010
Track macros, calories, and access top Keto recipes.
Ingredients
Chicken Breast Boneless Skinless Raw

8 oz

Olive Or Extra Virgin Olive Oil

0.25 tsp

Olive Or Extra Virgin Olive Oil

0.25 tsp

Jalapeno peppers, raw

1 large - approx 4" - 6" long

Cheddar cheese, natural

0.25 cup, shredded

Jalapeno peppers, raw

1 large - approx 4" - 6" long

Scallions

0.5 tbsp, chopped

Colby Jack cheese

4 slice (from pre-sliced package) - each 3/4 ounce
Prepare the chicken in advance by cutting chicken breasts into 2-inch pieces and adding them all to a mixing bowl. Season the chicken pieces with salt, pepper, onion powder, cumin, and parsley. Drizzle the first amount of olive oil in the bowl, and toss the chicken until it's all coated in oil and spices. Wrap the bowl in plastic wrap, and marinate the chicken in your refrigerator for at least 4 hours. However, you can move on directly to Step 2 if you wish.

After marinating the chicken, make the spicy verde sauce. Combine cilantro, the second amount of olive oil, lime juice, a chopped jalapeno, salt, oregano, and minced garlic in a food processor. Pulse until you have a very loose and fragrant marinade. Leave out the sour cream until later. Spoon a couple of spoonfuls of the verde sauce over your uncooked chicken, and fold the chicken over to coat it lightly in the sauce.

Turn on an oven to preheat to 375 degrees. Use either metal skewers or wooden skewers that have been soaked in water to pierce and arrange the chicken. Each serving is approximately 6 pieces of chicken, so try to get one serving on each skewer. Once all the chicken is on the skewers, set them on a baking rack. You can place a sheet tray under your baking rack to catch any drippings.

Cook the skewers in your oven for about 40 minutes, rotating the skewers halfway through the cooking time. The skewers are done when you see strong darkened edges where the verde sauce has caramelized a little bit and the largest pieces read a 165 degrees internal temperature. When the chicken skewers are almost done cooking, add the sour cream to your remaining verde sauce in the food processor and blend until you have the creamy verde sauce completed.

When the chicken skewers are done cooking, set them aside to rest while you make the taquitos. Reduce your oven temperature to 350 degrees, and line a clean sheet tray with parchment paper. While the oven temperature is adjusting, combine softened cream cheese in a mixing bowl with shredded cheddar, minced jalapeno, garlic powder, and chopped green onion. You can use the back of a fork to mix the jalapeno popper filling. Set the filling aside and arrange the slices of colby jack cheese on your sheet tray.

Cook the cheese slices in your oven for about 10-12 minutes. Watch the cheese closely as it melts, bubbles, and starts to harden in the oven. To test if the cheese is ready, lift a corner of a cheese slice. If there is still a lot of grease on the tray and the cheese looks more melted than baked, cook the cheese for longer. If the corner is firm and you can gently lift the cheese slice away from the parchment paper, the cheese slices are ready.

Spoon a large dollop of jalapeno popper filling along the edges closest to you on each slice of cheese. When all the filling is used up, roll the cheese slices up into taquitos. You can use a spatula to help you lift the edges of the cheese slices, and you can pat away excess grease with a paper towel. You'll need to complete this step timely because the cheese cools and hardens quickly. Serve 2 jalapeno popper taquitos with approximately 6 pieces of chicken with verde sauce per serving.