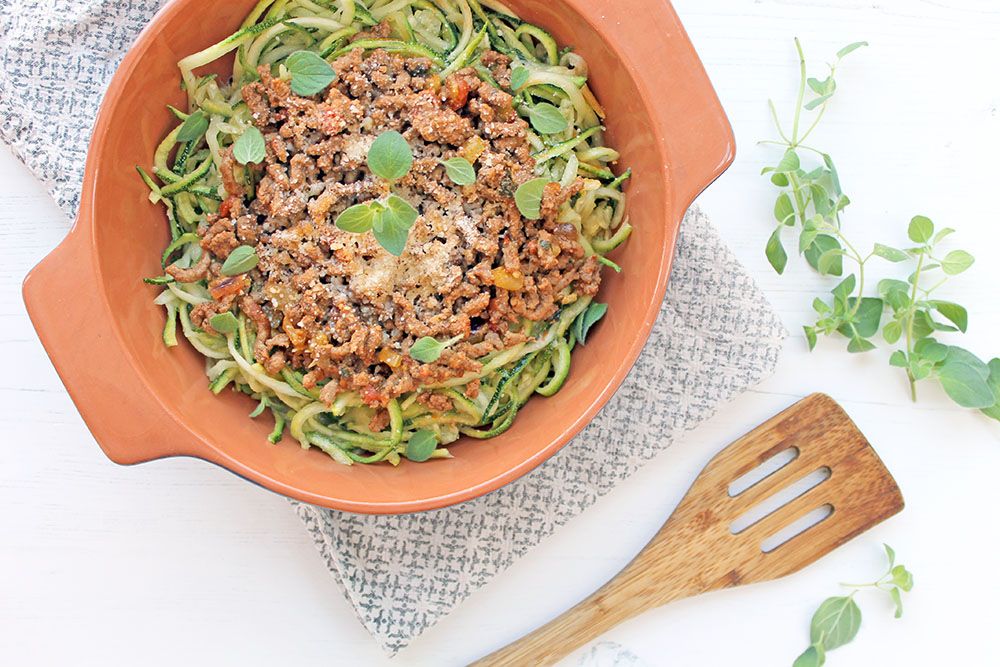 #1 Low Carb & Keto Diet App Since 2010
Track macros, calories, and access top Keto recipes.
8 min

30 min

38 min
Low Carb Spaghetti Bolognese
This Keto zucchini pasta recipe is a low carb take on a classic spaghetti Bolognese. The recipe calls for zucchini noodles to create a Keto pasta and is topped with a rich tomato sauce loaded with ground beef. This classic family favorite is perfect for weeknight dinners.
Is Pasta Keto?
Traditional wheat-based pasta is a no-go on a Keto diet. However, there are many low carb alternatives available that act as a great Keto substitute. A good place to start is by using vegetables! Zucchini is a common Keto noodle replacement, but you can also use finely sliced cabbage or spiralized low carb squash to replicate spaghetti in your favorite Keto pasta recipes.
Tips for Cooking Perfect Zucchini Noodles
The zucchini noodles are an integral part of this Keto spaghetti Bolognese. The most important thing to remember when cooking the zucchini is to not overcook it! You want to heat it through just enough so that the zucchini is tender and hot through. This will only take a few minutes. If you cook the zucchini noodles for too long they can easily become watery and mushy.
Net Carbs

5.6 g

Fiber

2.3 g

Total Carbs

8 g

Protein

36.4 g

Fats

21.8 g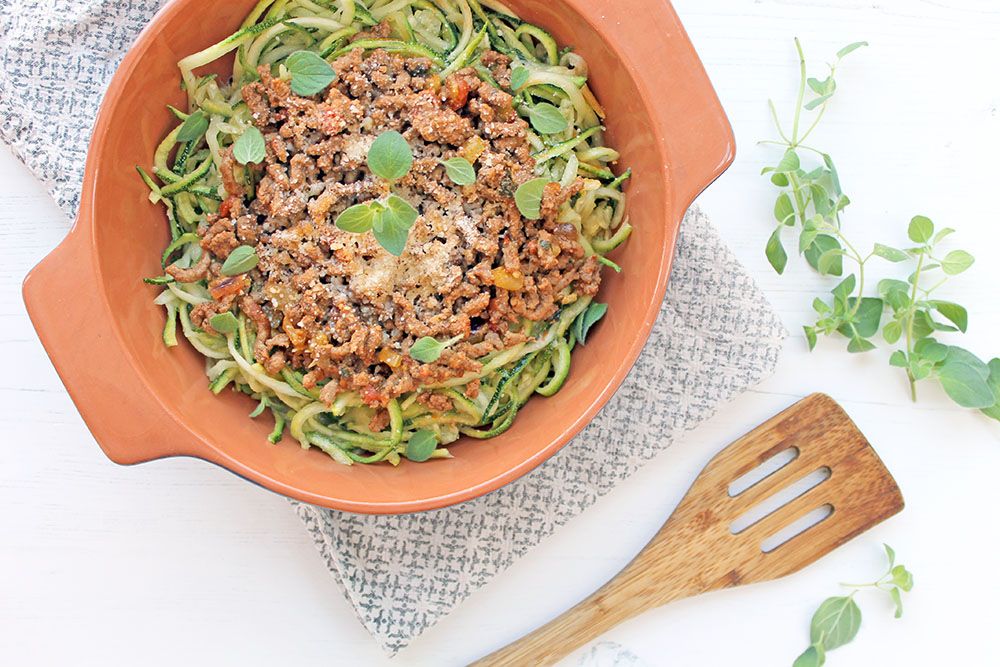 #1 Low Carb & Keto Diet App Since 2010
Track macros, calories, and access top Keto recipes.
Ingredients
Celery

1 medium - stalk - 7 1/2" to 8" long

Oregano Fresh

3 x 1 teaspoon

Oregano, Dried

1 teaspoon

Tomato Puree

1 tablespoon

Beef Broth, Bouillon Or Consomme, Homemade

¾ cup

Parmesan Cheese, Fresh (hard)

⅓ cup, grated

Zucchini Noodles By Garden Highway

6 cup
Heat a tablespoon of olive oil in a large skillet over a medium heat. Add the ground beef to the skillet. Pan fry until the meat is browned all over. Remove the beef from the pan with a slotted spoon, transfer to a bowl and set to one side.

Finely dice the celery and crush the garlic. Heat the remaining olive oil in the pan used to cook the beef over a low/medium heat. Add the celery, onion, fresh oregano and garlic. Sweat gently for 3-4 minutes until tender and fragrant.

Return the beef to the skillet. Add the dried oregano and tomato puree. Stir well to combine so that the beef is well mixed with all the seasonings and vegetables.

Add the beef stock and chopped tomatoes to the skillet. Stir well and simmer for 15-20 minutes until the sauce has reduced. At this point you may wish to season with salt and pepper depending on the saltiness of your stock.

Just before the beef finishes cooking, add the zucchini noodles to a large saucepan over a low/medium heat. Briefly sauté the noodles for 2-3 minutes until they are hot through and just tender. Drain off any excess liquid and set aside. To serve, top the zucchini noodles with the Bolognese sauce and scatter over the grated parmesan.