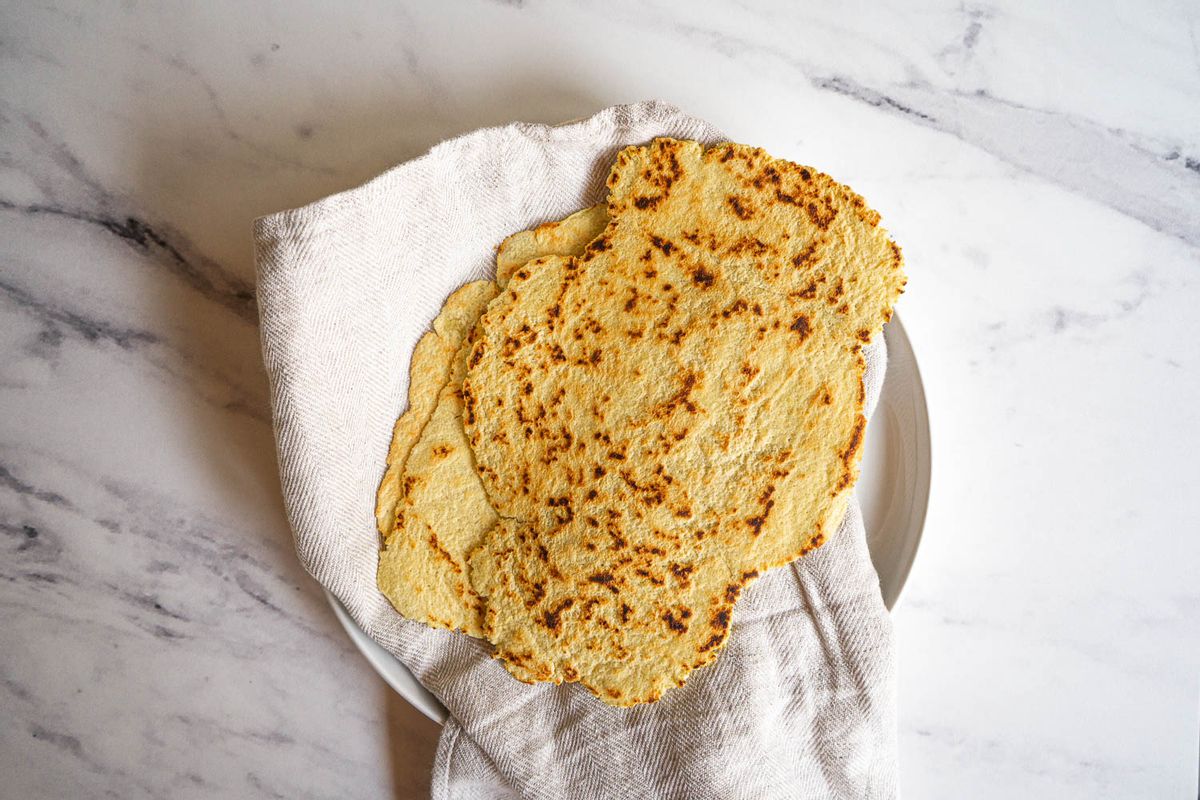 #1 Low Carb & Keto Diet App Since 2010
Track macros, calories, and access top Keto recipes.
10 min

20 min

30 min
Keto Lavash Bread
Sometimes you need a good bread that can be used to sop up sauces or as a wrap for deli meats and cheeses. Look no further than this Keto Lavash Bread. Many Keto bread recipes are overly complicated, but this recipe keeps it simple. Add all the ingredients to a food processor, then divide the dough into six equal pieces and cook in a skillet until browned on both sides. This bread has a beautiful nutty flavor thanks to almond flour and the addition of an egg. If you are Paleo, this lavash is for you, too, as this serves as a paleo bread recipe as well.
How do I form the lavash?
Take two pieces of parchment paper and place an oblong-shaped piece of dough in between. Use a rolling pin to roll it into a flat rectangle shape. Remove the top piece of parchment paper and place it dough side down into a hot skillet. Remove the last piece of parchment when the dough has started to brown (it will be easy to remove at this point).
I can't have almonds, what can I use instead?
Replace the almond flour in a 3:1 ratio with coconut flour, which turns out to be around 0.4 cups of coconut flour. Start with ⅓ of a cup and blend it and see if the consistency is workable before adding the rest. Coconut flour thickens a lot!
How can I store finished lavash breads?
Store in the freezer wrapped well with plastic wrap or in the fridge. If stored in the fridge, eat it within a couple of days.
Serving suggestion
Serve Keto Lavash Bread with this Keto Salmon Lox Plate https://www.carbmanager.com/recipe/keto-salmon-lox-plate to wrap all the goodies.
Net Carbs

3.1 g

Fiber

3.3 g

Total Carbs

5.7 g

Protein

6 g

Fats

12.6 g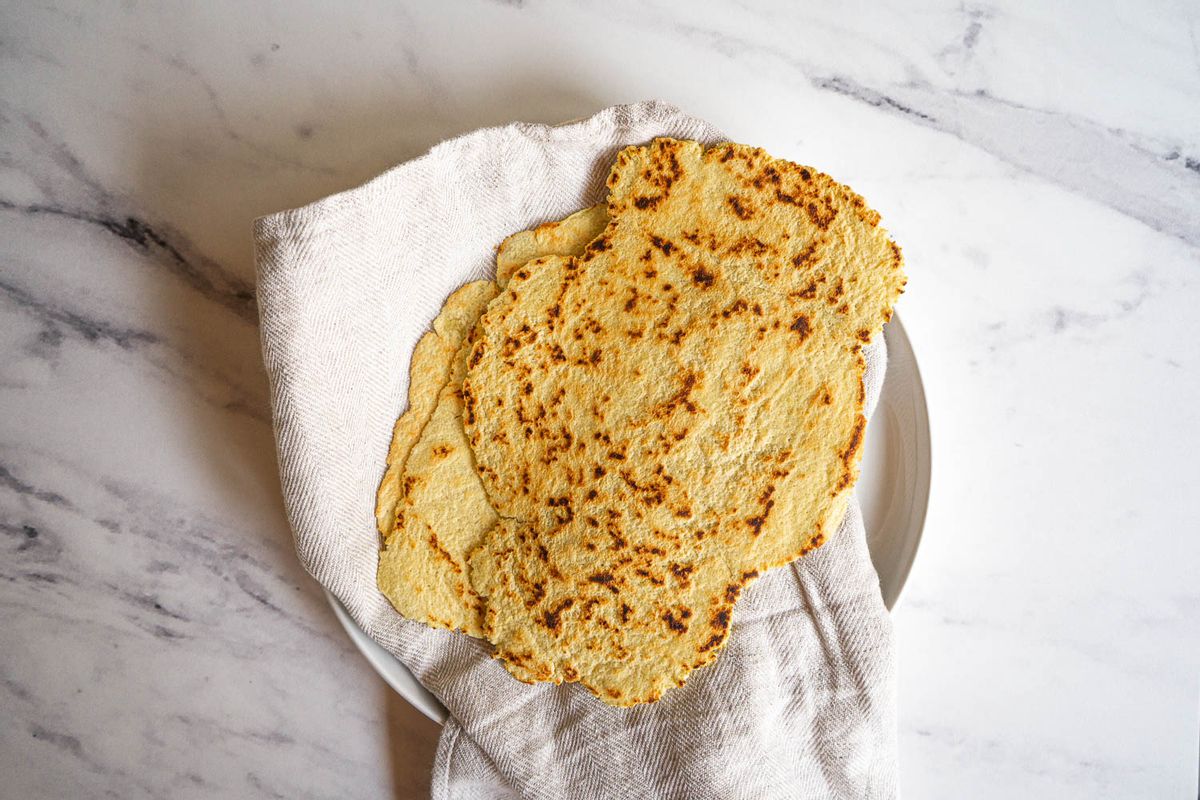 #1 Low Carb & Keto Diet App Since 2010
Track macros, calories, and access top Keto recipes.
Ingredients
Baking Aids Xanthan Gum by Bob's Red Mill

2 teaspoon

Coarse Kosher Salt by Morton

¼ tsp

Apple Cider Vinegar

2 teaspoon
Combine all the ingredients into a food processor. Blend all the ingredients until smooth.

It should turn into a ball that runs around the food processor when it is ready.

Turn the dough out onto a cutting board and cut it into 6 equal pieces using a plastic bench scraper. If you do not have a bench scraper use a rubber spatula to remove the dough from the processor and cut the dough with a knife.

Place shape each piece into an oblong shape and place it between two pieces of parchment paper. Roll it flat with a rolling pin until it is an oblong shape and about 1/8" thickness.

Heat a large nonstick skillet over medium high heat until hot. Take off the top piece of parchment and turn it dough side down into the hot pan. Cook for 30 seconds or so until the dough starts to brown. It will now release the top piece of parchment paper. Gently use a rubber spatula to release any parts of the dough that still wants to stick to the paper.

Now flip the lavash and cook it on the other side for 30 seconds or until browned. Repeat with the remaining pieces of dough. Serve hot!