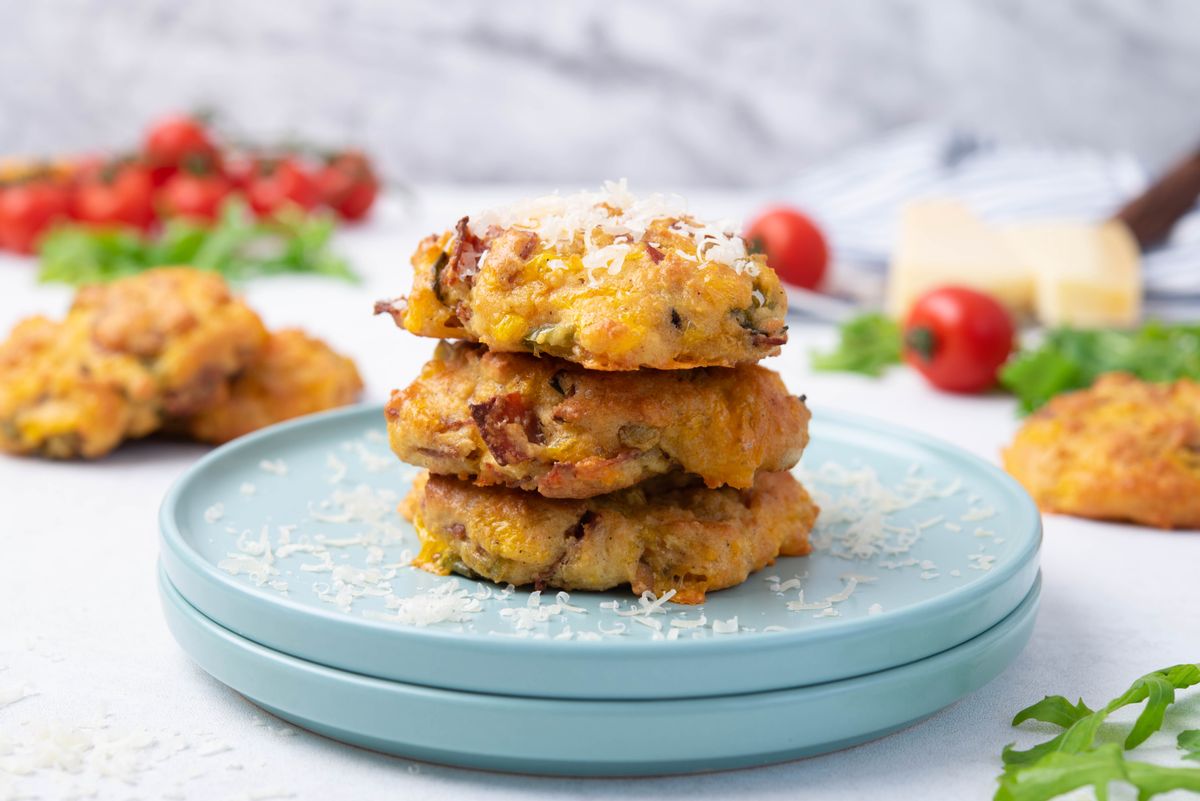 #1 Low Carb & Keto Diet App Since 2010
Track macros, calories, and access top Keto recipes.
15 min

35 min

50 min
Keto Baked Breakfast Fritters with Pepperoni
These fantastic baked fritters will become one of your favorite Keto savory breakfast recipes. They are effortless to prepare and an excellent option to take to work with you. These delicious pepperoni fritters are made with chopped pepperoni, bell peppers, and spring onions, with an almond flour base and some shredded cheese. You can also add some sliced chili peppers (or red pepper flakes) and chopped broccoli or asparagus for different but equally delicious results. Serve these lovely fritters warm and cold with some parmesan or low-carb veggies. Enjoy!
Can I prepare these in advance?
Yes. You can store these baked pepperoni breakfast fritters in air-tight containers and refrigerate them for a few days. Gently reheat in the oven or microwave when ready to serve.
Serving suggestions
These fabulous pepperoni fritters pair perfectly with parmesan cheese, sour cream, or some cottage cheese. You can also serve them with your favorite low-carb veggies.
Net Carbs

1.8 g

Fiber

1.1 g

Total Carbs

2.9 g

Protein

7.5 g

Fats

14 g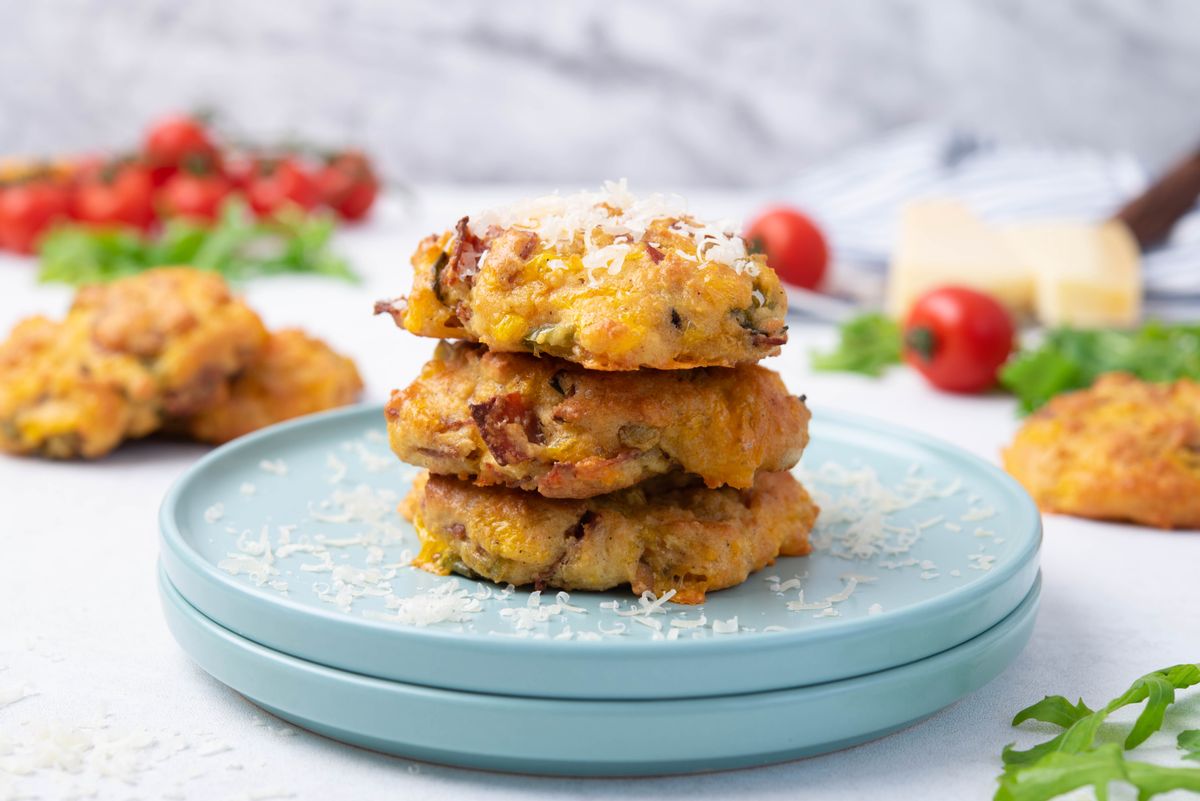 #1 Low Carb & Keto Diet App Since 2010
Track macros, calories, and access top Keto recipes.
Ingredients
Scallions

2 medium - 4 1/8" long

green bell pepper

0.25 small

Yellow pepper

0.25 medium - 2 1/2" diameter x 2 3/4"

Extra virgin olive oil

1 tbsp

Cheddar cheese, natural

1 cup, shredded
Roughly chop the spring onions and bell peppers. Cut the pepperoni slices into smaller pieces. Heat the olive oil in a frying pan over medium heat. Add the pepperoni, spring onions, and bell peppers. Cook for 12-15 minutes, stirring occasionally.

Remove the pepperoni mixture from the heat and transfer to a bowl. Allow it to cool for 10-12 minutes, and then add the eggs. Mix well to combine.

Shred the cheddar cheese. Add to a bowl and season with salt and black pepper. Mix well again and set it aside.

Add the almond flour and baking powder to a separate bowl. Mix until fully incorporated. Make sure to break any lumps.

Add the almond flour mixture to a bowl with eggs. Mix well until fully incorporated. The dough will be sticky.

Preheat the oven to 175°C (350°F). Line a cookie sheet with parchment paper. Lightly grease your hands with olive oil. Shape the dough into 10 equal balls and gently flatten to shape the fritter. Arrange the fritters over the prepared tray and bake for 15-20 minutes or until golden brown and crispy.

Remove from the oven and cool for 5-10 minutes before serving. Optionally, serve with some shredded parmesan or fresh vegetables. Enjoy!