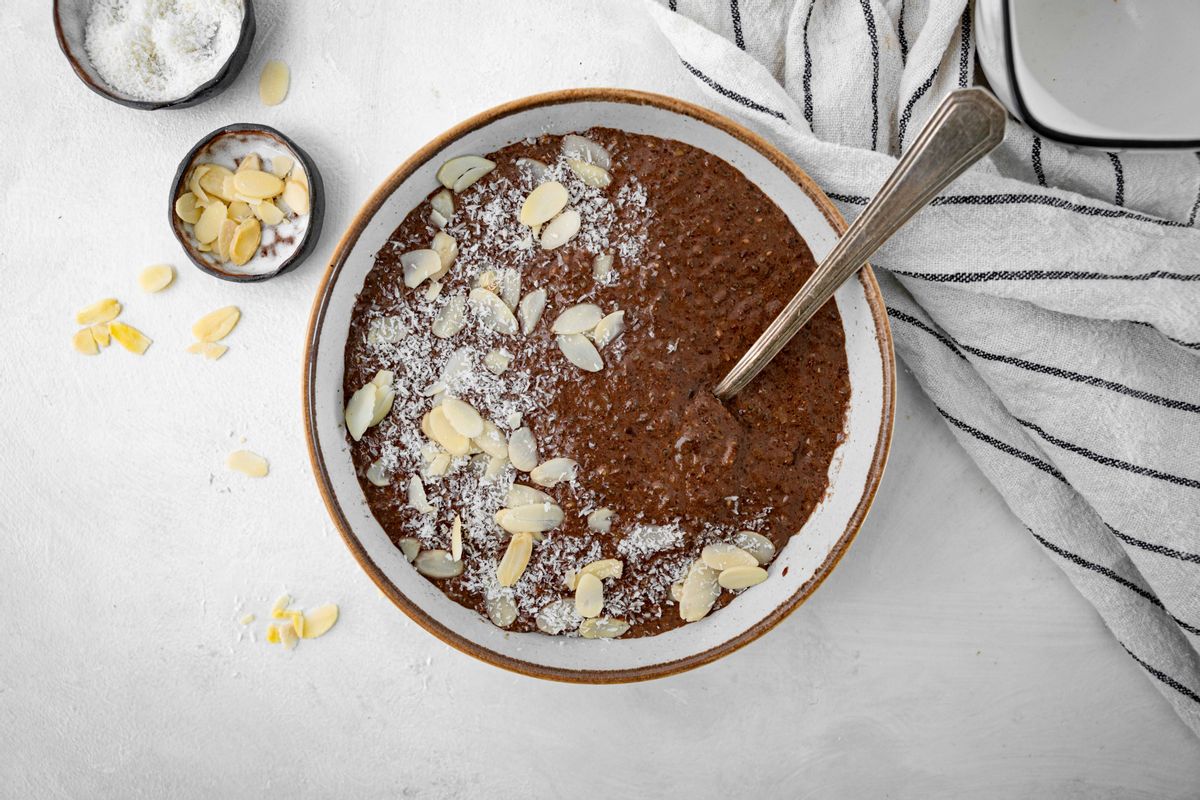 #1 Low Carb & Keto Diet App Since 2010
Track macros, calories, and access top Keto recipes.
10 min

10 min

20 min
Keto Mocha Flaxseed Porridge
This bowl of Keto mocha flaxseed porridge is comforting, delicious, and filling. It makes for a great alternative to your regular breakfast option. The combination of chocolate and coffee makes this bowl a delightful dessert too. It is sugar-free and full of fiber, leaving you satiated and ready to tackle the day. It can be served hot or cold; the choice is entirely yours.
Is flaxseed porridge Keto?
Yes. Flaxseed is a great superfood to add to your Keto diet. It contains about 71% of healthy omega-3 fats, which is excellent for high-fat diets like Keto. It also has only 3g net carbs per 100g. Flaxseed porridge is great for Keto dieters who would love a cozy bowl of porridge loaded with healthy fats and minimal carbs. It's a great alternative to regular oat-based porridge and is just as delicious.
Can you make variations of this Keto porridge?
This porridge is very forgiving and can be customized to your liking. If you prefer a flavor other than mocha, swap out the cocoa powder and coffee for your flavoring of choice, like cinnamon, berries, or even leave it plain as it is. The choice is entirely yours. For the toppings, walnuts, pumpkin seeds, or hempseeds work well. If you fancy some nut butter, feel free to add a drizzle on top.
** Can you make this Keto porridge in the microwave?**
Yes. If you are on a time crunch, making this Keto mocha flaxseed porridge in the microwave is the best option. Simply add all the ingredients to a microwave-safe bowl. Mix well to combine and transfer to the microwave for about 1 to 2 minutes. Once done, you can enjoy it hot straight from the microwave or allow it to cool down. If your time permits, you can chill it in the fridge for about half an hour to enjoy cold. Top with berries, and enjoy.
Net Carbs

5.4 g

Fiber

17.4 g

Total Carbs

22.9 g

Protein

11.8 g

Fats

26.6 g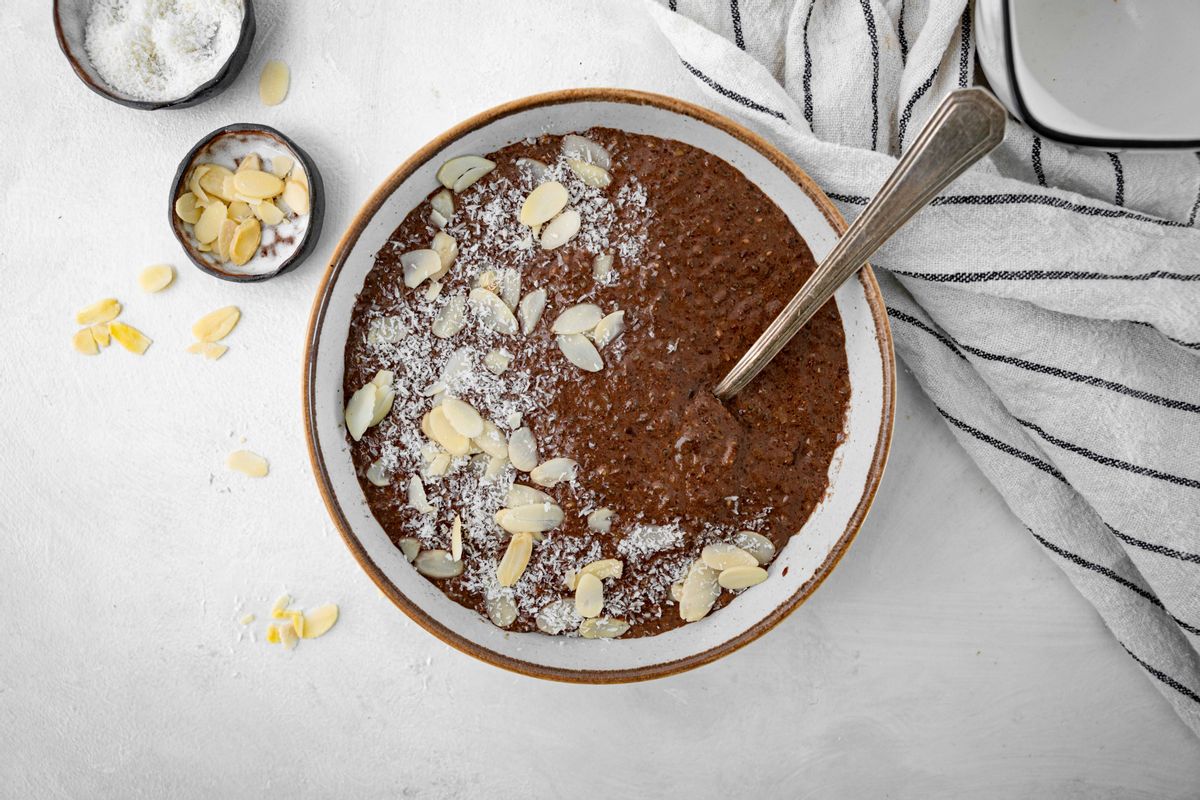 #1 Low Carb & Keto Diet App Since 2010
Track macros, calories, and access top Keto recipes.
Ingredients
Instant coffee dry mix (unprepared)

1 tsp

Coconut milk Beverage, unsweetened

1 cup

Flax seeds (Ground/ Milled)

4 tbsp

Erythritol Granulated

1 tbsp

Erythritol Granulated

1 tbsp

Almonds, raw

1 tbsp, sliced

Dessicated coconut (strained)

1 tbsp
Start by preparing the coffee. Add the coffee granules to a small bowl and mix with 2 tablespoons of warm water. Set aside.

In a bowl, combine the chia seeds, cocoa powder, flax meal, granulated erythritol, and salt until well incorporated. To a small pot over medium heat, add the coconut milk.

Heat the coconut milk uncovered until hot but not boiling. Turn the heat off. Add the vanilla essence. Stir to combine.

Add the dry mixture into the pot with hot coconut milk. Stir continuously for about 1 minute until well incorporated. The mixture should thicken up after stirring.

Set the pot aside for about 3 minutes to allow the chia seeds to swell and thicken the porridge mixture more. If the mixture turns out too thick, add a splash of coconut milk and combine to your desired consistency.

Serve the porridge in a bowl. Top with sliced almonds and coconut shreds.