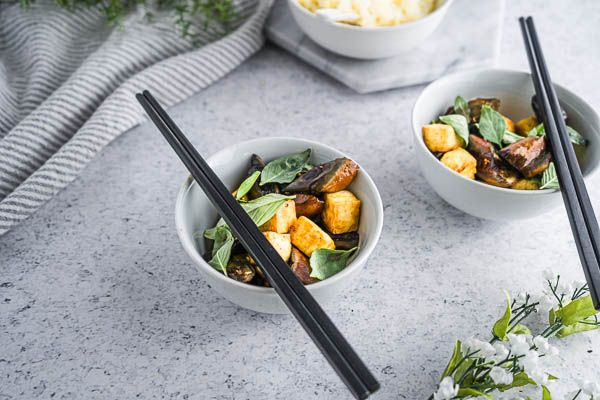 #1 Low Carb & Keto Diet App Since 2010
Track macros, calories, and access top Keto recipes.
20 min

30 min

50 min
Low Carb Thai Basil Tofu and Japanese Eggplant Stir Fry
Low Carb Garlic Tofu and Japanese Eggplant Stir Fry is a lovely vegan dish filled with antioxidants like Vitamin A and C, thanks to the eggplant. The eggplant is also high in plant compounds called polyphenols which may help the body regulate blood glucose. Firm tofu is air-fried until nicely browned and then set aside while the eggplant is sauteed with freshly minced garlic and soy sauce. The tofu is added back to the pan and gently tossed until heated. The final dish is added on top of hot cauliflower rice to make the dish extra satisfying.
Can I use regular eggplant?
Yes, feel free to use regular eggplant instead of Japanese eggplant. We like to use Japanese eggplant because it has a firmer texture and sweeter flavor. You can find Japanese eggplants at specialty grocery stores or Asian markets.
What kind of tofu should I use?
Please use firm tofu, which is easy to saute and has a higher protein content. You can opt to use super firm tofu, but it will change the macros. Feel free to copy this recipe to My Foods in the Carb Manager app and modify the ingredients.
Do I have to use the air fryer for the tofu?
No, you can saute the tofu instead in avocado oil. However, we like to toss the tofu in avocado oil and cook it in the air fryer before the stir-frying process because it results in perfectly crispy and golden all-over tofu cubes! It makes for a lovely texture. If you don't have an air fryer, you can also bake the tofu at 400 F for a similar amount of time.
What else can I cook with tofu?
Another fantastic tofu recipe is this Keto Vegan Sesame Crusted Tofu that is sweet and savory!
​​https://www.carbmanager.com/recipe-detail/ug:231414ea-e836-73bc-eaae-d79aade3c10e/keto-vegan-sesame-crusted-tofu
Net Carbs

5.5 g

Fiber

4.3 g

Total Carbs

10 g

Protein

14.6 g

Fats

9.5 g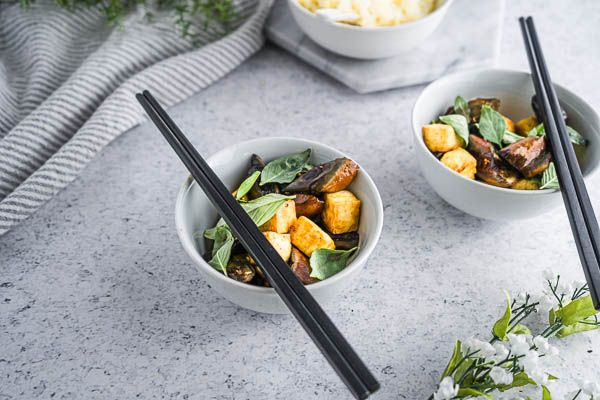 #1 Low Carb & Keto Diet App Since 2010
Track macros, calories, and access top Keto recipes.
Ingredients
Tofu, raw (not silken), cooked, firm

14 oz

Shaoxing Rice Wine

1.5 tbsp

Basil

1 cup, whole pieces
Slice the extra-firm tofu into even slices and then cut them in the other direction to make small cubes. The cubes should be about 1" x 1". Place the cubed tofu into a medium-sized mixing bowl and toss the tofu with the avocado oil, 1/2 tsp kosher salt (you want them to be kinda salty, which makes them so delicious!). Toss it all together well using a spoon.

Mince the garlic and cut the eggplant on a rolling bias into 1 1/2" pieces.

Cook tofu cubes in an air fryer at 400 F for 10 minutes. Toss the tofu and cook it for another 10 minutes until crispy and golden all over.

Preheat a large nonstick skillet over medium-high heat. Add in the avocado oil and swirl to coat. Add in the eggplant pieces as well as minced garlic.

Saute the eggplant until the pan becomes dry. Add in the wine (or you can use water) to deglaze the pan. Turn off the heat and wait for the tofu to finish cooking.

Once the tofu is crispy, turn on the heat again for the pan with the eggplant. Toss the tofu in the pan and the tamari.

Add in the Thai basil and toss briefly. Taste adding more soy sauce as desired. Serve immediately with hot cauliflower rice.