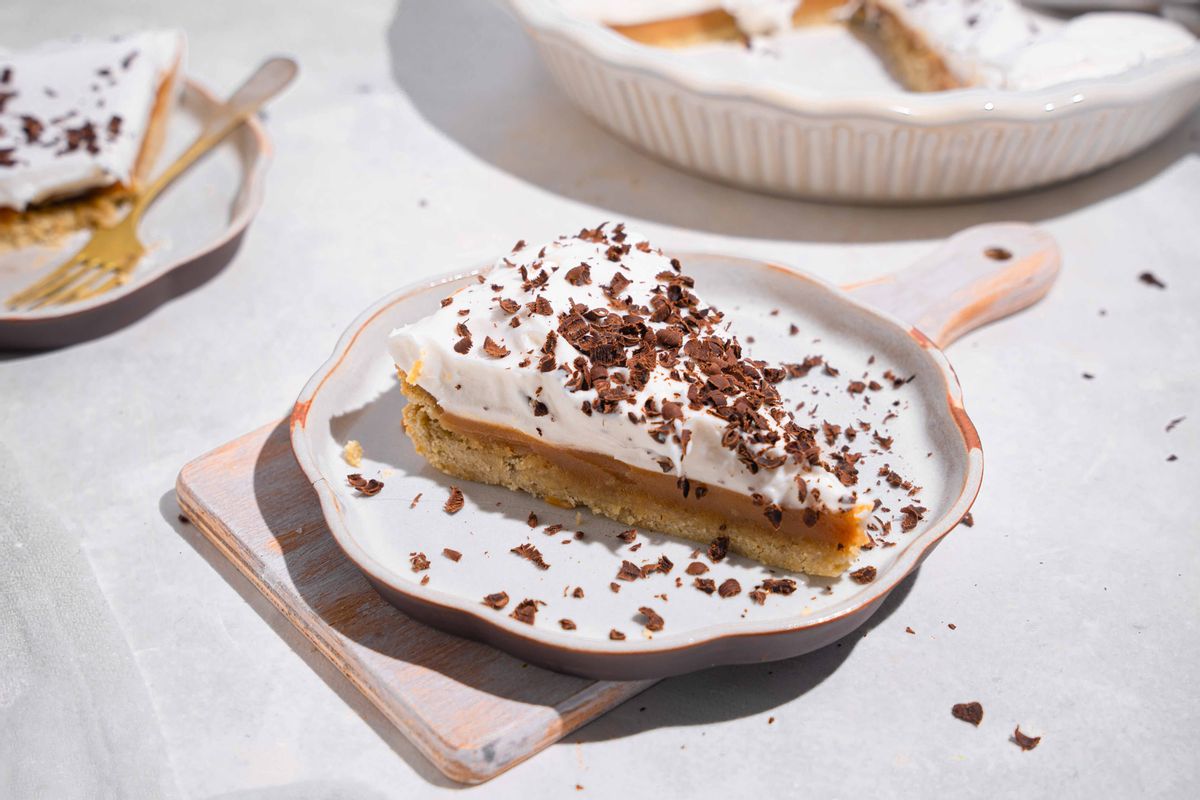 #1 Low Carb & Keto Diet App Since 2010
Track macros, calories, and access top Keto recipes.
1 h 30 min

35 min

2 h 5 min
Keto Banoffee Pie
Acquiring a Keto diet doesn't mean giving up on life's pleasures! Banoffee pie is one of the most indulgent desserts out there, and we have brought a Keto version for you. This recipe features a flakey crust, a sugar-free creamy caramel layer with a banana flavor, and topped with whipped heavy cream and shaved dark chocolate; you get several flavors and textures in one bite. Trust us, this is one of the best Keto family-friendly desserts out there!
Is banoffee pie Keto-friendly?
Traditional banoffee pie is not Keto-friendly because of its high carb and sugar content. This version uses a low-carb pie crust prepared with sunflower seed flour, a sugar-free toffee with banana flavoring, and some whipped cream on top. We opted for banana extract rather than using bananas to cut down on carbs. However, adding 1 medium banana to the recipe (sliced on top of the caramel) increases the carbs to 4.9g net carbs per serving. Each additional medium banana adds 2g net carbs per slice.
Can the pie crust in this recipe be made ahead of time?
Yes. This easy pie crust can be made beforehand, mainly since it contains no eggs. Prepare the pie crust according to the instructions and wrap the raw pie crust or cooled baked pie crust in plastic wrap while still on the pie plate. Ensure that the pie crust is well wrapped to prevent air from drying it out while stored. Store in the refrigerator for 3-4 days. Alternatively, to store it for longer, wrap the unbaked pie crust dough in plastic wrap and freeze it for up to 6 months. Allow the dough to thaw completely before pressing it into the pie plate. You can use this pie crust for many Keto dessert recipes.
How can you store this pie?
If you have any leftover pie, place it in an airtight container and store it in the fridge for up to 3 days. You can also freeze this pie without the whipping cream. After baking the crust and adding the toffee, allow it to set in the fridge. Then, wrap the whole pie in multiple layers of plastic wrap and freeze it for up to 3 months. To serve, let it thaw completely one night ahead in the refrigerator, then top with whipped cream and shaved chocolate.
Net Carbs

2.7 g

Fiber

0.6 g

Total Carbs

9.7 g

Protein

5.3 g

Fats

33.9 g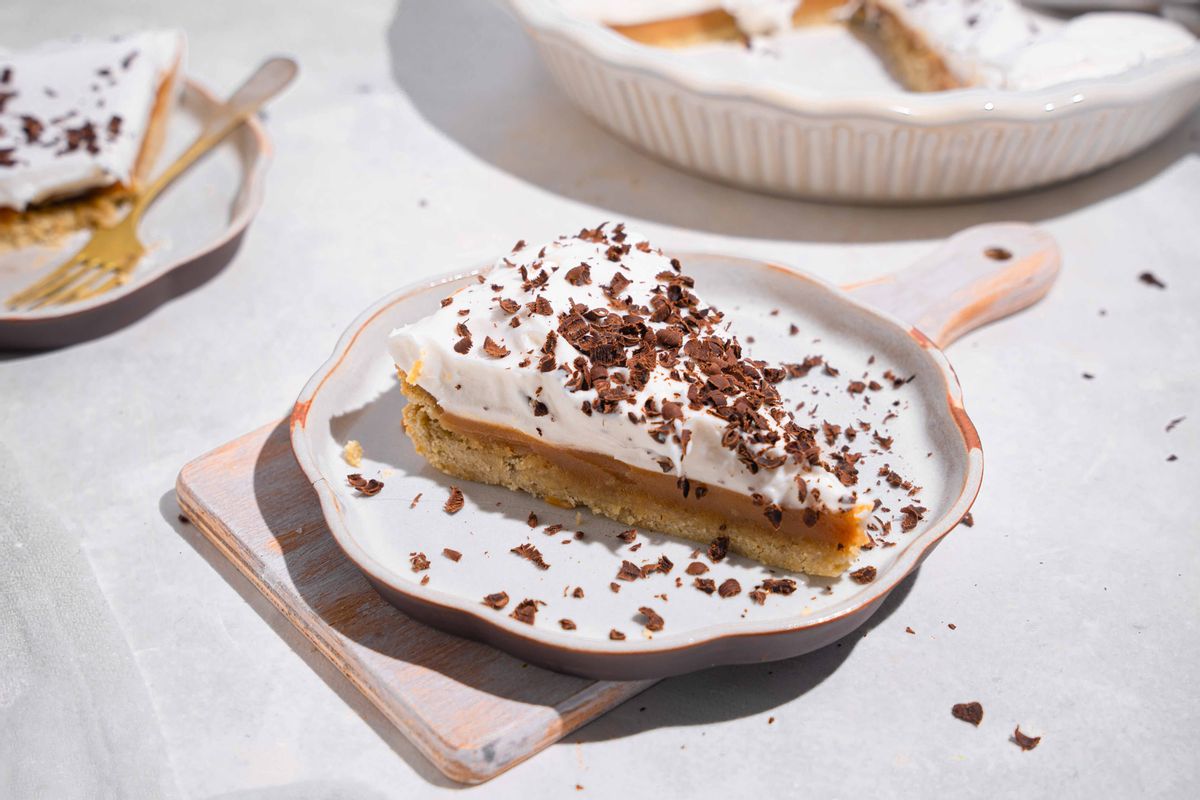 #1 Low Carb & Keto Diet App Since 2010
Track macros, calories, and access top Keto recipes.
Ingredients
Sunflower Seed Flour

1.5 cup

Allulose, powdered

0.25 cup

Granulated Allulose

0.75 cup

Allulose, powdered

0.25 cup

Dark chocolate bar, sugar free

0.13 bar - each 2.9 OZ
Preheat the oven to 325F/165C. In a medium-sized mixing bowl, add the sunflower seed flour, 1/4 cup powdered allulose, and salt and whisk to combine. Ensure there are no lumps. Add in the melted butter and mix using a spatula until coarse crumbs start to form.

Transfer the mixture to a pie dish and use the spatula to spread the mixture around the bottom of the dish evenly. Use your fingers to press down firmly then use a flat-bottomed glass to even out the surface of the crust. Then, use a fork to poke holes throughout the crust to prevent bubbling.

Transfer the pie dish to the oven and bake for 16-20 minutes until the edges are golden brown. Allow it to cool completely. Start preparing the caramel.

Add the butter to a nonstick saucepan and allow it to melt. Add the granulated allulose, then stir and cook for 3-5 minutes on a low simmer, stirring occasionally until you achieve a golden color. Pour 1 cup of heavy cream.

Cook at the lowest temperature, stirring with a whisk occasionally until it thickens and coats the back of a spoon. Depending on the size of the saucepan and the temperature, this will take between 7 and 10 minutes.

Add the banana extract and stir to combine. Let the caramel cool in the pan for 5 minutes, then pour it into the cooled pie crust and place the pie in the freezer for approximately 45 minutes or in the fridge for 3 hours to set.

Add 1 cup of heavy whipping cream to a bowl with the vanilla extract and 2 tbsp powdered allulose. Beat using an electric hand mixer until light and fluffy. Take the pie out of the fridge or freezer, and top with the whipped cream.

Grate or shave the chocolate on top of the whipped cream. Cut the pie into 12 slices and serve. Store in an airtight container in the fridge for up to 3 days.