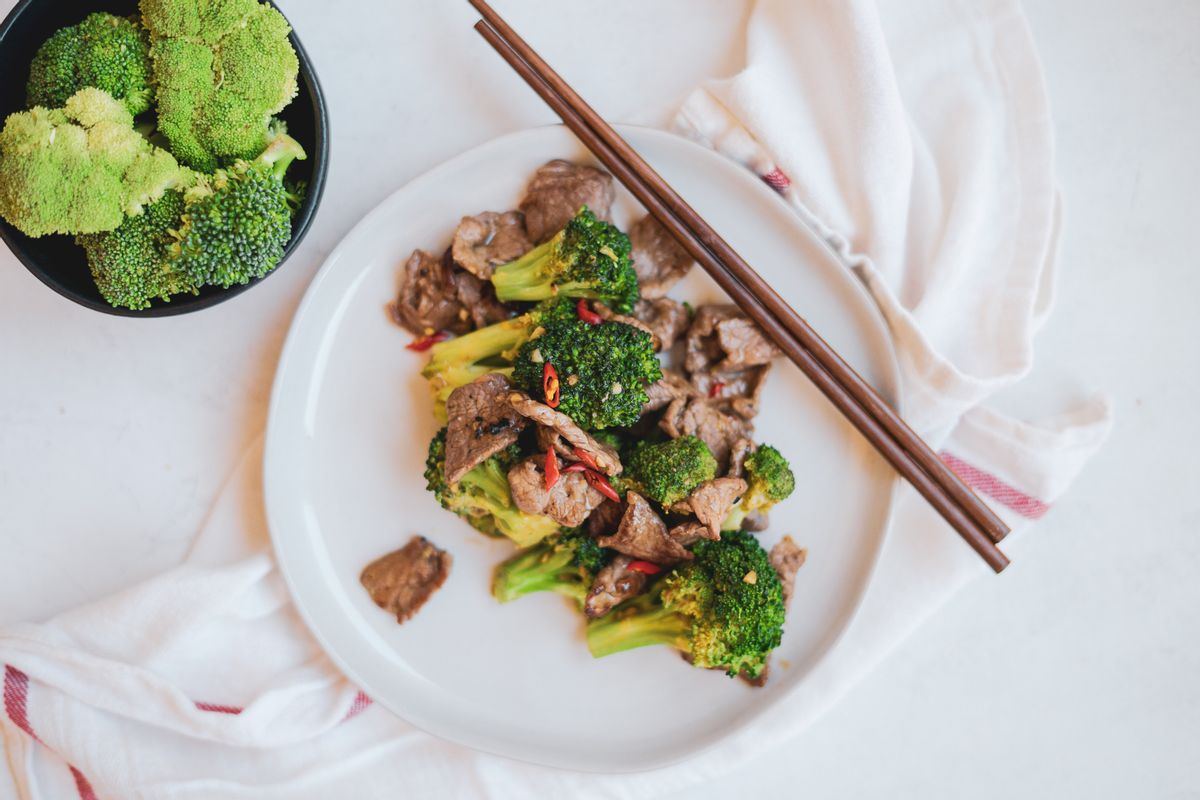 #1 Low Carb & Keto Diet App Since 2010
Track macros, calories, and access top Keto recipes.
20 min

20 min

40 min
Low Carb Beef And Broccoli
Keto Beef and Broccoli is a perfectly Keto and low-carb friendly recipe. Delicious bottom round beef is thinly sliced and marinated in a mixture of soy sauce, sesame seed oil, and sherry wine. The meat is cooked in a very hot wok to achieve the classic wok flavor and char. Then the beef is set aside to cook the broccoli. Traditionally, the broccoli is quickly blanched in the wok, but to make this recipe more weeknight-friendly, the broccoli is simply steamed in the wok with the addition of water and a lid to enclose the steam. Then the whole mixture is brought back together in the wok to have the final sauce drizzled over the top and thickened into a beautiful glaze.
Doesn't beef and broccoli usually have oyster sauce?
Yes, the oyster sauce was omitted here for anyone with shellfish allergies. However, if you like the flavor of it, add 1 tbsp of oyster sauce to the sauce mixture.
What kind of broccoli should I use?
Broccoli crowns that you have cut into small florets or precut broccoli works best here. It is best if there are no broccoli stems as they cook at a different rate.
If I wanted to blanch the broccoli, how would I do it?
To blanch the broccoli in the wok, add water in the bottom about halfway up and bring it to a boil. Add salt to the water and then place the broccoli in the boiling water for about 30 seconds to 1 minute. The broccoli should be crunchy still as it will get cooked a second time with the meat and sauce. Once blanched, remove the broccoli with a slotted spoon and set aside in a bowl. Drain the water from the wok, wipe out the wok, and then proceed to cook the beef.
What kind of beef cuts works best?
Some stores will precut beef for stir fry, if you can't find that, beef bottom round or flank steak are the best cuts for a classic beef and broccoli. Whatever cut you decide to use, it must have plenty of marbling (not any lean cuts as they are less flavorful and tough).
What should I do if I don't have a wok?
If you don't have a wok, any large nonstick skillet will work instead.
Suggested pairings
Keto Beef and Broccoli would be fabulous paired with steaming hot Keto Egg Drop Soup https://www.carbmanager.com/recipe/Keto-egg-drop-soup.
Net Carbs

7.5 g

Fiber

3.9 g

Total Carbs

13.7 g

Protein

38 g

Fats

28.3 g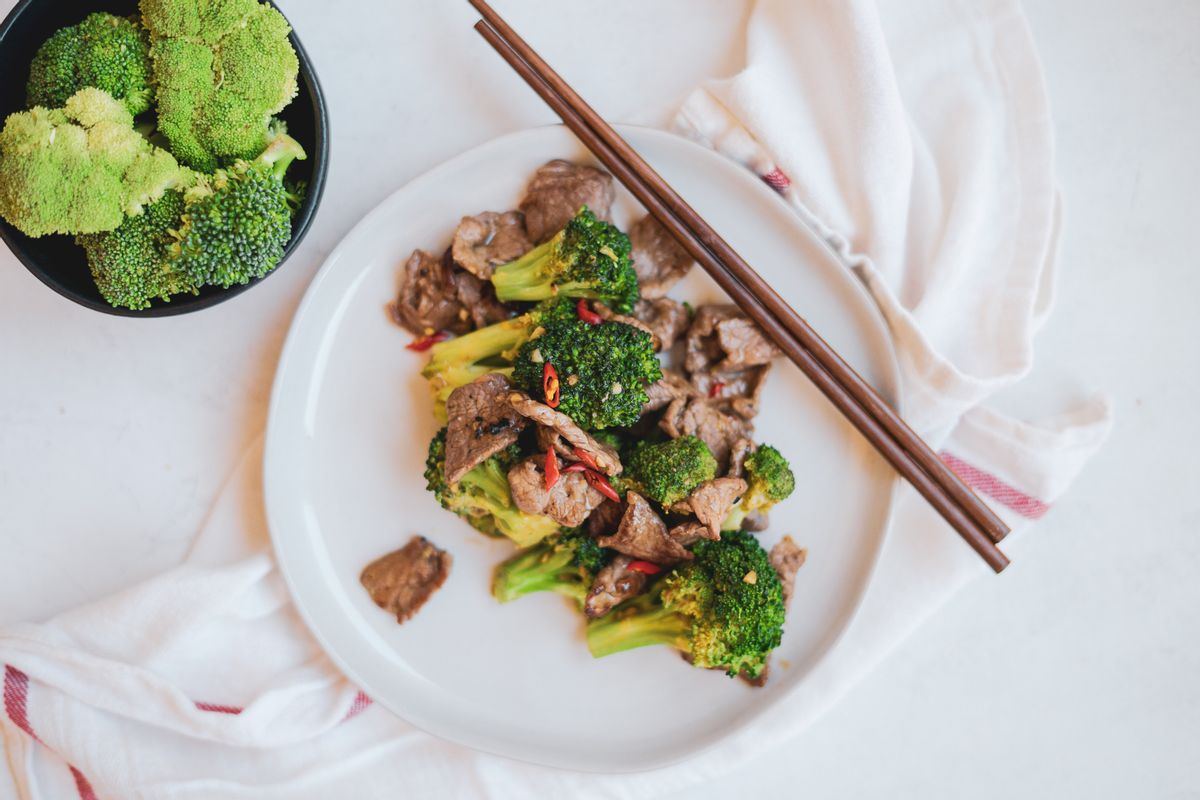 #1 Low Carb & Keto Diet App Since 2010
Track macros, calories, and access top Keto recipes.
Ingredients
Roast Beef, Bottom Round, Visible Fat Eaten

1 pound

Arrowroot Flour

1-½ teaspoon

Coarse Kosher Salt by Morton

¼ tsp

Avocado Oil

4-½ tablespoon

Ginger

1 slice - 1" diameter

Sherry Cooking Wine by Holland House

1 tablespoon

The Ultimate Icing Sugar Replacement by Swerve

1 tablespoon

Arrowroot Flour

1-½ teaspoon
For preparing stir-fry, you want to make sure that you have all the ingredients and sauces prepped ready to go as the wok should be very hot and will cook very fast if you are too busy prepping other steps. To start, prep the beef by marinating it.

If you find beef thinly presliced this makes everything go a lot quicker. If not, go ahead and slice your beef very thin on the bias into 1" x 2" pieces and place it into a mixing bowl. Combine the beef with the 1 ½ tsp arrowroot powder, 1 ½ tsp soy sauce, ¼ tsp kosher salt, and 1 tsp sesame seed oil. Mix well to combine and set aside.

Next, prepare the broccoli. If buying broccoli crowns, break the broccoli down into smaller florets. If buying precut broccoli, cut the larger pieces into smaller florets as well. Also, have the garlic and ginger minced ready to go. Prepare the stir fry sauce by combining the soy sauce, water, 1 tsp sesame seed oil, sherry wine, powdered sweetener, and 2 tsp arrowroot powder together.

Preheat a wok over high heat until the wok is smoking. If you don't have a wok you can use a large nonstick skillet instead. Do not use a pan with high sides, however, or the water will not evaporate well.

Add 1 ½ tbsp avocado oil, drizzling it in a circle over around the wok and its sidewalls. Add the beef then, separate the beef so it is in a single layer. This helps get a better sear. Don't stir the beef for 30-60 seconds to allow the sear to develop.

Stir the beef. Now continue stirring the beef constantly until all the beef is cooked through. Remove the beef to a clean bowl.

Keep the wok on the flame, add the remaining avocado oil, and then the broccoli. Toss quickly then add ¼ cup water. Place a lid or a sheet tray over the wok for 1 minute. Turn the heat down slightly so broccoli doesn't burn. Remove lid and stir well making sure broccoli is evenly cooked. If not cook stirring constantly for 30 seconds. Remove broccoli to a clean bowl.

Add another 1 ½ tbsp oil, then Add the garlic and ginger to the oil, stir briefly then add the cooked beef back to the wok.

Now add the cooked broccoli back into the wok. Stir briefly to combine the meat and broccoli. Then pour the sauce over everything. At this point, your heat should be back up to high.

The sauce should bubble and then visibly thicken. Stir everything together well to coat the meat and broccoli with the thickened sauce. Serve immediately.