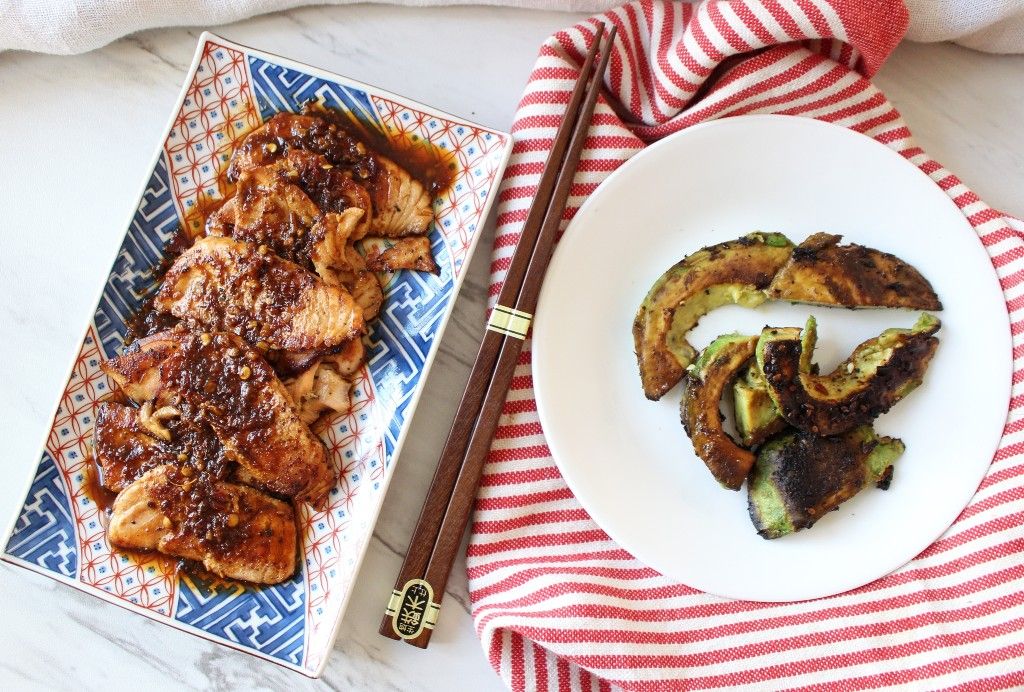 #1 Low Carb & Keto Diet App Since 2010
Track macros, calories, and access top Keto recipes.
15 min

20 min

35 min
Keto Carb Sweet Chili Salmon w Seared Avocado Slices
This Keto recipe is great for a fresh and light lunch or as a component to a larger meal. There are carbs to spare to include other Carb Manager Keto side dishes with this salmon and avocado. Thin-sliced salmon fillets are marinated and cooked in a pan to a golden brown. They're topped with a spicy-sweet chili sauce that's reminiscent of takeout or bottled chili sauces. On the side are thick slices of avocado that have been seasoned and seared with more chili flakes and nutty sesame seeds. The avocado has a crunchy outside and a tender and creamy inside. If you want to expand on this meal without spending too much additional time in the kitchen, pair the salmon and avocado with a bed of cauliflower rice. Add a little rice vinegar or extra soy sauce to the cauliflower rice to complete the effect of sushi rice!
Use A Green Avocado
In Step 6, it's noted that using a green avocado will be best for searing. If you choose an avocado that is too ripe, it will be too soft and may fall apart during slicing or cooking. Select an underripe avocado instead that is still a little firm. Slicing the firm avocado into thick pieces will make it easier to properly sear and flip the avocado while keeping the slices whole. For more help, you can keep the avocado cold in your refrigerator before slicing it. Cold avocado will also be easier to manipulate.
Where Does My Keto Fat Come From And How Do I Increase It?
There are multiple ingredients in this Keto recipe that contribute healthy fats to your diet. Going down the ingredient list, you have healthy oils from the salmon. Salmon provides healthy cholesterol that helps combat bad cholesterol. You also get fat in your meal from olive oil, avocado, and sesame seeds. If you want to increase your fat macro in this meal, you can garnish the finished dish with a drizzle of extra virgin olive oil. At your discretion, you can also include more avocado in your meal. Just make sure to add any extra ingredients to your food log!
Jessica L.
Net Carbs

2.2 g

Fiber

2.3 g

Total Carbs

5.5 g

Protein

12.9 g

Fats

15 g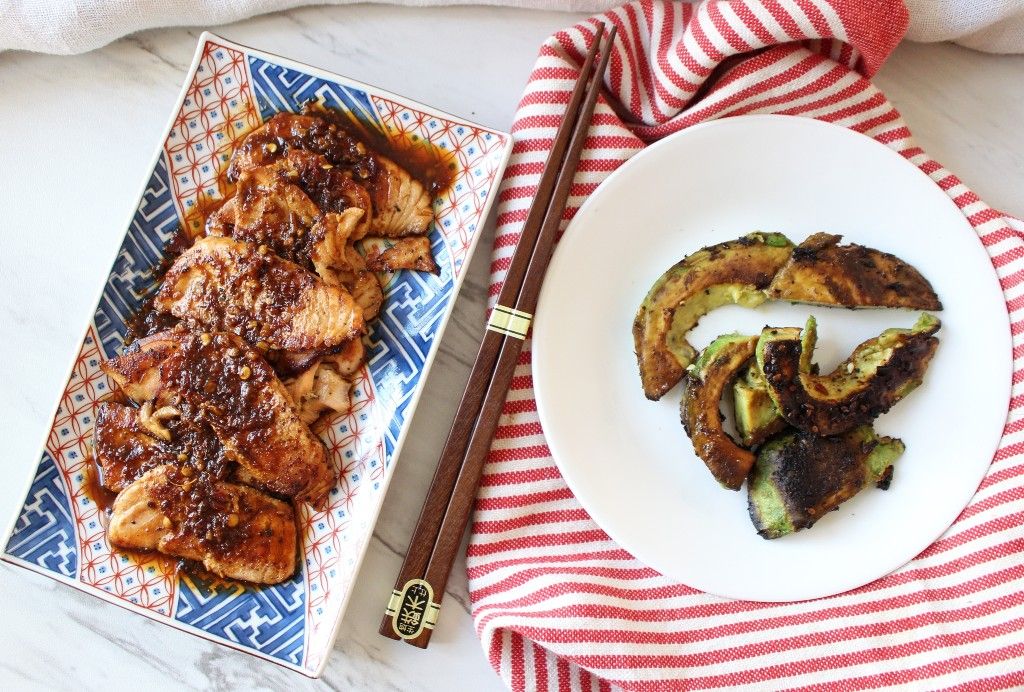 #1 Low Carb & Keto Diet App Since 2010
Track macros, calories, and access top Keto recipes.
Ingredients
Salmon, red (sockeye), raw, Alaska Native

3.5 ounce

Olive Or Extra Virgin Olive Oil

0.5 tablespoon

Black pepper

0.13 teaspoon

Gelatin (jello) powder, plain

0.5 teaspoon

Sauce Sriracha Or Hot Chile

1 tsp

Granular Sugar Replacement

0.5 tsp

Olive Or Extra Virgin Olive Oil

0.5 tablespoon

Black pepper

0.13 teaspoon

Pepper Red Or Cayenne Spice

0.13 tsp

Garlic powder

0.13 teaspoon

Sesame seeds

0.25 teaspoon, whole pieces
Prepare a salmon fillet by removing the skin if necessary and patting the flesh dry with a paper towel. Use a very sharp knife or pairing knife to slice the salmon into thin slices, no more than ¼-inch thick. Add the thin-sliced salmon to a mixing bowl and combine with olive oil, pepper, soy sauce, and minced garlic. Fold the salmon slices with the marinade until the salmon is coated. Set the bowl of salmon aside in your refrigerator to marinate while you prepare the sweet chili sauce.

Pour the first amount of water into a small dish. Sprinkle powdered gelatin directly over the surface of the water. Set the dish aside to let the gelatin bloom for 5 minutes. Meanwhile, in a small pot, whisk together the second amount of water, chili sauce, lemon juice, grated ginger, and swerve. Place the pot over low heat and bring to a simmer.

Once the water is at a simmer, remove 1-2 tablespoons of hot liquid and pour it over the bloomed gelatin. Turn the stove heat down so the pot is heating at just below a simmer. Whisk together the gelatin water and slowly whisk the concoction into the saucepot. Whisk the sauce together and then remove from the heat. Set the sauce aside to cool and use later.

Place a clean pan on your stove and heat on medium-high heat. When the pan is hot, place the marinated salmon slices in. Pour any remaining marinade over the salmon. Cook the salmon for about 3 minutes per side. Wait until the slices naturally release from the pan before flipping them over. At your discretion, you may also simply sear the salmon over very high heat if you prefer this style instead.

Once done, transfer the cooked salmon slices to a serving dish. Return your pan to low heat on the stove. Pour the chili sauce into the pan. You may notice the chili sauce is slightly thicker but mostly still liquid. Bring the chili sauce to a bubbling simmer in the pan until it reduces to a properly thickened sauce - about 2-3 minutes. Once thickened, pour the sweet chili sauce over the salmon.

Now, you can quickly make the seared avocado. Slice the avocado into thick slices at least ½-inch thick. If you choose a cold, greener avocado, you'll have an easier time with searing. Heat the olive oil in a clean pan over medium-high heat. Place the avocado in the hot oil and sprinkle the salt, pepper, red pepper, garlic powder, and sesame seeds over the exposed avocado.

Cook the avocado until it has seared to a dark golden brown on one side. Gently lift and flip the avocado over to sear the seasonings on the other side. This side will likely cook much quicker than the first side, so watch carefully to avoid burning. Serve the seared avocado with the salmon. Each serving is approximately 5 slices of salmon and 2-3 slices of avocado.