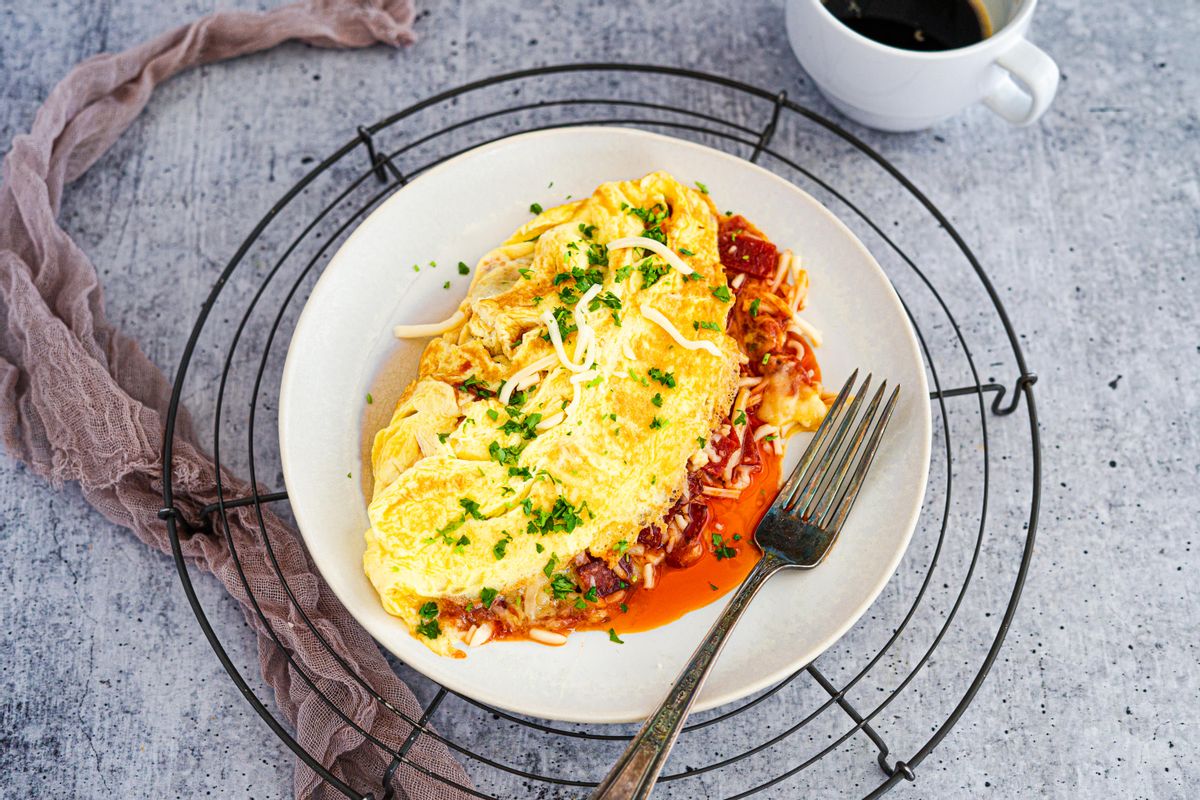 10 min

10 min

20 min
Keto Pizza Omelette
If you're looking for some delicious and simple lazy Keto breakfast ideas, then you should definitely try our Keto pizza omelette. It's super easy to prepare and an excellent breakfast option for the entire family, especially kids who will love it. It takes about 20 minutes to have this fantastic and filling dish on your table. We have decided to keep it simple and seasoned the eggs with just a small amount of salt. However, you can add some of your favorite herbs and spices to the egg mixture and create the flavor you enjoy. We recommend using some dried oregano or thyme or even adding a few drops of hot sauce. The options are endless, and each sounds super yummy! Enjoy!
What to eat for breakfast on Keto diet?
Having a good Keto breakfast is actually quite simple! Most of the foods you regularly eat for breakfast can easily be transformed into a wonderful Keto-friendly meal. Our Keto pizza omelet is a fantastic example of a beautiful and filling breakfast for everyone who enjoys having eggs in the morning. There are hundreds of other delicious egg recipes you can try or simply prepare them as you usually do, but with low-carb ingredients. Other Keto breakfast ideas include various breakfast muffins, sandwiches, Keto cereal, or basically anything that is Keto-friendly and you enjoy eating for breakfast. Just make sure you have a filling breakfast that will keep you full for hours!
What is a good Keto breakfast?
Breakfast is the most important meal of the day! A good, filling breakfast will raise your energy levels and keep you full until lunchtime. Choose foods packed with healthy fats and good amounts of protein and fiber (just make sure to count the carbs). A good Keto breakfast can be anything from Keto-friendly cereal, breakfast muffins, various delicious sandwiches, smoothies, or your favorite egg recipes. Our database contains countless breakfast recipes for everybody's taste!
Net Carbs

3.5 g

Fiber

0.7 g

Total Carbs

4.3 g

Protein

28.3 g

Fats

47.7 g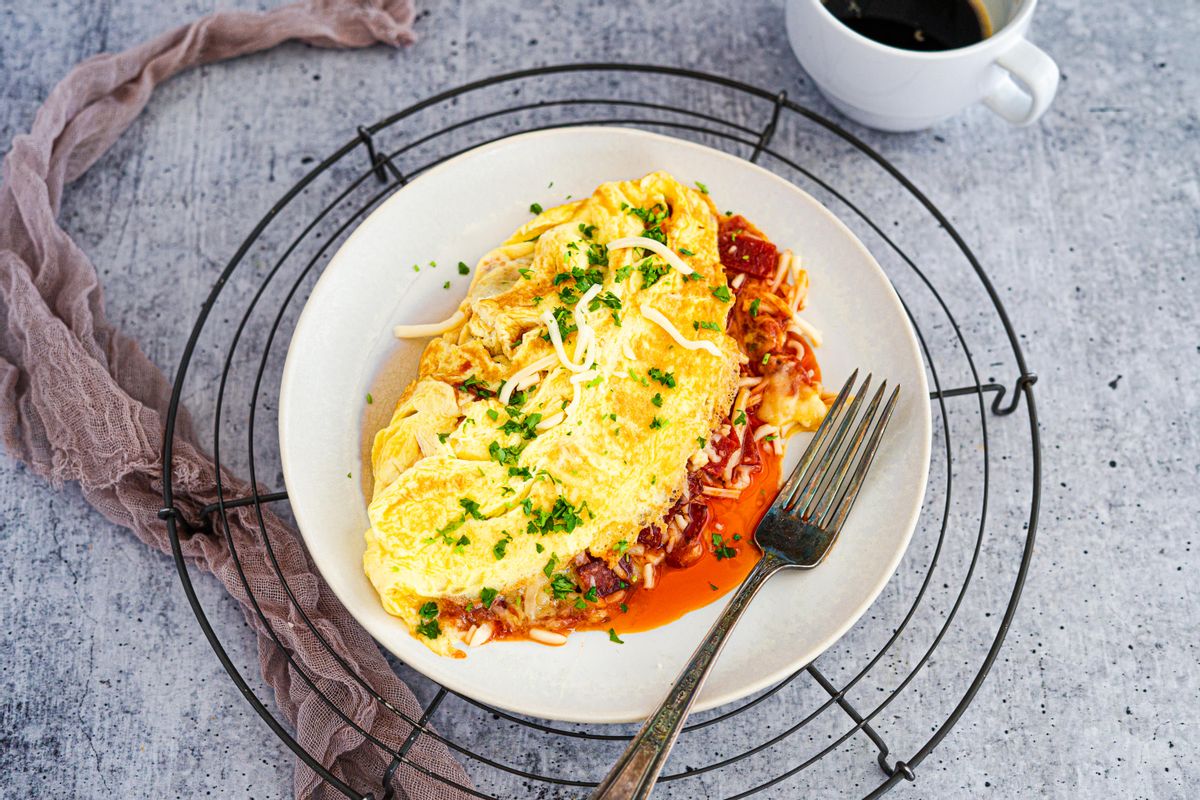 Ingredients
Coarse Kosher Salt

0.13 tsp

Mozzarella cheese, whole milk

2 tbsp, shredded
Prepare the ingredients for the inside of the omelet. Dice the pepperoni into medium-sized dice. Measure out the mozzarella cheese. Also, place the marinara sauce into a small bowl.

Crack the eggs into a medium-sized bowl. Add 1 tbsp of water. Whisk the eggs well with a fork. Do not add salt to the eggs yet; otherwise, they will water out during the cooking process.

Preheat a small saute pan over medium heat until hot. Add in the diced pepperoni. Cook it for 1 minute until the rawness is cooked off slightly. The pepperoni should appear a bit darker. Place the pepperoni aside for now. Now the pan is preseasoned and hopefully will create a nonstick surface.

Add 2 tsp of olive oil to the small saute pan and swirl the pan to coat it. Add in the whisked eggs. Pull the cooked egg from the edges to the center of the pan until most of the egg is not cooked. You will want to leave enough liquid egg to fill in any gaps to make one smooth circle. If you move slowly, you will want to place the eggs on very low heat to buy yourself more time, so the eggs don't brown too much. Sprinkle with ⅛ tsp sea salt.

Add the marinara sauce to one-half of the omelet as well as the cheese and cooked pepperoni. Use a rubber spatula to go around the edges of the omelet. Then fold the side without filling over the side with the filling.

Scoot the omelet close to the edge of the pan using the spatula. Then shimmy the omelet to a plate.

Sprinkle with chopped parsley and serve immediately! Optionally, season with some more salt or pepper. This Keto pizza omelette pairs perfectly with your favorite low-carb veggies.