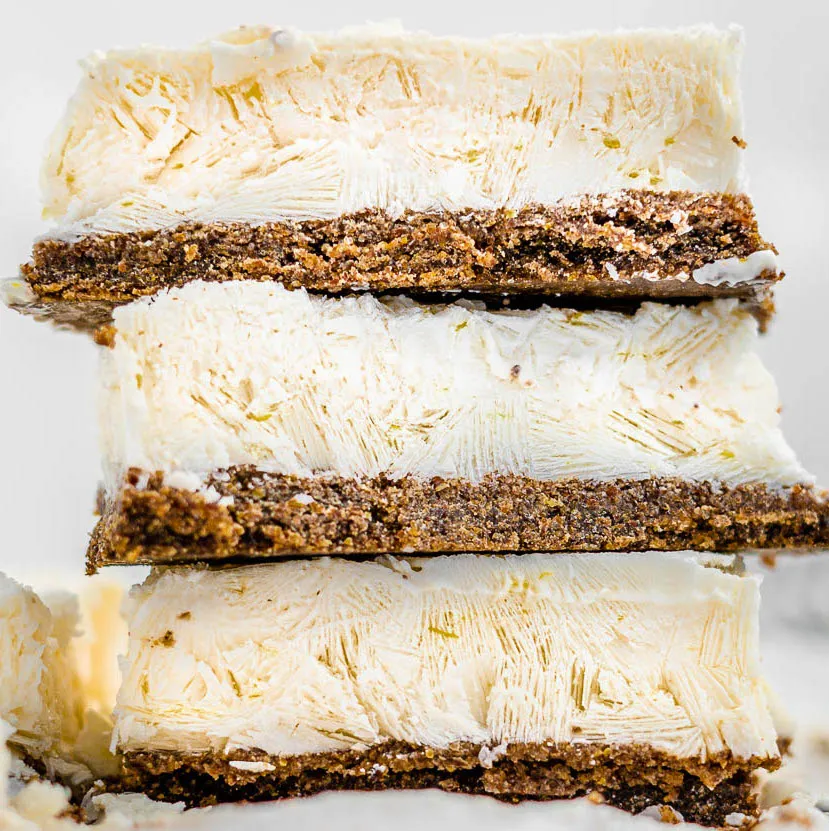 #1 Low Carb & Keto Diet App Since 2010
Track macros, calories, and access top Keto recipes.
25 min

15 min

40 min
Keto Frozen Lemon Yogurt Bars
These super-simple Keto-friendly Frozen Lemon Yogurt Bars will fix a sweet tooth. Stevia sweetened vanilla yogurt is flavored with freshly squeezed lemon juice and zest. The fresh lemon yogurt is poured on top of a Low Carb "graham cracker" base made from ground flaxseeds, brown sugar sweetener, and butter. The entire tray is frozen and then later cut into individual pieces. You will find yourself sneaking pieces of these lemon yogurt bars throughout the day.
What kind of yogurt should I use?
You can use any brand of Keto-friendly vanilla yogurt that has a very low net carb count. Look for a yogurt that is full-fat and has no added sugars. Feel free to use a yogurt that has alternative sweeteners added like stevia.
Can I use bottled lemon juice?
You can use bottled lemon juice in a pinch, but freshly squeezed lemon juice makes all the difference in these bars!
How can I cut the bars? They are frozen solid!
Please allow the bars to sit at room temperature for a half-hour before attempting to cut them with a sharp knife. If you do not allow them to temper, the yogurt bars will crack instead of cut.
Net Carbs

1.5 g

Fiber

3.9 g

Total Carbs

18.2 g

Protein

6.6 g

Fats

11.9 g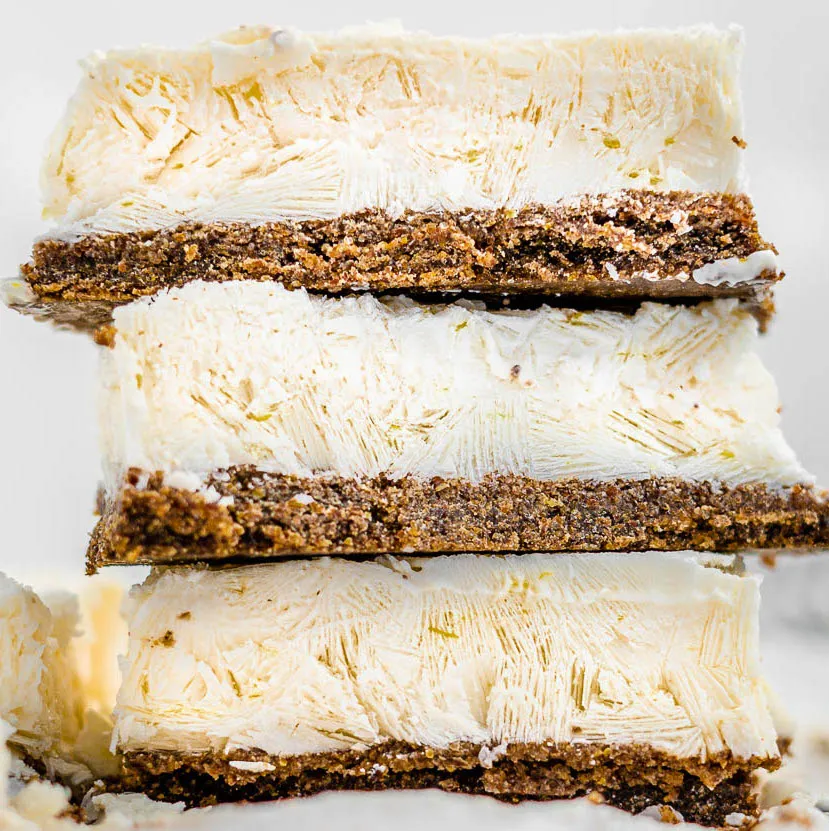 #1 Low Carb & Keto Diet App Since 2010
Track macros, calories, and access top Keto recipes.
Ingredients
Brown Sugar Replacement

0.5 cup

Flaxseeds Or Flax Seeds Whole Or Ground

1.25 cup, whole

Keto-Friendly Vanilla Yogurt

26.5 oz

Monk Fruit Erythritol Blend

0.5 cup

Lemon Peel Or Zest Raw

1 tbsp
Preheat an oven to 350 F. Combine the brown sweetener with the ground flaxseeds and melted salted butter. Press the mixture into the bottom of a 7" x 9" baking pan lined with parchment paper. The paper will give you a handle to pull the yogurt bars out of the pan once frozen.

Bake the crust for 15 minutes. Then allow the crust to cool slightly while you prepare the lemon yogurt filling.

In a medium-sized bowl, combine the yogurt with freshly squeezed lemon juice and the zest. Be sure to zest the lemon before juicing it. Add the powdered sweetener and taste to make sure it is sweet enough for your liking, adding more if you'd like.

Pour the yogurt filling into the baked crust. Cover the dish with plastic wrap and freeze the tray until solid, preferably overnight.

Be sure to smooth the top of the yogurt into a smooth layer.

Allow the bars to sit at room temperature for at least 30 minutes before attempting to remove the bars from the pan and cutting them. This allows them to soften so they will cut versus being so brittle and breaking instead. Cut into 15 bars by cutting the tray into three sections and then each section into five long pieces. Keep stored in the freezer for an icy treat.