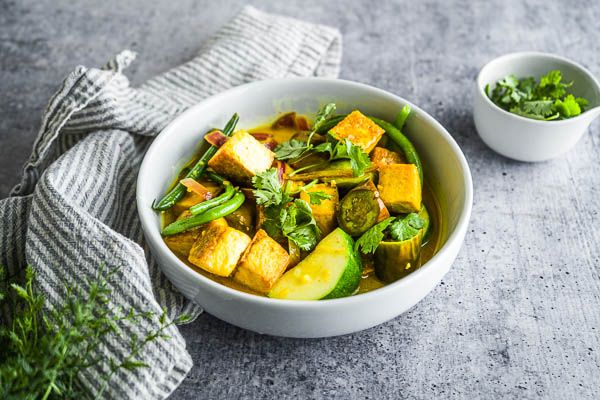 #1 Low Carb & Keto Diet App Since 2010
Track macros, calories, and access top Keto recipes.
20 min

20 min

40 min
Low Carb Madras Tofu Curry
Our Keto tofu recipe uses Madras curry powder and creamy coconut milk as the base of the soup. Vegetable broth is added to the soup along with crunchy green beans, zucchini, and eggplant. The final creamy and slightly spicy curry dish is topped with chopped cilantro for flavor. You can make yellow curry with various curry powders, but this yellow curry is made using Madras curry powder which is readily available and easy to find. Madras curry is made with coriander seeds, cumin, mustard seeds, fennel, cinnamon, peppercorns, nutmeg, cloves, cardamom, turmeric, ginger, and cayenne pepper.
What is the best tofu to use?
Any Keto or low carb diet must be made up of plenty of protein; since tofu is light in protein, opt for firm tofu or even super firm tofu (with 15 g of protein per serving), which we used in this recipe. Firm tofu also holds together in the curry without breaking down.
Is this dish vegan?
Yes, this dish is entirely vegan.
Why is the tofu baked before being added to the curry?
Baking the tofu creates a barrier around the tofu from soaking too much liquid and breaking apart in the curry. The tofu is also seasoned in this process, making it that much more delicious in the curry later on.
Serving suggestions
This curry would be delicious paired with our Keto Coconut Cauliflower Rice:
https://www.carbmanager.com/recipe-detail/ug:d9b1f0cf-41f8-c0b5-1999-4a520c619559/keto-coconut-cauliflower-rice
Net Carbs

10.4 g

Fiber

3.1 g

Total Carbs

13.8 g

Protein

16.9 g

Fats

20.4 g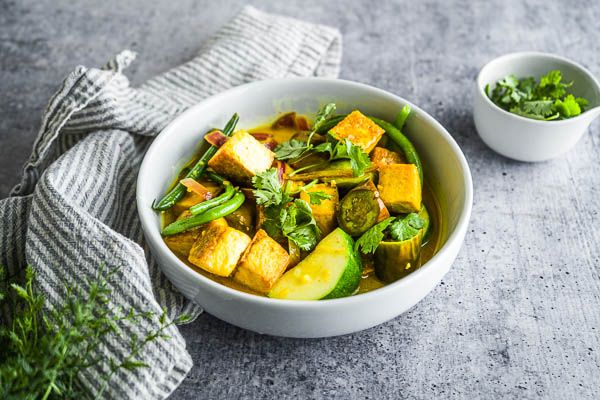 #1 Low Carb & Keto Diet App Since 2010
Track macros, calories, and access top Keto recipes.
Ingredients
Tofu, raw (not silken), cooked, extra firm

16 oz

Coarse Kosher Salt

0.5 tsp

Madras Curry Powder

2 tbsp

Canned coconut milk

13.67 fl oz

Vegetable broth, bouillon or consomme

1 cup

Green beans (string beans), raw

0.75 cup

Coarse Kosher Salt

0.5 tsp
Preheat an oven to 400 F. Cut the tofu into 1" cubes. Toss the tofu in a bowl along with 1 ½ tbsp of avocado oil and ½ tsp kosher salt. There will be some liquid at the bottom of the bowl, but that is fine.

Place the tofu on a parchment-lined baking sheet and bake for 30 minutes, tossing halfway through. Remove the tofu from the oven and set it aside while you prepare the rest of the dish.

Place a stockpot over medium-high heat and heat it until hot. Add in the remaining oil and swirl the pan. Add in minced garlic and ginger, as well as thickly sliced red onion. Saute for 30 seconds. Then add in the curry powder and saute for another 30 seconds to one minute.

Add in the coconut milk and stir well, using a spoon to scrape the bottom of the pan and remove any browned bits from the pan. Add in the broth as well. Allow this mixture to simmer for 10 minutes on low heat.

Add in the green beans first and allow them to cook for 1-2 minutes at a simmer. Then add in the eggplant and zucchini and cook until softened but not mushy. Taste the soup and add salt as desired.

Add the baked tofu into the curry. Cook until the tofu is heated through, about 1-2 minutes at a simmer. Divide the bowl and top with chopped cilantro and serve.