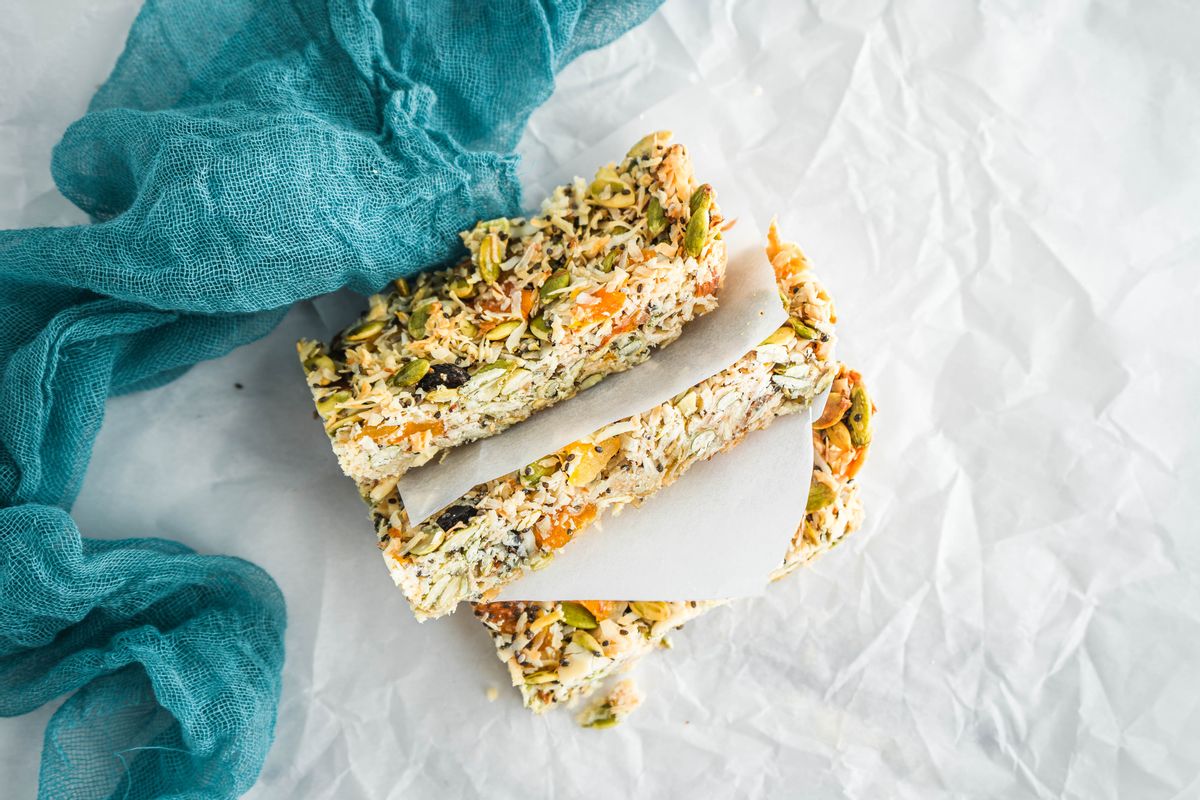 #1 Low Carb & Keto Diet App Since 2010
Track macros, calories, and access top Keto recipes.
15 min

25 min

40 min
Paleo Coconut Honey Breakfast Bars
These are the best breakfast bars around! Our Paleo Coconut Honey Breakfast Bars are made with wholesome ingredients like sprouted pumpkin seeds, unsweetened coconut flakes, raw honey, sliced almonds, chia seeds, dried apricots, raisins, and coconut oil. Raw honey and coconut oil are simmered together so the honey can solidify slightly once cooled. The raw honey mixture is poured over the other ingredients and baked. Once baked, the bars are cooled slightly before chilling until firm in the fridge. The bars will then be firm enough to cut into individual portions.
How can I store leftover breakfast bars?
Our breakfast bars can be cut into individual pieces and then wrapped in plastic wrap or parchment paper. They can be easily stored together in a container in the fridge until ready to be consumed. Alternatively, they can be stored in the freezer for three months. The bars thaw quickly to room temperature, so they make a great grab-and-go snack.
Can I use another Paleo-friendly sweetener?
Honey is perfect for this application because it thickens as it simmers, which helps to hold all the delicious ingredients together.
Serving suggestions
To make the ultimate pairing, serve this with other easy Paleo recipes like our Best Paleo Keto Avocado Smoothie:
https://www.carbmanager.com/recipe-detail/ug:28f8991c-2e1c-2d58-7f28-5a890a9f146f/best-paleo-keto-avocado-smoothie
Net Carbs

19.3 g

Fiber

6.2 g

Total Carbs

25.5 g

Protein

9.1 g

Fats

36.2 g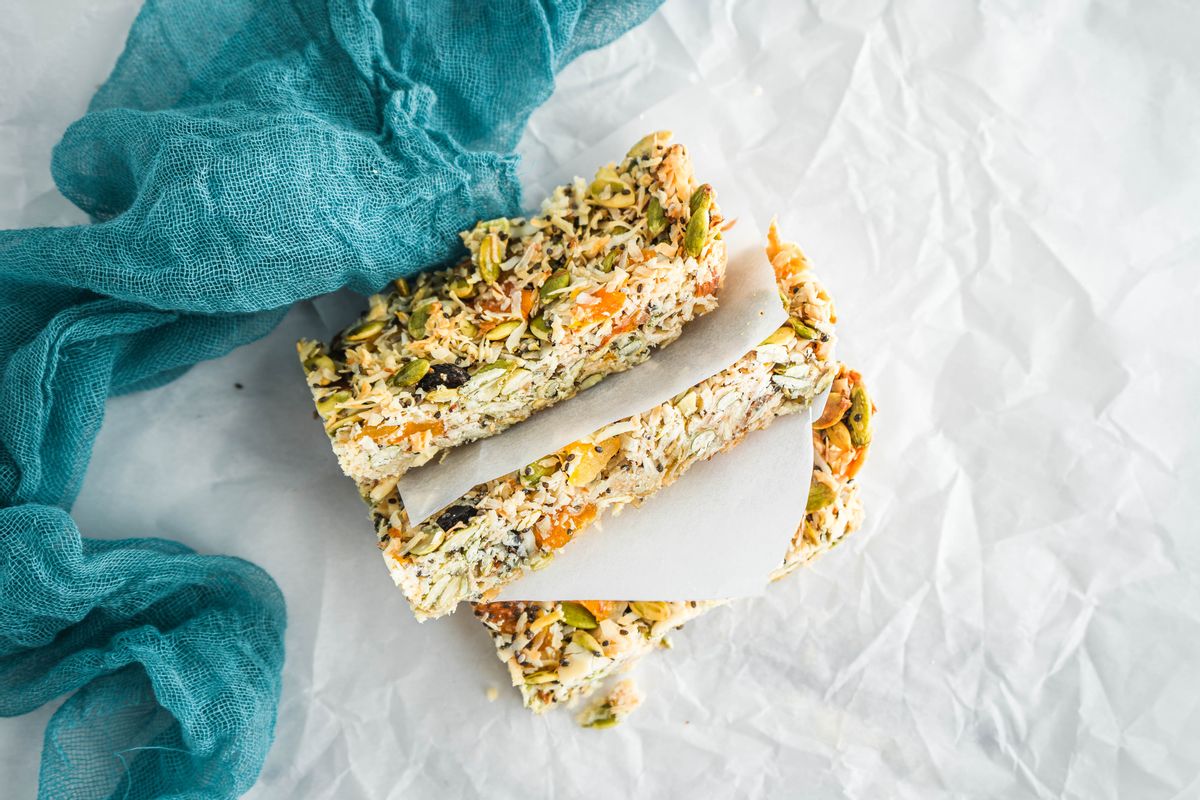 #1 Low Carb & Keto Diet App Since 2010
Track macros, calories, and access top Keto recipes.
Ingredients
Pumpkin Seed Kernels (shelled) Roasted With Salt

1.5 cup

Coconut, dried, shredded or flaked, unsweetened

4 cup

Chia seeds

3 tbsp, whole pieces

Apricots Dried

0.5 cup, halves

Raisins

0.25 cup, whole pieces
Preheat the oven to 300 F (150 C). Prepare a 9" x 13" pan by lining it with parchment paper and nonstick cooking spray. In a mixing bowl, combine the sprouted pumpkin seeds, unsweetened shredded coconut flakes, sliced almonds, chia seeds, diced dried apricots, and raisins. Stir to combine.

Combine the honey and coconut oil in a small saucepan. Bring the mixture to a boil, making sure to swirl the pan to mix the ingredients together. Simmer for 2-3 minutes. This process will heat the honey to slightly caramelize it and make it thicker as it cools.

Pour the honey mixture over the seed mixture. Stir well to combine. Make sure the honey is coating all the pieces.

Pour the mixture into the prepared pan and press the mixture into the pan. Bake for 25 minutes. Allow the bars to cool sufficiently before placing them into the refrigerator to chill until firm. Once firm, cut the bars into 16 pieces.