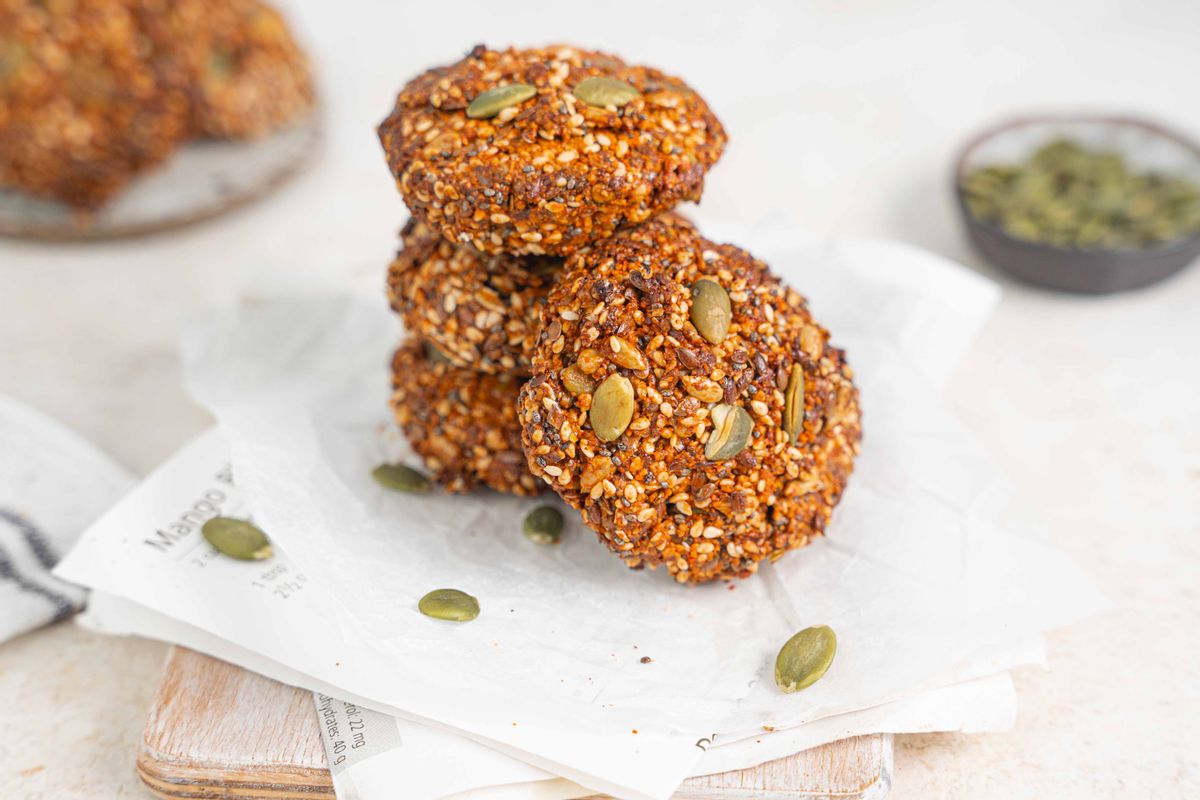 #1 Low Carb & Keto Diet App Since 2010
Track macros, calories, and access top Keto recipes.
15 min

15 min

30 min
Keto Autumn Pumpkin Breakfast Cookies
Embrace the flavors of autumn with our pumpkin breakfast cookies. These Low-Carb pumpkin cookies are a delightful addition to your morning routine, celebrating the essence of the season while offering a nourishing start to your day. Packed with nutrient-rich seeds and the warm notes of pumpkin spice, these cookies are not only a wholesome treat but also a perfect companion for your cup of coffee or tea. Let's explore whether these cookies are suitable for breakfast, how you can customize them, and the best way to store these autumn delights.
Are these cookies suitable for breakfast?
Indeed, these Keto Autumn Pumpkin Breakfast Cookies are a fantastic choice for breakfast. They're packed with seeds like sunflower, sesame, pumpkin, chia, and flaxseeds, providing a hearty dose of fiber, healthy fats, and essential nutrients. These ingredients offer a sustained source of energy, making them an excellent option to kickstart your day. Additionally, they contain pumpkin puree and pumpkin spice, which add a touch of seasonal flavor. With their Low-Carb profile and wholesome ingredients, these cookies can keep you satisfied and energized throughout your morning, making them a nutritious and convenient breakfast choice.
How to customize this recipe?
Customization is where you can truly make these Low-Carb pumpkin cookies your own. Feel free to experiment with different seeds or nuts based on your preferences or dietary restrictions. Add chopped almonds, pecans, or even unsweetened shredded coconut for extra texture and flavor. If you have a sweet tooth, you can increase the amount of allulose to make the cookies sweeter. Additionally, consider adding a sprinkle of cinnamon or nutmeg for a more pronounced autumn spice profile. These cookies are highly adaptable, allowing you to personalize them to suit your taste and dietary needs while maintaining their Low-Carb nature.
How to store these cookies?
To keep these Keto breakfast cookies fresh, store them in an airtight container at room temperature for up to five days. If you want to enjoy them for a more extended period, consider freezing the cookies individually in an airtight bag or container. When you're ready to enjoy a cookie, thaw it at room temperature or give it a quick zap in the microwave. This convenient approach ensures that you can savor the flavors of these pumpkin cookies whenever you need a wholesome and delicious breakfast or snack.
Net Carbs

3.6 g

Fiber

5.9 g

Total Carbs

13 g

Protein

7 g

Fats

15 g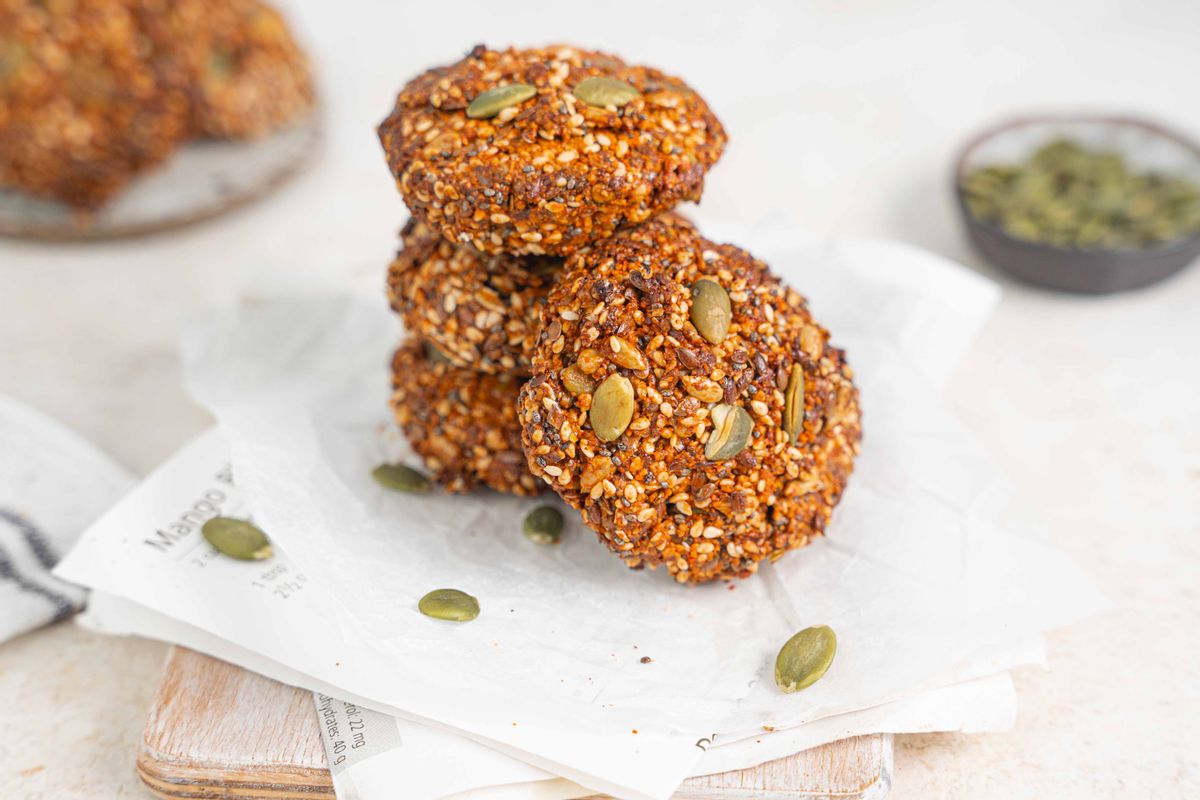 #1 Low Carb & Keto Diet App Since 2010
Track macros, calories, and access top Keto recipes.
Ingredients
100% Pure Pumpkin Puree

0.33 cup

Allulose, powdered

3 tbsp
Preheat the oven to 325 F/ 180C. Line a baking sheet with parchment paper. In a medium-sized bowl, mix the sunflower seeds, sesame seeds, pumpkin seeds, chia seeds, and flaxseeds.

Transfer one cup of the seeds to your food processor and blend until fine. Add the pumpkin puree and blend until well combined. The mixture should be thick and sticky.

Transfer back to the bowl and add the pumpkin spice and allulose. Fold until well combined. Use a cookie scoop to divide the mixture into 8 cookies. Pack each portion into the scooper then release into the baking sheet and pat slightly to spread.

Transfer the baking sheet to the oven and bake for 10-15 minutes until golden. Let cool completely on a cooling rack. Enjoy!