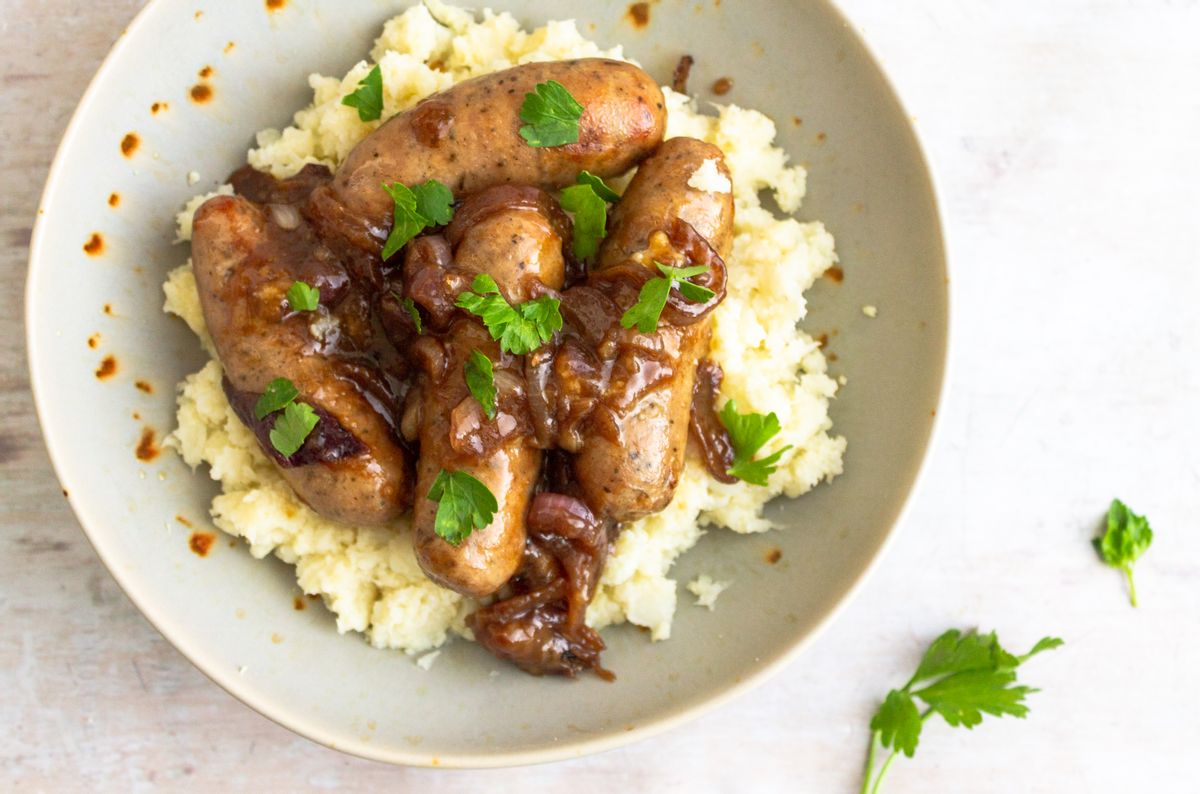 #1 Low Carb & Keto Diet App Since 2010
Track macros, calories, and access top Keto recipes.
20 min

35 min

55 min
Low Carb Sausage and Mash with Balsamic Onion Gravy
This hearty Keto dinner recipe is rich in fats and flavor. Our low carb dish is prepared with pork sausages, tender red onion, olive oil, balsamic vinegar, a little low carb sweetener, cauliflower florets, chicken stock, and a touch of xanthan gum. This makes a flavorful and warming Keto dinner option, perfect for weekends and winter evenings.
What Kind of Sausages Should I Use?
We have used plain pork sausages for our Keto dinner recipe. You can use any kind of low carb sausages you prefer. They can be seasoned with herbs and spices if you wish, and they can even be prepared from different proteins such as chicken or beef. Please be sure to adjust your macros to account for any changes made to the original recipe.
Do I Have to Use the Xantham Gum?
We have added 1 teaspoon of xantham gum to our balsamic onion gravy. This is a crucial element as this ensures the gravy is thick and rich in consistency. Xantham gum is a great Keto-friendly gluten-free thickener, perfect in place of carb-heavy thickeners such as wheat flour or corn starch. If you do not wish to use the xantham gum, you can simply simmer the stock for longer to reduce and enhance the flavors, but please note it will not thicken up like a traditional gravy.
Net Carbs

7.6 g

Fiber

7.9 g

Total Carbs

21.7 g

Protein

10.8 g

Fats

30.9 g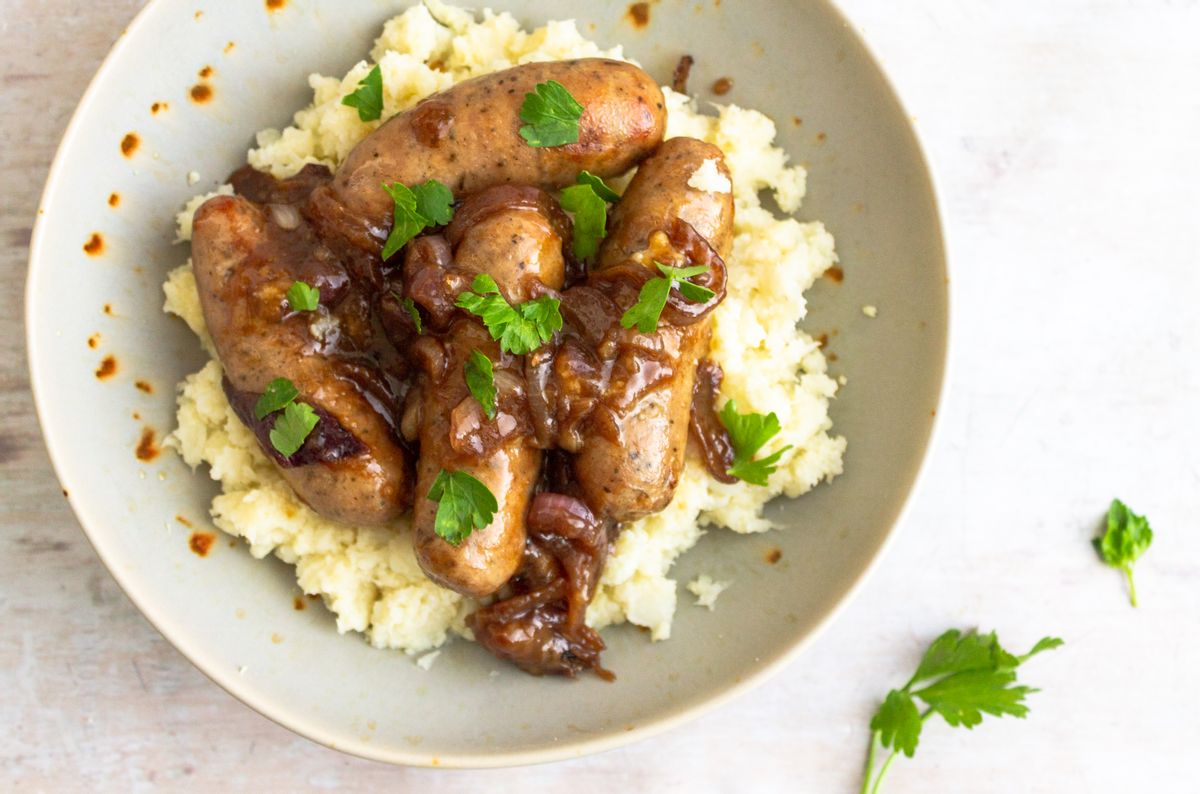 #1 Low Carb & Keto Diet App Since 2010
Track macros, calories, and access top Keto recipes.
Ingredients
Breakfast sausage

4 link - each 0.7 ounce

Cauliflower

1 small - head - 4" diameter

Extra virgin olive oil

1 tbsp

Maple Flavored Syrup

1 tsp

Xantham Gum Gluten Free

1 tsp

Chicken broth, bouillon or consomme, homemade

0.75 cup

Red onion

0.5 medium - 2 1/2" diameter
Preheat the oven to 400 degrees Fahrenheit. Line a shallow oven tray with foil. Arrange the sausages across the shallow oven tray. Transfer to the oven and bake for 15-18 minutes or until completely cooked through.

While the sausages are cooking, dice the cauliflower into florets and add to a large saucepan of boiling water. Reduce to a simmer. Cook for 8-10 minutes or until the cauliflower is tender and soft enough to mash.

While the cauliflower is cooking, thinly slice the onion. Heat a tablespoon of olive oil in a skillet over a low/medium heat. Add the onion to the skillet. Cook the onion gently in the oil for 10-15 minutes until very soft.

Drain the cauliflower completely and set aside to steam dry. Add the butter to the saucepan with the hot cauliflower. Season with salt and pepper. Mash the cauliflower until smooth. If preferred, you may blend the mash to get a puree consistency.

After the onion has softened, add the syrup and balsamic vinegar to the skillet. Stir well to combine. Increase the heat a little so that it starts to bubble. Continue to cook gently for 5-7 minutes more until golden and caramelized, stirring occasionally.

Add the cooked sausages to the skillet with the caramelized onions. Stir well to coat. Add the stock and bring to a boil. Reduce to a simmer for 5 minutes, then add the xantham gum. Stir well to thicken the gravy, heating the gum through.

Serve the buttery cauliflower mash. Arrange the sausages on top of the mash and pour over the balsamic onion gravy. Serve hot.