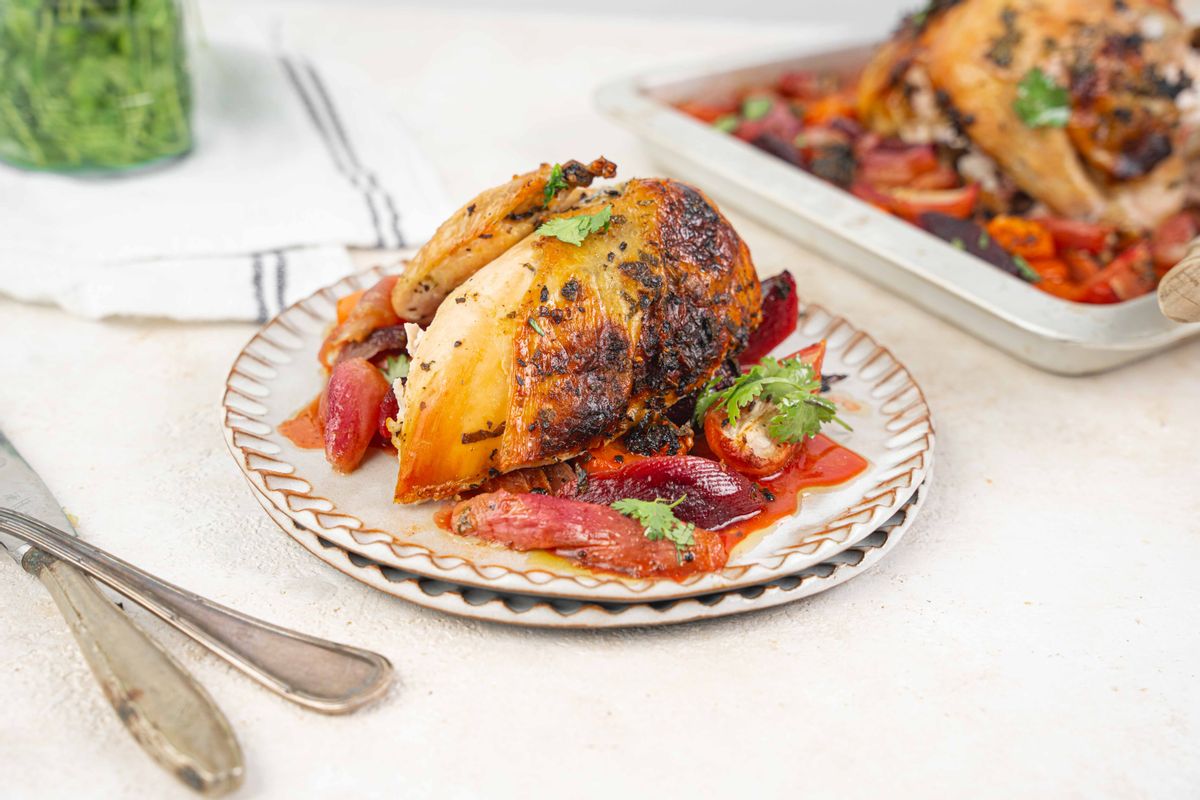 #1 Low Carb & Keto Diet App Since 2010
Track macros, calories, and access top Keto recipes.
20 min

1 h 15 min

1 h 35 min
Keto Garlic Herb Chicken Roast with Autumn Vegetables
For a delightful Keto protein-packed dinner that celebrates the flavors of the season, our Keto garlic herb chicken roast with autumn vegetables is a perfect choice. This recipe combines succulent roasted chicken with a medley of autumn vegetables, all infused with aromatic herbs and zesty lemon. It's a Low-Carb masterpiece that's sure to satisfy your taste buds and leave you feeling nourished. Let's explore the nuances of this mouthwatering dish.
What other cuts of chicken can you use?
While this recipe features a whole chicken, it's worth noting that you can experiment with different cuts of chicken to suit your preferences. If you're looking for convenience and quicker cooking times, consider using chicken thighs, drumsticks, or bone-in chicken breasts. These cuts can adapt well to the same flavorful herb and lemon treatment. Adjust the cooking time accordingly to ensure the chicken reaches a safe internal temperature of at least 165°F/74°C for poultry.
How to customize this recipe?
Customization is the key to making this Keto protein-packed dinner your own. You have the freedom to choose your favorite autumn vegetables based on what's in season or what you have on hand. Broccoli, cauliflower, or Brussels sprouts can be delightful alternatives or additions. Additionally, feel free to experiment with different herbs and spices to create a unique flavor profile. Whether you prefer a touch of rosemary, thyme, or smoked paprika, these variations can add a personalized twist to your roast chicken. Customize the recipe to reflect your culinary preferences while keeping it Keto-friendly.
How to store this recipe for meal prep?
If you're a meal prep enthusiast, this Keto chicken roast can be a versatile addition to your weekly lineup. To store this recipe for meal prep, follow these steps: After cooking, allow the chicken and vegetables to cool to room temperature. Then, carefully separate the chicken meat from the bones and store it in an airtight container. Place the roasted vegetables in a separate container. Refrigerate these components for up to four days. When you're ready to enjoy your Keto meal, reheat the chicken and vegetables separately, ensuring they're heated through. This approach allows you to savor the rich flavors of this Keto creation throughout the week, making meal prep a breeze.
Net Carbs

4.4 g

Fiber

1.7 g

Total Carbs

6.2 g

Protein

55.6 g

Fats

21.9 g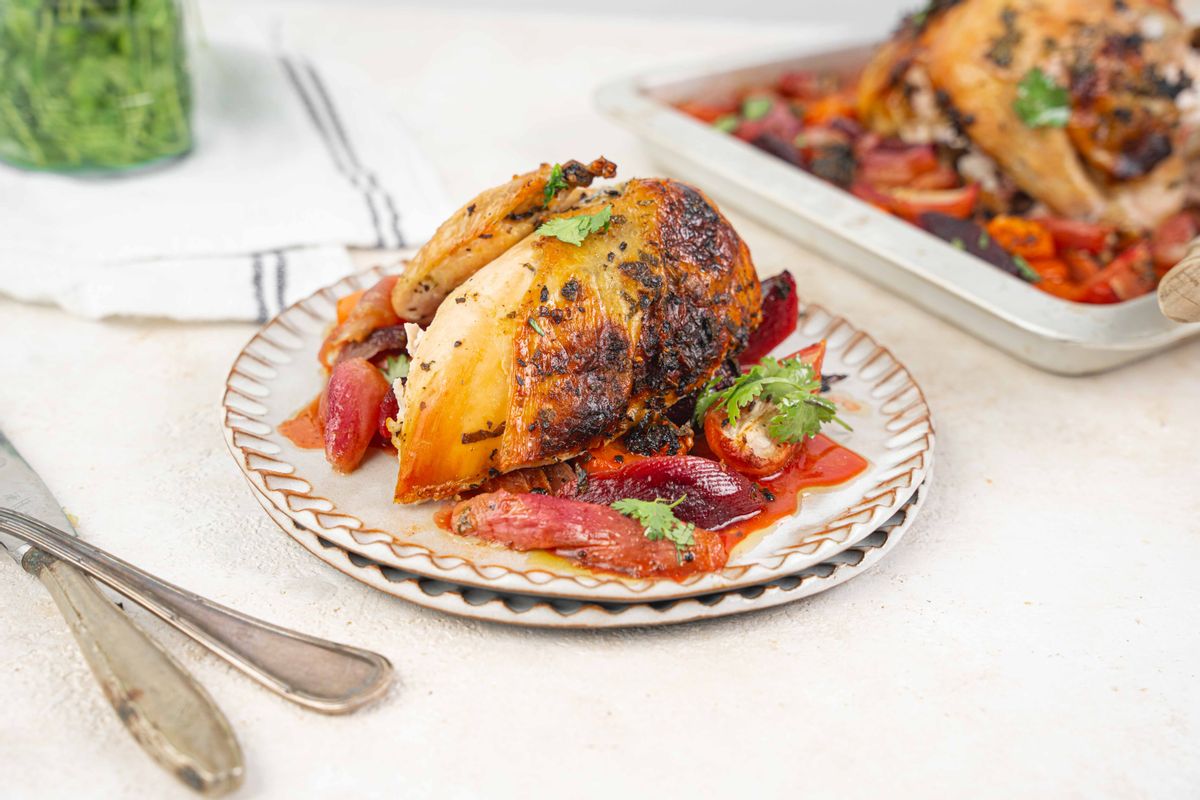 #1 Low Carb & Keto Diet App Since 2010
Track macros, calories, and access top Keto recipes.
Ingredients
Carrots, raw

1 medium - 6" to 7" long

Onion, white, yellow or red, raw

1 medium - 2 1/2" diameter

Extra virgin olive oil

1 tbsp

Lemon Peel Or Zest Raw

1 tsp

Room Temperature Butter

60 g

Onion (for flavoring only)

1 piece

Lemon (for flavoring only)

0.5 medium - 2 1/8" diameter
Preheat your oven to 200C/400F and let the chicken sit at room temperature while you prep the vegetables. Peel the carrot, beetroot, and onions, and scrub the radishes. Slice the carrot into discs, slice the red onion, mince the garlic, and cut the radishes and beetroot into wedges.

Transfer the vegetables to a baking sheet or roasting pan, drizzle with olive oil, and season with ½ tsp salt and ¼ tsp black pepper. Push the vegetables toward the outer edges of the roasting pan, making room for the chicken.

Finley chop the parsley and coriander and transfer them to a bowl. Add the minced garlic, oregano, lemon zest, lemon juice, butter, 1 ½ tsp salt, and ¾ tsp black pepper. Stir well to combine.

Take 2 tbsp of the herb butter and add small knobs over the vegetables. Carefully separate the skin from the meat where possible and spread half the butter under the skin. Spread the other half of the butter over the chicken.

Stuff the chicken with the yellow onion and half lemon. Place the chicken in the center of the pan, surrounded by the vegetables. Drizzle the vegetables with the chicken broth.

Place in the preheated oven and roast for 1 to 1 ¼ hours or until a meat thermometer inserted into the thickest part of the thigh reads at least 165F/74C. Take the pan out of the oven and let it rest for 10 minutes. Serve immediately.