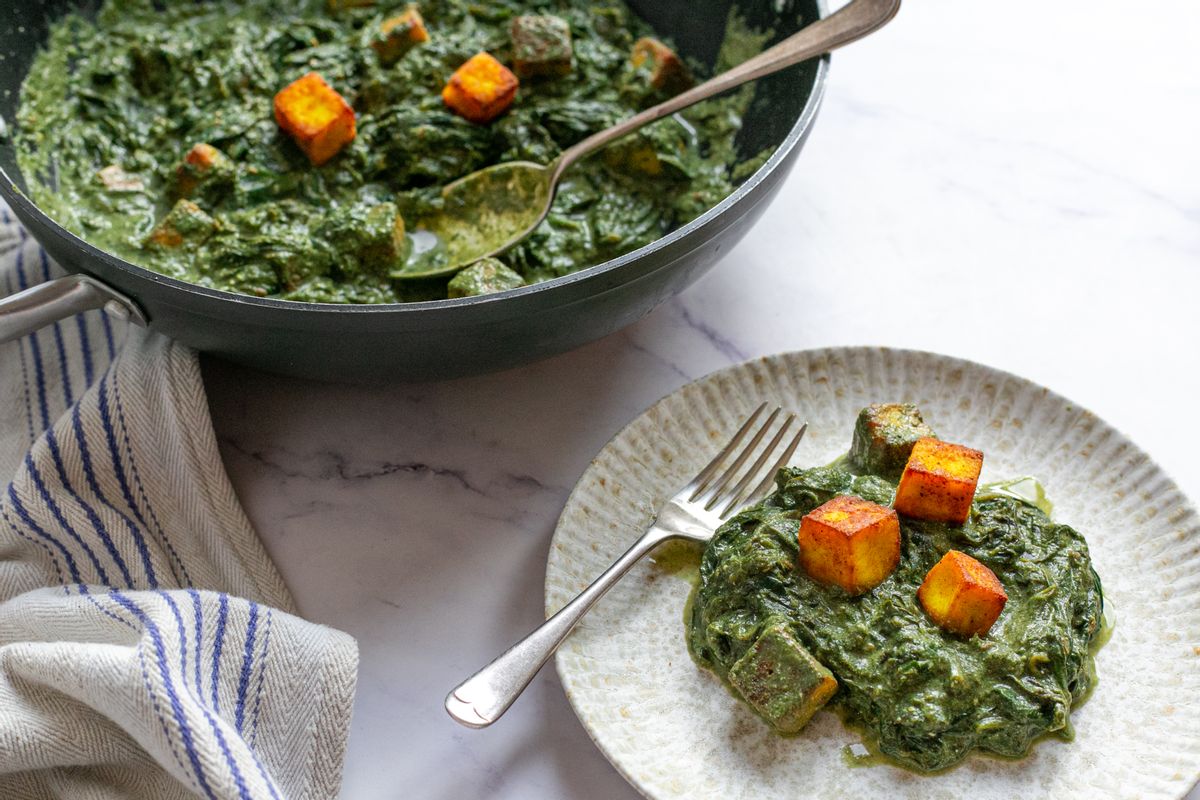 10 min

25 min

35 min
Easy Low FODMAP Keto Spinach Paneer Curry (Saag Paneer)
Saag paneer is a classic Indian curry dish of deliciously creamy spinach studded with cubes of fried paneer cheese. With the option to thicken with lactose-free yogurt, this Keto low FODMAP vegetarian recipe is a hearty and comforting meal. Serve this low FODMAP recipe on its own or with a side of riced broccoli.
What is paneer?
Paneer is an Indian fresh cheese made from cow or buffalo milk. It is a non-aged, non-melting soft cheese made by curdling milk with lemon juice.
Is dairy low FODMAP?
If you can tolerate lactose, dairy foods can be included freely when on a low FODMAP diet.
Regular dairy products do contain a type of natural sugar called lactose, which is a type of FODMAP, but if you have IBS and are following a low FODMAP diet, you only need to limit lactose if you are lactose intolerant.
Can I substitute any ingredients?
If you are lactose intolerant, you can substitute the paneer cheese for firm tofu. Prepare the tofu in the same way you would the paneer. Switch out the Greek yogurt for a plant-based alternative or lactose-free version.
How to store saag paneer?
This recipe keeps well in the fridge for up to 3 days. To reheat, return to the stove or microwave for a few minutes until piping hot.
Net Carbs

2.7 g

Fiber

1.9 g

Total Carbs

4.6 g

Protein

11.3 g

Fats

22.3 g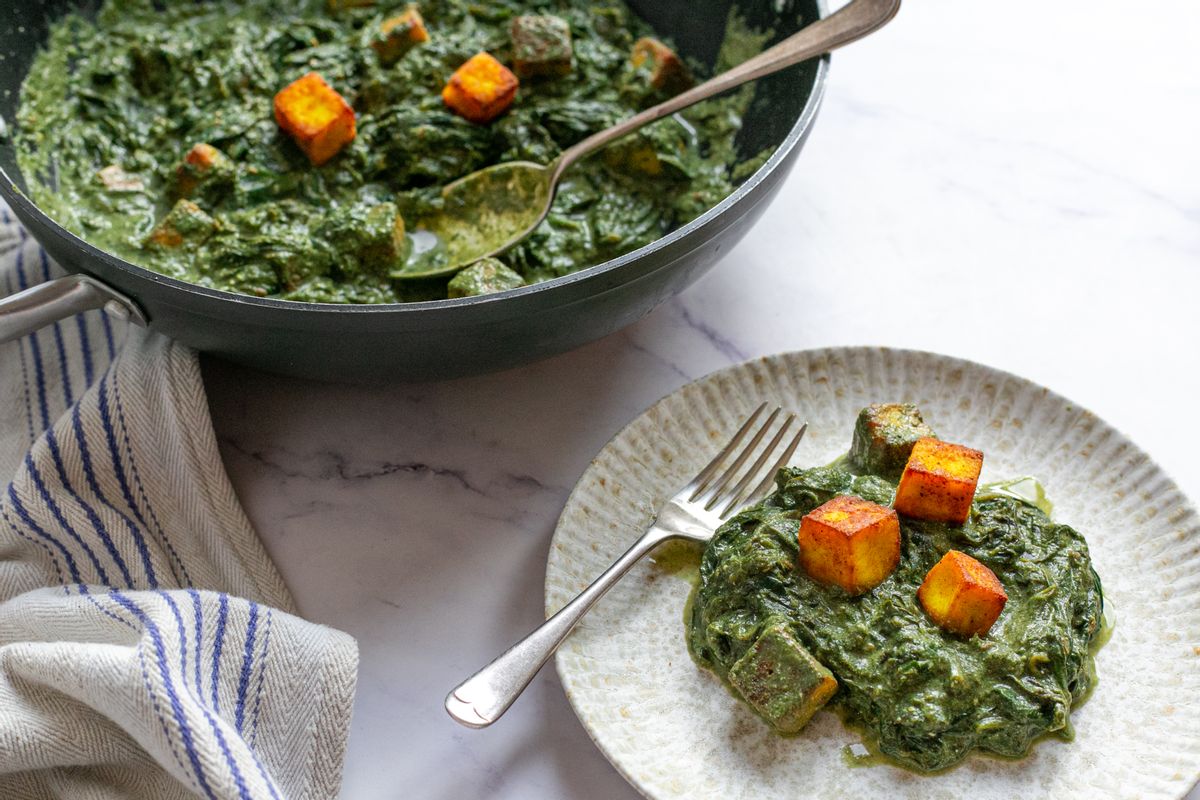 Ingredients
Paneer cheese (Indian cheese)

240 g

Garlic Infused Olive Oil (Low FODMAP Safe)

4 tbsp

Lemon juice, fresh

2 tbsp

5% Authentic Greek Strained Yogurt

0.25 cup
Cut the paneer into 1-inch chunks. Use a fork to make a few holes in each paneer cube. Place the paneer into a glass bowl and add ½ teaspoon turmeric, ½ teaspoon chili powder, and ½ teaspoon fine sea salt. Toss to coat and leave the paneer to marinate overnight. If you're short on time, just proceed to the next step.

Heat 3 tablespoons of garlic-infused oil in a large frying pan over medium-high heat. Fry the paneer until nicely golden. Transfer to a plate and set aside.

Add the remaining oil to the frying pan over medium-high heat. Add in the cumin seeds and garam masala. Fry for a couple of minutes until fragrant. Add the spinach to the pan with 2 tablespoons of water, cover, and saute until the leaves have wilted.

Transfer ¼ of the spinach mixture to a blender or food processor along with the lemon juice, and yogurt (if using). Blitz to a smooth puree and return to the spinach mixture. Stir to combine and add in the fried paneer to heat through. Season to taste with salt and more lemon juice if needed. Serve immediately.