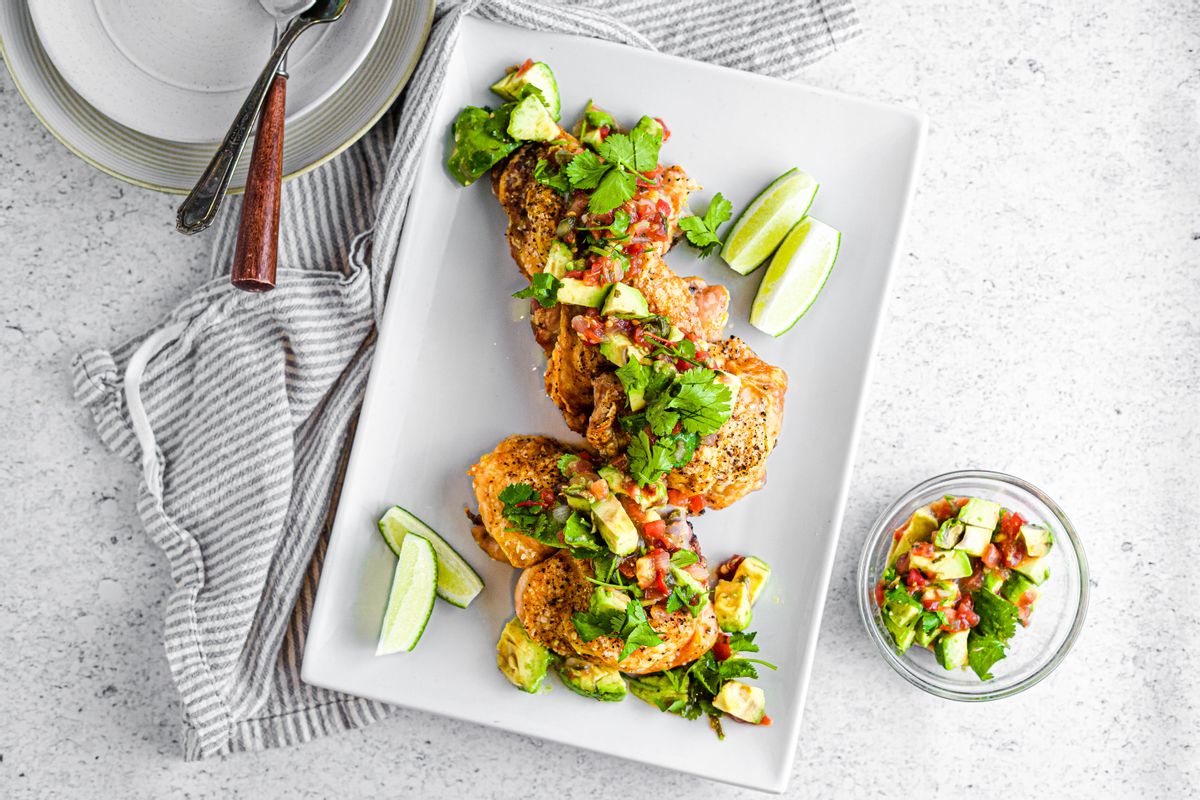 0 min

0 min

0 min
Keto Roasted Chicken with Avocado Salsa
You will want to add this Keto chicken dinner to your repertoire of quick and easy recipes! Succulent chicken thighs are roasted with only salt and pepper. The seasonings are enough to make the flavor of all the other ingredients pop with minimal effort! The chicken thighs are roasted in the oven until they are golden brown and delicious, as well as crispy at the edges. The chicken is topped with savory avocado salsa made from ripe avocados and store-bought Keto salsa to keep things simple. Having simple yet delicious recipes like these is key to sticking with a diet long-term.
What type of chicken is used in this recipe?
We used skin-on and bone-in chicken thighs for this recipe. We love the extra fat, flavor, and texture that comes from using bone-in meat that still has the skin attached. The skin gets so crispy and succulent! If you are on Keto or a Low Carb diet, you need to supplement your diet with fats from different sources, and using skin-on meat is one of the best ways to do this.
How do I know the avocado is ripe enough?
To know if an avocado is ripe enough is when they give to gentle pressure when you squeeze it. We like our avocados on the firmer side, so we use them when they are just starting to give.
What is the best kind of store-bought salsa to use?
The best kind of salsa to use is one that is low in carbs and is made with only simple ingredients like tomatoes, onions, cilantro, and lime juice. We like to use salsas found in the grocery store's refrigerated section as they are less likely to have a lengthy ingredient list and no preservatives.
Can I make this in my air fryer?
If you do not have a convection oven or like the convenience of an air fryer, you can make the same recipe. Season the chicken thighs with the kosher salt and black pepper as listed. Then, cook the thighs in the air fryer at 400 F for 20-25 minutes or until the skin is nicely golden brown and crispy.
To make the ultimate pairing, serve Keto Slow Cooker Chicken Chili with our Keto Bread Rolls! One of our most popular recipes!
Net Carbs

2.3 g

Fiber

4.3 g

Total Carbs

6.6 g

Protein

31.1 g

Fats

22.3 g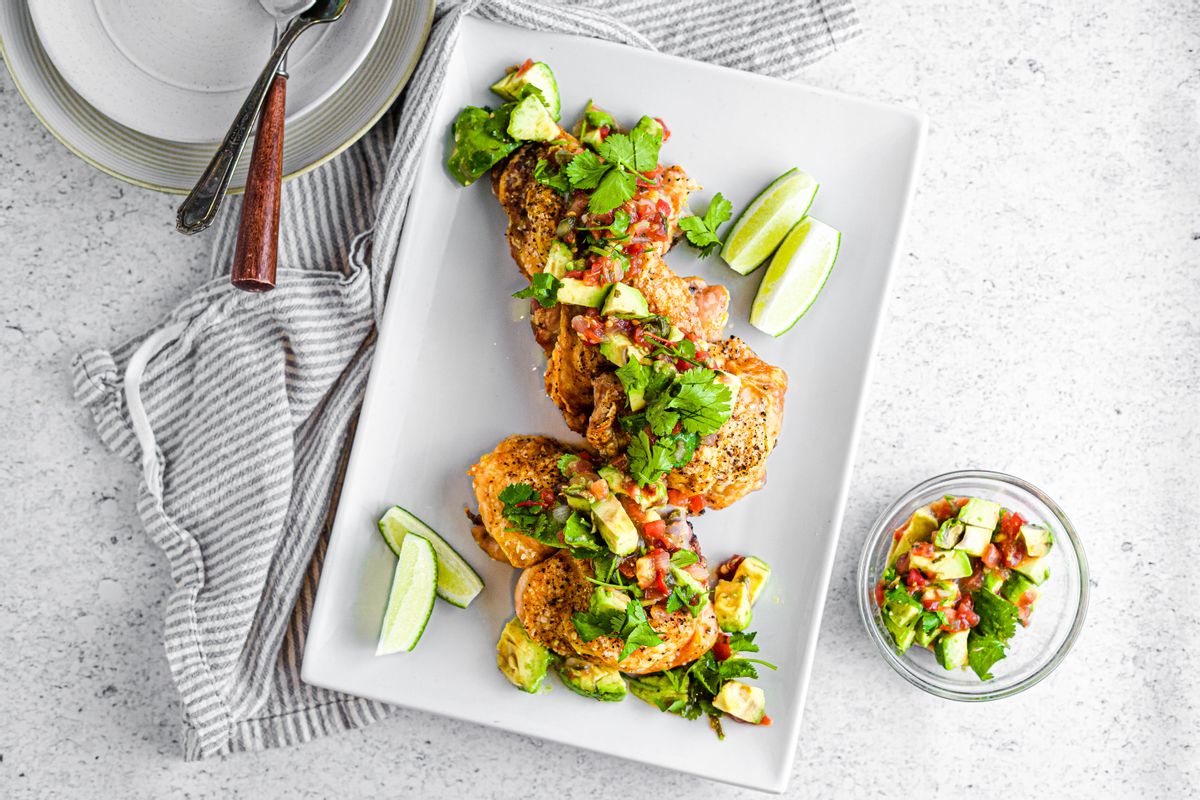 Ingredients
Chicken thigh, skin eaten

5 large

Coarse Kosher Salt

1.5 tsp

Cilantro

0.25 cup, chopped
Preheat an oven to 400 F. If you have a convection oven, turn the fan on to circulate the heat. If you do not have a convection oven, you will need to add 5-10 extra minutes to the cooking time to ensure super crispy chicken thighs. Line a half-sheet pan with parchment paper. Season the chicken thighs with salt and pepper. If the chicken thighs are wet, make sure to dry them with paper towels before seasoning.

Place the chicken thighs in the oven and bake for 25-30 minutes or until the chicken thighs are golden brown all over. It is hard to overcook chicken thighs, and for super crispy chicken thighs, it is best to err on the side of more cooking time. The goal is to look for crispy golden brown chicken skin to know when they are done.

While the chicken is cooking, prepare the salsa. Peel the avocado and removed its pit, then cut into large cubes. Gently fold the avocado into the salsa.

Plate the chicken thighs onto a platter. Pour the avocado salsa over the chicken thighs. Top with chopped fresh cilantro. Serve immediately!