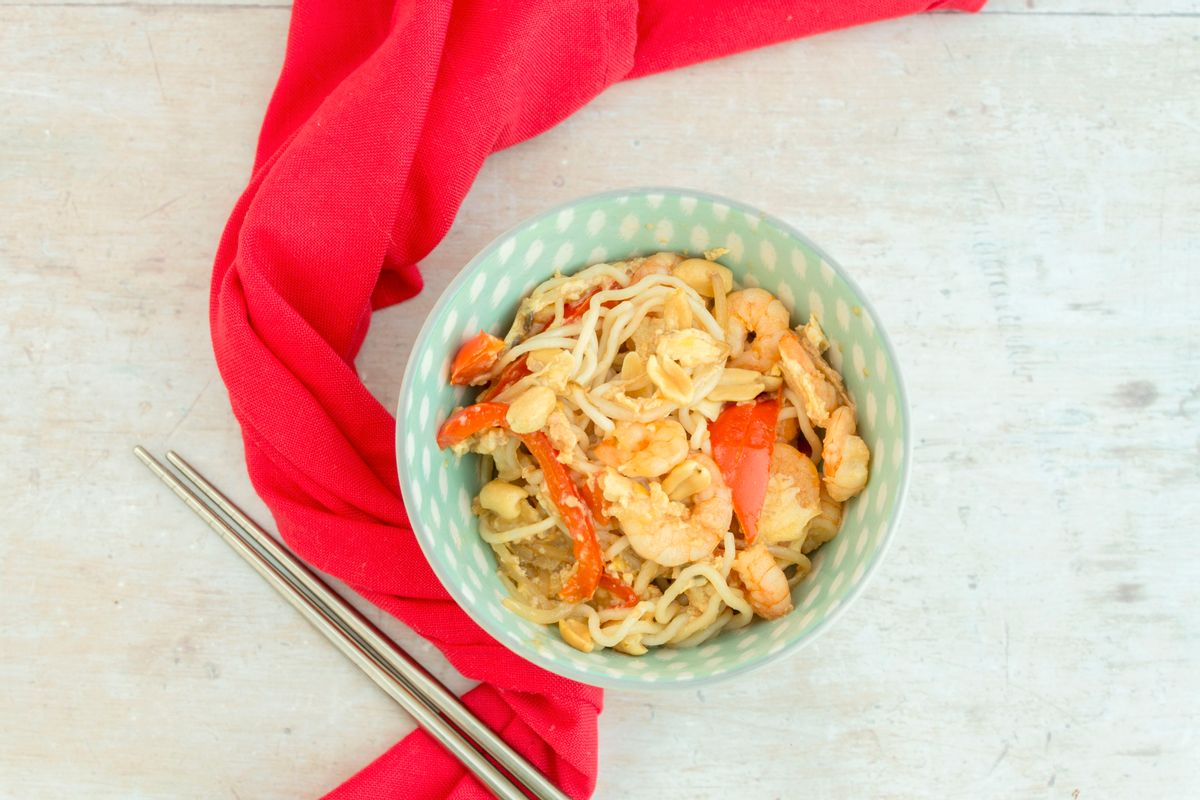 #1 Low Carb & Keto Diet App Since 2010
Track macros, calories, and access top Keto recipes.
15 min

20 min

35 min
Low Carb Pad Thai with Shirataki Noodles
This Keto Shirataki noodle recipe is our low carb take on Pad Thai! Zero carb noodles are pan-fried with juicy jumbo shrimp, scrambled egg, and low carb veggies in a sweet and salty sauce. The dish is topped with crunchy crushed peanuts to serve. This makes a great Keto alternative to this traditional Thai favorite, perfect served for lunch or a light dinner.
Can I Use a Different Protein?
Pad Thai traditionally is made with any number of different proteins. This can include chicken, shrimp, beef, or tofu. If you do not wish to use shrimp, you may try one of these traditional alternatives instead, adjusting cooking times and quantities as needed. Please make sure to adjust your macros if you make any changes to the original recipe.
Can I Use an Alternative Noodle?
Shirataki, or miracle noodles, are a great low carb alternative to traditional noodles in both texture and flavor. Shirataki noodles are, however, high in fiber. If this does not suit your diet, you may substitute with zucchini noodles, spaghetti squash, or even thinly sliced cabbage. You will need to adjust your cooking times and methods for any alternative Keto noodles you choose.
Net Carbs

10 g

Fiber

11.8 g

Total Carbs

37.5 g

Protein

20.5 g

Fats

20.3 g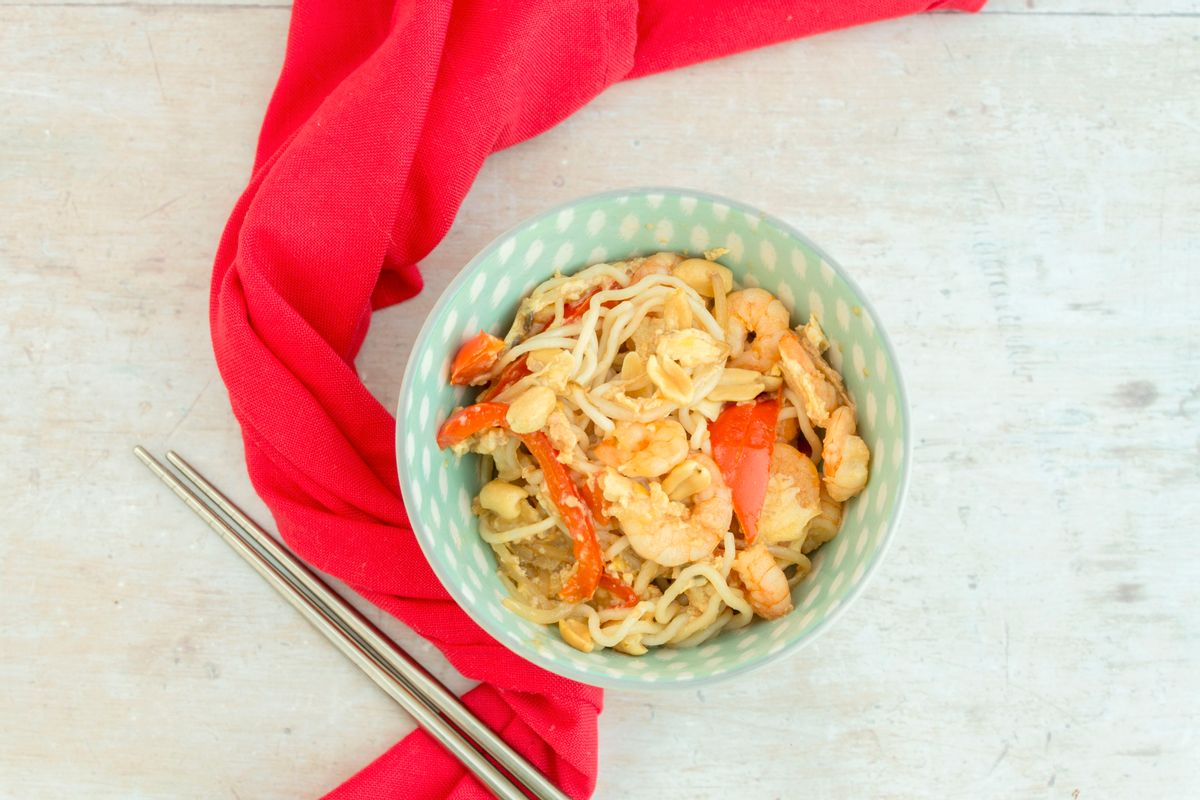 #1 Low Carb & Keto Diet App Since 2010
Track macros, calories, and access top Keto recipes.
Ingredients
Shirataki Noodle by House Foods

9 ounce

Jumbo Raw Shrimp by Fremont Fish Market

5 ounce

Tamari Sauce

1 tablespoon

Maple Flavored Syrup by Lakanto

1 tablespoon

Tomato Sauce

1 tablespoon

Lime Juice, Fresh

1 teaspoon

Peanuts, Raw

1 tablespoon, halves

Fish Sauce (nam Pla Or Nuoc Mam)

1 tablespoon

Ginger

1 teaspoon, sliced

Red Bell Peppers, Raw

½ small
Drain the Shirataki noodles and rinse them thoroughly under cold running water. Heat a skillet over a medium heat. Add the noodles to the dry skillet. Cook for 7-8 minutes, until hot through, dry and firm.

While the noodles are cooking, you can prepare the sauce. Add the fish sauce, tamari sauce, tomato sauce, lime juice, and maple-flavored syrup to a small bowl. Whisk together to combine. You may adjust quantities of the condiments as desired to suit your personal tastes.

Thinly slice the garlic and the bell pepper and grate the ginger. Heat the coconut oil in a large skillet or wok over a low/ medium heat. Add the garlic, ginger and bell pepper. Sweat gently for 2-3 minutes until tender and fragrant.

Add the shrimp and bean sprouts to the skillet. Stir well to combine. Stir fry over a medium/high heat for 2-3 minutes until the bean sprouts are hot through and the shrimp have turned pink. While the shrimp is cooking, crack the eggs into a bowl. Whisk together until smooth and well combined.

Once the shrimp has turned pink, pour the beaten egg into the skillet. Allow to settle and cook for a moment, then scramble into the shrimp and vegetable mixture.

Add the cooked noodles and prepared sauce to the skillet. Stir well to combine, tossing the noodles with the sauce and other ingredients. Heat through briefly.

Divide the Keto Pad Thai between two serving bowls. Roughly chop the peanuts and scatter over the bowls. Serve hot.