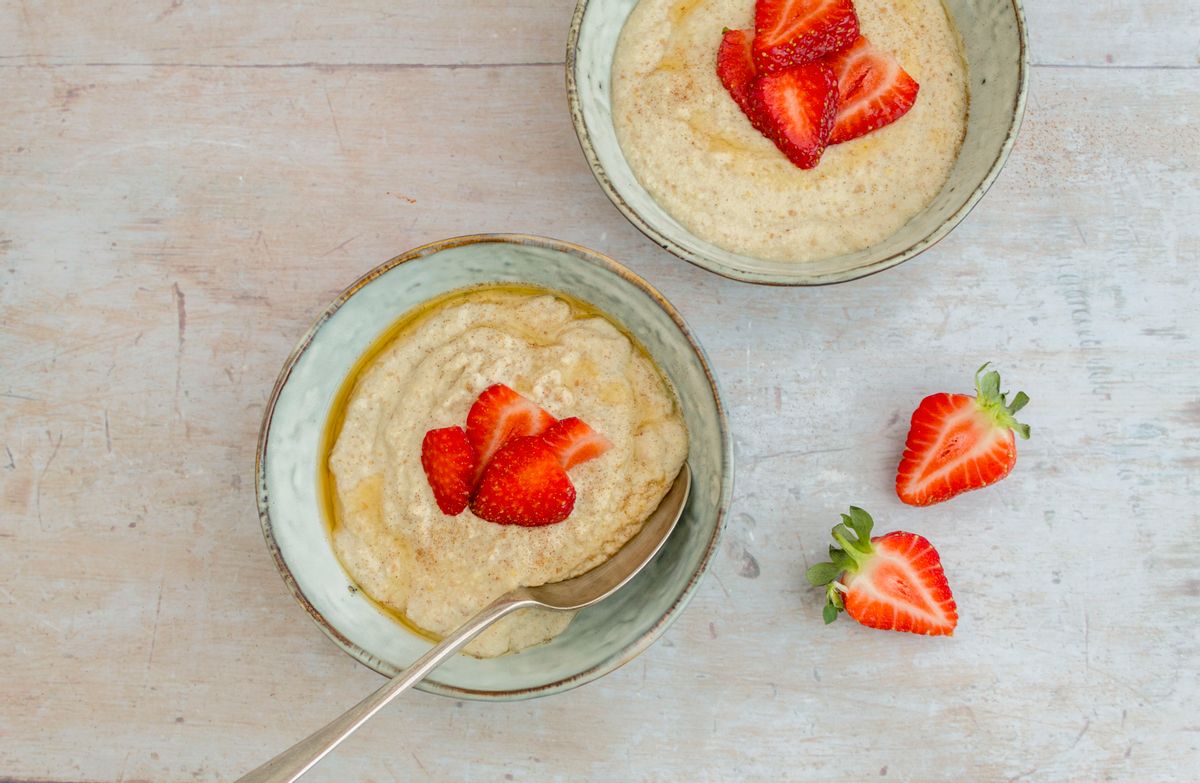 #1 Low Carb & Keto Diet App Since 2010
Track macros, calories, and access top Keto recipes.
5 min

5 min

10 min
Keto Almond Oatmeal
This hot Keto breakfast porridge makes a great low carb cereal alternative to traditional carb heavy oats. This easy Keto breakfast is simple to prepare and ready in only a matter of minutes. This makes a deliciously warming start to the day, perfect served with a Keto coffee.
How to Make Keto Oatmeal
Using low carb flours is a great way to create your own Keto compliant oatmeal. We have used ground almonds and ground flaxseed as the base of our hot breakfast cereal. The ground almonds and flax are gently simmered with sweet cinnamon, almond milk and a low carb maple syrup. We have also added a generous helping of coconut oil for those all important Keto fats and to add extra creaminess. Once the oatmeal is cooked it is topped with freshly sliced strawberries.
Keto Oatmeal Tips
We have used a low carb maple flavored syrup to add sweetness to our oatmeal. You may swap this for your preference in low carb sweetener if desired. The basic oatmeal recipe serves as a great base for adapting and adjusting to your tastes. Why not add a little pumpkin spice? Or a dash of unsweetened cocoa powder for a chocolatey breakfast treat! Be sure to adjust your macros for any changes made.
Net Carbs

7.9 g

Fiber

13.7 g

Total Carbs

40.2 g

Protein

8.5 g

Fats

26.7 g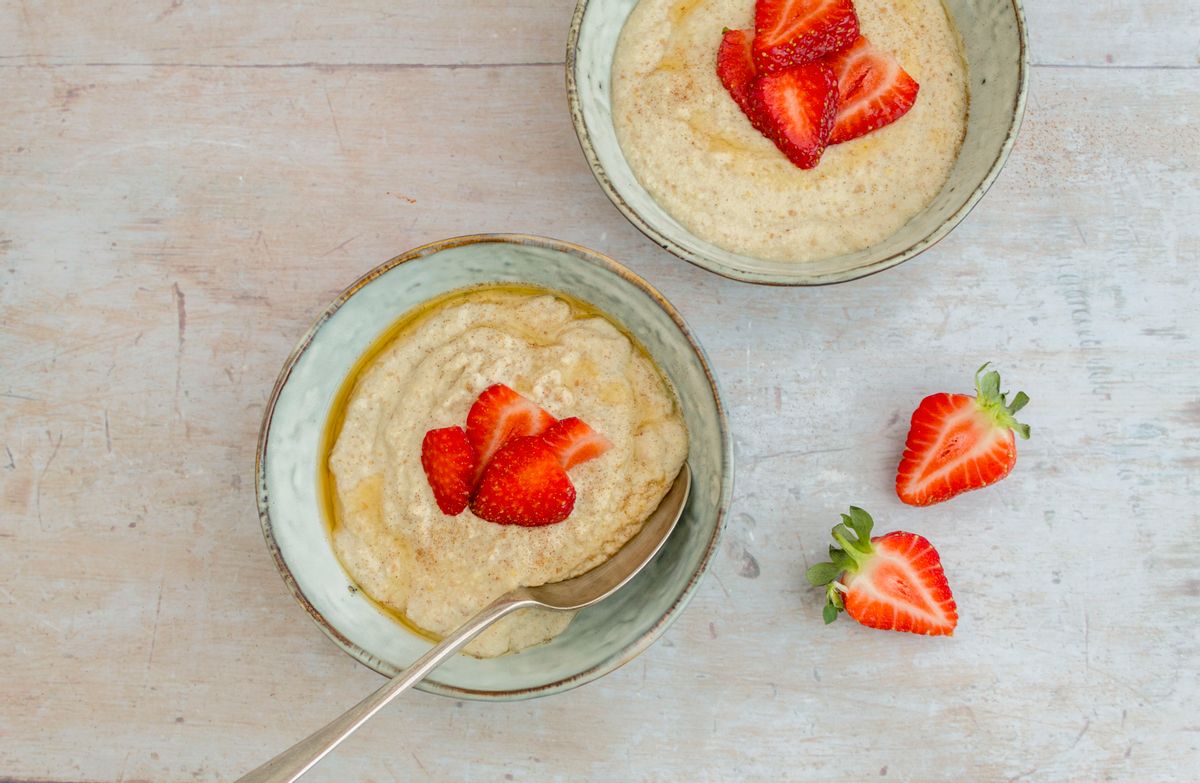 #1 Low Carb & Keto Diet App Since 2010
Track macros, calories, and access top Keto recipes.
Ingredients
Organic Ground Flax Seed by Wild Oats

2 teaspoon

Cinnamon, Ground

1 teaspoon

Almond Milk, Vanilla Or Other Flavors, Unsweetened

1 cup

Strawberries, Fresh

1 large - 1 3/8" diameter

Almonds, Raw

¾ cup, ground

Salt, Sea Salt

⅛ teaspoon

Maple Flavored Syrup by Lakanto

1 tablespoon
Add the ground almonds, flax and cinnamon to a small saucepan. Stir everything together well to combine. You may omit the cinnamon or add an alternative flavoring such as cocoa powder at this point if desired.

Add the unsweetened almond milk to the saucepan. Stir well, mixing the almond mixture together with the milk. Set over a low/medium heat and bring up to a simmer. You may use an alternative Keto friendly plant based milk if you wish.

Once gently simmering, add the maple flavored syrup and the coconut oil. Stir well, blending the syrup into the breakfast cereal and melting the oil. Continue to cook gently for 2-3 minutes stirring often. The cereal should be hot through and thickening as oatmeal would. If you would prefer a thinner oatmeal, you can add more almond milk as desired.

Whilst the oatmeal is cooking, thinly slice the strawberry lengthwise. Once cooked, taste the oatmeal and adjust the sweetness if required. Divide the hot cereal between two serving bowls. Top each bowl with half of the sliced strawberry pieces. Optionally you may drizzle over a little more syrup or a sprinkle of cinnamon to serve. Serve hot.