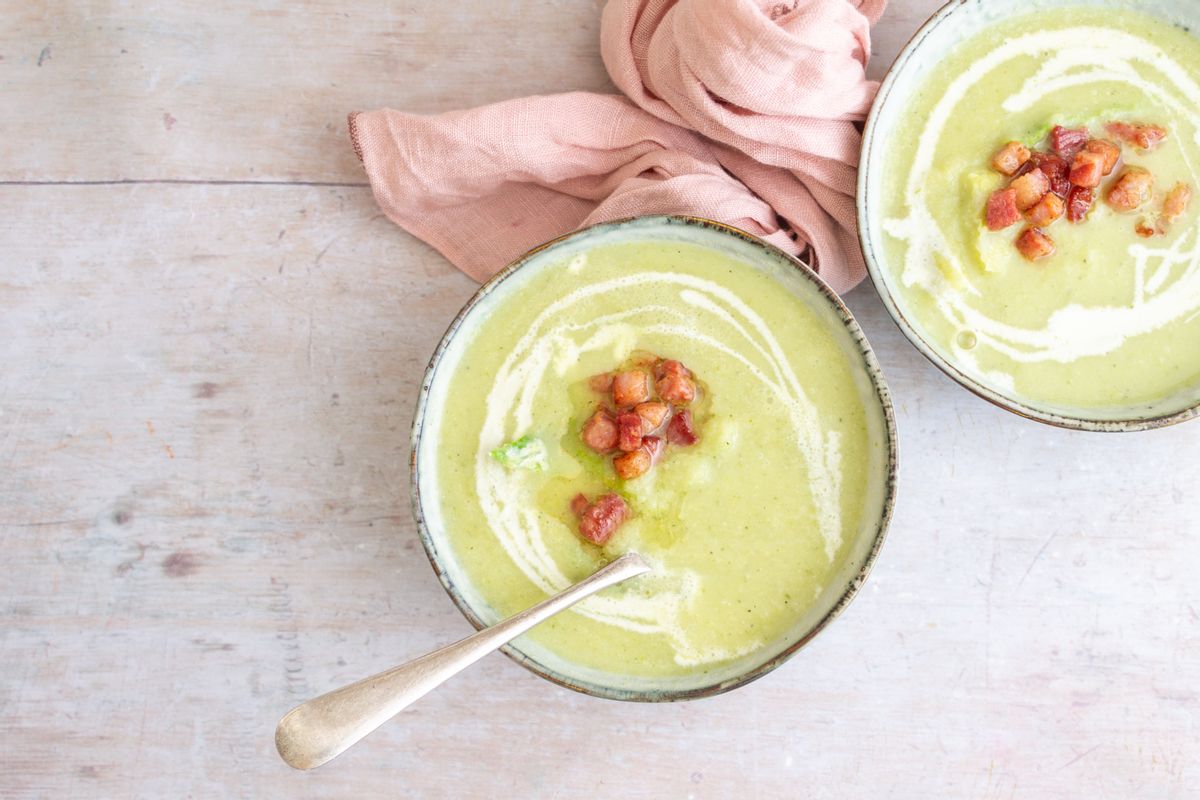 #1 Low Carb & Keto Diet App Since 2010
Track macros, calories, and access top Keto recipes.
15 min

22 min

37 min
Keto Savoy Cabbage and Pancetta Soup
This smooth and creamy Keto soup is rich with low carb vegetables and topped with crispy fried pancetta to serve. Our flavorsome low carb soup is prepared with tender savoy cabbage, aromatic thyme, celery, onion, and garlic. The soup is then blended until smooth and swirled with heavy cream, sliced cabbage, and diced pancetta. This warming soup makes a great Keto winter lunch, or dinner option served with sides.
Can I Make This Dairy-Free?
We have used both butter and cream to add richness and depth to our Keto cabbage soup. If you are looking to make this soup dairy-free, this would be easy to do with a few simple substitutions. The butter can be replaced by olive oil or coconut oil for sautéing. You can then either omit the cream entirely or swap for coconut cream, or a Keto compliant dairy-free alternative of your choice. Please be sure to adjust your macros to account for any changes made to the original recipe.
Serving Suggestions
This warming Keto soup makes a delicious lunch or light dinner option. We recommend serving the soup hot with some buttered low carb bread for dipping. You will find a wide range of quick and easy Keto bread recipes in our sides section, perfect for accompanying this creamy low carb soup.
Net Carbs

5.2 g

Fiber

3.3 g

Total Carbs

8.5 g

Protein

7.1 g

Fats

23.8 g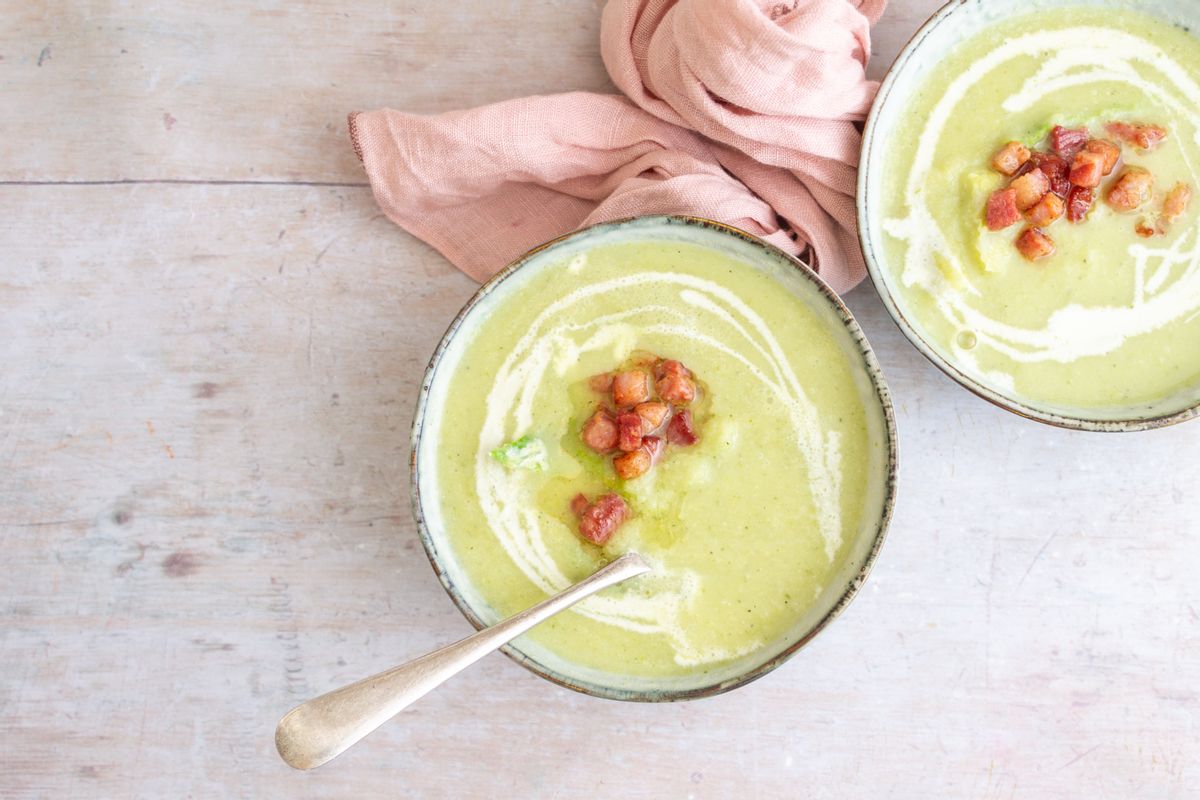 #1 Low Carb & Keto Diet App Since 2010
Track macros, calories, and access top Keto recipes.
Ingredients
Cabbage, Savoy, Raw

3-½ cup

Diced Pancetta by Waitrose

3 ounce

Chicken Broth, Bouillon Or Consomme, Ready-to-serve Can

3 cup

Celery Stalks

2 medium - stalk - 7 1/2" to 8" long

Thyme, Fresh

2 teaspoon, chopped

Unsalted Butter

1 tablespoon

Heavy Cream by Natural

½ cup
Finely dice the onion and celery and crush the garlic. Melt a heaped tablespoon of butter in a large saucepan/Dutch oven over a low/medium heat. Add the onion, garlic and celery to the pan. Sweat gently for 3-4 minutes until tender and fragrant.

Thinly slice the cabbage and pick the thyme leaves. Add 3 cups of the sliced cabbage and the fresh thyme to the saucepan with the vegetables. Stir well to combine and pan fry the cabbage for a minute.

Add the stock to the saucepan. Stir well to combine. Bring to a gentle boil, then reduce to a simmer. Simmer for 5 minutes to soften the cabbage. You may season with salt and pepper if desired; this will depend on the strength of seasoning in your stock.

While the cabbage is cooking, heat the olive oil in a skillet over a medium heat. Add the diced pancetta. Cook the pancetta through for 3-4 minutes or until crisp and golden. Set aside while you finish the soup.

Once the cabbage is tender, you can blend the soup. Use a handheld stick blender to blend until smooth and creamy. Alternatively, allow the soup to cook a little, then transfer to a free standing blender and process until smooth.

Return the cabbage soup to the heat and add the remaining half cup of sliced cabbage. Cook through gently for 3-4 minutes until the cabbage is tender. Add the heavy cream and stir through the hot soup.

Divide the soup evenly between 4 serving bowls. Top each bowl with crispy pancetta. Optionally swirl with some extra cream to serve.