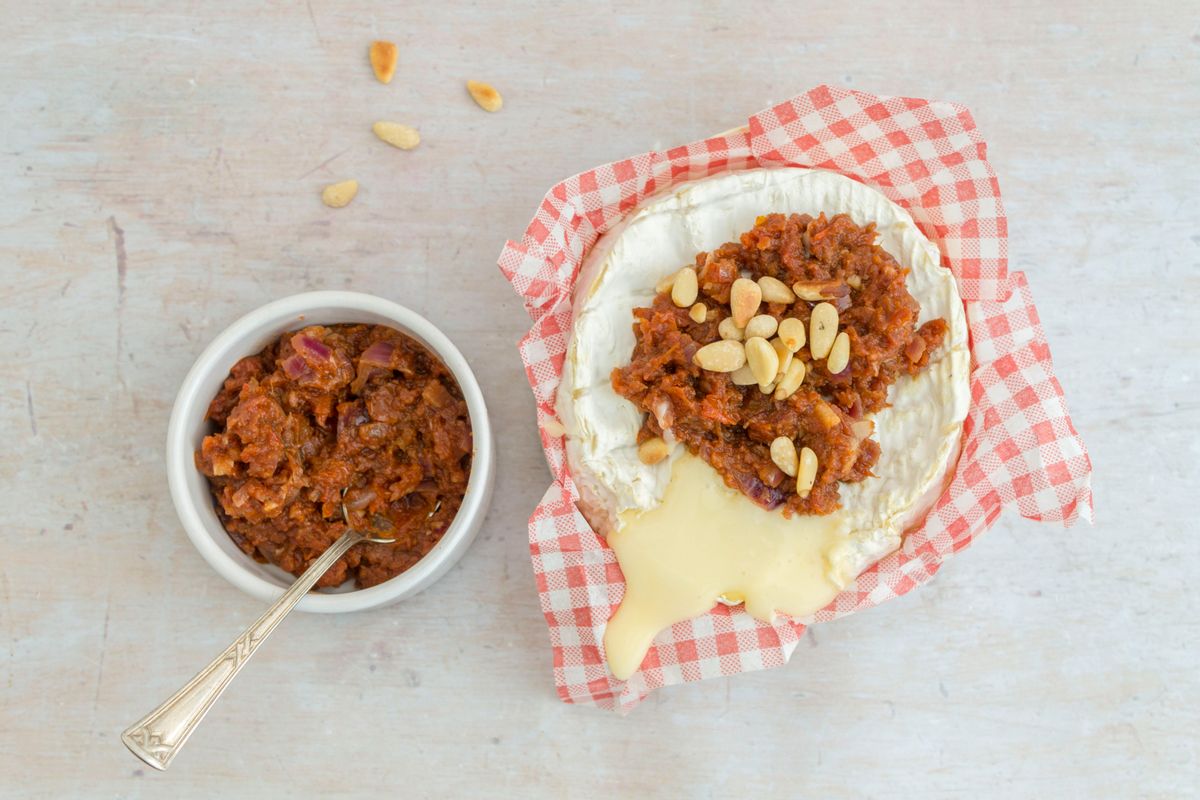 #1 Low Carb & Keto Diet App Since 2010
Track macros, calories, and access top Keto recipes.
8 min

34 min

42 min
Keto Oven-Baked Brie With Sun-Dried Tomato Jam
This Keto oven-baked brie cheese is cooked until deliciously warm and oozy then topped with a sweet sun-dried tomato jam. This versatile Keto recipe makes a great sharing snack, starter, or savory post-dinner treat. This is also a great dinner party option served as part of a low carb charcuterie board and can be enjoyed by both Keto and non-Keto guests!
Are Tomatoes Keto?
Tomatoes are one of the higher carb Keto approved vegetables. As sun-dried tomatoes pack such an intense and sweet flavor punch, they only need to be used in small quantities to create this sticky dipping jam. If you would rather not use the jam topping, you can simply bake the cheese and serve it hot with your favorite low carb dippers.
Serving Suggestions
This Keto baked brie is topped with sweet tomato chutney, perfect for dipping and sharing. We love our baked brie cheese served with Keto crackers or strips of toasted low carb bread. Alternatively, you could dip low carb vegetables into the oozy melted cheese, such as celery or bell pepper strips. Please be sure to adjust your macros to account for any changes made or additions to the original recipe.
Net Carbs

1.8 g

Fiber

0.4 g

Total Carbs

2.2 g

Protein

13.7 g

Fats

22.4 g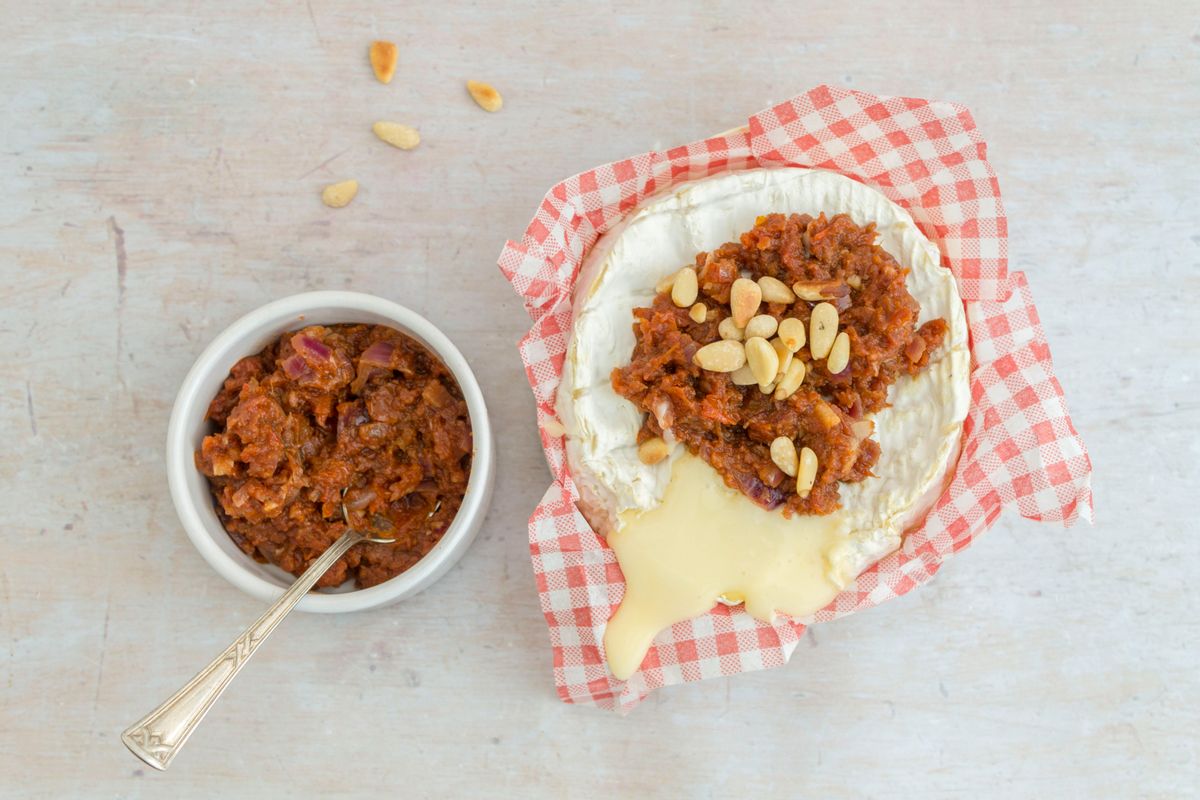 #1 Low Carb & Keto Diet App Since 2010
Track macros, calories, and access top Keto recipes.
Ingredients
Sun-dried Tomatoes, Oil Pack, Drained

6 piece

Balsamic Vinegar

1 teaspoon

Pine Nuts

½ tablespoon, whole pieces
Preheat the oven to 350 degrees Fahrenheit. Finely dice the onion and thinly slice the garlic. Heat the olive oil in a small saucepan over a low/medium heat. Add the onion and garlic and sweat gently until tender.

Add the tomatoes, balsamic vinegar, and water. Bring to a gentle boil then reduce to a simmer. Simmer for 10-12 minutes until the tomatoes are soft and tender and the liquid has reduced right down.

While the tomatoes are simmering, place the brie in a small ovenproof dish. Alternatively, if your brie is pre-packaged in an oven-ready box, you may simply remove any plastic packaging and keep the brie in its box. Transfer to the oven and bake for 15 minutes. The cheese should be hot through and the center oozy and melted.

Once the tomatoes have finished cooking, let them cool a little, then add them to a food processor along with the onion, garlic, and a tablespoon of the cooking liquor. Blend to combine. You can blend to your preferred texture and leave the jam slightly chunky or process until smoother.

Add the pine nuts to a dry skillet over a low heat. Toast the pine nuts gently for 3-4 minutes or until lightly golden. Take care not to overcook as these will burn quickly.

Remove the hot cheese from the oven and top with the tomato jam and toasted pine nuts. Serve immediately to avoid the cheese firming. Serve with your favorite low carb dipping veggies or toasted Keto bread and crackers.