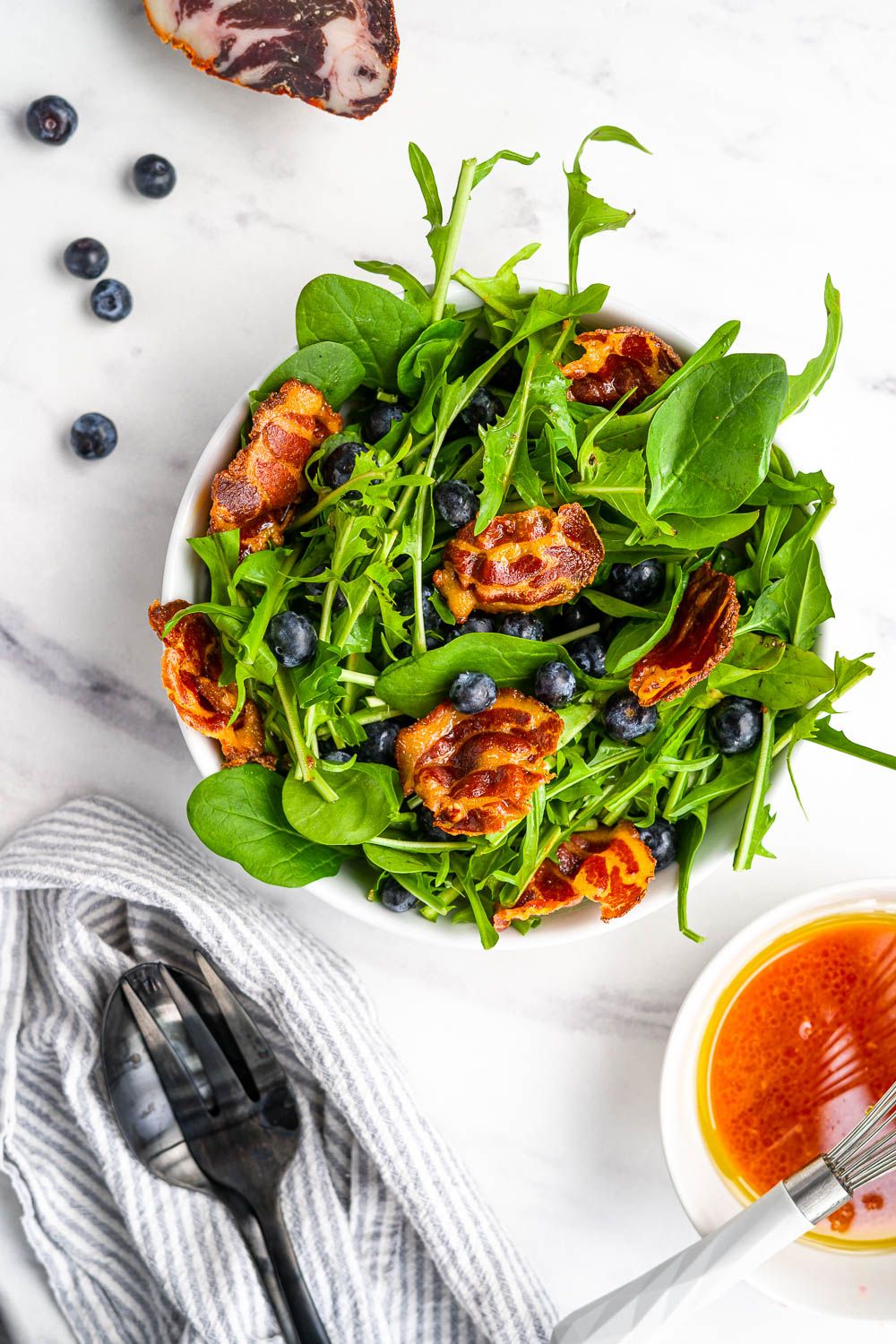 #1 Low Carb & Keto Diet App Since 2010
Track macros, calories, and access top Keto recipes.
15 min

7 min

22 min
Keto Dandelion Spinach Blueberry Salad
The bitter flavors from the dandelion greens combined with the sweet tender taste of spinach with tart blueberries make for an addictive salad with a nice crunch. Dandelion greens are tossed with baby spinach leaves in a vinaigrette made from extra virgin olive oil, red wine vinegar, garlic, and pink Himalayan sea salt. The vinaigrette is made nicely tart, so a minimal amount is needed to coat the salad greens leaving them crisp and not soggy. The final salad is topped with crispy slices of cured spicy capocolla. You will love the flavor combination with small pops of blueberry in between.
What else can I serve with this?
Use this salad as a blank slate for adding grilled chicken, shrimp, beef, or hard boiled eggs.
Where can I find dandelion greens?
Dandelion greens can be found at most health-centered grocery stores. If you cannot source dandelion greens, arugula can be a great substitute.
Can I use other cured meats?
Yes, feel free to use other kinds of cured meats like salami or prosciutto. As long as it is cut thin, they will crisp up the same way as written in the recipe.
Serving suggestion
Please feel free to serve this dandelion salad with Keto Crispy Parmesan Chicken Thighs https://www.carbmanager.com/recipe/keto-crispy-parmesan-chicken-thighs.
Net Carbs

4.7 g

Fiber

2 g

Total Carbs

6.8 g

Protein

5.1 g

Fats

7.3 g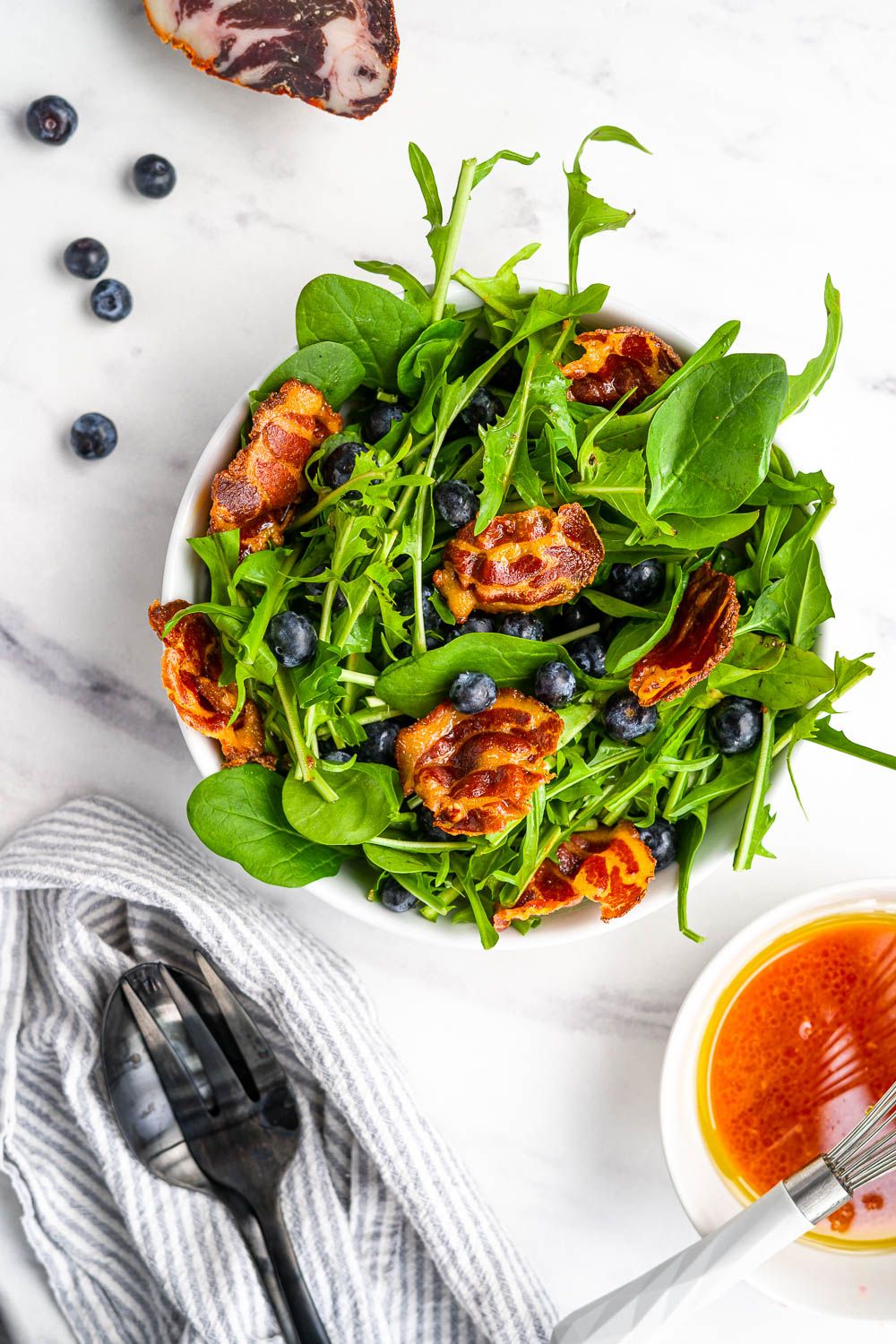 #1 Low Carb & Keto Diet App Since 2010
Track macros, calories, and access top Keto recipes.
Ingredients
Dandelion Greens, Raw

5 ounce

Hot Capocollo by Boar's Head

2 ounce

Extra Virgin Olive Oil

½ tablespoon

Extra Virgin Olive Oil

½ tablespoon

Salt, Ancient Fine Real Sea Salt by Redmond

1 tsp
Wash the dandelion greens in as cold of water as possible. Rinse and drain them several times, ensuring no more sediment at the bottom of the bowl on the last rinse. Place the greens in a salad spinner if you have one, or shake off the water well when the greens are in a strainer.

Next, slice the capocolla very thin and place it in a large nonstick skillet. The skillet should be large enough to hold all of the slices without them overlapping. If you do not have a skillet this large, do this step in multiple batches. Heat the skillet until it is hot over medium-high heat; add in ½ tbsp of oil. Swirl the pan. Add in the slices of cured meat (you can use any cured meat as long as it is thinly sliced). Turn the heat to low. Cook the pieces on both sides, turning them often until they are crisped all the way through. This process will take about 4-5 minutes or longer, depending on the heat. They will continue to crisp once removed from the skillet and cool.

Cut the dandelion greens into the same length as the baby spinach. Add the spinach into a large bowl with the dandelion greens. Add the blueberries.

Prepare the vinaigrette by combining the olive oil, red wine vinegar, grated garlic clove, and the pink Himalayan salt with a whisk—taste adding more salt if desired.

Toss the salad with the vinaigrette. Taste adding salt and pepper. Plate the salad and top with crispy slices of spicy capocolla.