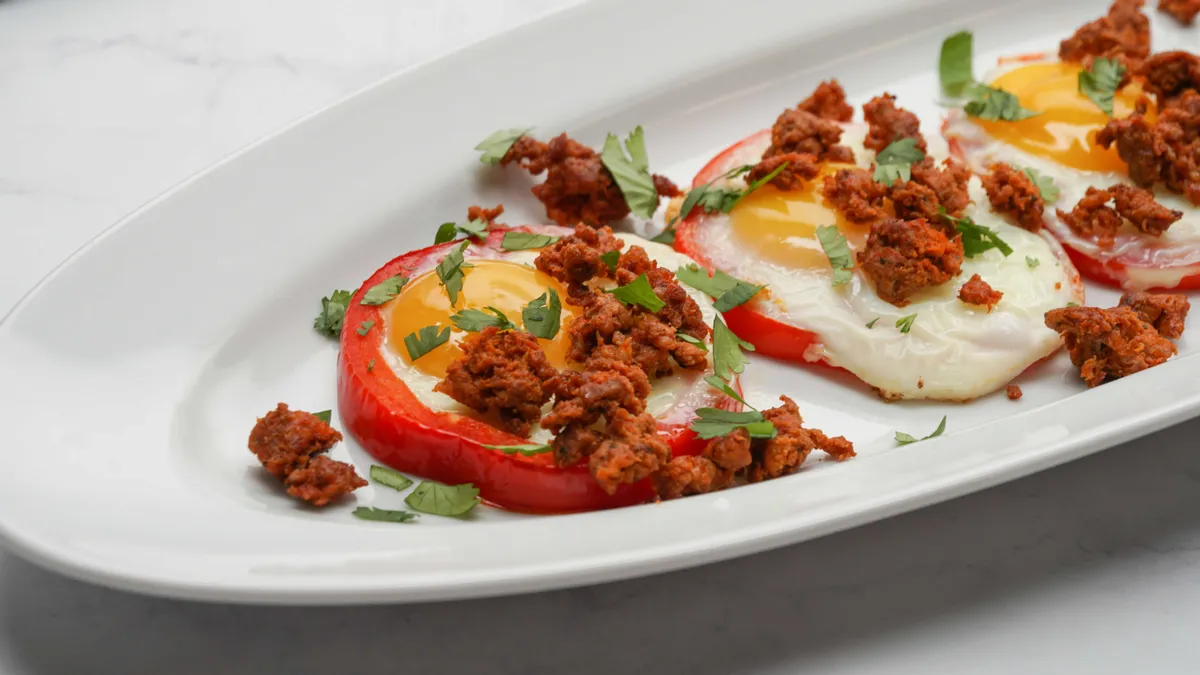 #1 Low Carb & Keto Diet App Since 2010
Track macros, calories, and access top Keto recipes.
2 min

10 min

12 min
Best Keto Fried Chorizo Egg Bell Pepper Rings
There's something aesthetically pleasing and satisfying about cutting into a perfectly fried egg. Runny yolk combined with slightly salty and spicy chorizo pork sausage makes for the ultimate breakfast. Fry those babies up in some red bell pepper slices, and you don't even need to season the egg! That's all – just three ingredients, and you have a deliciously nutritious and yummy meal! For your enjoyment, 2 fried eggs in bell pepper rings with chorizo counts as 1 serving. If you cook your eggs well done, you can meal prep the recipe and reheat it once it's needed.
Tips for the recipe
To ensure your eggs don't run out from under your bell pepper rings in the pan, make sure to slice the pepper rings with a flat edge. Lay the bell pepper rings on an unused pan to check that they're level. You don't have to be perfect - watch the eggs while they cook in your pepper rings. You can use a spatula to fix any leaking egg while it cooks.
What type of chorizo should I use?
Look for raw, seasoned chorizo that comes either in a casing or ground finely in a package. You may find this in the refrigeration aisle in your grocery store near other cased sausages or breakfast meat. When you cook the chorizo, you'll remove it from the casing and break it up in your pan using a spatula.
Are bell peppers Keto-friendly?
If you're on a strict Keto diet, a medical professional may have advised you to avoid bell peppers. Never go against what a doctor asks you to do. However, if you're doing a "dirty" Keto diet, bell peppers are actually a great vegetable to eat in moderation. This Keto breakfast recipe uses thinly sliced peppers that add few carbs to your meal.
Net Carbs

3.8 g

Fiber

0.5 g

Total Carbs

4.3 g

Protein

22.9 g

Fats

25.2 g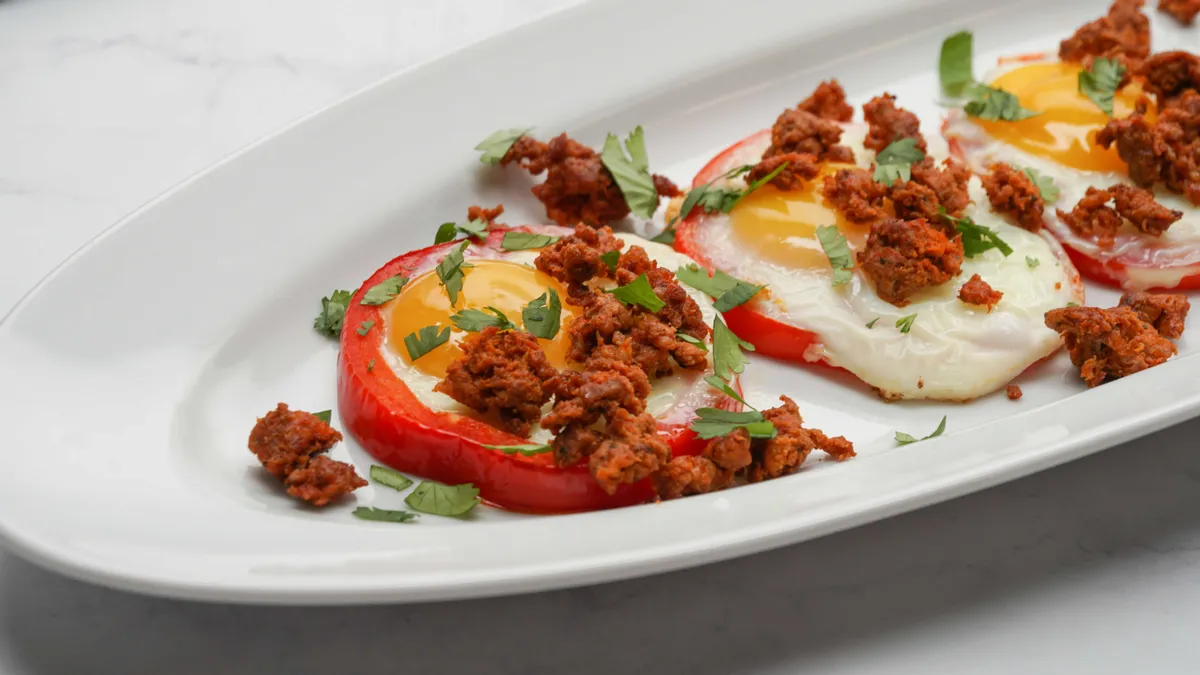 #1 Low Carb & Keto Diet App Since 2010
Track macros, calories, and access top Keto recipes.
Ingredients
Chorizo Ground Sausage by Hatfield

4 ounce

Red Bell Pepper

1-¾ ounce
Lightly coat a small pan in pan spray, and heat the pan on medium-high heat. Cook the chorizo sausage until it is cooked through and slightly crispy – about 5 minutes. Transfer the chorizo aside for later, but save the drippings in the pan.

Slice 2 rings of red bell pepper per serving. They should be about ½-inch thick. Return the small pan to medium-low heat. Place the bell pepper rings in, making sure there is no space between the pan and the bell pepper (you don't want any egg to run under the peppers).

Crack a single egg into each bell pepper ring. Fry the eggs to your preferred doneness. Keep the heat on medium-low, and frequently check to make sure the eggs aren't burning. Slow and steady wins the race!

To serve the chorizo egg pepper rings, crumble the cooked chorizo over the fried eggs. You can chop some cilantro and serve that on top as well. A squeeze of lime juice would also taste good! Enjoy the meal hot.