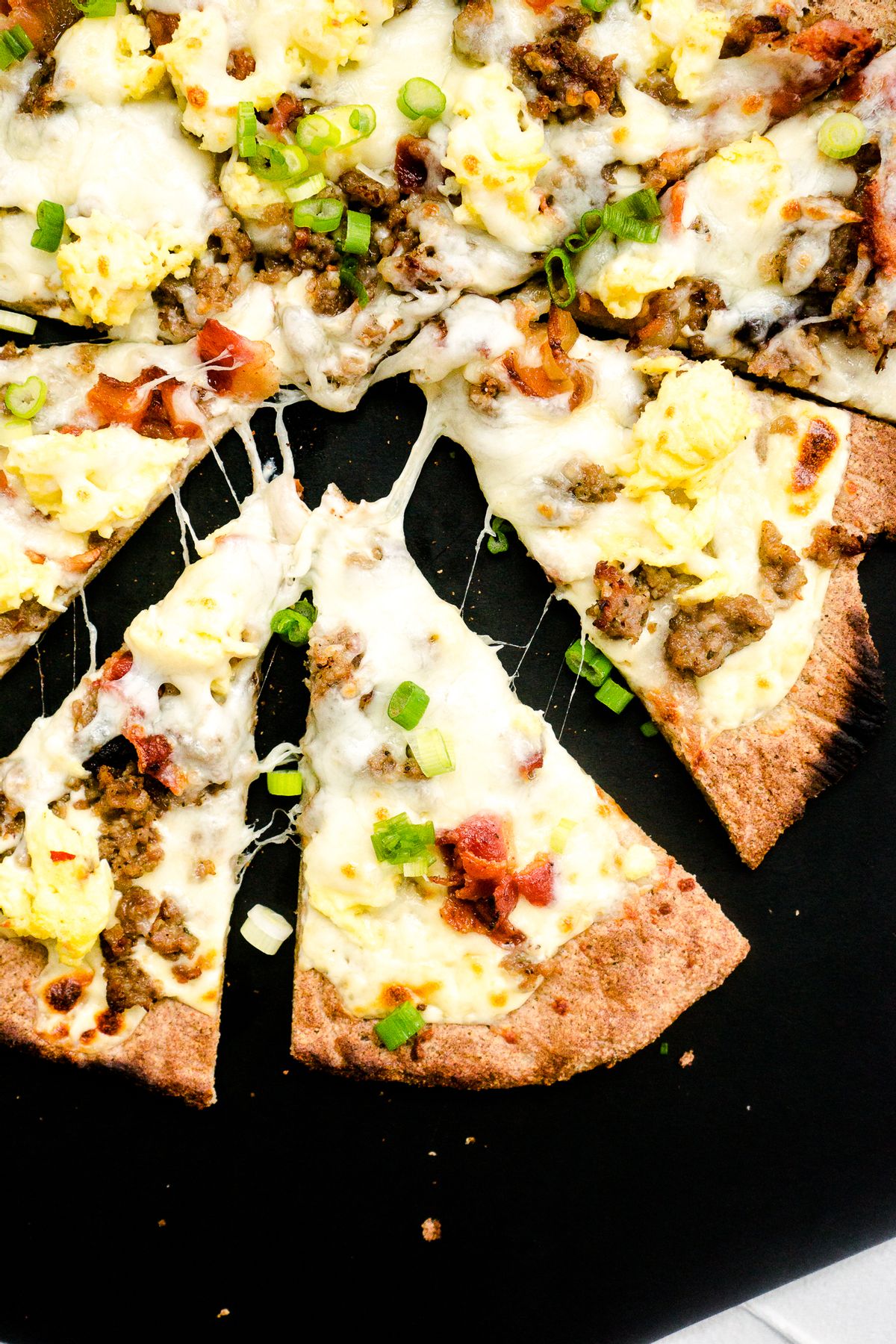 #1 Low Carb & Keto Diet App Since 2010
Track macros, calories, and access top Keto recipes.
35 min

10 min

45 min
Keto Bacon Sausage and Egg Breakfast Pizza
This breakfast-style pizza is very popular in the Midwest and includes a cheese sauce, hot crumbled sausage, crispy bacon, scrambled eggs and sliced scallions. It will be your new go-to breakfast option. This pizza is easy to make ahead and freeze into individual servings. Simply reheat the slices in the microwave (then throw them in a skillet to make the bottom crispy) or reheated in the oven.
How is this cheese sauce different from other Keto cheese sauces?
Simplicity is key here. This cheese sauce only uses 2 ingredients so it is easy to memorize and execute (only cream and shredded cheese). The two ingredients melt together into the most velvety sauce.
Is there special equipment involved in making Keto pizza?
Equipment that will set you up for Keto pizza success is a pizza stone, flat sheets of parchment paper (not the pre rolled stuff) and a nice rolling pin.
How do I prepare this pizza ahead of time?
The bacon, scrambled eggs, sausage, cheese sauce and scallions can all be made ahead of time. If you make the cheese sauce ahead of time, it will thicken as it cools...so be sure to reheat it gently adding a couple teaspoons of heavy cream at a time until it is a nice sauce consistency.
Net Carbs

2.2 g

Fiber

3.3 g

Total Carbs

5.5 g

Protein

7.8 g

Fats

14.9 g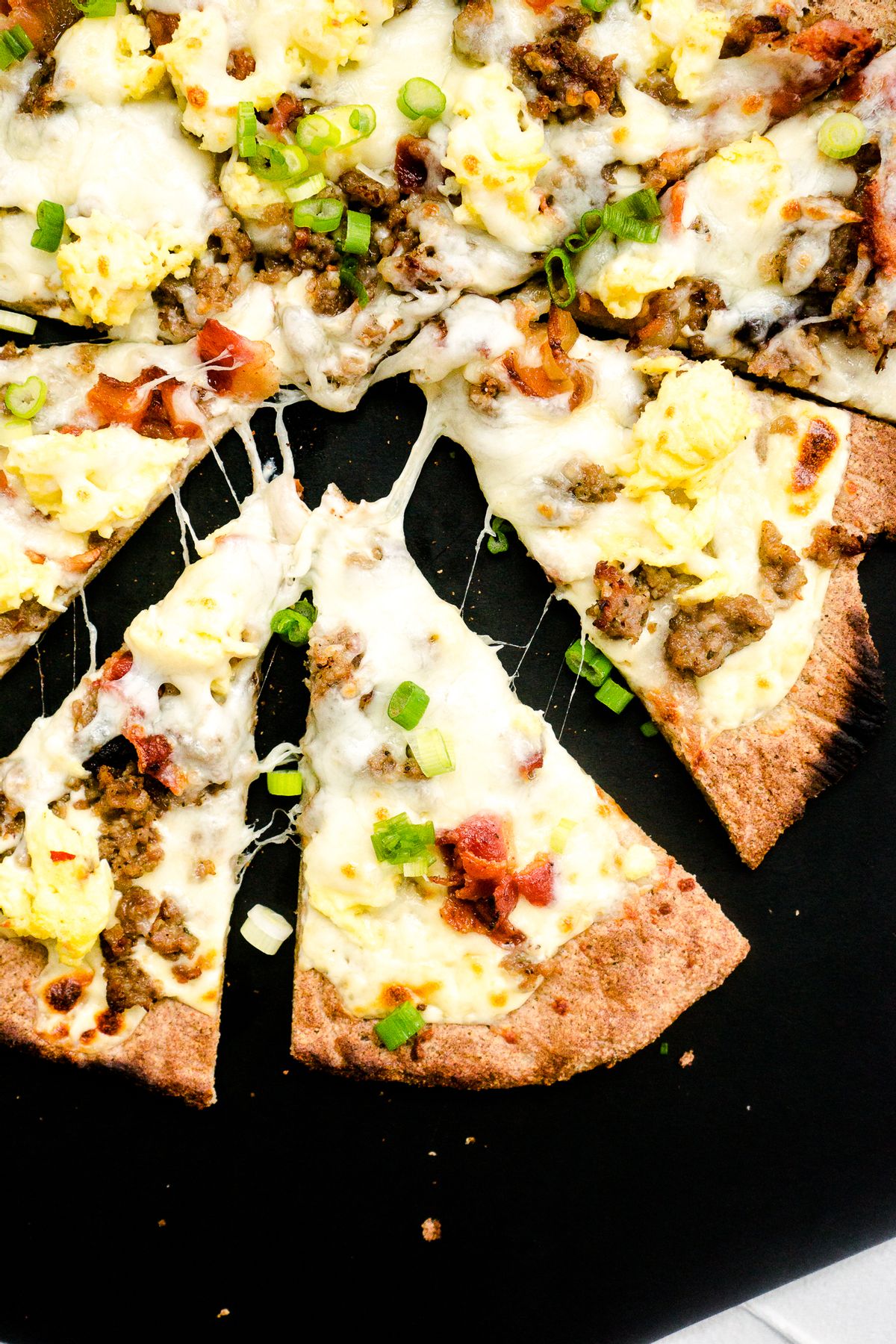 #1 Low Carb & Keto Diet App Since 2010
Track macros, calories, and access top Keto recipes.
Ingredients
Psyllium Husk Powder Soluble Fiber by Now

5 tbsp

Coarse Kosher Salt by Morton

1 tsp

Apple Cider Vinegar

2 teaspoon

Premium Pork Sausage Hot by Jimmy Dean

4 ounce

Natural Shredded Cheese Kraft Shreds Mexican Four 2% Milk by Kraft

½ cup

Coarse Kosher Salt by Morton

1 tsp

Mozzarella Cheese

1 cup, shredded

Scallions

2 medium - 4 1/8" long
Preheat an oven to 500 F. Place a pizza stone in the oven to preheat with the oven. In a stand mixer fitted with a paddle attachment, combine the almond flour, psyllium husk, baking powder and kosher salt until combined.

Add the vinegar and boiling water slowly and mix until combined.

Add the eggs and mix until combined.

Scrape down the sides of the bowl and divide the dough into two pieces. Roll them into a round ball. This will help when you roll the dough out so it will have even edges.

Place half of the dough in the middle of two pieces of silicone coated parchment paper. Use a rolling pin to roll the dough as thin as possible. Each crust will be about 10" in diameter. Remove the top piece of parchment. Carefully remove the hot pizza stone from the oven and sprinkle on the coconut flour. Work quickly because it will start to brown fast. Flip the dough that is still connected to the other piece of parchment face down. Bake for 5 minutes. Then remove the parchment paper that is still on top and allow to bake for another 1-2 minutes until slightly golden on top. Remove to a cooling rack and repeat with the other piece of dough.

Prepare the crispy bacon by cooking it in a large skillet over medium heat. Flip the bacon several times to ensure even cooking. Cook until it is nicely crispy (no more soft fat). It will continue to crisp as you set it aside on a paper towel lined plate.

In a separate pan, cook the raw hot sausage until browned.

Remove the sausage and cook a scrambled egg in the residual fat.

Crisp the bacon up in a pan making sure to flip the bacon several times until nicely browned.

To make the cheese sauce, heat the cream in a small saucepan until starting to bubble. Add the shredded Mexican cheese and stir until melted. Be sure to turn the heat off before all the cheese is melted so it won't burn. Continue to stir until the sauce pulls together. The sauce will sometimes thicken after it cools down if you do not use it right away. If this happens before use, simply add 1-2 teaspoons of cream at a time and heat the sauce over low heat until it comes back to the right consistency.

Spread the pizza crust with the cheese sauce.

Top with crumbled bacon, crumbled sausage and the scrambled egg.

Finally top with half of the mozzarella cheese.

Place the oven on broil and heat for 1-2 minutes until the cheese is melted and browned. Repeat with the other crust. Slice each pizza into 8 pieces.