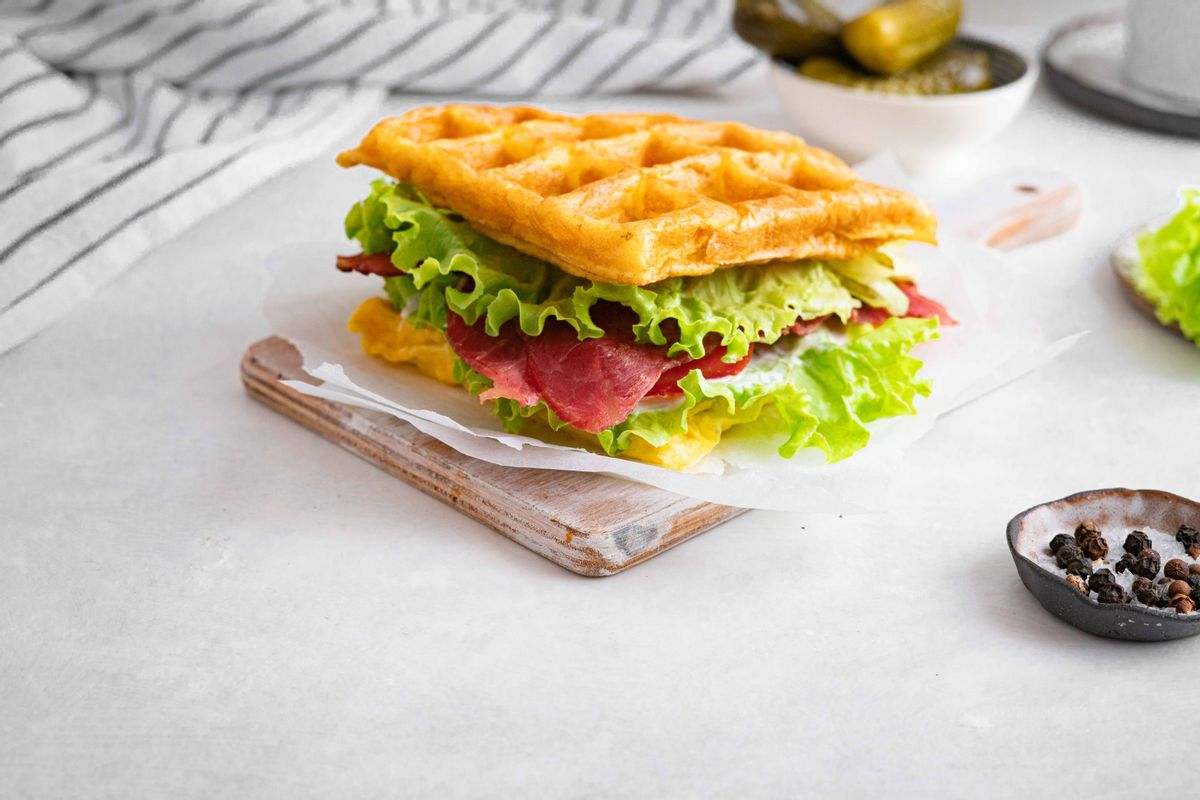 #1 Low Carb & Keto Diet App Since 2010
Track macros, calories, and access top Keto recipes.
5 min

5 min

10 min
Keto BLT Chaffle Sandwich
Here's a Keto breakfast sandwich recipe that you can actually hold! Savory, cheesy chaffles take the place of bread in this BLT sandwich. It is quick and easy to prepare using a couple of ingredients. Enjoy this Keto sandwich on a quiet weekend morning or on the go during the week.
What is a chaffle?
The word chaffle is the combination of the words cheddar and waffle, and it refers to a low-carb waffle made from eggs and cheese. The egg and cheese mixture makes perfectly fluffy waffles that have a slightly crunchy cheese exterior. They can be eaten on their own, with toppings, or used as bread slices to make a sandwich similar to this one.
What can you replace beef bacon with?
Beef bacon might not be everyone's first choice, but it is worth considering since it is healthier and lower in cholesterol. However, feel free to use pork bacon or turkey bacon. If you don't mind swaying from a BLT, consider experimenting with other deli meats like pastrami, salami, ham, smoked turkey, etc.
What type of waffle iron can you use?
With the increasing popularity of chaffles, you can find waffle irons specially made for chaffles. They are usually round and smaller than a regular waffle iron. However, you don't need a new kitchen appliance to prepare this delicious Keto bacon sandwich. The only thing you need in a waffle iron for making chaffles is nonstick plates or griddles.
Is this Keto sandwich suitable for meal prep?
Absolutely! The best Keto recipes are ones that are meal prep-friendly. This sandwich is perfect because it is quick to prepare and tastes just as good a few hours later. After preparing it, wrap it in cling film and keep it at room temperature for up to 2 hours or in the fridge for a day.
Net Carbs

2.7 g

Fiber

0.6 g

Total Carbs

3.4 g

Protein

24.8 g

Fats

34 g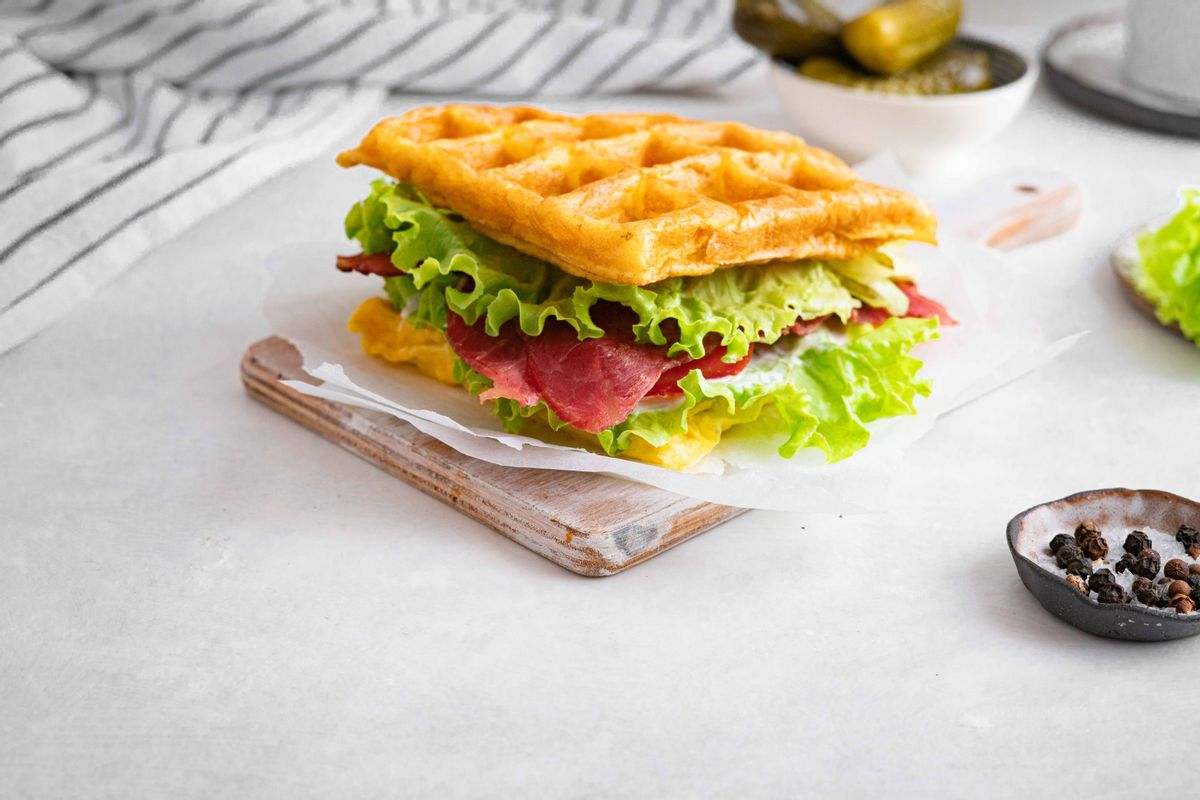 #1 Low Carb & Keto Diet App Since 2010
Track macros, calories, and access top Keto recipes.
Ingredients
Mozzarella cheese, whole milk

0.33 cup, shredded

Beef bacon (kosher)

3 slice - 6" long

Tomato

2 medium slice - 1/4" thick

Lettuce, green leaf

2 inner (small) leaf
Preheat your waffle iron and grease it with butter. To a bowl, add 1 egg and mozzarella cheese, Whisk to combine.

Pour ½ the mixture into each slot and close the waffle iron. Cook for 2-3 minutes until golden. Remove and transfer them to a plate.

Place a pan over medium heat and add the bacon slices. Cook until crispy. Transfer to a plate lined with kitchen paper.

To assemble, place 1 chaffle on a plate and lay one lettuce leaf. Spread the mayonnaise and place the tomato slices on top. Add the bacon.

Finish with the second lettuce leaf and chaffle. You can slice the sandwich in half for easy handling. Serve immediately with your choice of condiments.