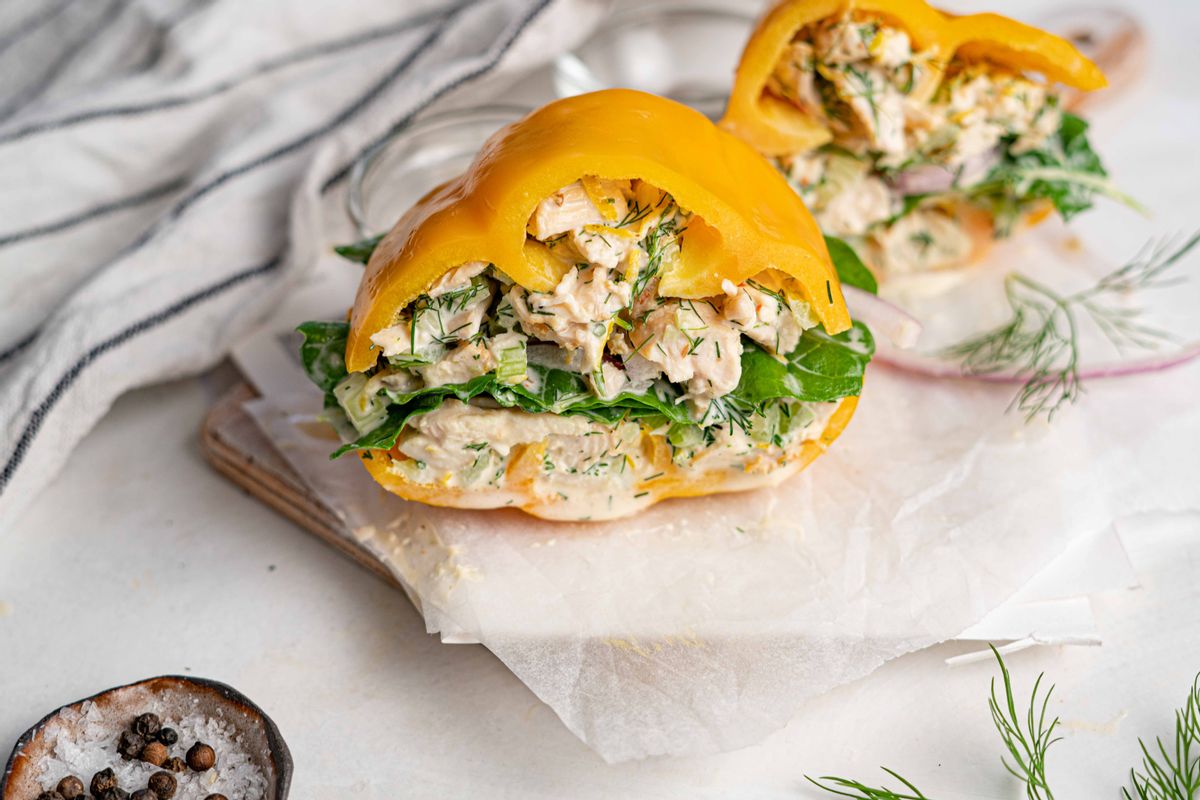 #1 Low Carb & Keto Diet App Since 2010
Track macros, calories, and access top Keto recipes.
15 min

0 min

15 min
Keto Bell Pepper Chicken Salad Sandwich
Whether you are just starting a Keto diet or managing your budget, this recipe is perfect for you. This chicken salad sandwich can be prepared in less than 15 minutes using ingredients that are probably already in your kitchen. Don't be fooled by the recipe's simplicity because this sandwich is satiating, refreshing, and extremely delicious.
Is this Keto pepper sandwich healthy?
Whether this Keto sandwich is healthy or not depends on the components. The bell pepper "bread" is low in carbohydrates, full of nutrients and fiber, and easily accessible. It definitely beats any other Keto bread. As for the sandwich filling, make the salad using free-range chicken and organic mayo and veggies. You can add greens to boosts the nutritious value.
Which bell pepper color is best for this recipe?
We have opted for yellow bell pepper since its sweetness pairs nicely with the tangy chicken salad. Since red and yellow bell peppers are sweeter than green, they have more carbs. Choose your preferred type; keep in mind that some have higher carbs than others. Also, ensure that the bell pepper is uniform in shape and can easily lay down flat on one side. That way, your sandwich won't fall over when you place it down.
How can you customize this Keto chicken salad sandwich?
This chicken salad sandwich is meant to be prepared with simple flavors already in your kitchen. So if you have a missing ingredient, you can swap it for another from your pantry. Instead of mayonnaise, you can use sour cream, Caesar dressing, or ranch dressing. You can replace the dill with parsley or chives and the celery with grated carrots, chopped pickles, or diced red onion. As for the lemon, you can use lime. You can also add more ingredients like avocado, cherry tomatoes, sundried tomatoes, a small amount of dried fruits, nuts, or seeds.
Net Carbs

5.3 g

Fiber

1.6 g

Total Carbs

7 g

Protein

30.4 g

Fats

31.8 g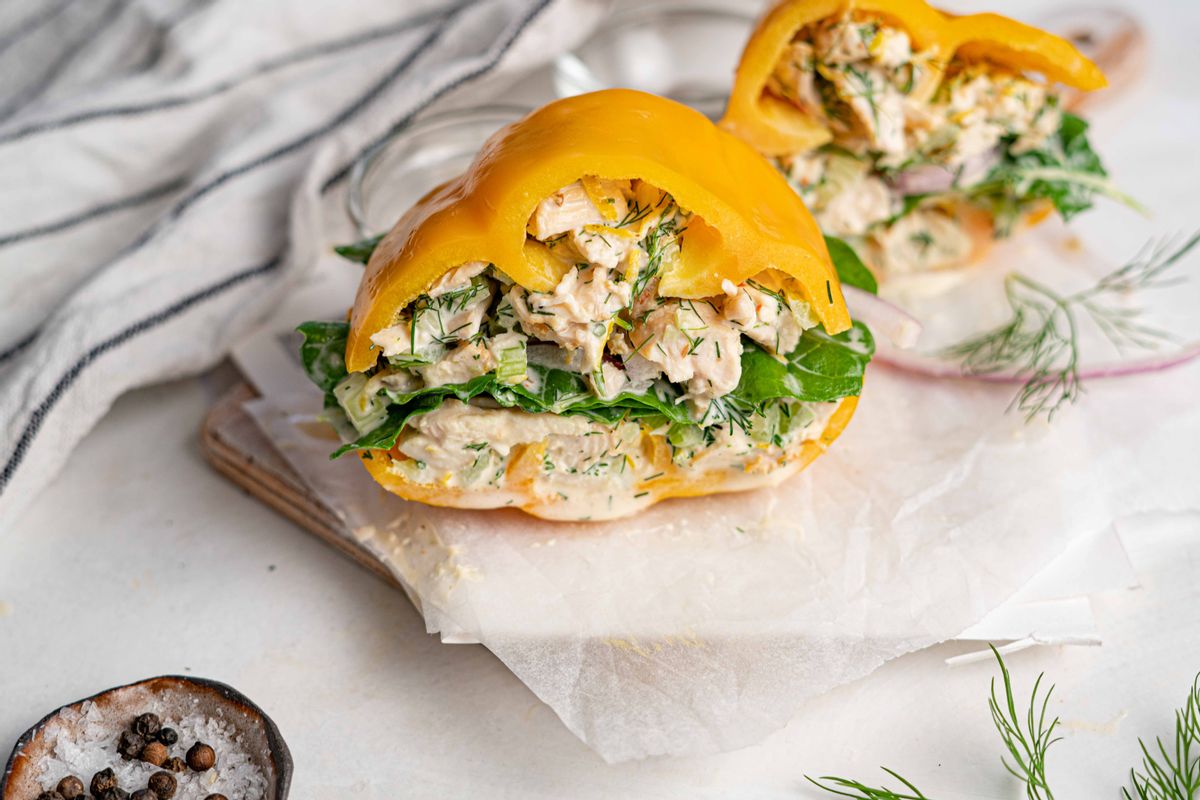 #1 Low Carb & Keto Diet App Since 2010
Track macros, calories, and access top Keto recipes.
Ingredients
Bell Pepper (Raw) ~ Yellow/Orange

2 1oz

Rotisserie chicken

0.75 cup, cut pieces

Real Mayonnaise made with Avocado OIl

2 tbsp

Celery

0.5 large - stalk - 11" to 12" long

Lemon Peel Or Zest Raw

1 tsp

Salt and Black Pepper (To Taste)

0.5 tsp

Onion, white, yellow or red, raw

0.5 ring
Shred the chicken and measure out 3/4 cup. You can use grilled, boiled, or poached chicken breasts. Place in a bowl.

Finely chop the celery and dill and add to the bowl. Zest and squeeze the lemon into the bowl. Add the mayonnaise.

Season with salt and pepper, give it a taste, and adjust. Slice the bell pepper in half and remove the seeds and ribs. Slice the onion and wash the arugula.

Divide the chicken salad into the 2 pepper halves. Add the arugula and onion and join the 2 halves together to form a sandwich. Slice in half and serve.