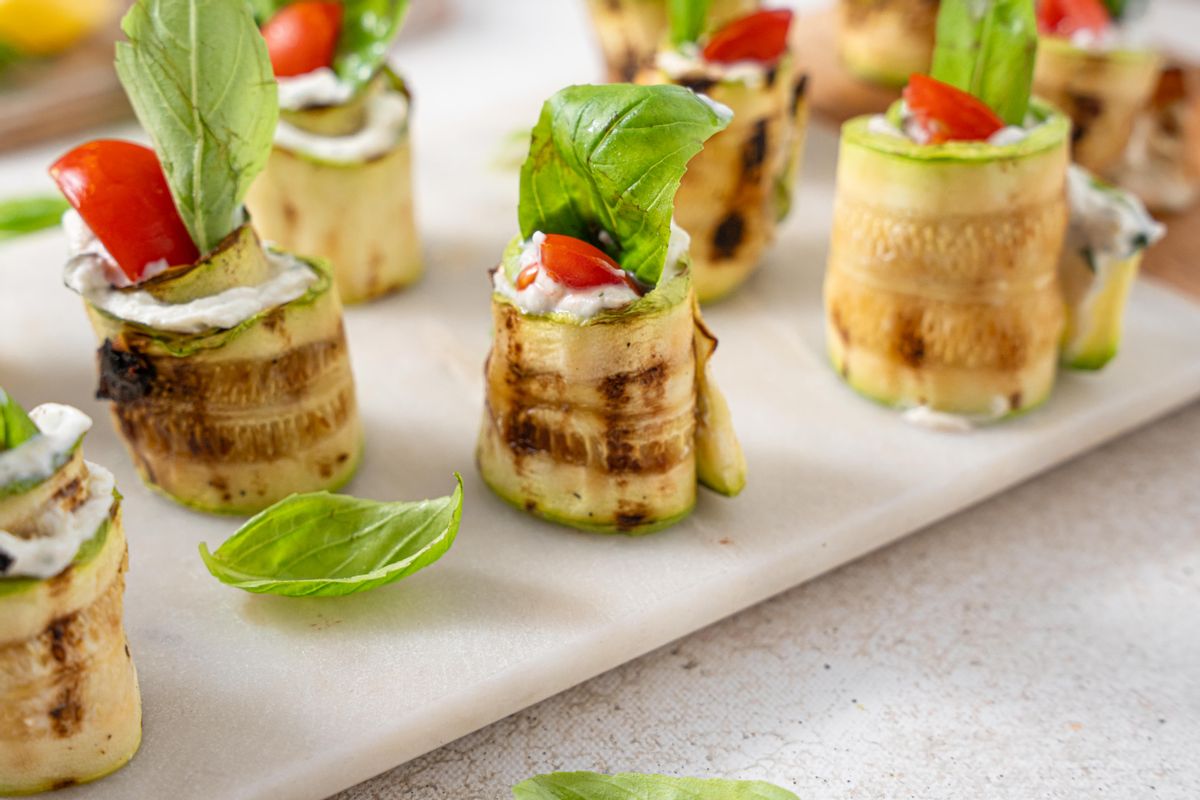 #1 Low Carb & Keto Diet App Since 2010
Track macros, calories, and access top Keto recipes.
30 min

15 min

45 min
Keto Zucchini Roll-ups with Pesto Ricotta
Elevate your Keto holiday party appetizers with a delightful creation that's as visually appealing as it is flavorful. These Keto Zucchini Roll-ups with Ricotta and Tomatoes are a perfect embodiment of the festive spirit, combining the freshness of zucchini with the creamy richness of ricotta and the fresh flavors of tomatoes. Let's explore the convenience of preparing these roll-ups ahead of time, the potential for customization, and the best practices for storing these Keto holiday appetizers.
Can you prepare this recipe ahead of time?
The beauty of these zucchini roll-ups lies in the ability to prepare them in advance. To streamline the process, consider preparing the components individually. Grill the zucchini slices and whip up the ricotta mixture up to 3 days in advance. When it's time to serve, simply spread the luscious ricotta mix on the grilled zucchini, add a burst of flavor with tomatoes and basil, and roll them up. This time-saving approach ensures you can effortlessly create a visually stunning platter without the last-minute rush.
How to customize this recipe?
Customization is key to making this recipe uniquely yours. Experiment with different herbs or incorporate sun-dried tomatoes into the ricotta mixture for an extra layer of intensity. Adjust the lemon zest to your liking, or infuse the pesto with a variety of nuts for added texture. For those who enjoy a hint of spice, consider adding a touch of red pepper flakes to the ricotta mix. This recipe welcomes your creative twists, allowing you to tailor the flavors to suit your preferences.
How to store these roll-ups?
Storing these zucchini roll-ups is a breeze. After assembling, transfer them to an airtight container and refrigerate until you're ready to serve. If you've prepared the components separately, store the grilled zucchini and ricotta mixture in separate containers. Assembling them just before serving ensures that the zucchini maintains its delightful crispness, and the flavors remain vibrant.
Net Carbs

1.8 g

Fiber

0.4 g

Total Carbs

2.2 g

Protein

2 g

Fats

4.8 g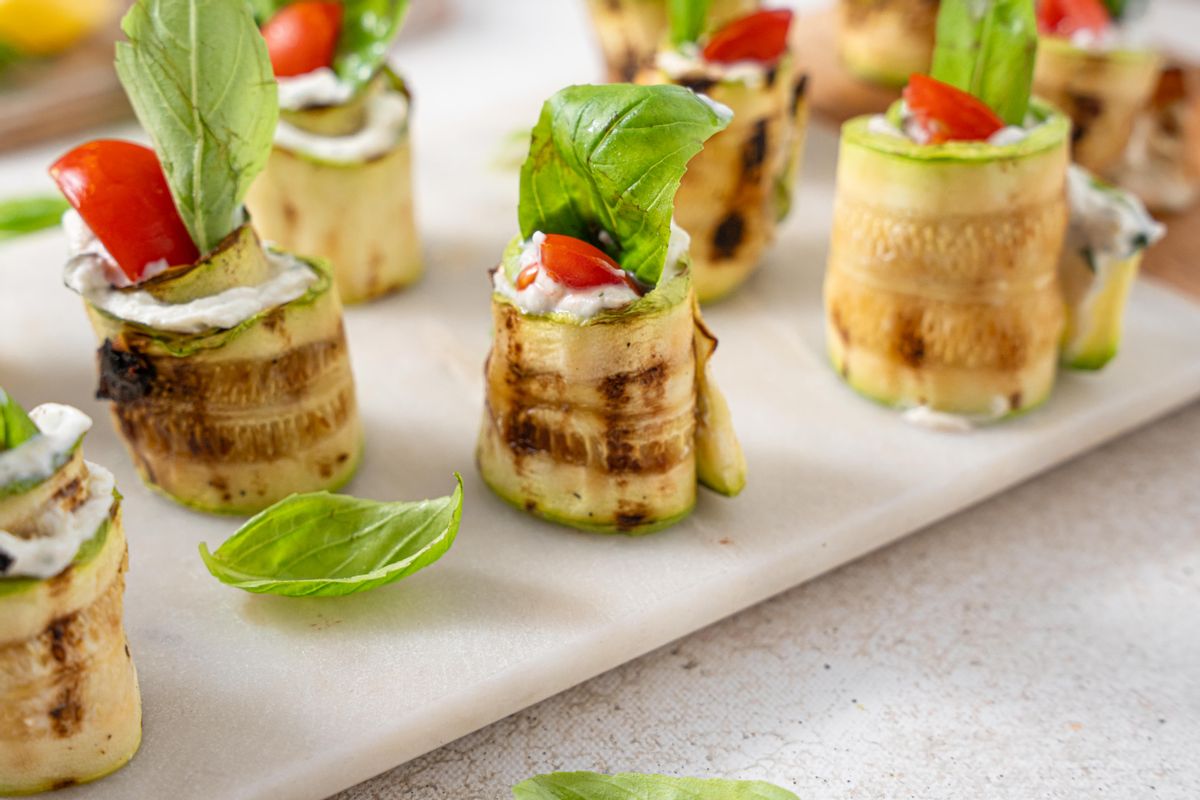 #1 Low Carb & Keto Diet App Since 2010
Track macros, calories, and access top Keto recipes.
Ingredients
Extra virgin olive oil

2 tbsp

Parmesan cheese

2 tbsp, shredded

Pesto sauce, store bought

1 tbsp

Lemon Peel Or Zest Raw

2 tsp

Tomato raw (includes cherry, grape, roma)

3 cherry
Slice the zucchinis lengthwise into 3mm slices. Brush them with olive oil and place a grill pan over medium-high heat. Grill the zucchini slices until tender, about one minute per side. Repeat with the remaining slices and set aside.

Add the ricotta, parmesan cheese, lemon zest, pesto, salt, and pepper to a bowl. Finely chop 4-5 basil leaves and add them in. Mix until combined. Slice the cherry tomatoes into quarters.

Spread the cheese mixture over the grilled zucchini slices. Add a quarter of a cherry tomato and a basil leaf on each slice of zucchini. Roll them up.

Transfer the zucchini rolls to a serving plate. Store in the fridge for serving.