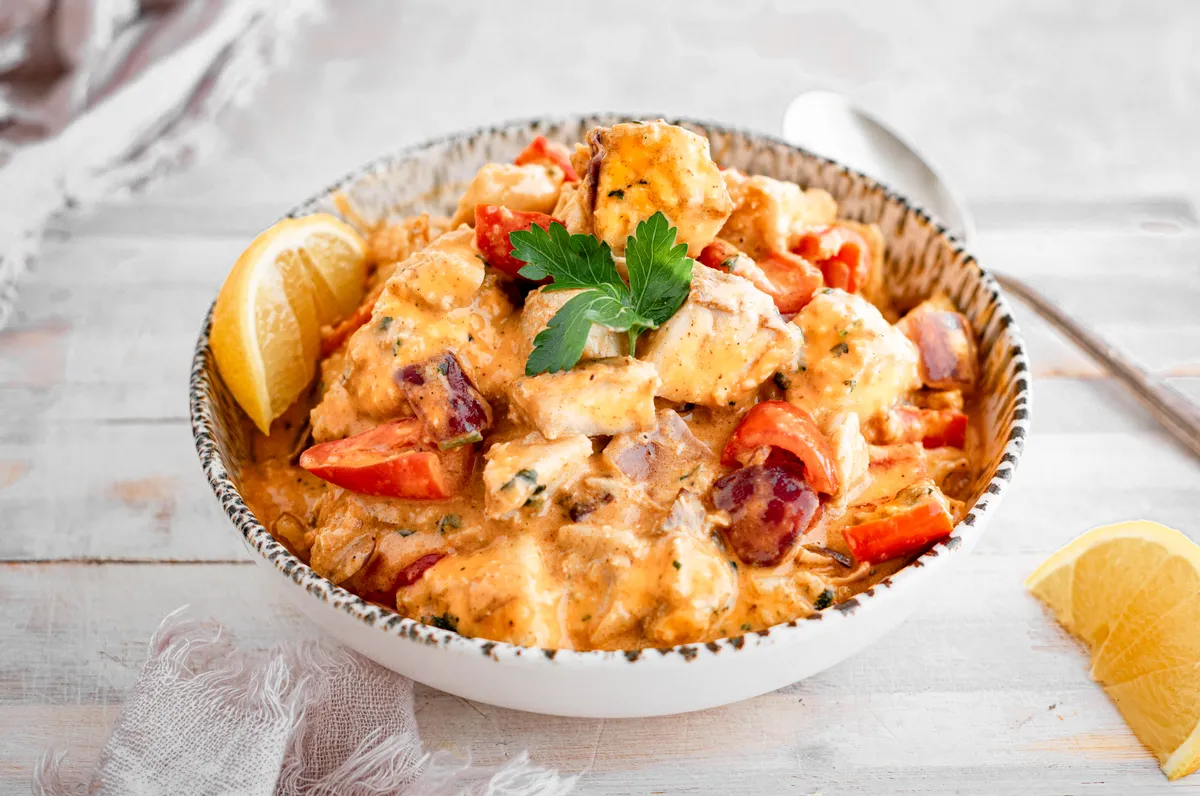 #1 Low Carb & Keto Diet App Since 2010
Track macros, calories, and access top Keto recipes.
10 min

20 min

30 min
Low Carb Fish Stew
Are you a fan of hearty, comforting meals that take less than 30 minutes? Well, who isn't! This low-carb fish stew might become your new go-to dinner option. It is healthy, rich, warm, and explodes with flavor. This meal is also ideal for pescatarians and those following a paleo diet. Please do yourself a favor and try it tonight.
What ingredients do you need to make this Keto fish stew?
To prepare the fish stew, you will need a firm white fish fillet that doesn't lose shape when cooked. Some options include tilapia, cod, sea bass, and snapper. You can also add other seafood meats such as shrimp, calamari, crab meat, or mussels. This low-carb fish stew is prepared using many aromatic ingredients, including onions, peppers, garlic, paprika, cumin powder, and lemon juice. The coconut milk adds creaminess and brings out a fantastic flavor in the stew, but it can be replaced with heavy cream if you are not worried about dairy.
What's the best way to enjoy this Keto seafood dish?
This stew is delicious on its own, but you can still get creative with how you serve it. You can add it on top of cauliflower rice or zucchini noodles. You can also make fish tacos by filling some low-carb tortillas with a reduced version of this stew. However you choose to serve this dish, it will still taste magnificent.
Is this low-carb stew suitable for meal prep?
Absolutely! This stew is ideal for Keto meal prep. Making a larger batch is just as quick and easy. Simply cook your stew and allow it to cool completely before dividing it into individual containers. This meal will last in the fridge for up to 4 days. Just microwave it for a couple of minutes before eating.
Net Carbs

6.5 g

Fiber

1.6 g

Total Carbs

8.2 g

Protein

38.4 g

Fats

19.1 g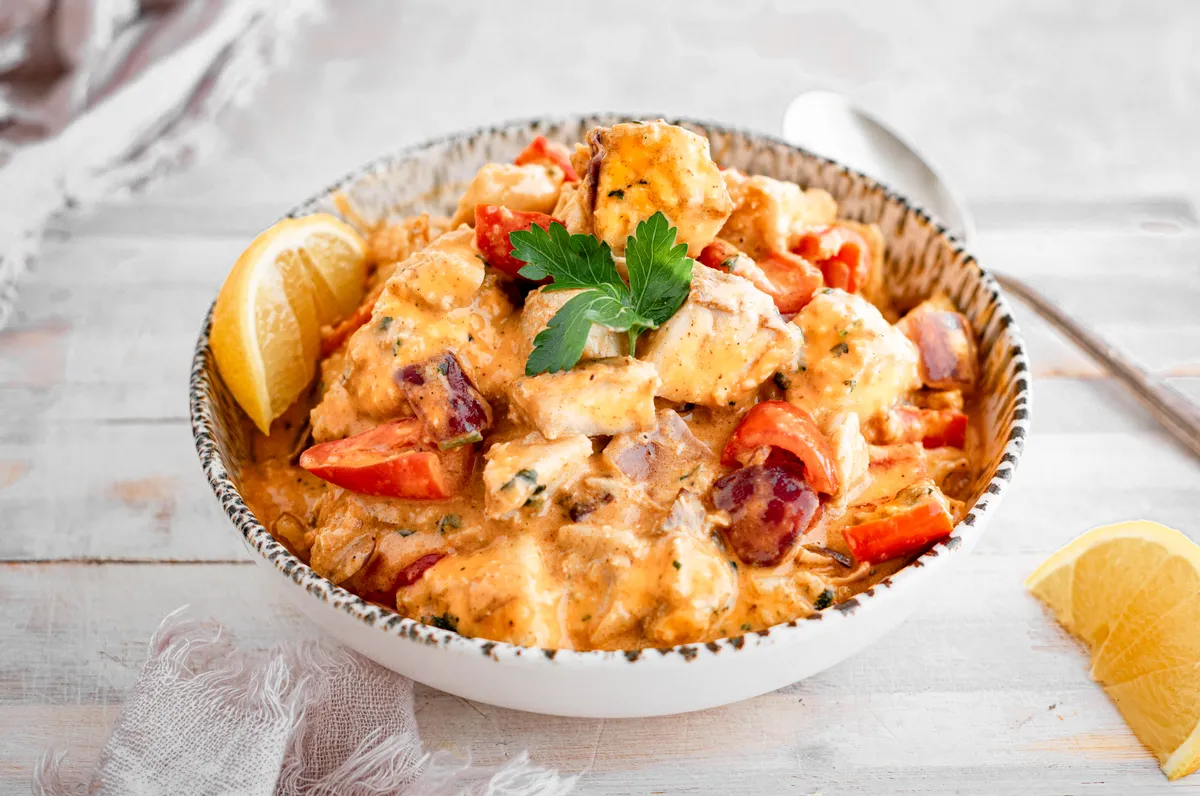 #1 Low Carb & Keto Diet App Since 2010
Track macros, calories, and access top Keto recipes.
Ingredients
Onion, white, yellow or red, raw

0.5 small

Canned coconut milk

0.5 cup

Vegetable broth, bouillon or consomme, low sodium

0.5 cup

Lime juice, canned, bottled or boxed

1 tsp
Heat a tablespoon of coconut oil in a skillet or non-stick pan over high heat. Dice the fish fillet into 1-inch cubes, season with salt and pepper, then add to the pan and cook it for 1-2 minutes on each side until browned. Remove the fish pieces from the pan and set them aside.

Drop the heat to medium, then add another tbsp of coconut oil. Dice the onions and peppers into 1-inch cubes and add them to the pan. Cook for 2 minutes, then add the minced garlic and cook for another 2 minutes.

Add the cumin, paprika, vegetable stock, coconut milk, and lime juice. Mix the stew well and bring it to a simmer. Let it boil for 5-7 minutes until it has thickened.

Return the cooked fish to the pan and mix it through carefully. Let the stew cook for another minute to reheat the fish. Garnish with chopped cilantro leaves and serve immediately.