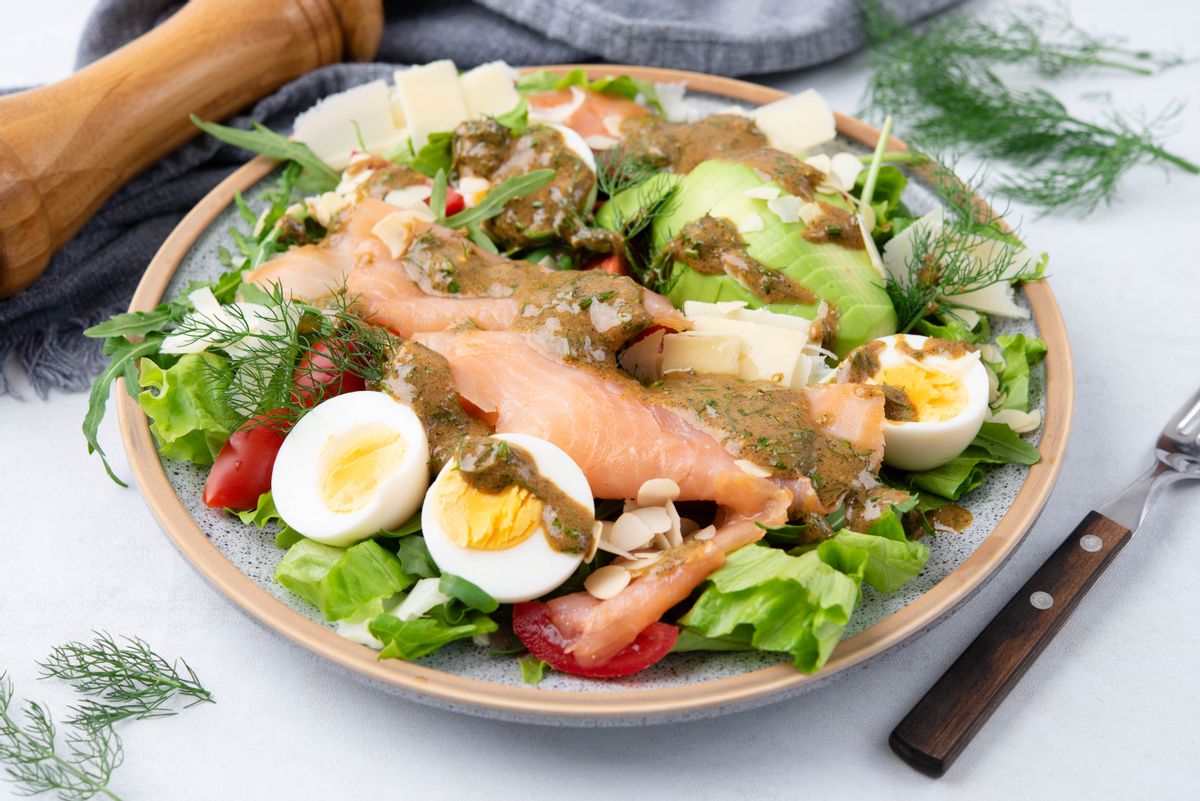 #1 Low Carb & Keto Diet App Since 2010
Track macros, calories, and access top Keto recipes.
10 min

10 min

20 min
Keto Smoked Salmon Salad
If you're looking for an easy and filling Keto salmon recipe, try this smoked salmon salad! It's a healthy and delicious lunch or dinner option for the entire family and also an impressive dish for get-togethers. Smoked salmon is wonderfully balanced with some low-carb veggies, avocado, and parmesan cheese. The flavors are completed with our rich herby mustard dressing and almond flakes. This lovely dish pairs perfectly with some lightly toasted Keto bread drizzled with olive oil. Enjoy!
Can I prepare this salad in advance?
Yes, you can prepare this salad and dressing in advance and store them separately in the refrigerator until ready to serve. They will last for a few days when stored in air-tight containers.
Can I use some other type of fish?
Absolutely! We recommend smoked trout fillets or even some grilled salmon fillets.
Net Carbs

3.6 g

Fiber

4.9 g

Total Carbs

8.9 g

Protein

20 g

Fats

37.7 g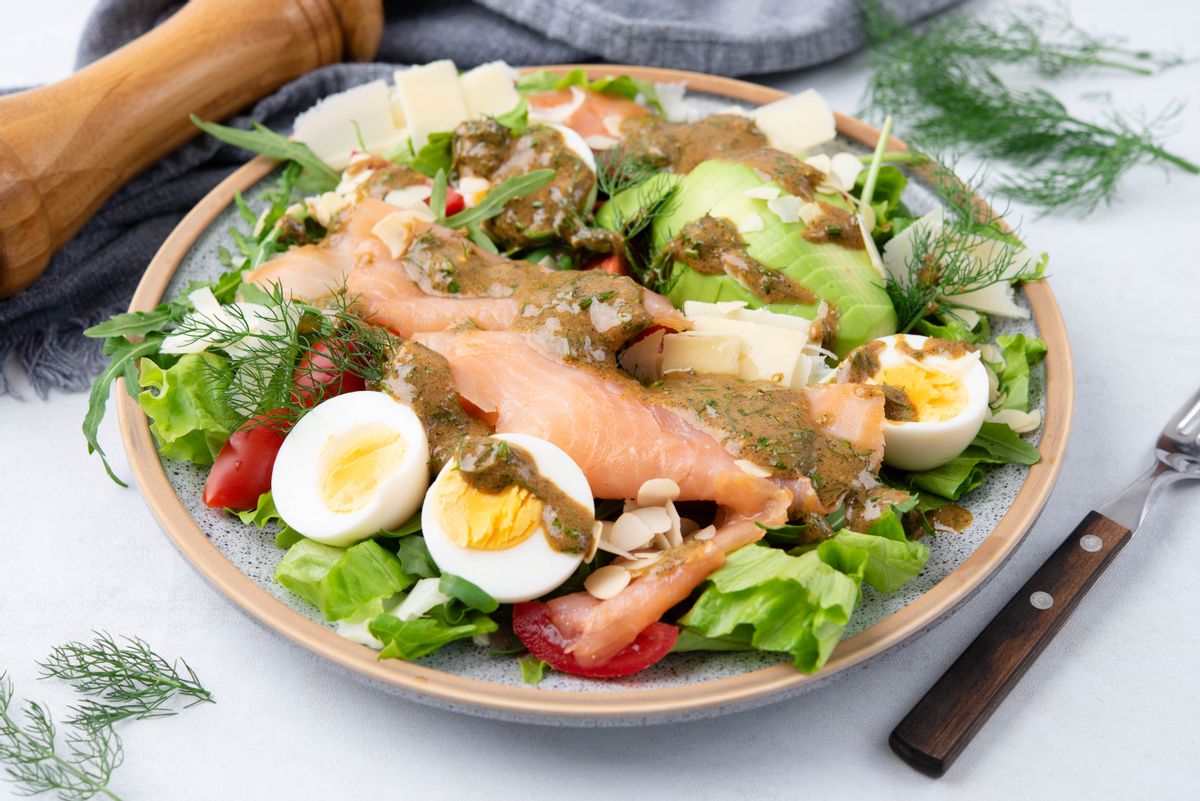 #1 Low Carb & Keto Diet App Since 2010
Track macros, calories, and access top Keto recipes.
Ingredients
Granulated Allulose

1 tsp

Extra virgin olive oil

3 tbsp

Blanched Almond Slices / Flaked Almonds

10 g

Parmesan cheese, fresh (hard)

10 g
Place the eggs on the bottom of a pot and cover with cold water. Bring to a boil over high heat and cook for 10 minutes. Remove from the heat and drain. Cool completely.

Wash and roughly chop the lettuce. Slice the cherry tomatoes into quarters. Add the lettuce, arugula, and cherry tomatoes to a bowl and toss to combine. Set aside.

Finely chop the chives. Add the vinegar, water, mustard, sweetener, olive oil, salt, pepper, fresh dill, chives, and oregano to a bowl. Mix until thoroughly combined.

Peel and slice the avocado. Shave the parmesan cheese with a vegetable peeler. Peel and slice the eggs. Add the eggs, shaved parmesan, almond flakes, avocado, and smoked salmon to a bowl with vegetables.

Top with the prepared salad dressing. Optionally, season with some more salt or pepper to taste. Serve immediately or store for later.