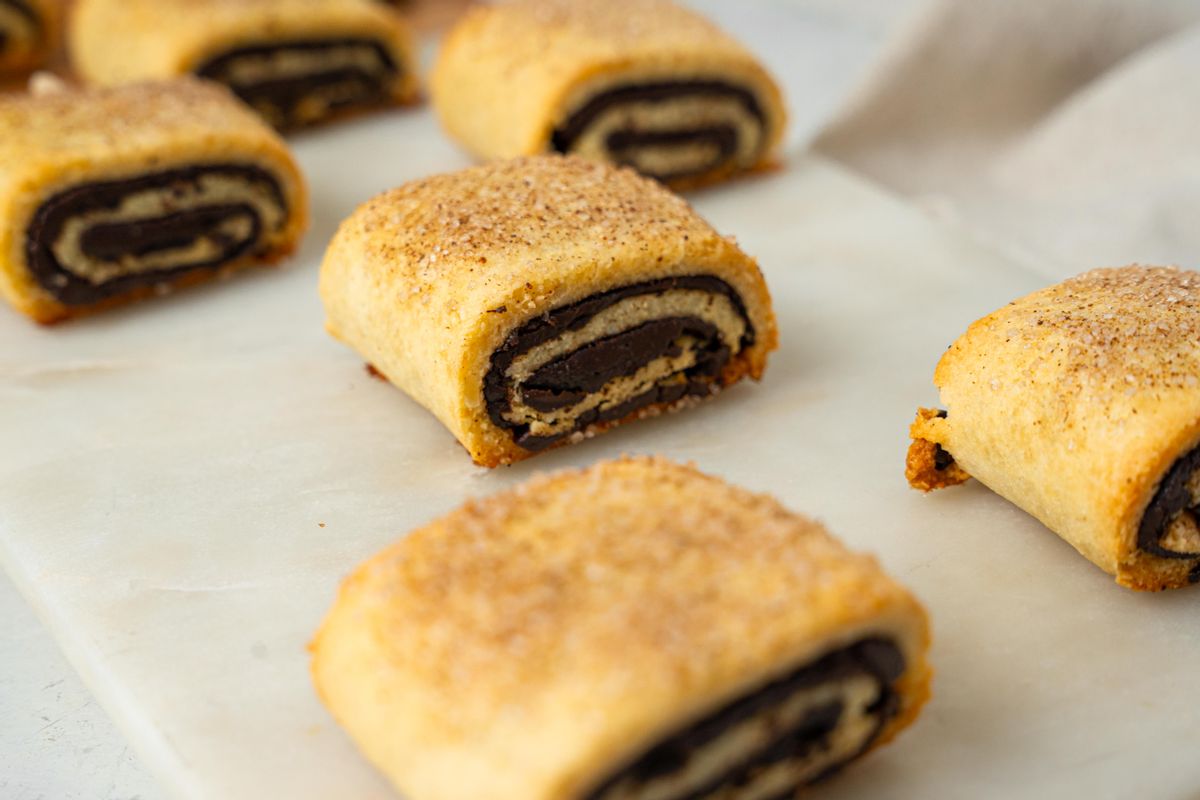 #1 Low Carb & Keto Diet App Since 2010
Track macros, calories, and access top Keto recipes.
1 h 15 min

20 min

1 h 35 min
Keto Chocolate Rugelach
As the Festival of Lights approaches, delight your taste buds with a Keto-friendly twist on a traditional Hanukkah treat—Keto Chocolate Rugelach. These delightful, chocolate-filled cookies bring the joy of the season without compromising your Low-Carb lifestyle. Let's dive into the world of guilt-free indulgence and celebrate Hanukkah with a sweet touch.
How to store the leftover cookies?
Preserving the freshness of your Keto Chocolate Rugelach ensures continued enjoyment throughout Hanukkah. Once cooled, store the cookies in an airtight container at room temperature for up to a week. For extended freshness, freeze the rugelach in a single layer before transferring them to a freezer-safe bag. This way, you can relish the chocolatey goodness whenever the cravings strike.
How to customize this recipe?
The beauty of this Keto Hanukkah dessert lies in its adaptability. Tailor the dough by experimenting with different Low-carb nut or seed flours or adding a hint of your favorite extracts. The filling, a luscious blend of sugar-free chocolate, cocoa powder, and allulose, can be customized with chopped nuts or a sprinkle of cinnamon for extra flavor. Get creative and make this recipe your own by exploring various Keto-friendly chocolate options, from dark to milk chocolate.
What to serve with this rugelach?
Enhance the indulgence of Keto Rugelach by pairing it with a warm cup of coffee or tea. The richness of the chocolate-filled cookies complements the robust flavors of your favorite hot beverages. Garnish with a sprinkle of cocoa powder or a drizzle of sugar-free chocolate sauce for a truly decadent experience.
Net Carbs

1.9 g

Fiber

2.5 g

Total Carbs

8.9 g

Protein

3.2 g

Fats

13.4 g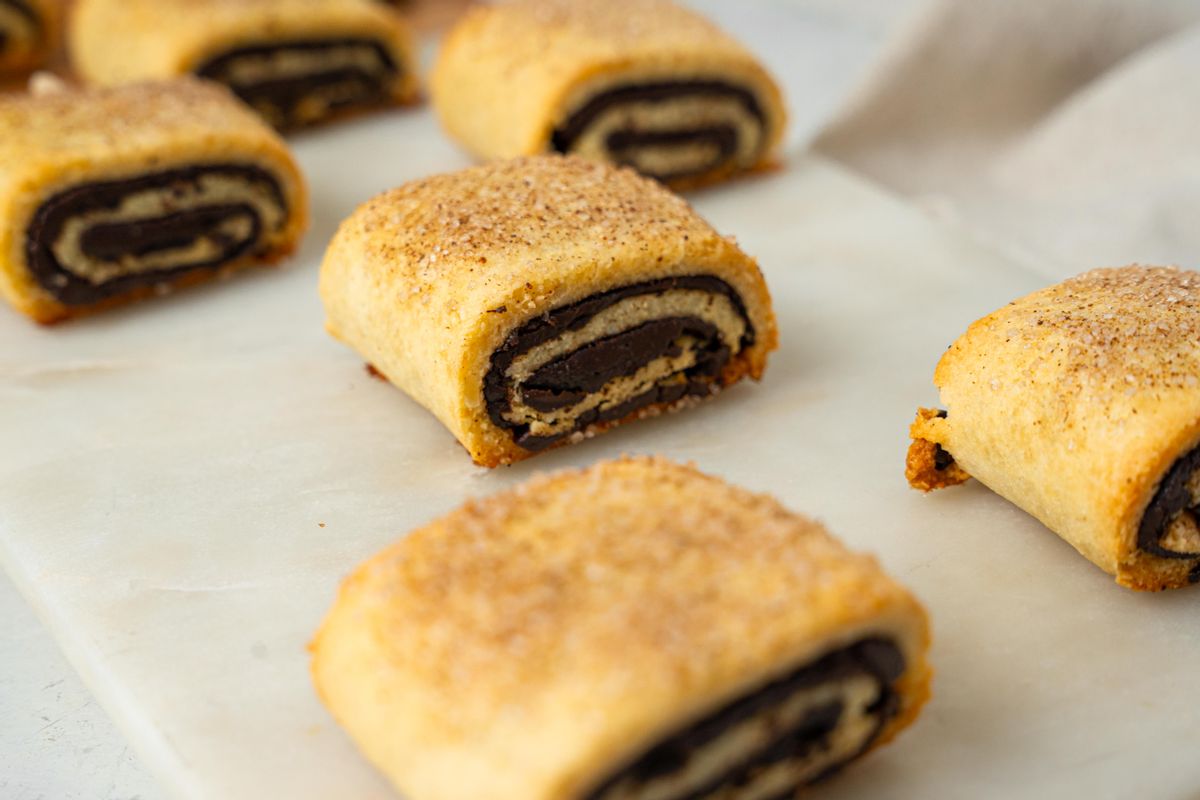 #1 Low Carb & Keto Diet App Since 2010
Track macros, calories, and access top Keto recipes.
Ingredients
Baking Aids Xanthan Gum

0.5 tsp

Dark chocolate bar, sugar free

60 g

Allulose, powdered

1 tbsp
Add the almond flour, coconut flour, xanthan gum, and salt to a food processor. Pulse to combine. Add the butter and cream cheese and pulse until crumbly.

Crack the egg in a bowl and beat it slightly. Add half the egg into the food processor, along with the vinegar and vanilla extract. Process until just combined. You don't want to process until it reaches a ball.

Transfer the dough to a clean surface and bring it together using your hands. Wrap in cling film. Chill in the fridge for 1 hour.

Preheat your oven to 350F/180C. Roll out the dough ball between 2 sheets of parchment paper into a rectangle that is 10 x 5 inches (25x12.5 cm). Pop it back in the refrigerator (still between 2 sheets of parchment paper) while you mix up the filling.

Add the chocolate, cocoa powder, powdered allulose, and coconut oil to a microwave-safe bowl. Microwave in 30-second intervals, stirring in between each, until melted. Set aside.

Take the rolled-out sheets of dough out of the refrigerator and peel off one of the parchment paper layers. Spread the chocolate mixture over the whole surface.

Carefully roll the dough to form a log. If there are breaks in the dough, then just press them back together. Freeze the log for 10 minutes to help it firm up.

Cut the logs into 1 ½ inch (3 cm) slices and place on a parchment-covered baking sheet. Brush the remaining egg over the tops of the cookies. Mix together cinnamon and granulated allulose and sprinkle on top of each cookie.

Bake for 20-25 minutes until golden brown. Check in at minute 15 to make sure they aren't browning too fast, and cover them loosely with foil if they are. Once baked, take the baking sheet out of the oven and allow to cool for 5 minutes. Serve with coffee or tea.