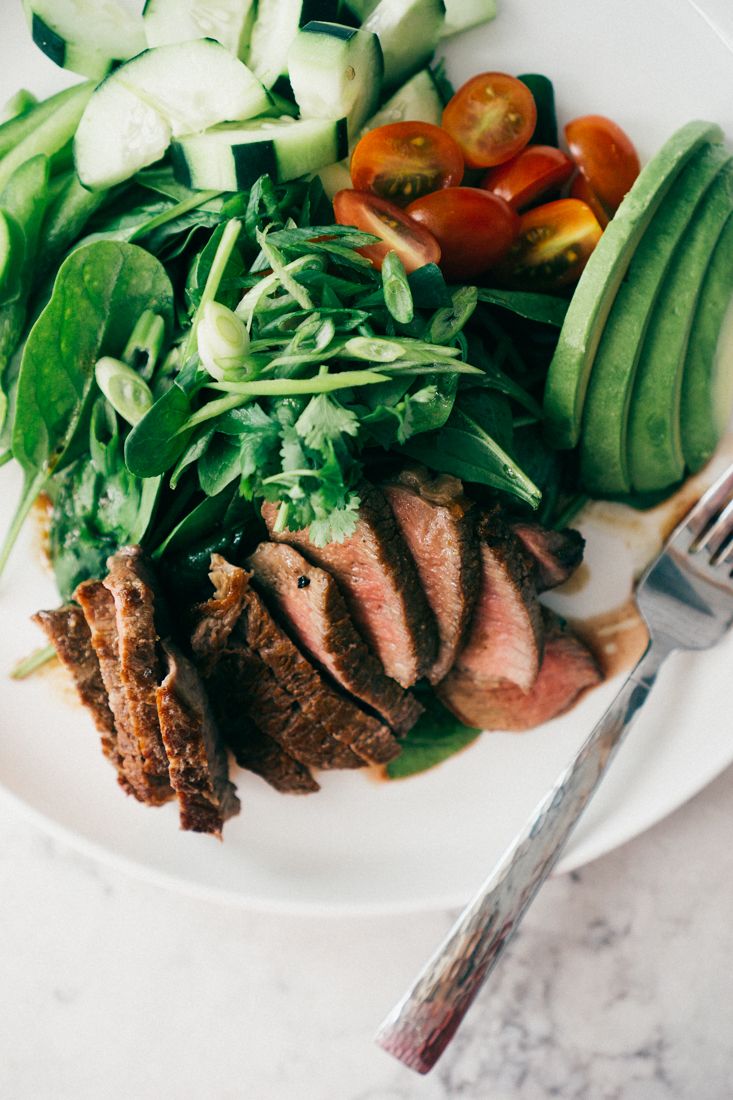 #1 Low Carb & Keto Diet App Since 2010
Track macros, calories, and access top Keto recipes.
20 min

20 min

40 min
Low Carb Asian Steak Salad
I love salads with lots of components because they are so fun and satisfying to eat. Delicious sirloin tip is seared to perfection and then is finished in the oven as you prep the other salad ingredients. It is then topped with a savory lime, ginger, soy vinaigrette that pairs so well with the cherry tomatoes, cucumbers, steak, scallions and cilantro.
Net Carbs

5.6 g

Fiber

3.1 g

Total Carbs

8.9 g

Protein

37 g

Fats

25.8 g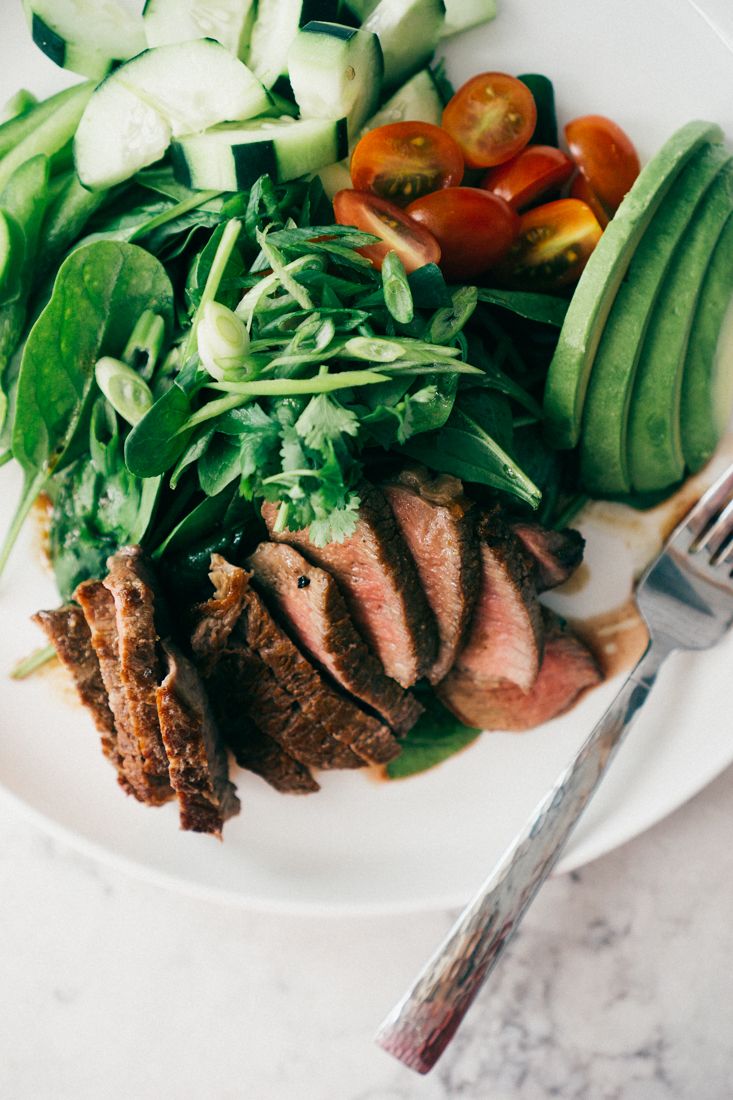 #1 Low Carb & Keto Diet App Since 2010
Track macros, calories, and access top Keto recipes.
Ingredients
Beef Loin Top Sirloin Cap Steak Boneless Separable Lean And Fat Trimmed To 1 8" Select Raw

1-½ pound

Coarse Kosher Salt by Morton

1-½ tsp

Cucumber, Raw, With Peel

1 large - 8 1/4" long

Green Bell Pepper

1 large - 3" diameter x 3 3/4"

Tomato Raw (includes Cherry, Grape, Roma)

1 cup

Scallions

2 medium - 4 1/8" long

Tamari Sauce

1-½ tablespoon

Lime Juice Raw

1 tablespoon

Rice Vinegar

1 tablespoon
Preheat an oven to 350 F. Dry off the meat with paper towels, then season both sides with the kosher salt (FYI if you use a finer salt you want to reduce this amount). Let it rest for 30 minutes, if possible. This helps draw moisture from the meat and allows it to sear better. This time will allow it to come to room temperature which is helpful while searing.

Place a medium non-stick and oven proof saute pan over high heat and heat until HOT. Add some avocado oil (½ T) and heat for a few seconds before adding the meat. Sear on the first side for 3 minutes on high heat, flip the meat once a good sear has formed, turn down the heat to medium-high and cook for another 2 minutes. Add the butter, allow it to melt, then tilt the pan and using a spoon baste the meat with the butter. Place the pan into the oven and cook meat until the internal temperature comes to 132-135 F (about 10-15 minutes, this of course will depend on the thickness of your meat and oven so keep an eye on them). If you don't have an oven proof saute pan, remove the steaks to a baking sheet. Then let it rest while you prep vegetables and vinaigrette.

Using a veggie peeler, remove some of the skin from the cucumber or all depending on your preference. Cut it lengthwise and then crosswise to make half moons. Cut the cherry tomatoes in half. Julienne the green bell pepper. Chop the cilantro and slice the scallions on a bias.

Combine the soy sauce, lime juice, 2 T avocado oil, grated ginger, sesame oil, rice vinegar and black pepper together in a small bowl and whisk until it comes together. Assemble the salads by placing 1 cup of spinach on each plate and dividing the meat and veggies evenly. Drizzle with vinaigrette and serve immediately!