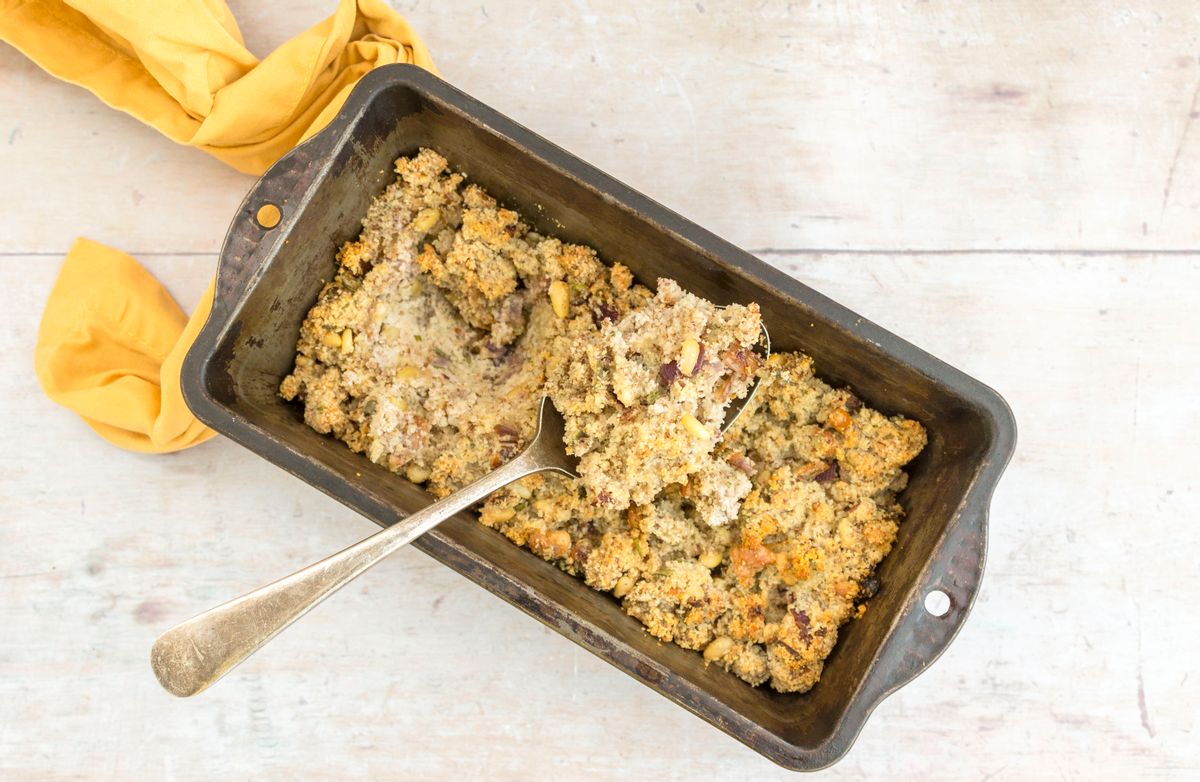 #1 Low Carb & Keto Diet App Since 2010
Track macros, calories, and access top Keto recipes.
12 min

30 min

42 min
Keto Easy Thanksgiving Dressing
This easy Keto Thanksgiving dressing is prepared with low carb flours, aromatic herbs, crunchy nuts, onion, garlic, sweet dried cranberries, and a hint of zesty orange. The festive ingredients are combined together, then oven-baked until crisp and golden on top. This makes a great low carb alternative to a traditional bread-based dressing with just a fraction of the carbs. Perfect for the holidays, served alongside your Keto Thanksgiving dinner.
What Is the Difference Between Thanksgiving Dressing and Stuffing?
The terms stuffing and dressing are often used interchangeably to describe a filling or accompaniment to roasted meats, in particular when served alongside the holiday turkey. Stuffing/dressing is commonly bread-based and packed with herbs, seasoning, and festive dried fruits. It can also be prepared with ground meat. Is it stuffing, or is it dressing? This simply comes down to geography! More commonly, the dish is referred to as dressing in the southern states and stuffing in the north.
Do I Have to Bake the Dressing Separately?
The debate doesn't just end with its name. The next question is to bake in or alongside the bird? We have chosen to bake our dressing separately in a loaf pan to ensure a crispy topping. However, you may cook the mixture any way you wish - separately, stuffed inside the bird, or why not do half and half?!
Net Carbs

4.4 g

Fiber

4.2 g

Total Carbs

8.7 g

Protein

7.4 g

Fats

20.7 g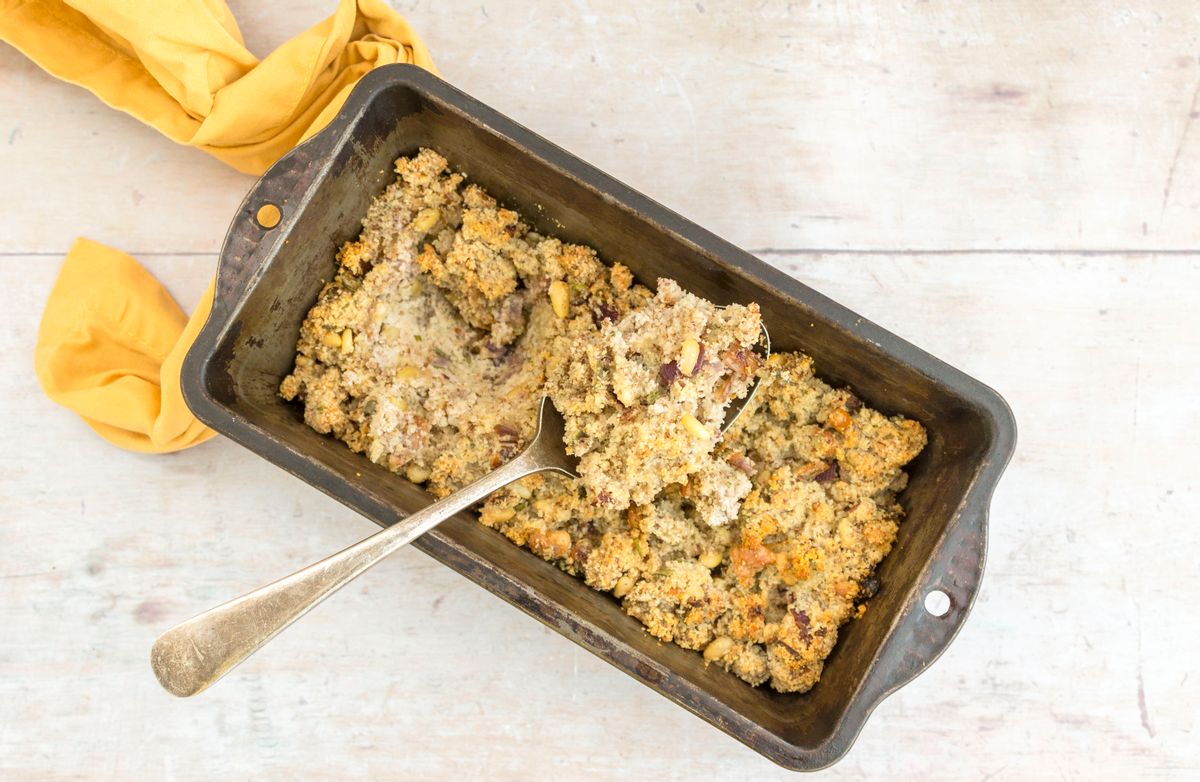 #1 Low Carb & Keto Diet App Since 2010
Track macros, calories, and access top Keto recipes.
Ingredients
Almonds, Raw

1-½ cup, ground

Ground Flaxseed by Webber Naturals

⅓ cup

Unsalted Butter

1 tablespoon

Rosemary, Fresh

2 teaspoon

Orange Peel Or Zest Raw

2 tsp

Salt, Sea Salt

½ teaspoon

Reduced Sugar Craisin Dried Cranberries by Ocean Spray

1 tablespoon

Chicken Broth, Bouillon Or Consomme, Ready-to-serve Can

½ cup
Finely dice the onion and thinly slice the garlic. Melt the butter in a skillet over a low/medium heat. Add the onion and the garlic. Sweat gently for 3-4 minutes until tender and fragrant. Set aside to cool.

Preheat the oven to 375 degrees Fahrenheit and lightly oil a loaf tin. Add the ground almonds and flaxseed to a large mixing bowl. Finely chop the rosemary, sage, cranberries, and walnuts and add to the bowl along with the pine nuts. Add the cooked onion and garlic, orange juice, and zest. Season everything with a generous pinch of salt and pepper. Mix together well to combine.

Crack the egg into the bowl. Beat everything together until well combined. The mixture should be thick and crumbly.

Spoon the dressing mixture into the oiled loaf tin in an even layer. Pour the chicken stock evenly over the dressing. You may use an alternative stock such as vegetable if preferred. Drizzle over the olive oil.

Transfer the dressing to the oven. Bake for 25-30 minutes or until cooked through and crisp and golden on top. Serve alongside your favorite low carb thanksgiving recipes.