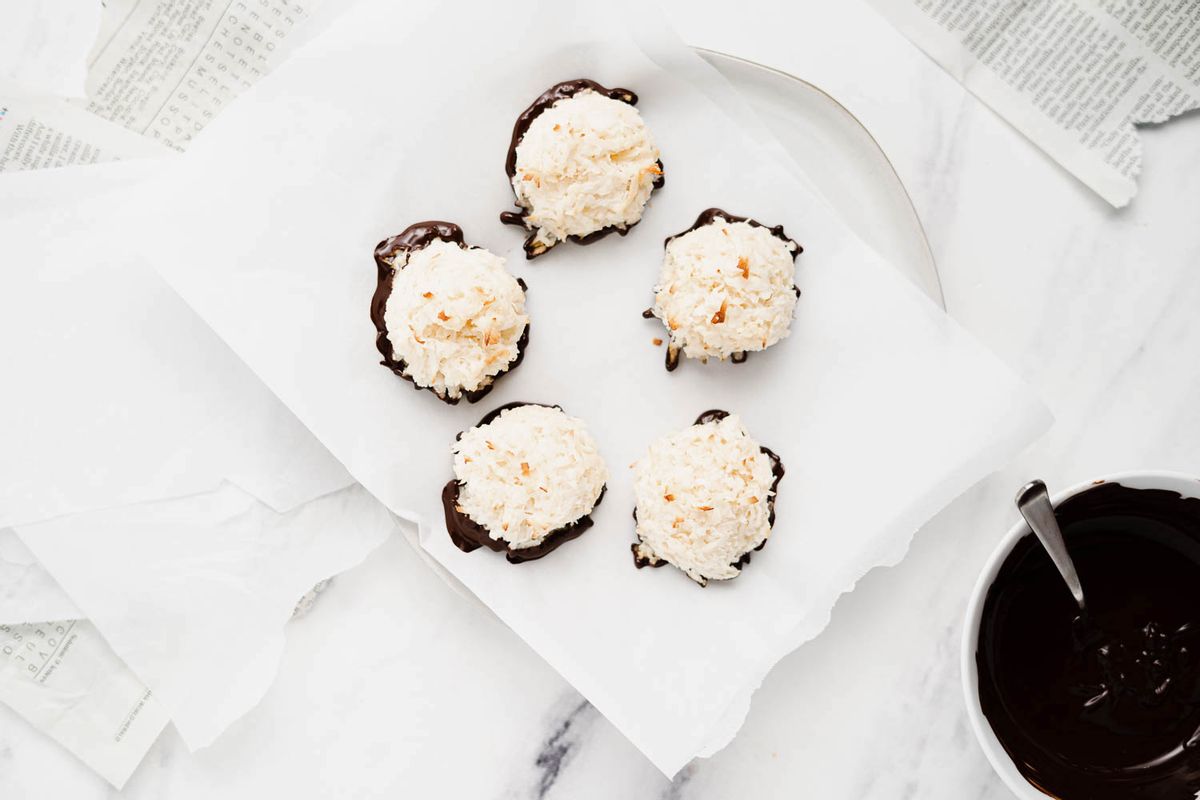 #1 Low Carb & Keto Diet App Since 2010
Track macros, calories, and access top Keto recipes.
15 min

30 min

45 min
Keto Dark Chocolate Coconut Macaroons
Unsweetened coconut is folded into a sweetened meringue mixture to hold the lovely coconut together into a cookie shape. Each cookie is scooped onto a silicone-lined baking sheet and baked until golden brown on the edges. Once the cookies are cooled, they are dipped into decadent dark chocolate. You can skip this step, but it makes them so pretty and delicious! These make an excellent low-carb dessert and pair perfectly with a Keto coffee.
What kind of sweetener should I use?
Please use your favorite powdered sweeteners like a monk fruit blend or erythritol. The sweetener must be a powdered kind to whip up nicely and hold air for the Keto meringue.
What can I do with the leftover yolks from making meringue?
Save the egg yolks to add to more eggs to make a richer morning omelette!
What kind of dark chocolate should I use?
Use stevia-sweetened chocolate if you can find it. If not, you can use unsweetened dark chocolate and add your sweetener to it.
Serving suggestion
Feel free to serve this with the Ultimate Keto Coffee https://www.carbmanager.com/recipe/ultimate-keto-coffee for an excellent filling snack.
Net Carbs

1.5 g

Fiber

2.6 g

Total Carbs

9 g

Protein

1.8 g

Fats

10.4 g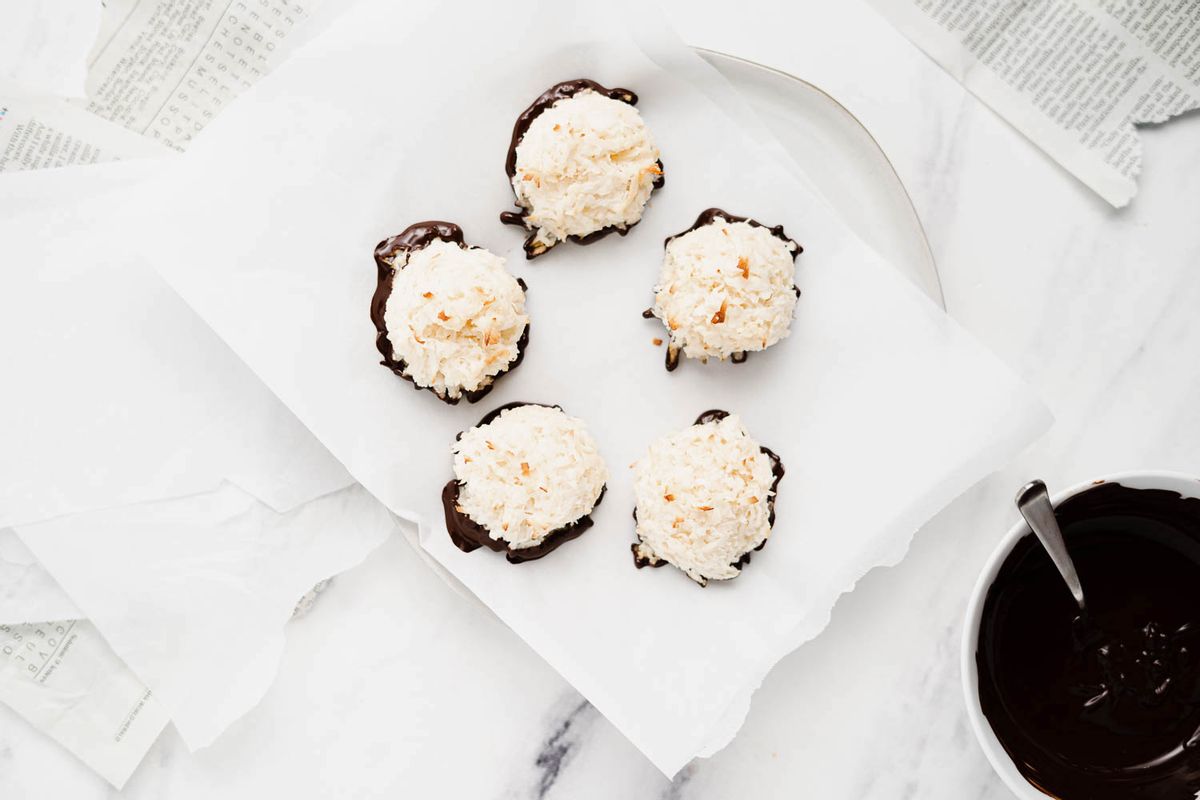 #1 Low Carb & Keto Diet App Since 2010
Track macros, calories, and access top Keto recipes.
Ingredients
Powdered Erythritol (Icing Sugar)

0.75 cup

Coconut, dried, shredded or flaked, unsweetened

4 cup
Preheat an oven to 325 F. In the bowl of a stand mixer, combine the egg whites (use fresh, not bottled), ¾ cup powdered sweetener, and 1 tsp vanilla extract. Whip on medium-high speed using a whip attachment until stiff peaks form.

Add in the unsweetened coconut flakes and ⅛ tsp kosher salt.

Gently fold the coconut in until well blended.

Use a 1 oz cookie scoop to portion the cookies onto a silicone or parchment-lined baking sheet. You should be able to fit 12 on each sheet.

Bake for 15 mins a batch until the cookies are kissed with brown edges. Allow the cookies to cool completely before attempting to remove them. When removing the cookies, use a spatula to scrape them from the pan. Repeat with the remaining cookie dough.

Once the cookies are cooled, melt the chocolate in the microwave, leaving a few, very small solid pieces of chocolate in the mix. Stir to dissolve these small pieces. This is a quick chocolate tempering method that allows the chocolate to harden at room temperature. Dip the very bottoms of each cookie into the chocolate. Place the cookies onto a clean parchment-lined baking sheet and allow the chocolate to harden. Keep the cookies stored in an airtight container for up to one week.