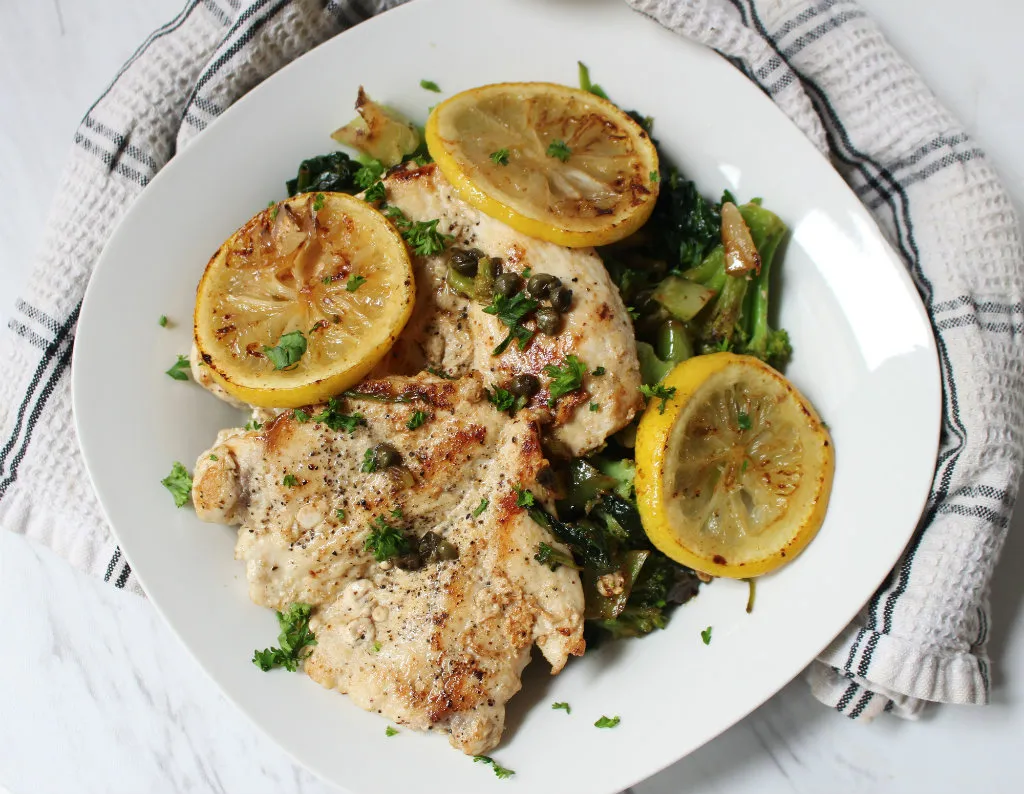 #1 Low Carb & Keto Diet App Since 2010
Track macros, calories, and access top Keto recipes.
5 min

18 min

23 min
Keto Chicken Piccata with Broccoli and Spinach
Chicken piccata is lightly seasoned chicken breast that is cooked in an ultra-buttery sauce, flavored with lemon and capers. The best part about this recipe? Each component is cooked in the same pan, so easy clean up! Paired with a side of broccoli and spinach, you have quite a healthy dinner in front of you.
Please note that you will need 3 slices of lemon in step 5. Lemon is not included in the ingredient list because it will not be eaten
Net Carbs

3.8 g

Fiber

2.4 g

Total Carbs

6.3 g

Protein

46.6 g

Fats

22.8 g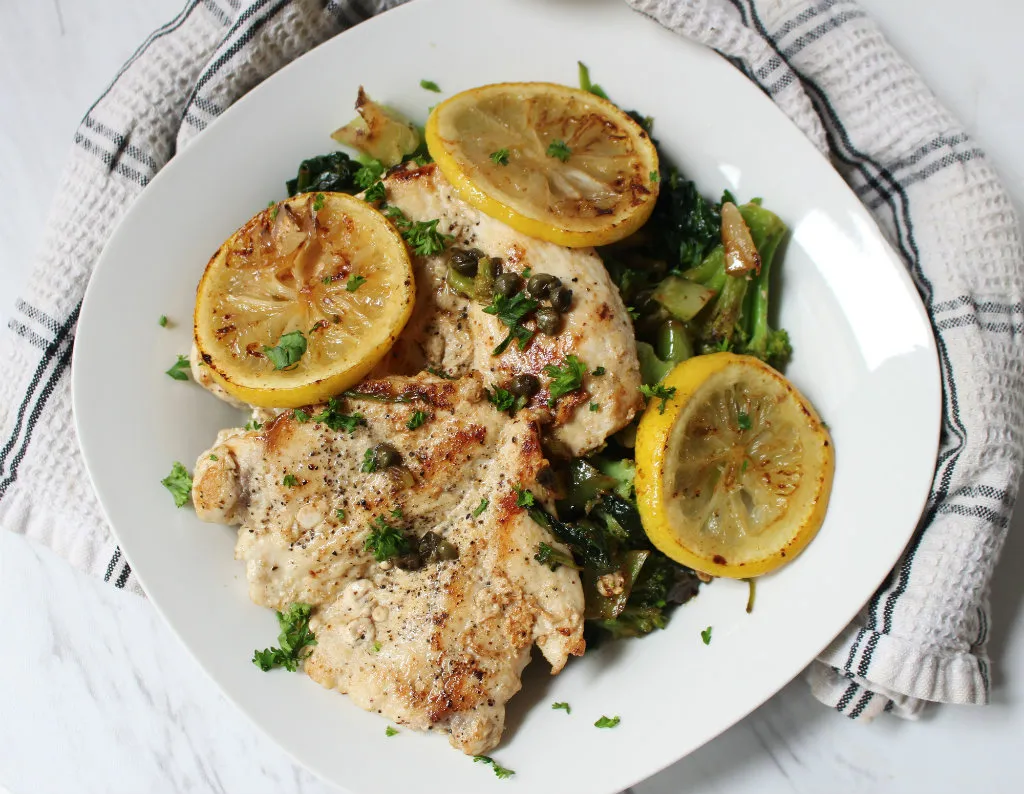 #1 Low Carb & Keto Diet App Since 2010
Track macros, calories, and access top Keto recipes.
Ingredients
Boneless Skinless Chicken Breast

10 ounce

Black Pepper

0.5 teaspoon

Garlic Powder

0.5 teaspoon

Capers

1 teaspoon, whole pieces
Prepare 2 chicken breasts by butterflying them and pounding them flat. Sprinkle HALF the salt, pepper, and garlic powder over the exposed sides of the chicken.

Heat the olive oil in a medium sized skillet on medium-high. Place the chicken breast seasoned side down in the pan. Sprinkle the remaining seasoning over the bare side of the chicken.

Place a lid over the chicken and cook both sides until it's cooked through - about 4 minutes per side. Once done, transfer the chicken to a clean surface to cool.

Keep the skillet on the heat. Toss the spinach and broccoli into the pan and coat it in the juices the collected. Cook for 4-5 minutes or until the broccoli becomes a little tender and gets a golden edge to it.

*Transfer the cooked veggies to a bowl or plate. Return the skillet to the stove once more over very low heat. Melt in the butter. Place in 3 slices of lemon and the capers. Put a lid on the skillet and cook for about 3 minutes so a sauce developes. There should be little to no simmering.

Return the two pieces of chicken and the veggies to the skillet. Get the ingredients coated in the sauce and replace the lid. Let the ingredients heat through on low heat.

Enjoy hot! Make sure to pour any leftover sauce in the skillet over your chicken and veggies.