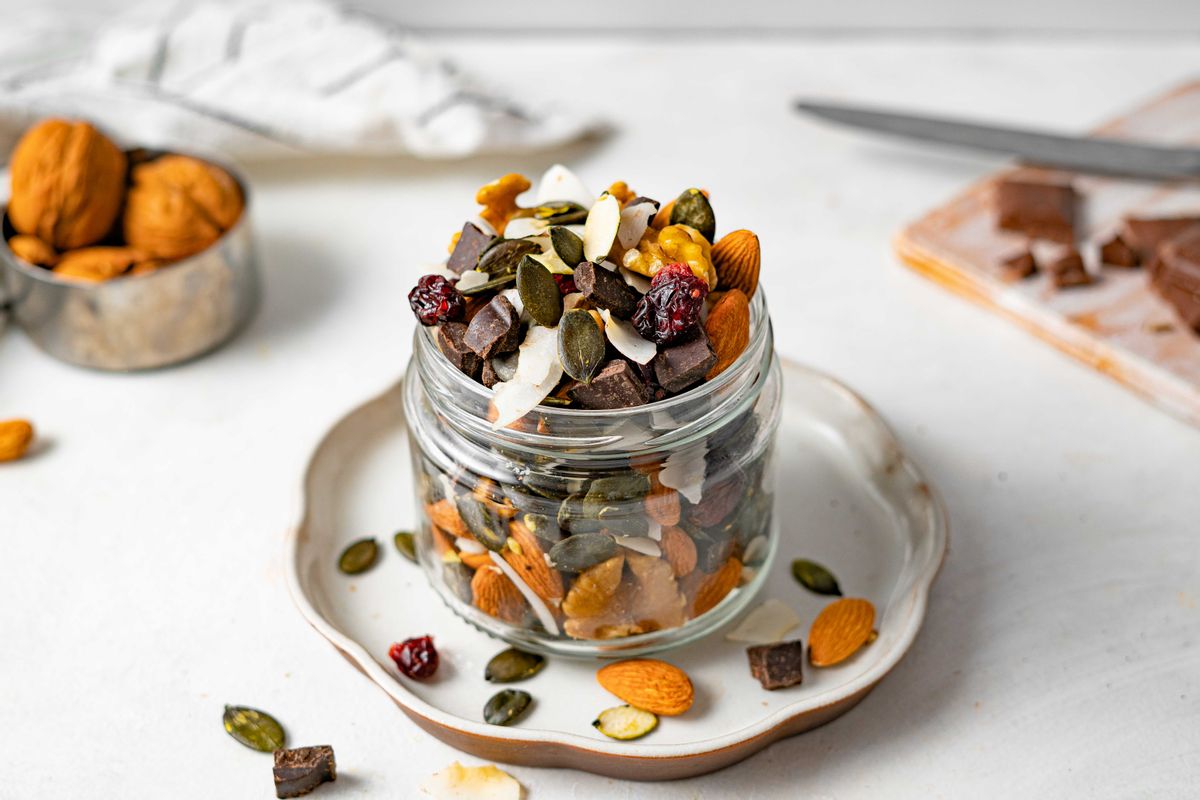 #1 Low Carb & Keto Diet App Since 2010
Track macros, calories, and access top Keto recipes.
10 min

0 min

10 min
Easy Keto Trail Mix
If you want a Keto trail mix that everyone will love, this is the one. It is a snack perfect for kids and adults alike, whether following a specific diet or not. You can prepare this easy Keto trail mix in under 10 minutes by combining your favorite nuts, seeds, dried/freeze-dried fruits, and sugar-free chocolate.
Is trail mix Keto-friendly?
Whether a trail mix is Keto-friendly or not depends on the ingredients used. Trail mix is a general term for a mixture of small snack foods, ranging from sugar-filled to healthy ones. This recipe, however, is prepared using Low-Carb nuts, seeds, low-carb fruits, and sugar-free chocolate. One serving of this snack contains 5g of net carbs, which will help curb your hunger and satisfy your sweet tooth.
How can you customize this trail mix?
This trail mix can be adapted to suit individuals with a variety of dietary preferences. For instance, walnuts and almonds are great for those on a Keto or Low-carb diet, and whole pepitas and coconut flakes are suitable for those with nut allergies. Freeze-dried strawberries and chocolate add a sweet crunch perfect for children and those looking for a quick energy boost. You can play around with the components of this trail mix to find a blend that works for you.
Should you use roasted, salted, or raw nuts and seeds?
Since this trail mix won't be baked or roasted, feel free to use what you prefer. If you want a sweet and salty trail mix, use roasted & salted nuts and seeds. If you want it to be more on the sweet side, then raw nuts and seeds are your best option. We suggest using raw and roasted nuts/seeds to please all preferences.
Net Carbs

4.6 g

Fiber

4.1 g

Total Carbs

12.4 g

Protein

6 g

Fats

20.7 g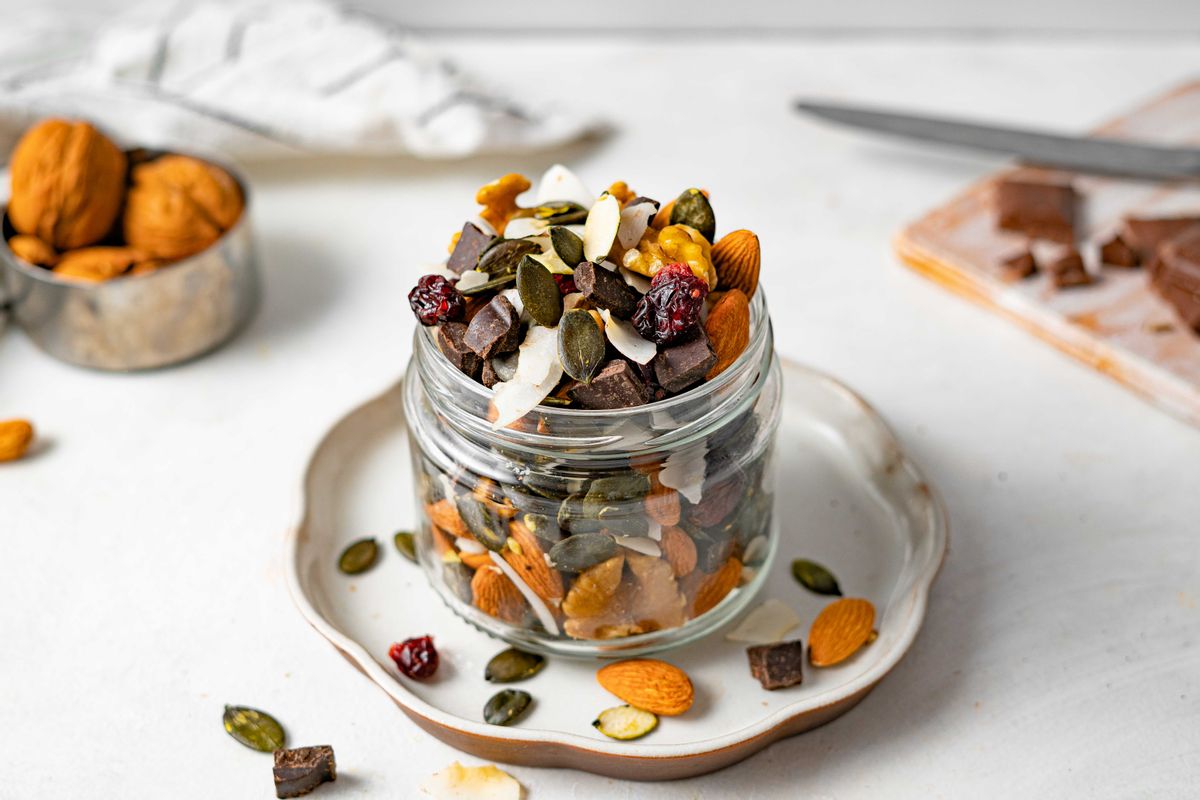 #1 Low Carb & Keto Diet App Since 2010
Track macros, calories, and access top Keto recipes.
Ingredients
Coconut Flakes, Unsweetened

0.25 cup

Dark chocolate bar, sugar free

0.5 bar - each 2.9 OZ

Unsweetened Dried Cranberries

0.25 cup
Chop the dark chocolate and add it to a bowl. Add walnuts, almonds, pepitas, coconut flakes, and cranberries. Toss to combine.

You can add your choice of nuts, seeds, and dried fruits. Transfer to an airtight container. Serve as a snack.