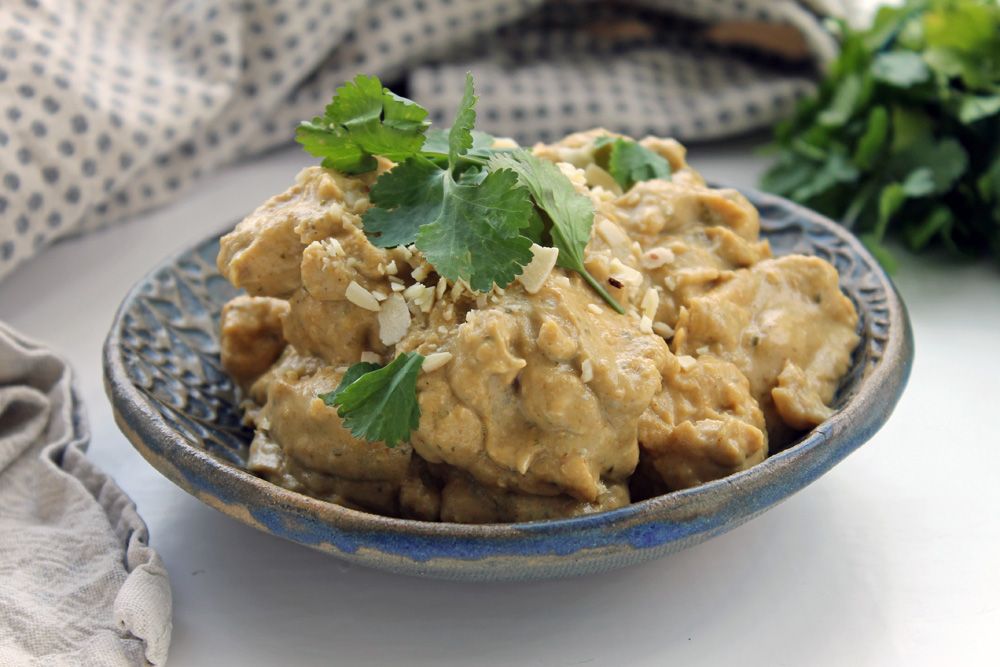 #1 Low Carb & Keto Diet App Since 2010
Track macros, calories, and access top Keto recipes.
10 min

35 min

45 min
Low Carb Almond Butter Chicken Curry
This recipe takes inspiration from Mughlai chicken, a traditional curry dish that uses a paste of ground almonds to create a rich base for the sauce.
This keto friendly curry uses almond butter and a variety of fragrant herbs and spices to create this earthy and creamy curry.
Perfect served over cauliflower rice.
Tip – ensure you are using an oily, runny almond butter – not a firm dry butter.
Net Carbs

10.6 g

Fiber

3.5 g

Total Carbs

15.3 g

Protein

61.6 g

Fats

27 g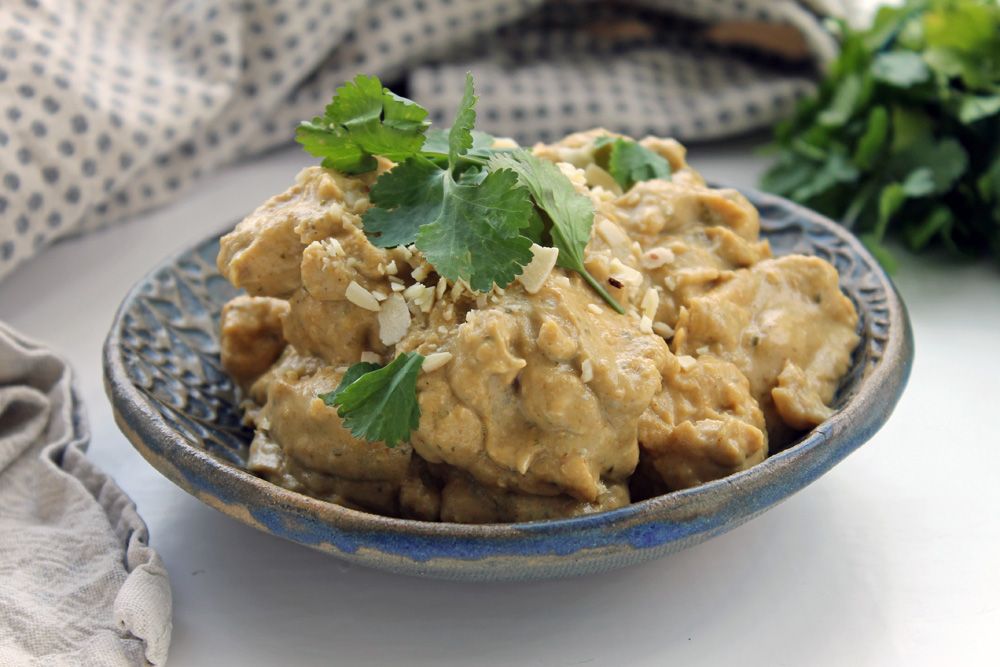 #1 Low Carb & Keto Diet App Since 2010
Track macros, calories, and access top Keto recipes.
Ingredients
Diced Chicken Breast Fillet by Tesco

1 pound

Sliced Almonds

1 tablespoon

Almond Butter

1 tablespoon

Spices Cumin Ground by Schwartz

⅛ ounce

Spices Cinnamon Ground

½ tsp

Chicken Stock Pot by Knorr

½ cup

Plain Yoghurt by Vital Green Farms

½ cup

Single Cream by Elmlea

0.5 cup

Coriander by Gourmet Garden

½ tsp

Spices Cloves Ground

⅛ tsp
Grate the ginger and mince the garlic. Add to a food processor with the almond butter, 1 tablespoon of chopped cilantro, cumin, cinnamon, coriander, turmeric and pepper.

Blend on a low speed to form a thick chunky paste. Scrape down the sides of the blender and add 1 tablespoon of water. Blend again to form a smooth paste. Adding a little more water if necessary.

Heat the olive oil in a large casserole dish over a medium/high heat and add the chicken pieces. Cook the chicken pieces until golden brown and set to one side.

Finely chop the onions and add to the pan, fry gently until soft.

Add the almond butter paste to the onion mixture and stir to combine.

Pour the yoghurt into the pan and stir into the paste.

Add the cream, remaining water and stock to the pan and stir well to form the sauce. Bring to a simmer.

Add the chicken pieces to the sauce, season with a little salt and continue to cook gently for a further 20 minutes until the sauce has thickened and the chicken is completely cooked through.

To serve, scatter with flaked almonds and the remaining cilantro.