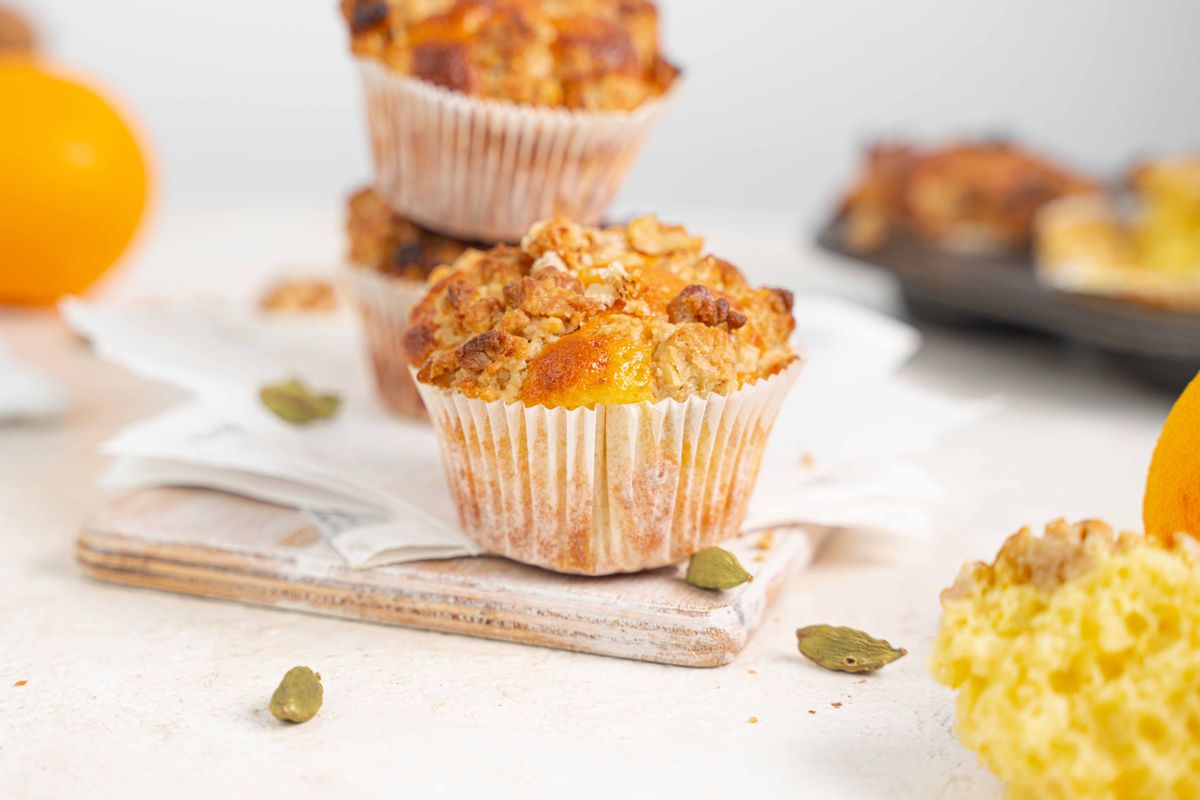 #1 Low Carb & Keto Diet App Since 2010
Track macros, calories, and access top Keto recipes.
20 min

20 min

40 min
Keto Autumn Orange Cardamom Muffins with a Walnut Crumb
When the crisp air of autumn arrives, there's nothing like starting your day with a cozy and nutritious treat. Our cardamom-orange autumn Low-Carb breakfast muffin is the perfect addition to your collection of Low-Carb autumn recipes. This delightful muffin combines the warm, aromatic flavors of cardamom and the bright zest of oranges to create a comforting breakfast option that's as healthy as it is delicious. Let's delve into the unique qualities of this muffin and how you can make it your own.
What is special about the cardamom-orange combination?
The combination of cardamom and orange is a match made in culinary heaven. Cardamom brings a warm and slightly citrusy aroma, while orange zest adds a burst of bright, refreshing flavor. Together, they create a symphony of taste that's perfect for autumn mornings. In this muffin recipe, this pairing shines, providing a delightful contrast to the nutty base of almond and coconut flour. This muffin embodies the essence of fall, making it a standout among autumn Low-Carb breakfast recipes.
How to customize this recipe?
Customization is where you can truly make this muffin your own. Feel free to experiment with the toppings by adding your favorite nuts or seeds to the walnut crumb for added texture and flavor. Consider incorporating a dash of cinnamon or nutmeg into the batter to enhance the autumn spice profile. If you prefer a sweeter muffin, adjust the amount of allulose to suit your taste. You can also personalize the muffin by using different extracts such as almond or vanilla for a unique twist on the flavor profile. Customize this recipe to create muffins that resonate with your taste buds while staying true to their Low-Carb roots.
How to store these muffins?
For convenient meal prep, storing these muffins is a breeze. After baking, allow them to cool to room temperature. Store them in an airtight container for up to four days at room temperature or in the refrigerator. If you plan to enjoy them later, consider freezing the muffins in an airtight bag or container for longer-term storage. When you're ready to savor your muffin, simply reheat it in the microwave or oven for a warm and delightful treat. This convenient approach allows you to relish the flavors of this Keto autumn muffin whenever you desire, making it a perfect on-the-go breakfast or snack option.
Net Carbs

3.1 g

Fiber

3.1 g

Total Carbs

7.2 g

Protein

6.8 g

Fats

14.9 g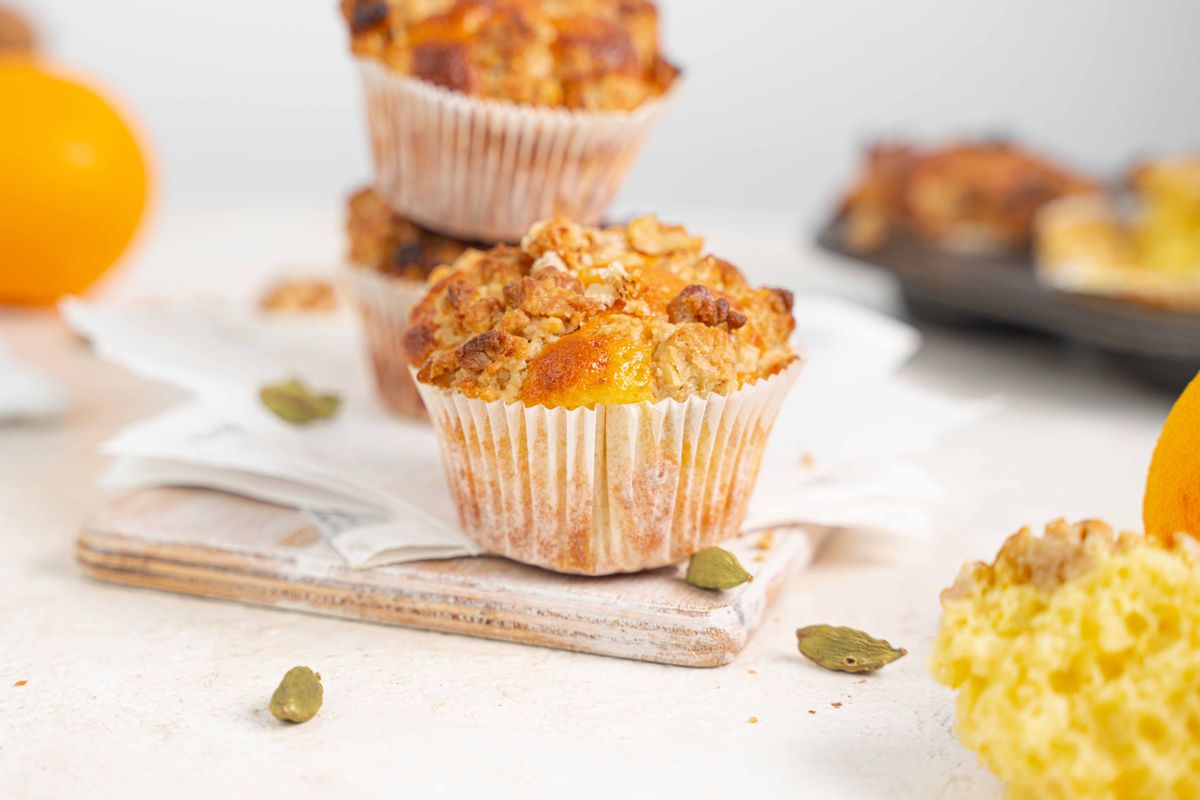 #1 Low Carb & Keto Diet App Since 2010
Track macros, calories, and access top Keto recipes.
Ingredients
Walnuts

0.25 cup, chopped

Allulose, powdered

0.5 tbsp

Granulated Allulose

3 tbsp
Preheat your oven to 350F/ 180C and line a muffin pan with muffin liners. To make the walnut crumb, add 2 tbsp almond flour, chopped walnuts, melted butter, and powdered allulose to a bowl. Mix to combine, and set the bowl aside.

To another bowl, add the yogurt, egg, almond milk, granulated allulose, orange zest, vanilla extract, and orange extract. Whisk well and set aside. In another bowl, mix together ½ cup almond flour, coconut flour, ground cardamom, baking powder, and salt.

Combine the wet and dry mixtures and fold until incorporated. Divide the batter into the muffin liners. Top with the walnut crumb.

Transfer to the oven and bake for 15-18 minutes until golden and an inserted toothpick comes out clean. Remove and let cool in the cups before serving.