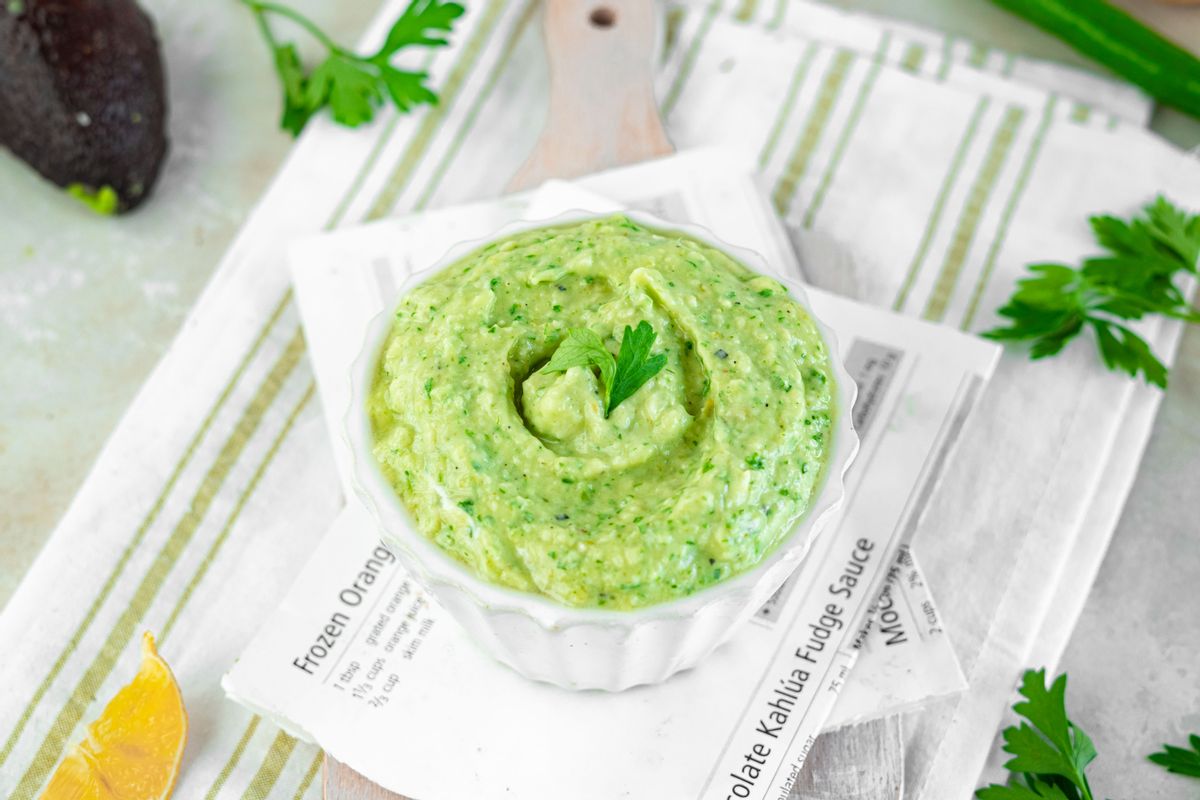 #1 Low Carb & Keto Diet App Since 2010
Track macros, calories, and access top Keto recipes.
5 min

5 min

10 min
Creamy Keto Guacamole Salsa
If you like guacamole and salsa verde, then you will LOVE this creamy Keto guacamole salsa. Our guacamole dip combines the zestiness and chunkiness of low-carb veggies and spices with the creaminess of avocado. We guarantee you this is one of the best Keto guacamole recipes you will try.
What goes into this Keto guacamole salsa?
Tomatillos are a base ingredient in this recipe. Also known as Mexican husk tomatoes, these fruits are acidic and firm, giving salsa verde its unique flavor and chunkiness. They might look strange and intimidating, but they are easy to prep. Just peel the husks, rinse the tomatillos, and chop them like you would regular tomatoes.
Avocados are necessary to get the creaminess needed. This is why your avocados must be perfectly ripe. We also add a tablespoon of sour cream to add extra smoothness, but you can skip it if you want this dip to remain dairy-free. Even though this dip is silky smooth, it has some chunks from the tomatillos, which gives an added texture.
Keep in mind that this dip is spicy. If you aren't a fan of heat, you can use half a jalapeno or none at all. To take the jalapeno flavor to the next level, we roast it over an open flame. This gives the dip another layer of flavor and smokiness. However, you can use fresh pepper if you'd like a subtle salsa.
The garlic, cilantro, lime juice, and salt are needed for seasoning and maintaining the authentic guacamole flavor, but you can adjust the quantities to your liking.
How can you serve this Keto salsa?
This low-carb guacamole salsa is a great dip to serve at parties and gatherings with Keto nachos or crisps. You can also serve this dipping sauce with/over any Mexican dish like fajitas, tacos, burrito bowls, etc. We suggest you try it with this Keto chili lime steak fajita: https://my.carbmanager.com/meals/recipes?dialog=food-detail:ug:8b2b74c0e3dc45dfb37e36fa165b91be
Net Carbs

2.3 g

Fiber

2.8 g

Total Carbs

5.2 g

Protein

1.1 g

Fats

6.1 g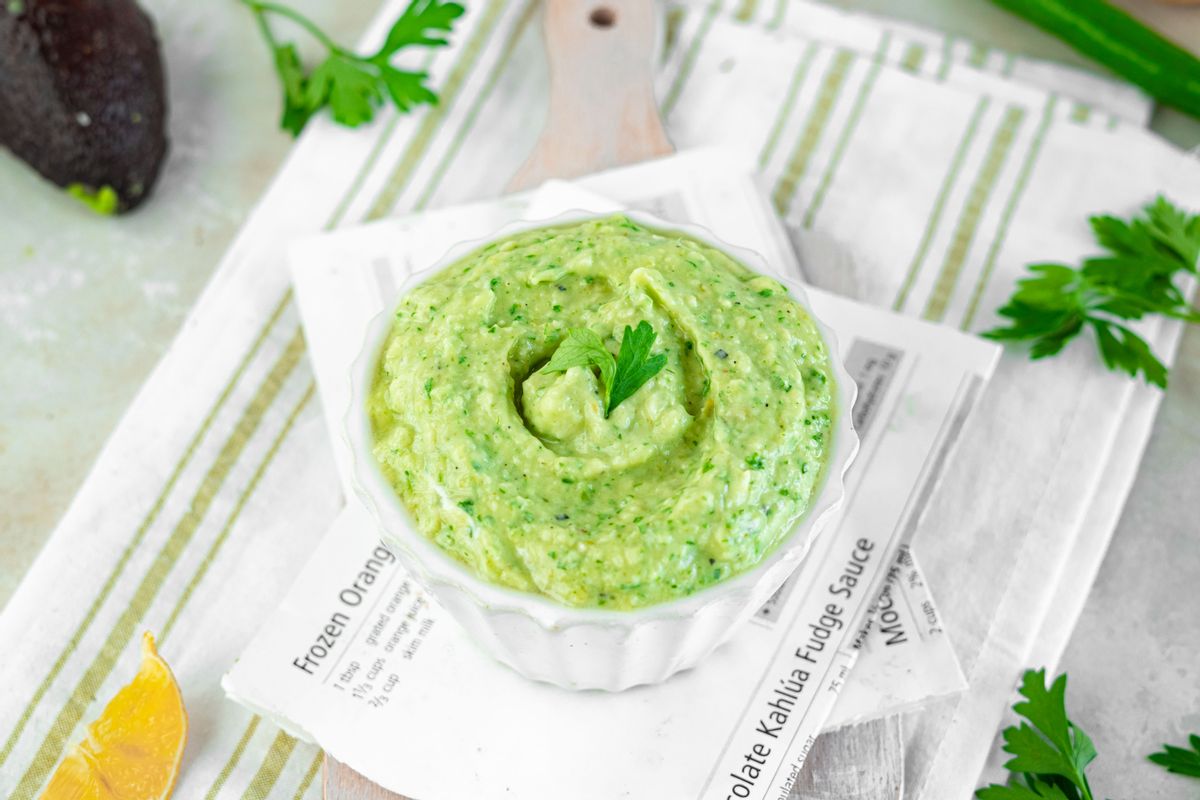 #1 Low Carb & Keto Diet App Since 2010
Track macros, calories, and access top Keto recipes.
Ingredients
Jalapeno peppers, raw

1 regular - approx 2" long

Tomatillo, raw

2 each - approx 1 5/8" diameter

Cilantro Or Coriander Leaves Fresh Or Raw Herb

0.25 cup

Lime juice, fresh

0.5 each - juice from one lime
Over your stove on an open flame, roast the jalapeno pepper for 3 minutes per side. Remove from the heat and place in a plastic bag for 3 minutes. Transfer to a cutting board, remove the top, slice in half, and scoop out the seeds. Add to your food processor.

Husk, rinse, and halve the tomatillos, then add them to your food processor. Halve the avocado, remove its seed, and scoop out the flesh into the food processor. Add the cilantro leaves (no stems), lime juice, sour cream, salt, and black pepper. Process until creamy but still has little chunks.

Pour into a bowl and serve it with Keto crackers or veggies. To store, transfer to an airtight container and place in the fridge for up to 3 days.