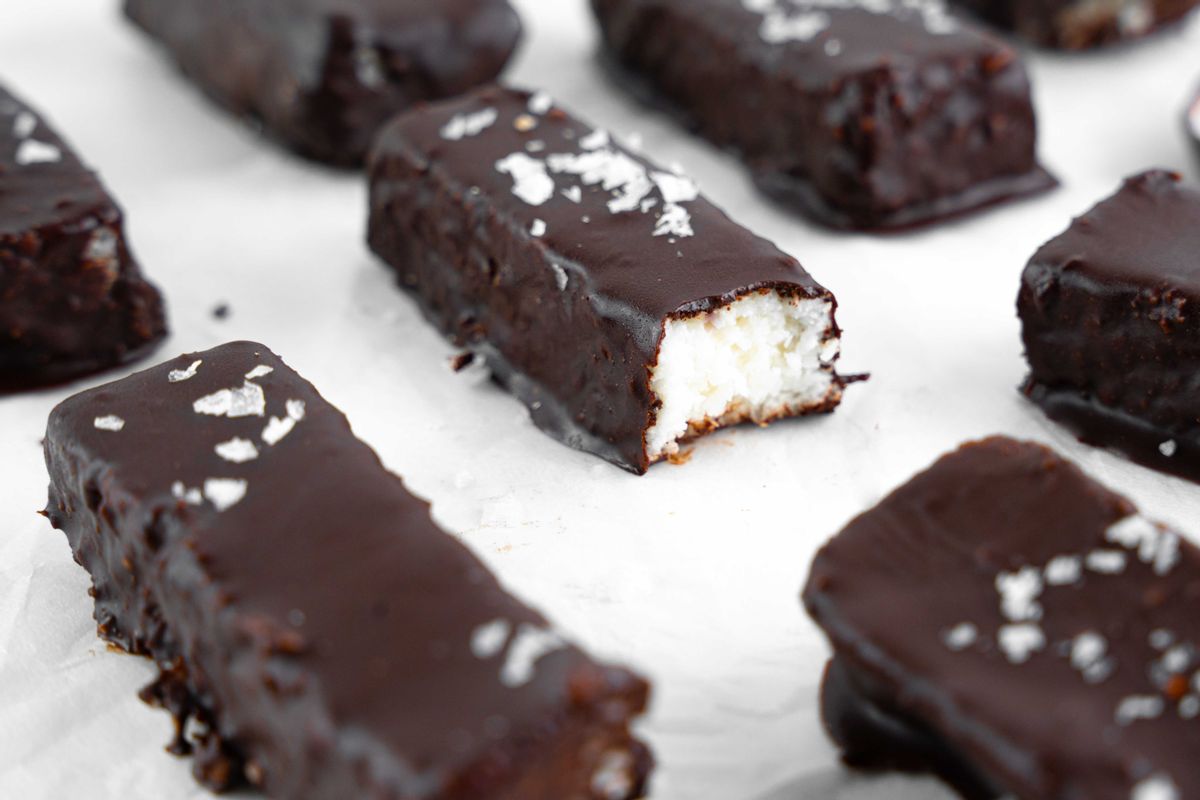 #1 Low Carb & Keto Diet App Since 2010
Track macros, calories, and access top Keto recipes.
30 min

0 min

30 min
Budget-Friendly Keto Bounty Bars
Looking for budget-friendly Keto snack recipes that are both simple to make and absolutely delicious? Look no further than these homemade Keto bounty bars made with only four ingredients! These bars provide a satisfying and indulgent treat without breaking the bank while being on a Keto diet. With just shredded coconut, sugar-free sweetener, coconut yogurt, and dark chocolate, you can whip up these delightful bars in no time. Say goodbye to store-bought versions filled with unwanted additives and embrace the convenience of these homemade Keto bounty bars. Whether you need a quick pick-me-up during the day or a guilt-free dessert option, these budget-friendly Keto snack recipes are here to satisfy your cravings while keeping you on track with your Keto diet.
How to store these Keto bounty bars?
To store your homemade Keto bounty bars, it's best to keep them refrigerated in an airtight container. The yogurt used in the bars can be sensitive to heat, so refrigeration helps maintain their texture and prevent them from becoming too soft. Place the bars in a single layer, separating them with parchment paper to prevent sticking. If you live in a particularly warm climate, it may be necessary to store the bars in the freezer to maintain their shape and prevent the chocolate coating from melting. When ready to enjoy, allow the bars to thaw slightly at room temperature for a few minutes.
Can you add protein powder to these Keto bounty bars?
Yes, you can definitely add protein powder to your Keto bounty bars to enhance their nutritional value and boost the protein content. By incorporating protein powder into the recipe, you can create a more satiating snack. Choose a high-quality, low-carb protein powder that contains no added sugars. When adding protein powder to the mixture, consider adjusting the proportions of other ingredients slightly to maintain the desired consistency and taste. It's important to note that protein powders vary in taste, sweetness, and texture, so you may need to experiment to find the right balance for your preference.
Are regular bounty bars Keto-friendly?
Regular bounty bars, which are commercially available chocolate bars, are not Keto-friendly. These bars typically contain ingredients like milk chocolate, sugar, and sweetened desiccated coconut, which are high in carbs and may contain unnecessary added preservatives. It is recommended to opt for homemade Keto-friendly versions of bounty bars like this recipe that utilize low-carb ingredients and Keto-friendly sugar substitutes to create a delicious and satisfying alternative.
Net Carbs

2.7 g

Fiber

6.5 g

Total Carbs

22.3 g

Protein

2.9 g

Fats

18.4 g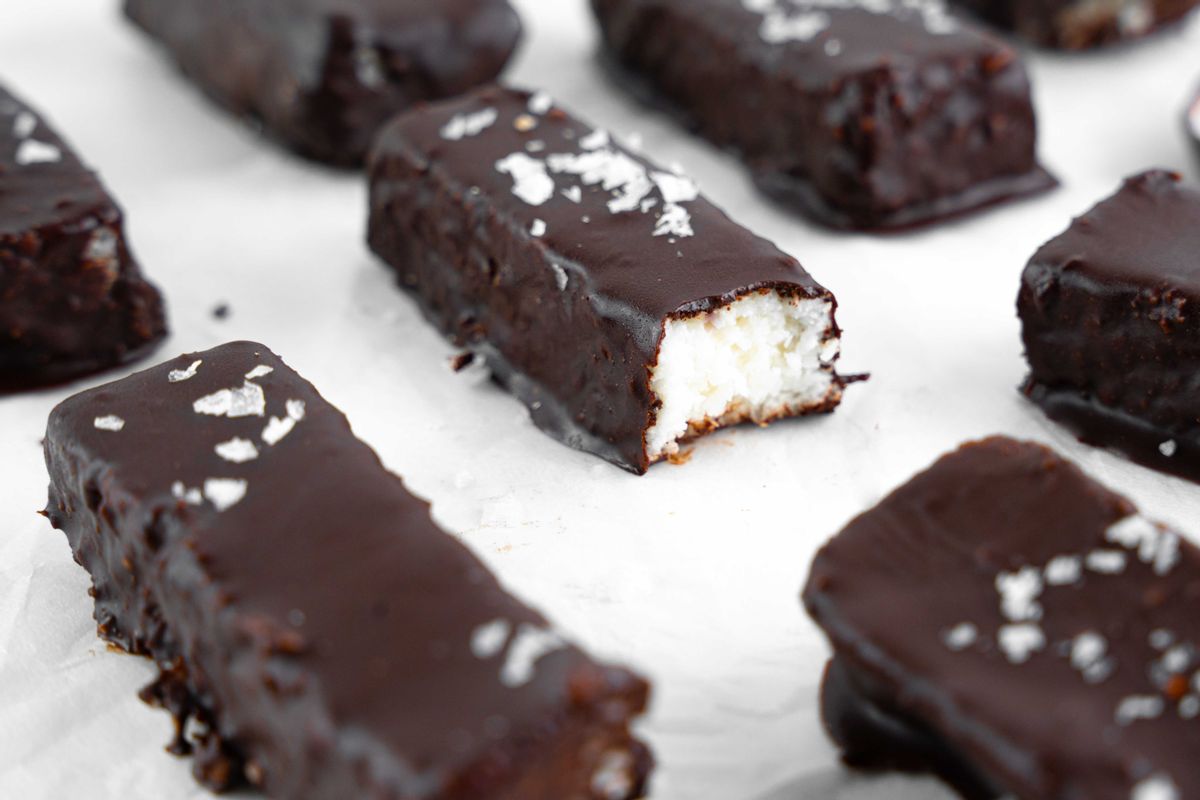 #1 Low Carb & Keto Diet App Since 2010
Track macros, calories, and access top Keto recipes.
Ingredients
Desiccated / Shredded Coconut (Unsweetened)

3 cup

Allulose, powdered

0.5 cup

Yogurt, plain, whole milk

0.67 cup

Chocolate chips, sugar free

1 cup
Line an 8-inch/ 20 cm baking dish with parchment paper and set aside. In a mixing bowl, add the shredded coconut, powdered sweetener, and yogurt and mix well using a spatula. Ensure that all the coconut shreds are fully coated in the yogurt.

Transfer the mixture to the prepared pan and press down using a spatula. Place the pan in the freezer and freeze for 15 minutes until firm. Slice the mixture into equal 12 bars.

Add the chocolate chips to a medium-sized bowl and microwave at 30-second increments to melt. Stir after each session to ensure all the chocolate is melted through. Using two forks, dip the coconut bars in the chocolate until fully coated.

Place them on a plate lined with parchment paper evenly spaced apart. Then transfer the bars to the freezer for another 10 minutes until the chocolate has completely firmed up. Serve right away.

Since these bars contain yogurt, it is best to consume them as fresh as possible. Store the bounty bars in an airtight container in the freezer for up to 2 weeks. Enjoy as a snack or dessert.