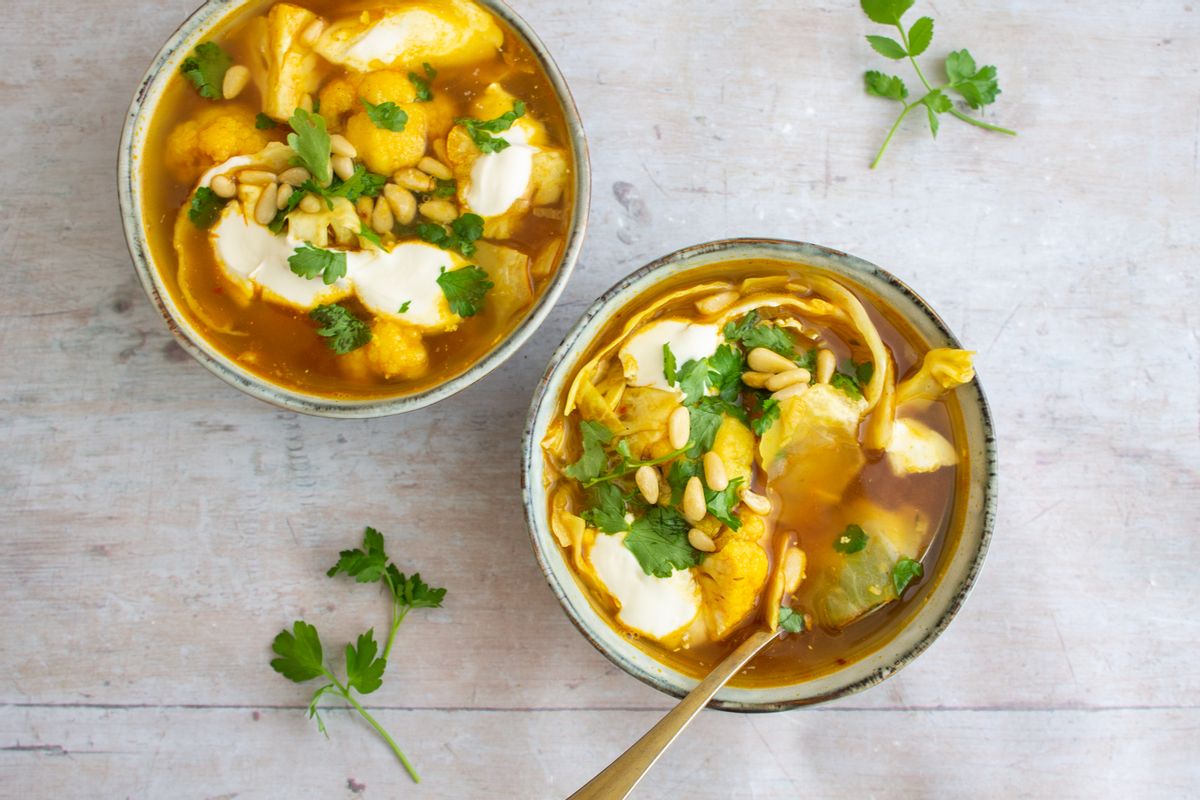 #1 Low Carb & Keto Diet App Since 2010
Track macros, calories, and access top Keto recipes.
8 min

16 min

24 min
Low Carb Spiced Cauliflower And Cabbage Soup
This warmly spiced Keto soup is rich in fats and flavor. Our low carb soup is prepared with a base of aromatic garlic and onion, tender cauliflower florets, and cabbage strips, a hint of tomato, and warming Moroccan spices. The soup is then topped with cooling sour cream, fragrant fresh cilantro, and crunchy pine nuts to serve. Perfect for a Keto lunch or light low carb dinner option.
Can I Make This Dairy-Free?
We have used butter to sweat our low carb veggies and finished our soup with a swirl of sour cream. If you would like to make the recipe dairy-free, you can use an alternative Keto-friendly fat for cooking the vegetables, such as olive oil or coconut oil. You can also either omit the sour cream entirely or substitute with coconut yogurt for a dairy-free alternative.
Can I Blend the Soup?
We have simmered our low carb veggies in stock and kept them whole for added texture. If preferred, you can blend the soup into a smooth purée. Once the vegetables have cooked and softened, carefully purée with a free-standing or handheld stick blender, then garnish with the low carb toppings to serve.
Net Carbs

8.3 g

Fiber

1.9 g

Total Carbs

10.3 g

Protein

3 g

Fats

8.8 g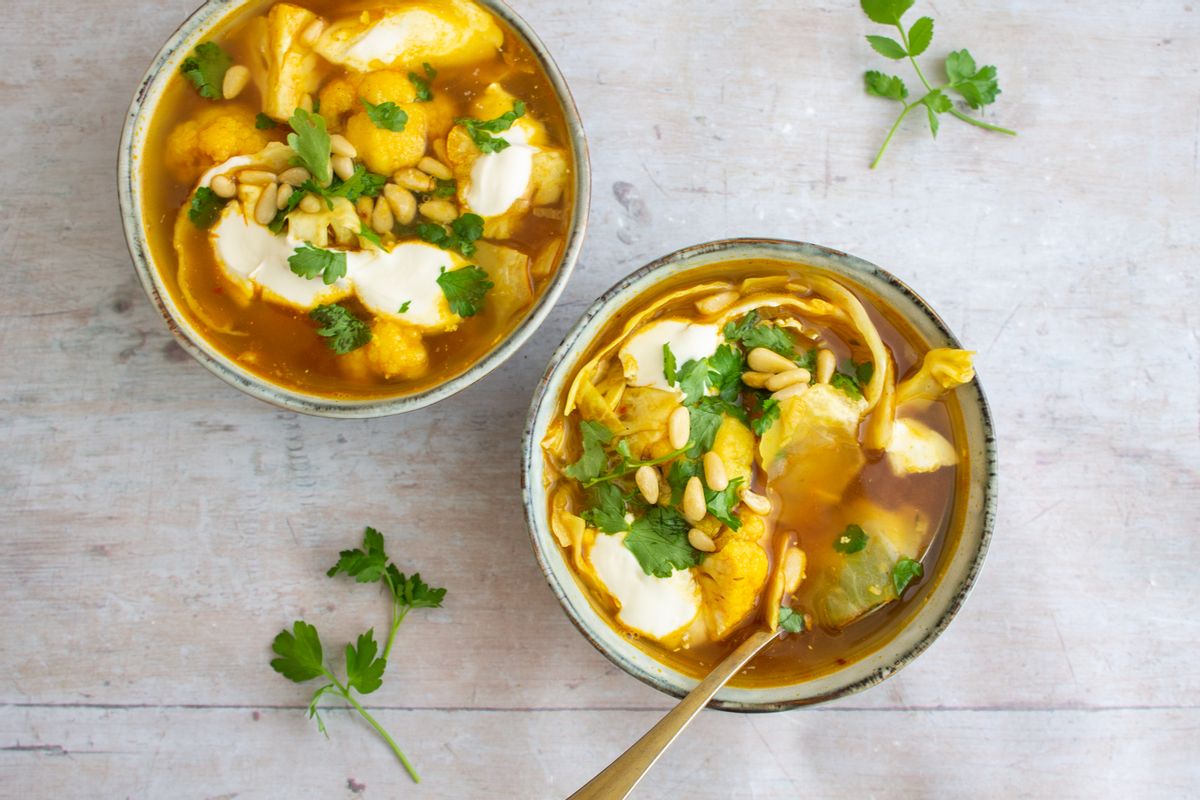 #1 Low Carb & Keto Diet App Since 2010
Track macros, calories, and access top Keto recipes.
Ingredients
Vegetable Broth, Bouillon Or Consomme

5 cup

Pine Nuts

2 tablespoon, whole pieces

Cauliflower Florets By Flavorite

1-½ cup

Ras El Hanout

2 x 1 teaspoon

Tomato Paste

1 tablespoon

Butter, Unsalted

1 tablespoon

Onion

1 tablespoon, chopped

Turmeric, Ground

½ teaspoon
Finely dice the onion and crush the garlic. Melt a generous tablespoon of butter in a large saucepan or Dutch oven over a low/medium heat. Add the onion and garlic. Sweat gently for a few minutes until tender and fragrant.

Dice the cauliflower into bite-sized florets. Add to the saucepan along with the ras el hanout, turmeric, and tomato paste. Stir well to combine. Pan fry gently for 2-3 minutes to soften the cauliflower a little. You may add more or fewer spices according to personal taste.

While the cauliflower is cooking, thinly slice the cabbage into strips. Add the stock to the saucepan and bring up to a gentle boil. Add the cabbage strips. Simmer for 6-7 minutes or until the cauliflower and cabbage are tender. You may season with salt and pepper if desired - this will depend on the strength of seasoning already in your stock.

Divide the soup between individual serving bowls. Top each bowl with a swirled tablespoon of sour cream. Scatter with chopped fresh cilantro and the pine nuts to serve.