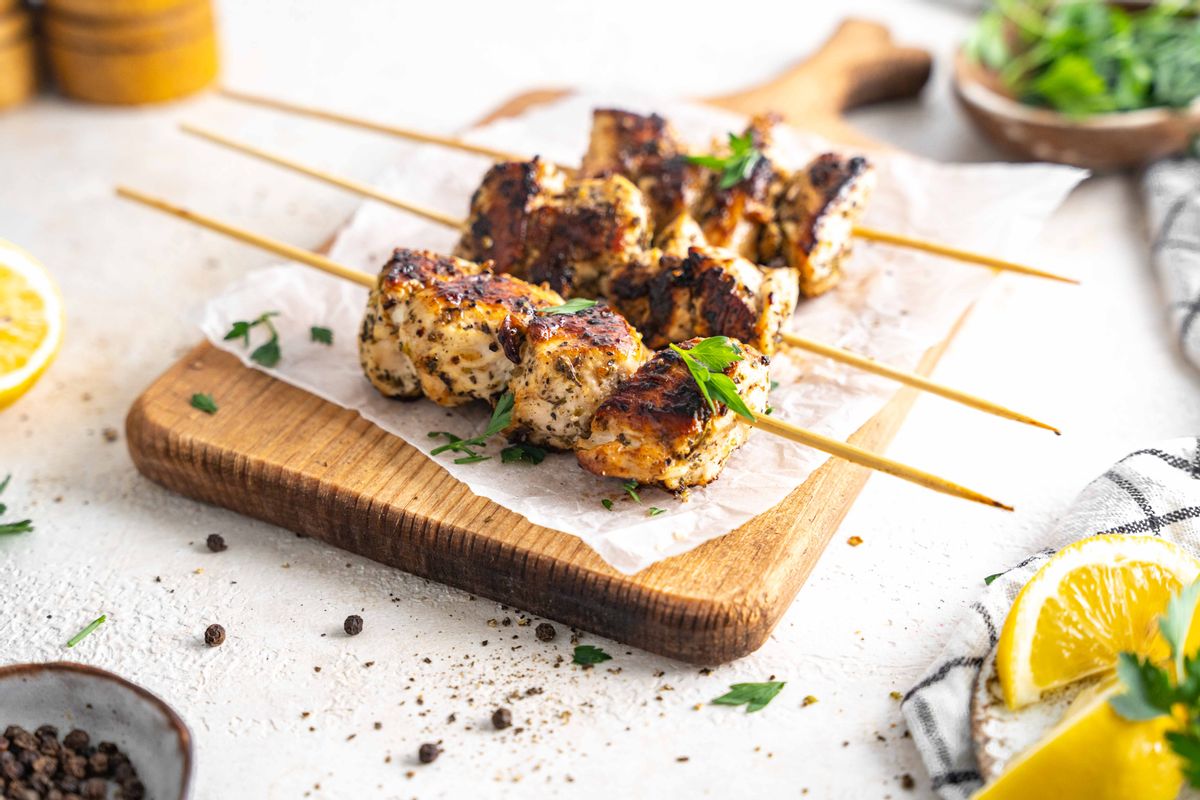 #1 Low Carb & Keto Diet App Since 2010
Track macros, calories, and access top Keto recipes.
35 min

20 min

55 min
Keto Memorial Day Souvlaki Chicken Kebabs
These Keto memorial kebabs are a perfect addition to your holiday menu, as they are delicious and easy to make. These kebabs are known for their juicy texture, achieved by marinating the chicken in olive oil, lemon juice, garlic, and Greek-inspired spices. The recipe's simplicity allows for quick preparation, making it ideal for busy days or gatherings with friends and family. Whether you are looking for a low-carb option or just a tasty meal, these souvlaki chicken kebabs are sure to be a hit among all your Keto memorial day recipes.
What is souvlaki chicken kebabs?
Souvlaki chicken kebabs are a popular Greek dish made by marinating chicken cubes in a flavorful blend of olive oil, lemon juice, garlic, and Greek herbs like oregano, thyme, and rosemary. The marinated chicken is then skewered, grilled, or baked until tender and juicy. Souvlaki chicken kebabs can be served as a main dish, paired with a side of Greek salad or tzatziki sauce, or enjoyed as a quick and easy snack on their own. This dish is a favorite in Greece and has gained popularity worldwide due to its delicious taste and simplicity in preparation.
Can you cook these Keto chicken kebabs in the oven?
Yes, you can cook souvlaki chicken kebabs in the oven at 400°F (200°C), threading the marinated chicken cubes onto skewers and placing the skewers on a baking sheet lined with parchment paper or aluminum foil. Bake them for 20-25 minutes or until fully cooked through, then flip them over halfway through the cooking time. Baking is a convenient and easy way to prepare souvlaki chicken kebabs, especially if you don't have access to a grill or prefer to avoid outdoor cooking.
Is it necessary to marinate the chicken?
Marinating souvlaki chicken kebabs before cooking is not strictly necessary, but it is highly recommended as it adds flavor and juiciness to the dish. The marinade helps to tenderize the chicken and infuse it with a delicious blend of herbs and spices, making it much more flavorful. However, if you're short on time, you can still cook the chicken without marinating it, which will still be tasty. Whether or not to marinate the chicken is a matter of personal preference and convenience.
Net Carbs

1.2 g

Fiber

0.8 g

Total Carbs

1.9 g

Protein

39 g

Fats

19.3 g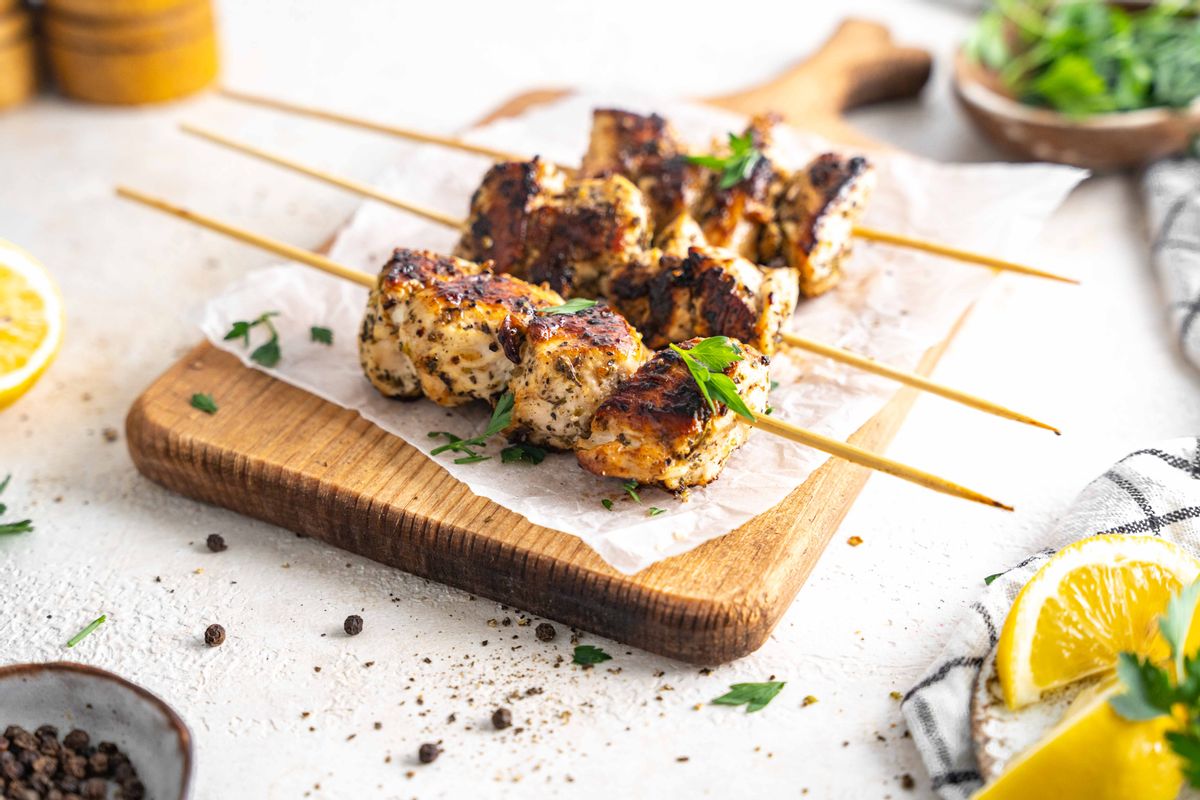 #1 Low Carb & Keto Diet App Since 2010
Track macros, calories, and access top Keto recipes.
Ingredients
Extra virgin olive oil

4 tbsp
Cut the chicken breast into 1.5 inch cubes. In a mixing bowl, add the chicken pieces, 3 tbsp olive oil, lemon juice, Italian seasoning, salt, garlic powder, and pepper. Mix to coat the chicken pieces into the marinade evenly. Place the bowl in the fridge to marinate for 30 minutes, or preferably overnight.

Preheat a grill pan or cast iron skillet over medium heat for about 5 minutes. Assemble the chicken pieces onto skewers. Lightly brush the grill pan with 1 tbsp olive oil.

Cook the chicken skewers for 6 minutes on each side until cooked through. Ensure the pan is hot before adding the chicken kebabs to achieve that charred color. Allow the kebabs to cool slightly once cooked.

Serve the chicken kebabs with Low-carb pita bread, Greek-style salad, or cauliflower rice. These chicken kebabs pair well with tzatziki sauce, yogurt coriander sauce, or tahini sauce. Store leftover chicken kebabs in an airtight container in the fridge for 3-5 days.