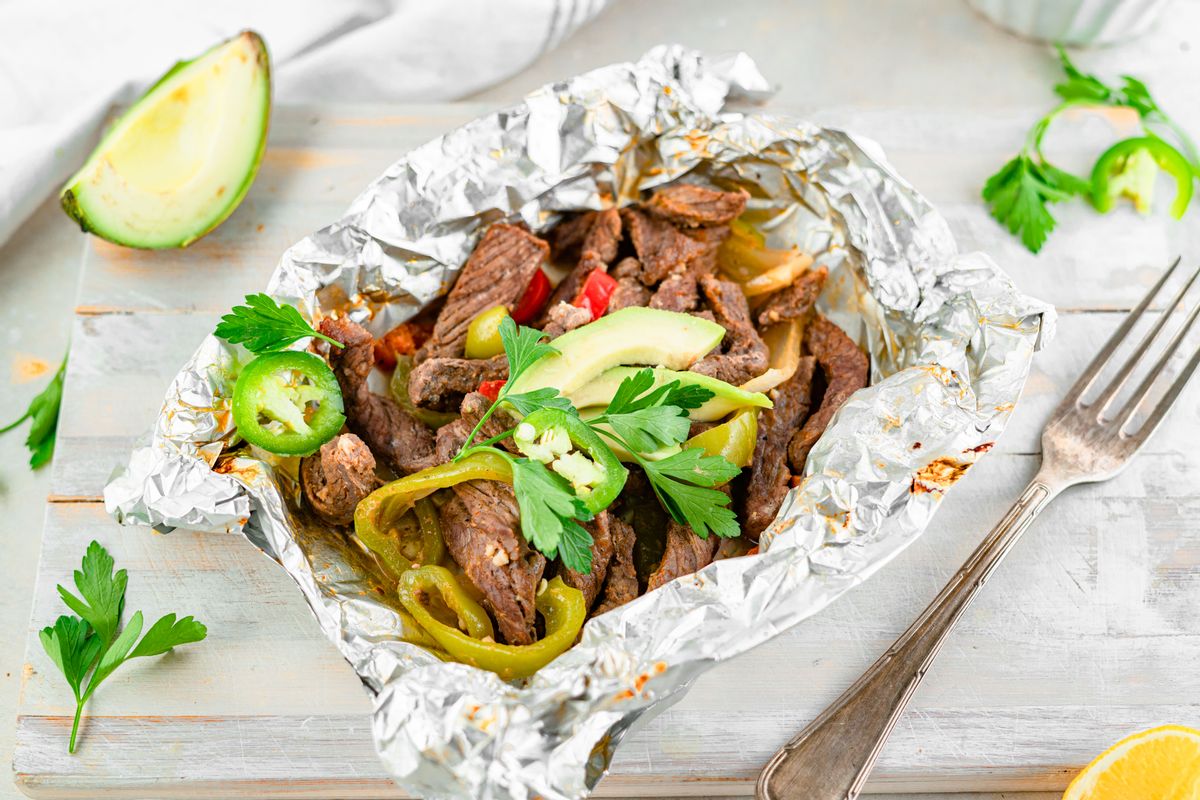 #1 Low Carb & Keto Diet App Since 2010
Track macros, calories, and access top Keto recipes.
40 min

10 min

50 min
Quick and Easy Keto Chili Lime Steak Fajita
If you are looking for a quick and easy recipe for your busy weeknights, then you should end your search here. This Keto steak fajita recipe is tangy, juicy, and slightly spicy. It requires 10 minutes of active prep time and another 10 minutes of cooking. You can prepare all the elements the night before and have dinner ready in no time.
The steak is taken to the next level by marinating it in chili powder, minced garlic, lime juice, cumin powder, and olive oil. You can let it marinate for as little as 30 minutes, or ideally, overnight. This leaves the steak juicy, tender, and highly flavorful.
Most Keto steak fajitas are cooked on the pan or grill, while this recipe uses an unconventional method. The foil pack method is an easy, fast, and fuss-free way for cooking Keto fajitas. First, you must preheat your oven to the highest setting, at least 425 Fahrenheit. Then, you must portion out the seasoned vegetables into the center of two 12"x12" pieces of foil, and top them with the marinated steak. Tightly wrap the foil around the steak and vegetables and bake for 6-8 minutes, depending on how you like your steak.
What can you serve this fajita with?
Some tasty toppings include sliced avocado, guacamole, sour cream, fresh herbs, and lemon/lime juice. All these options complement the steak fajita flavors and add freshness. For sides, you can serve this dish with cauliflower rice, steamed broccoli, or Keto tortillas.
Are fajitas Keto?
Not all fajita recipes are Keto-friendly, but this one is. This chili lime steak fajita contains only 4g of net carbs per serving but carries tons of flavor. The quantities of the onions and peppers used are enough to shine through without sabotaging your daily carb allowance.
Net Carbs

4 g

Fiber

3.8 g

Total Carbs

7.9 g

Protein

46.4 g

Fats

32.6 g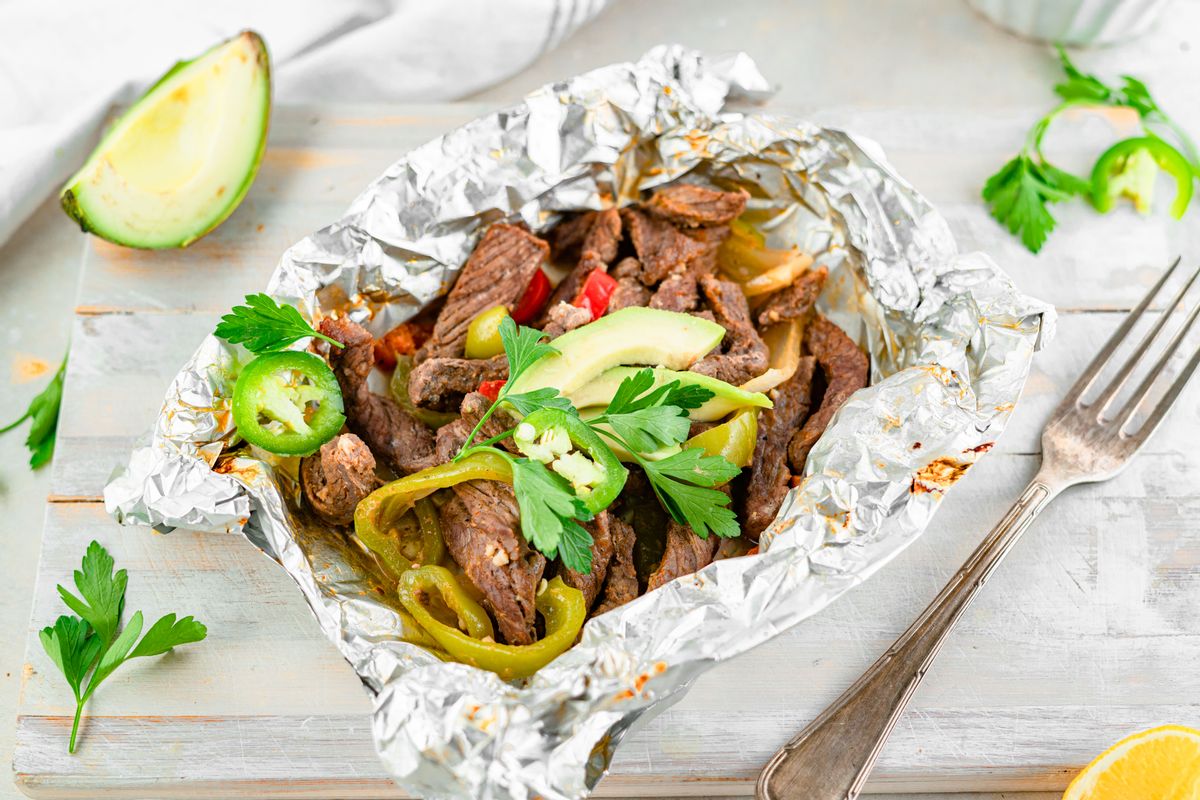 #1 Low Carb & Keto Diet App Since 2010
Track macros, calories, and access top Keto recipes.
Ingredients
Beef steak, sirloin, no visible fat eaten

300 g

Extra virgin olive oil

3 tbsp

Lime juice, canned, bottled or boxed

1 tbsp

pepper

0.5 medium - 2 1/2" diameter x 2 3/4"

Red pepper

0.25 medium - 2 1/2" diameter x 2 3/4"
Cut the steak into thin slices and add to a bowl. Crush the garlic and add it to the steak. Mix in 2 tbsp of olive oil, lime juice, cumin powder, chili powder, and ½ tsp salt. Cover the bowl with plastic wrap, and place it in the fridge for 30 minutes.

Preheat oven to 425 degrees Fahrenheit. Slice the onion, green bell pepper, and red bell pepper and add them to a bowl. Drizzle 1 tbsp of olive oil, and mix in oregano, paprika, 1/2 tsp salt, and ¼ tsp black pepper. Set aside.

Take the steak bowl out of the fridge. Cut out two 12"x12" pieces of foil. Portion out the peppers mixture and arrange it in the center of each foil sheet.

Remove steak from marinade and arrange over the vegetables inside the foil packs. Wrap the foil tightly around the steak and veggies. Bake for 6-8 minutes.

Add sliced avocado, fresh cilantro, and lime wedges to the center of each portion. Serve immediately.