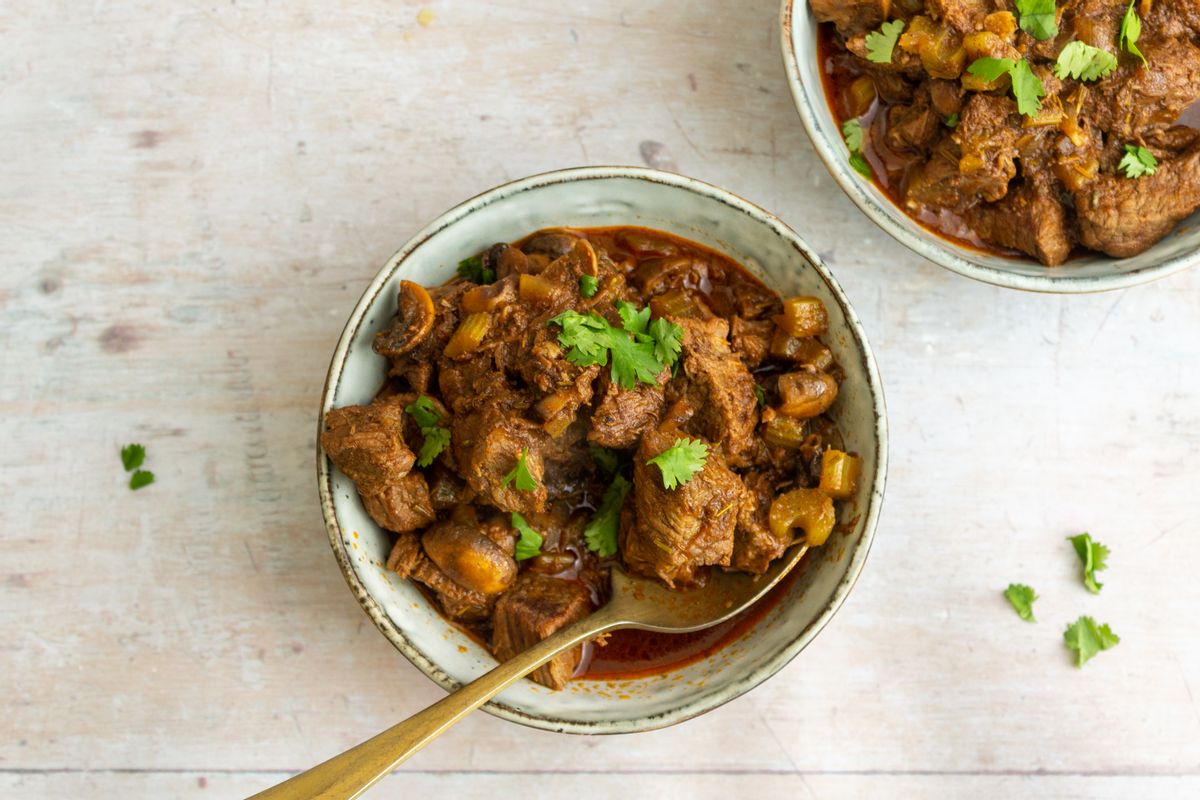 #1 Low Carb & Keto Diet App Since 2010
Track macros, calories, and access top Keto recipes.
8 min

1 h 15 min

1 h 23 min
Low Carb Slow Cooked Beef And Mushrooms
This deliciously rich beef stew is a great Keto winter warmer, perfect for the colder weather. Our easy low carb stew is prepared with diced stewing beef, celery, onion, garlic, aromatic dried rosemary, a hint of tomato, tangy balsamic vinegar, diced mushrooms and beef stock. Once the stew base is prepared, it is simply simmered on the stove until the beef is perfectly tender.
Can I Make This in a Crockpot?
We have cooked our Keto beef stew on the stove, simmering until thick and reduced. If preferred, you may cook the recipe in a crockpot/slow cooker, but this will require less liquid. We would use around 3/4 - 1 cup of stock for the crockpot. You can pan-fry the beef, onion, garlic and celery first if desired to brown, then transfer to the crockpot with the remaining ingredients. Cook on low for 7 hours or high for 4 hours or until the beef is soft and tender.
Serving Suggestions
We like our hearty Keto beef stew served over a portion of hot cauliflower rice. Alternatively, the stew can be served on its own with sliced low carb bread or toast for mopping up the rich juices. You will find a range of easy Keto bread and bread roll options in our sides section. Please be sure to adjust your macros to account for any sides or additions to the recipe.
Net Carbs

7.2 g

Fiber

2.2 g

Total Carbs

10 g

Protein

59 g

Fats

18.7 g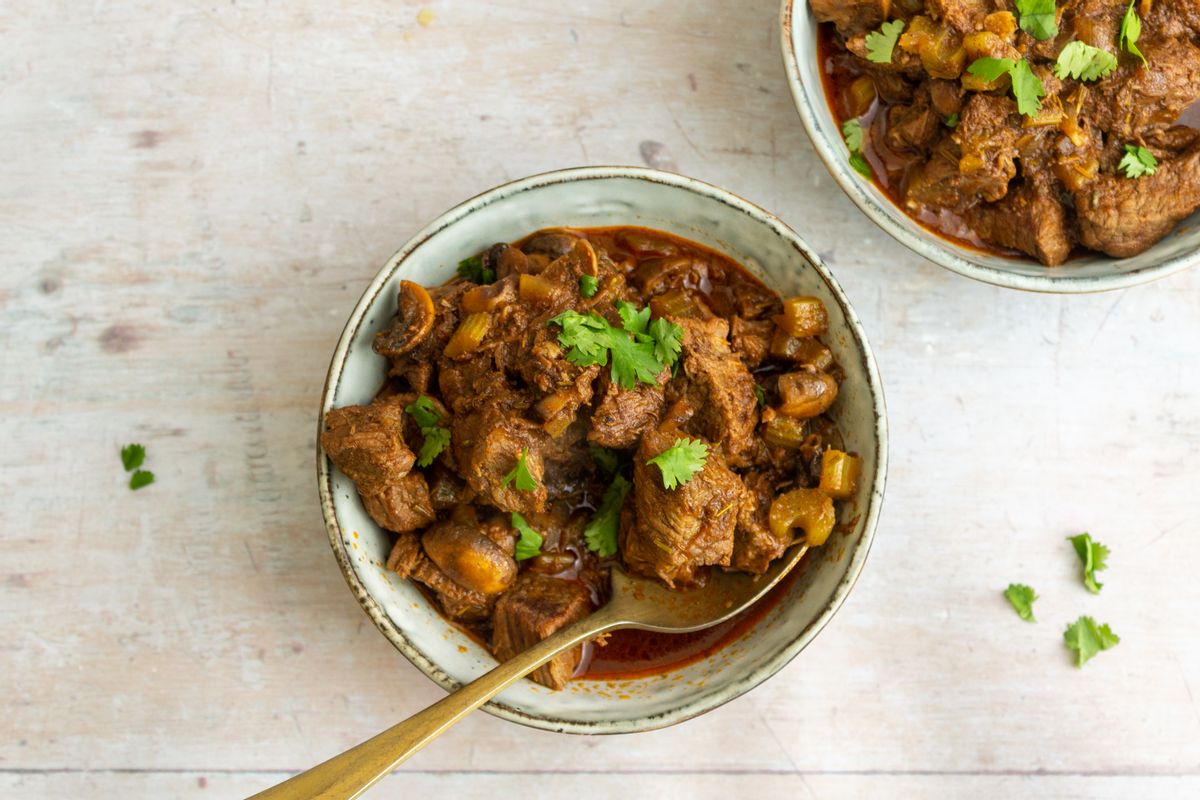 #1 Low Carb & Keto Diet App Since 2010
Track macros, calories, and access top Keto recipes.
Ingredients
Diced Beef by Boswell Farms

17-½ ounce

Celery

2 large - stalk - 11" to 12" long

Balsamic Vinegar

1 tablespoon

Beef Broth, Bouillon Or Consomme, Homemade

2 cup

Tomato Paste

1 tablespoon

Rosemary, Dried

1 teaspoon

Brown Mushrooms (Italian Or Crimini Mushrooms), Raw

1 cup

Salt, Sea Salt

¼ teaspoon
Heat the olive oil in a large saucepan/Dutch oven over a medium heat. Cook the beef until browned all over. Remove from the pan with a slotted spoon and set to one side.

Finely dice the onion, thinly slice the celery and garlic. Add the celery, onion and garlic to the same pan used to cook the beef. Sweat gently over a low/medium heat until fragrant and tender.

Return the beef to the pan. Add the tomato paste, rosemary, balsamic vinegar, salt and pepper. Stir well to combine and cook for a minute more. You may add more salt and pepper as desired. This will depend on the strength of seasoning in your stock.

Add the beef stock to the pan. Bring up to a boil. Reduce the stew to a simmer and cover. Cook gently for 1 hour.

After an hour, remove the lid. Wipe the mushrooms clean and roughly chop. Add the mushrooms to the Dutch/saucepan and stir well. Simmer uncovered for a further 20-30 minutes or until the beef is soft and tender and the sauce is thickened and reduced.