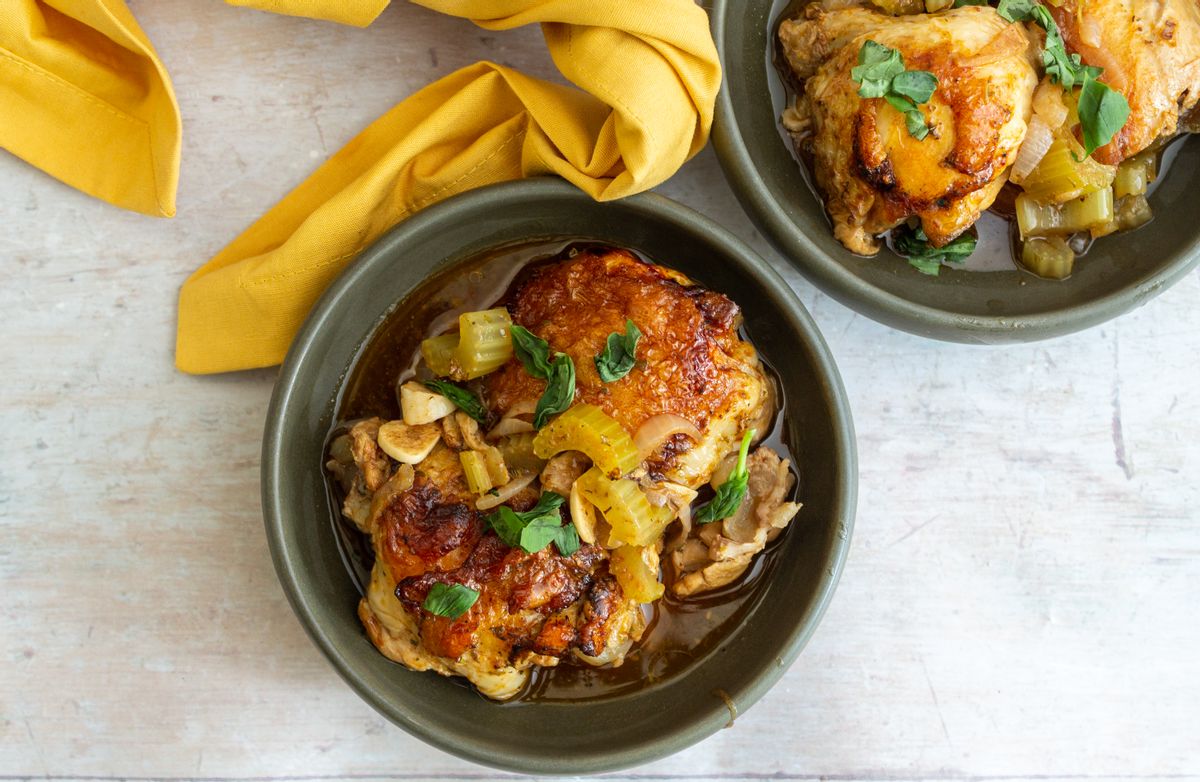 #1 Low Carb & Keto Diet App Since 2010
Track macros, calories, and access top Keto recipes.
15 min

1 h 10 min

1 h 25 min
Keto Braised Chicken Thighs
These delicious Keto chicken thighs are slowly braised in the oven until perfectly tender and golden. Our low carb dinner recipe is prepared with skin-on, bone-in chicken thighs, olive oil, celery, sweet red onion, aromatic garlic, balsamic vinegar, dried oregano, and chicken stock. This makes a great protein option served with your favorite low carb sides.
What is Braising?
Braising is a technique that involves two cooking processes. Typically, the chosen food is first pan-seared or sautéed, then finished off by simmering slowly in liquids until deliciously tender. This can be done with either vegetables or proteins. For this low carb recipe, we have used chicken breasts as our chosen protein and braised them in stock with a little balsamic vinegar and tomato paste for added flavor.
Serving Suggestions
These tasty braised chicken thighs make a delicious Keto dinner option. The thighs are perfect served with some buttery cauliflower mash or cauliflower rice, served with a little of the braising juices. Alternatively, they would be delicious with a slice of Keto bread or some low carb dinner rolls for mopping up the sauce. Please be sure to adjust your macros to account for any changes or additions made to the original recipe.
Net Carbs

2.4 g

Fiber

0.6 g

Total Carbs

3.1 g

Protein

23.3 g

Fats

13.2 g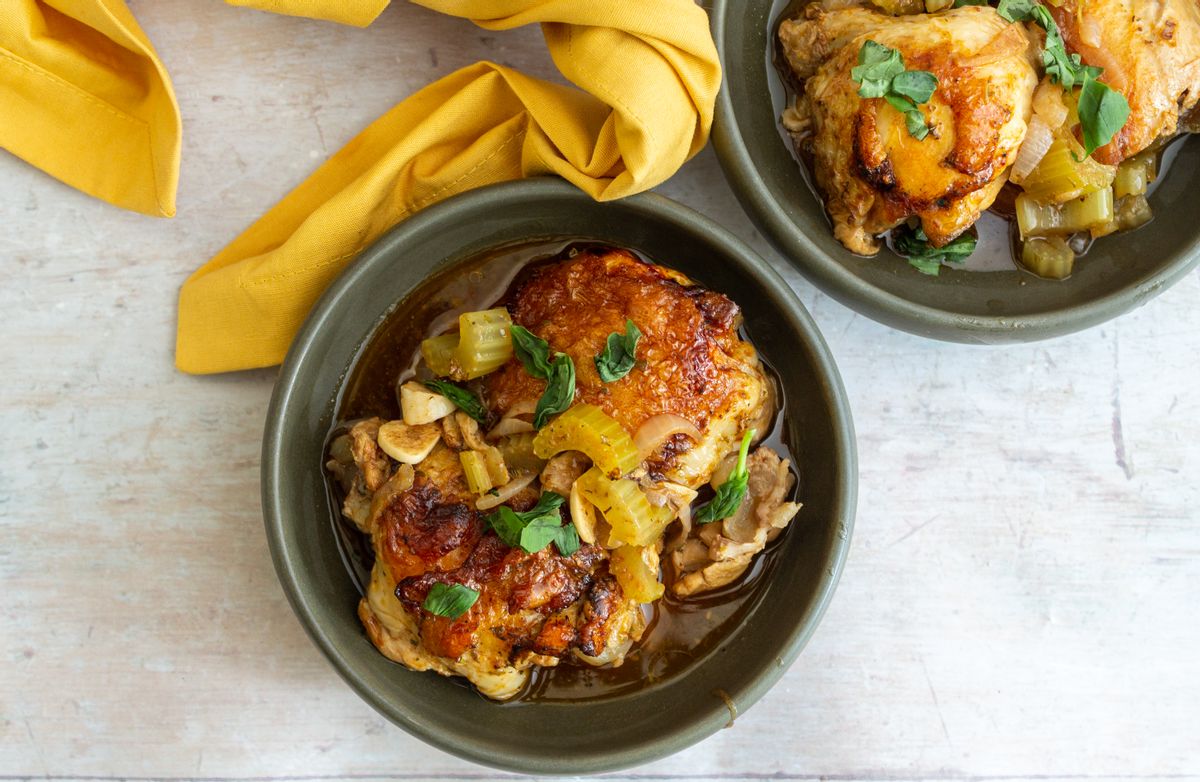 #1 Low Carb & Keto Diet App Since 2010
Track macros, calories, and access top Keto recipes.
Ingredients
Chicken thigh with skin

6 small

Chicken broth, bouillon or consomme, homemade

2 cup

Celery

2 medium - stalk - 7 1/2" to 8" long

Balsamic vinegar

1.5 tablespoon

Oregano, dried

1 teaspoon

Extra virgin olive oil

1 tablespoon

Tomato paste

1 tablespoon

Red onion

0.5 medium - 2 1/2" diameter

Salt, sea salt

0.5 teaspoon

Black pepper

0.13 teaspoon
Heat the olive oil in a large Dutch oven over a medium/high heat. Season the chicken pieces with salt and pepper. Nestle the chicken thighs into the pan, skin side down. Leave the chicken undisturbed for 8 -10 minutes or until the skin is golden. Turn the chicken and brown on the second side. Remove from the pan with a slotted spoon and set to one side.

Thinly slice the onion, garlic and celery. Add the vegetables to the pan used to cook the chicken. Sweat gently for 3-4 minutes until tender and fragrant.

Preheat the oven to 350 degrees Fahrenheit. Add the dried oregano, tomato paste and balsamic vinegar to the Dutch oven. Stir well to combine. Pan fry for a minute more over a low heat.

Add the chicken stock to the Dutch oven. Bring the liquid up to a boil, then reduce down to a simmer for 5 minutes. Carefully lower the browned chicken pieces into the pan, skin side up. The skin should remain uncovered by stock.

Transfer the Dutch oven to the oven uncovered. Cook for 40-45 minutes or until the liquid has reduced down but a little still remains. Keep an eye on this to ensure the liquid does not dry out completely. Serve with your preferred low carb sides.